Ask Andrea: The AFC North Mailbag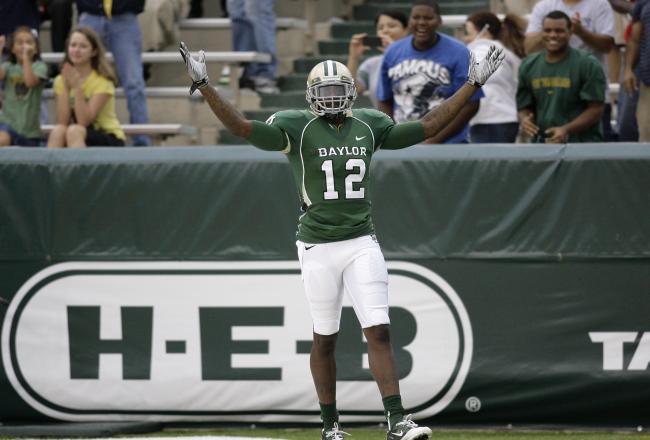 How high is Josh Gordon's ceiling?
Brett Davis-US PRESSWIRE
It's Friday, and we're one week away from training camps in the AFC North being underway or nearly underway. It's also the customary day of the week for the Ask Andrea AFC North Mailbag, which is what you're reading right now.
We have five questions for you this week, including one extremely forward-thinking one regarding the 2013 season. The future is clearly on everyone's mind.
If you have a question you'd like to submit to the Mailbag, make sure you are following me on Twitter. There's a button at the bottom of this page; click it, and magically, you'll be following along.

Good question, Derek, especially concerning a division that is known for its defensive play. I will break it down team by team.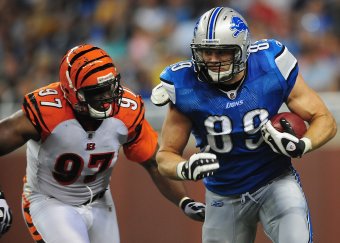 Geno Atkins should continue to tear his way through opposing offenses this year.
Andrew Weber-US PRESSWIRE
For the Cincinnati Bengals, that entire defensive line is strong. The team knows how to rotate players in and out for maximum effect based on the play, but no one looks as good against both the run and the pass as defensive tackle Geno Atkins. He had a stellar 2011 season and I think his 2012 could be even better. His nine sacks last season could easily head into the double digits this year.
When it comes to the Cleveland Browns, I fully believe that Joe Haden will take the leap into becoming a legit shutdown corner this season.
Haden was the ninth-ranked cornerback overall last year, according to Pro Football Focus (subscription required), allowing just 42 of the 85 passes thrown his way to be completed and giving up just three touchdowns. He's a major reason why the Browns gave up the second-fewest passing yards last year, and they should be in the top five of that category again this year.
The defensive player I'm really excited about this year for the Baltimore Ravens is defensive end Pernell McPhee. McPhee is in his second season and will be getting significantly more playing time with Terrell Suggs sidelined while he heals from Achilles tendon surgery.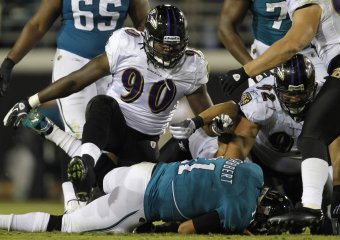 Pernell McPhee had seven sacks and fewer than 400 defensive snaps last year; imagine what he'll do in 2012 with double the snaps.
Matt Stamey-US PRESSWIRE
Suggs is a hybrid outside linebacker/defensive end, and the Ravens will still want to switch those positions in and out of games; however, they now lack the one person who can do both. Paul Kruger is likely to get Suggs' linebacking snaps while McPhee gets his defensive end reps.
Though McPhee played just 389 snaps last year, he notched seven sacks. He's a future star in Baltimore and will get the chance to really prove himself this year.
And finally, the Pittsburgh Steelers defender I believe will stand out this year is LaMarr Woodley. Last year, Woodley had nine sacks, 7.5 of which came in the four-game stretch when James Harrison was sidelined with his broken orbital bone.
If he hadn't missed six games with a hamstring injury, his numbers would have been even more stellar. As long as Woodley's healthy all season long, he'll be the Steelers' most valuable defender.

Thinking ahead to 2013 already are we, Simon? Well, these sorts of things are hard to predict—much depends on which players each team releases in the offseason, who may retire, who teams may draft and so on, but I can make some preliminary guesses.
For Cincinnati, I think 2013 could be a very good year for linebacker Vontaze Burfict. There's already been some rumbling he could take over for Rey Maualuga should he have a bad year, and as long as Burfict keeps his mind in the game and works hard during his rookie season, there could be a spot in the starting lineup for him next year.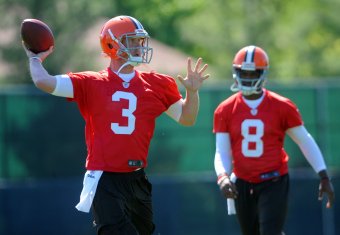 Brandon Weeden should have a solid rookie season, but 2013 should really be his breakout year.
Eric P. Mull-US PRESSWIRE
In Cleveland, I think 2013 will be Brandon Weeden's time to shine. With one year as a starting quarterback under his belt and the Browns getting steadily stronger in their receiving corps, Weeden should be ready to prove himself as a true franchise quarterback.
I see Courtney Upshaw having a fantastic 2013 season in Baltimore. He's primed to get more snaps than originally intended this year, with Suggs being out for at least part of the season, which will get him ready to take on a greater workload in his second year. Upshaw is a real-deal Ravens linebacker, and he'll be a major impact player in 2013.
For the Steelers, there's likely to be a bit of an offseason shakeup at running back. There's more than a good chance they don't re-sign Rashard Mendenhall, and their philosophy toward the position could change some depending on how Chris Rainey performs this year.
As long as he sticks on the roster through camp, I like Baron Batch's chances to really take the reins of the Steelers' running game in 2013. Batch is thought of as little more than a third-down back, but I think his versatility will be highlighted this year. Again, it's a huge if—he has to battle it out in training camp—but if he can, the Steelers might have quite the surprising running back on the field next season.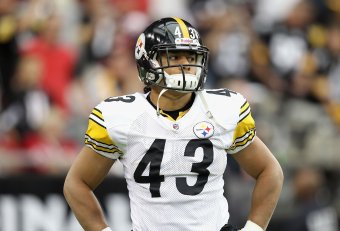 Earlier this week, Troy Polamalu said on the Dan Patrick Show that he's hidden concussions from Steelers team trainers.
Christian Petersen/Getty Images
You know, Don, when I heard similar comments about hiding concussions from Chicago Bears linebacker Brian Urlacher earlier this year, I thought a punishment was looming, especially considering the emphasis the league and commissioner Roger Goodell have put on player safety and concussion awareness.
However, no punishment came, and none will come for Troy Polamalu, either. Though I would suspect he comes under more scrutiny by both fans and the commissioner any time he takes a serious blow to the head.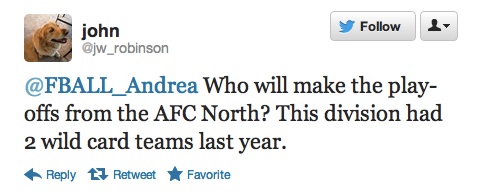 Honestly, John, I wouldn't be surprised if three AFC North teams make it back into the playoffs again this year. Though the other three divisions in the conference are all quite competitive and there will be a number of strong teams, the North yet again seems to be the cream of the crop.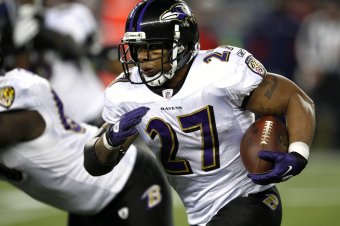 The Ravens were one of three AFC North teams to reach the playoffs last season and the same three could do it again this year.
Mark L. Baer-US PRESSWIRE
Last year, a 9-7 record was good enough for a playoff berth—that's the record of the Cincinnati Bengals, who got in as a wild-card team—but this year, it may take 10 wins to get that spot. I can certainly see the Bengals, Pittsburgh Steelers and Baltimore Ravens each having at least 10 wins this year, which means the potential is high for all three to return to the postseason.
If all three don't make it, then I think two teams will. At this point, however, I don't know if those two teams would be the Steelers and Ravens, Ravens and Bengals or Bengals and Steelers. It's a very competitive division, to be sure, and the AFC is rife with unknowns, but I think it would be a strange season indeed if the North didn't field at least two playoff teams.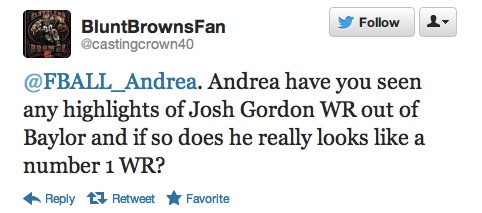 I've seen limited Baylor highlights of Josh Gordon thus far (mainly what YouTube and the like can supply, unfortunately), but I do like what I have been able to watch.
Here's one example of Josh Gordon's ability to get open and score a TD.
Gordon is fast and has ideal size, and he was able to develop very solid chemistry with Robert Griffin III in a short period of time, which bodes well for him being able to get on the same page with Brandon Weeden despite the upcoming training camp being the first time they'll work together.
I think the hope in Cleveland is that Greg Little finally fulfills the potential they saw in him in 2011 when he was drafted, but Gordon has shown some real dynamism in college. Gordon is still raw, of course, and he spent a year off of the field, so it's going to be hard for him to surpass Little this season, but I could definitely see it happening in the future.
Personally, I think the Browns got a steal by taking Gordon in the second round of the supplemental draft. Next year's receiver class is already looking weak and it's a position the Browns would have likely targeted in 2013; by getting Gordon now, they can develop him over the course of the 2012 season and not have to worry about fighting over 2013's slim pickings.
That's it for this week. Thanks to those who sent in questions. If you'd like yours featured here in the future, be sure to follow along on Twitter and get them in early—as the season rapidly approaches, the volume of questions increases, so if you want to assure an answer, keep your eyes open on the old Tweetbox!
This article is
What is the duplicate article?
Why is this article offensive?
Where is this article plagiarized from?
Why is this article poorly edited?