London 2012: How U.S. Men's Basketball Could Fall Short of Expectations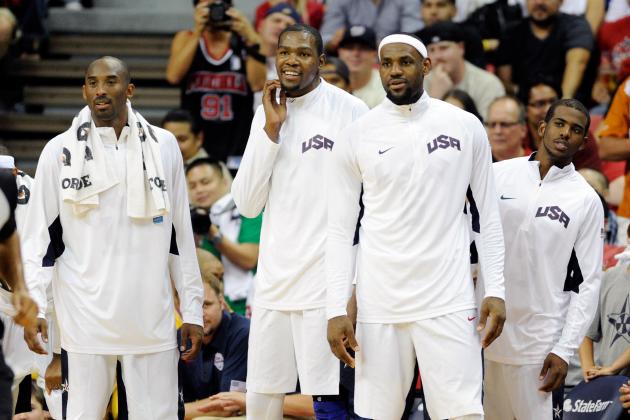 David Becker/Getty Images
The U.S.A. should win gold, but will they?
From space exploration and military might to swimming and basketball, the United States strives to be the top country in the world—and once they've reached the summit, Americans love to talk about it.
But on the basketball court, there's really no debate as to which country is the most talented.
The Americans are head and shoulders above everyone else on the planet. A man among boys, a Lamborghini beside a Geo Prism, LeBron James next to Richard Simmons.
The biggest stars—and typical rivals—in the NBA have united as one, accepted new roles, and set their sights on winning a gold medal for their country. As a result of their basketball dominance, the U.S. enters the London Olympics as the clear-cut favorite.
With such a gifted roster and steady coaching staff, anything short of winning gold would be considered a failure. And considering the recent global expansion of the sport, the U.S. could find trouble against several capable opponents with NBA talent.
How could Team USA fall short of expectations? Let's take a look at three ways.
Begin Slideshow

»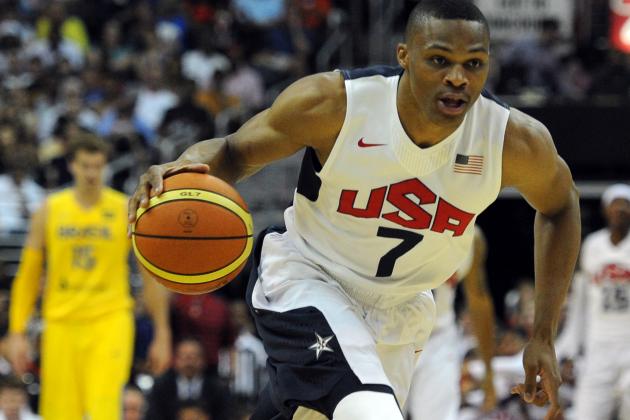 Patrick Smith/Getty Images

Team USA's best asset is their unrivaled speed and athleticism—hands down—no country has a more talented group of athletes than the United States.
But sometimes in sports, a team's strength ends up being their biggest weakness. LeBron James, widely regarded as the best player in the world, is notorious for using his freakish combination of size and speed to push the ball up the court.
Because it's what separates the Americans from the rest of the field, Team USA will surely try to turn most of their games into track meets. But just as it's the case with the Miami Heat, over-reliance on the fast break can lead to turnovers and sloppy play.
Along with free throw shooting, turnovers are basketball's ultimate equalizer.
If the Americans turn the ball over, they leave themselves susceptible to falling to inferior competition. Of the entire Team roster, perhaps no player is more of a concern to turn the ball over than Russell Westbrook.
Westbrook has as much athletic ability as almost anyone in the NBA, but questionable decision-making and a desire to be the "star" has often spelled trouble for the young point guard.
With more natural point guards Deron Williams and Chris Paul on the roster, Westbrook won't be relied upon to handle the ball nearly as much as he is with Oklahoma City. But regardless of how Westbrook plays, the rest of Team USA will need to match their basketball IQ with their elite athleticism if they want to win gold.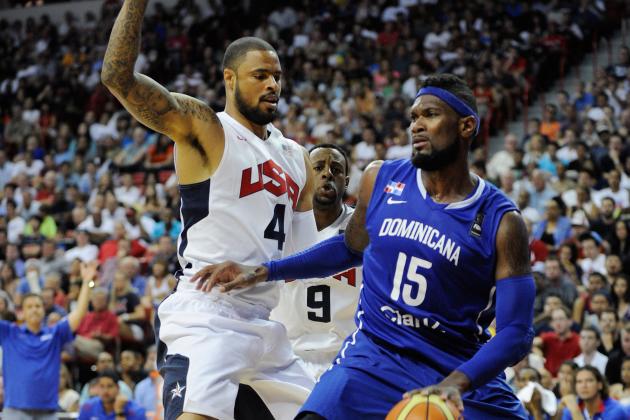 David Becker/Getty Images

When Team USA determined its final roster for the London Olympics, a clear lack of big men was evident.
Without perhaps the world's best center in Dwight Howard, the original roster contained just three post players—Tyson Chandler, Kevin Love and Blake Griffin. After Griffin got hurt in practice, the team's already thin frontcourt became skeletal.
Their post depth went from Miley Cyrus to Nicole Richie.
Team USA replaced Griffin with recent No. 1 overall pick Anthony Davis. With no NBA experience under his belt, the former Kentucky star will not be expected to play a major role in the Olympics, leaving the U.S. with Chandler and Love as their only two pure post players.
But the Americans benefit from the versatility of their roster. With LeBron James, Carmelo Anthony and Kevin Durant, Team USA has several players capable of scoring from anywhere on the court.
However, with only a couple true post players on the roster, the United States could struggle against talented seven-footers.
Spain likely has the deepest collection of post talent in the field. Their talented trio of Pau and Marc Gasol, and athletic freak Serge Ibaka would probably spell trouble for Team USA.
The Americans could combat their post deficiencies by going with a small lineup and using their athleticism to their advantage, but if they struggle offensively, Spain is capable of controlling the game with steady, reliable production from its post players.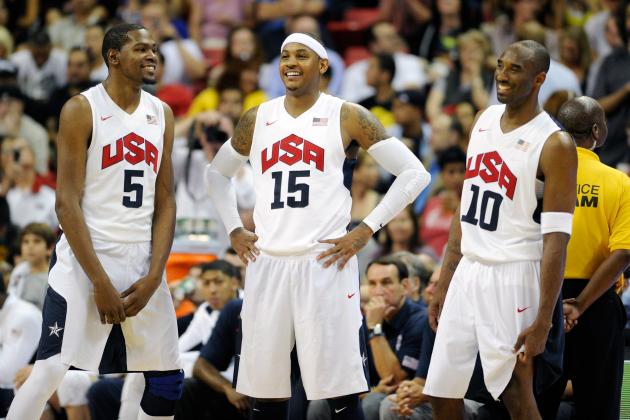 David Becker/Getty Images
Durant, Anthony and Bryant struggled against Brazil.
Team USA was in a dogfight for most of their exhibition game against Brazil, and poor outside shooting was a big reason why.
The roster is stacked with scoring guards and athletic perimeter players, but unlike the '92 Dream Team with Chris Mullen, the 2012 team lacks a true three-point specialist.
If the Americans fall behind in a game, the importance of outside shooting will increase. Team USA likes to shoot from behind the arc, but it's certainly not the strength of their team.
In last week's game against Brazil, LeBron James, typically an average outside shooter, was Team USA's most efficient three-point shooter. James connected on two of his three long-range shots, but the team as a whole shot just six-of-24 from three-point range.
Kobe Bryant, Carmelo Anthony and Kevin Durant struggled mightily from the outside, combining to shoot just three-of-15 on three-point attempts.
It took Team USA a little longer than expected to stop its reliance on outside shooting in favor of attacking the basket. The Americans were able to overcome their 25 percent three-point accuracy and get the win against Brazil, but they may not be as fortunate against the best competition in the field.