St. Louis Rams: The 5 Biggest Weapons in Sam Bradford's Arsenal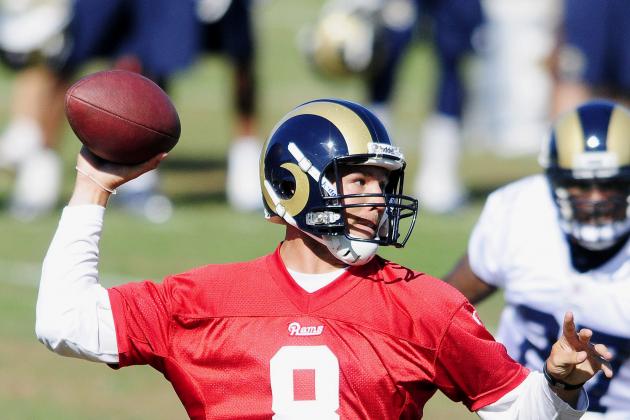 Jeff Curry-US PRESSWIRE
Sam Bradford has a chance to break out in 2012.
Sam Bradford had a 2011 to forget.
After being named the NFL Offensive Rookie of the Year in 2010 and leading the Rams to a 7-9 record, nothing went Bradford's way in 2011. His offensive line broke down with injuries to both starting tackles, he lost his best receiver in the first half of Week 1, and Bradford himself missed six games due to injuries.
Bradford got beat to a pulp a year ago.
So as the Rams prepare to break camp next week, what kind of season can we hope for our of Bradford? Is he going to take that next step? Will he become that elite, "make your receivers better" QB? Or is he shell shocked? Does he have Marc Bulger Syndrome?
First and foremost, Bradford needs his O-Line to keep his jersey clean in 2012. If that happens, then Bradford is going to need the players around him to step up. Today, I'm going to take a look at five Rams that need to shine this season.
Begin Slideshow

»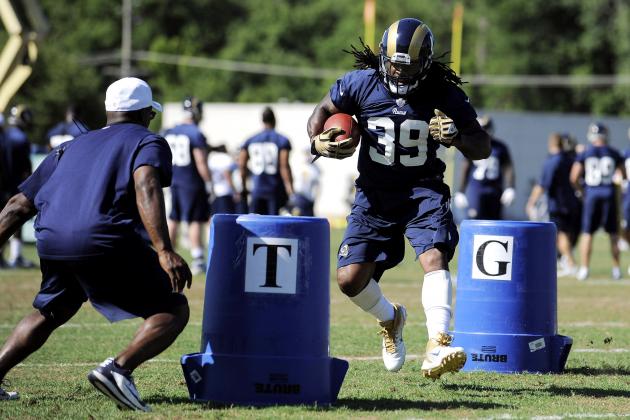 Jeff Curry-US PRESSWIRE

As we all know, the new boss, Jeff Fisher, loves to run the football. Steven Jackson is a beast, and if he is able to play in a run heavy offense, with a fullback, then the sky is the limit. New O-line coach Paul Boudreau has a track record of getting the most out of his O-line. Boudreau was actually the O Line coach for the Rams in 2006, when Jackson ran for a career high 1,528 yards.
So what does all this mean for Bradford?
Between Jackson and Isaiah Pead, the Rams' backup RB, expect the Rams to run the ball 400-450 times. They are going to pound teams, because that's what Fisher does. It's also what the Rams' O-line does best. By running the ball that much, it is going to slow down the pass rush.
If Jackson is vintage Steven Jackson, then Bradford is going to be making a lot of easy throws in 2012 because the Rams will be in favorable down-and-distance situations.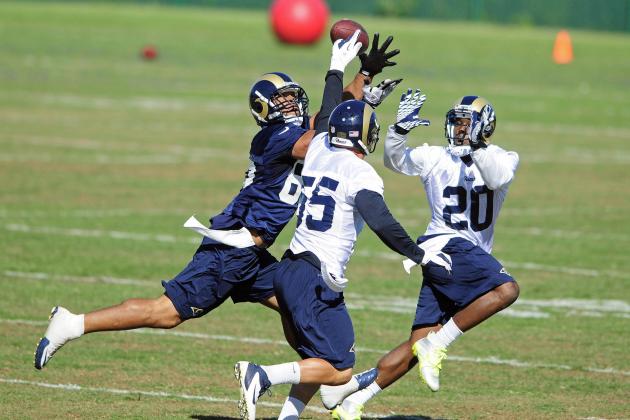 Jeff Curry-US PRESSWIRE

I know you all want me to put a receiver at the top of the list, but that just wouldn't be fit this offense. The Rams are going to pound teams with the run. By doing this, it's going to open up play action, especially over the middle.
That's where Lance Kendricks could have a monster season.
Every elite QB in the NFL has a good tight end. Bradford hasn't had a decent tight end to throw to in two seasons as a starting QB. Kendricks could change that. He is an elite athlete at the TE position, a player capable of turning an nine-yard catch into a huge gain.
If Kendricks can become a go to target over the middle, combined with the Rams ground game, Bradford instantly becomes a very good QB because he will have a lot of easy throws. As a pro, Bradford hasn't had easy throws yet! Kendricks is a key player for the Rams in 2012.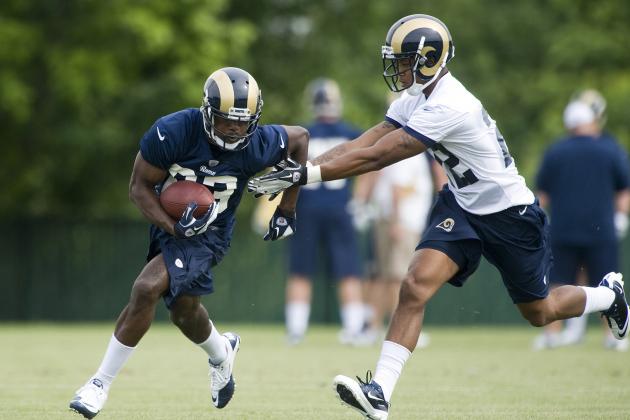 Jeff Curry-US PRESSWIRE

Think of a pitcher pounding the fastball inside to set up the slider away. Think of a basketball team driving the lane to set up a kick-out three pointer. That's basically what the Rams' running game and play action pass is going to do for their receivers.
Draw the defense in, then hit 'em where it hurts.
Of all the receivers on the Rams' roster, Brian Quick has the chance to "take the top off of the defense." He is big, fast, physical, explosive, and he should be able to dominate smaller defensive backs. If the Rams are able to pound defenses up the middle with the run and play action, then Quick will have a lot of one on one chances.
I know he's just a rookie, but Quick is that guy who gives the Rams a chance to be different on offense. He's that "one of these things is not like the other" receiver on the Rams' roster. Bradford needs Quick to play beyond his years in 2012. If he does, Bradford becomes one of the best QBs in the NFC.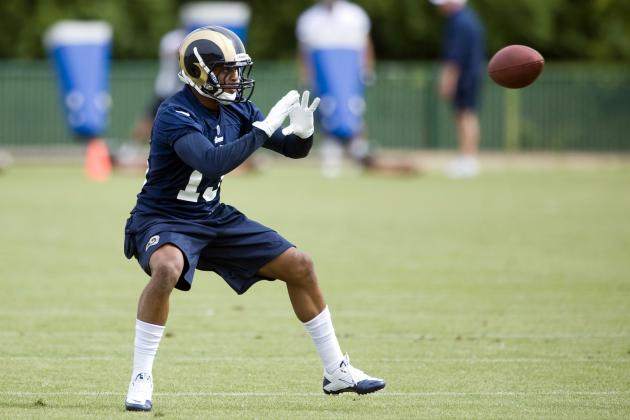 Jeff Curry-US PRESSWIRE

Yes, I know I just put another rookie receiver on my list. Yes, I know I placed him above Danny Amendola, Steve Smith, Greg Salas and Danario Alexander. I have questions about all of those guys, whereas Givens brings an elite skill to the table.
Alexander could be a big play receiver, but he can't stay healthy. Salas, Amendola and Smith—if they all make the roster—are all over the middle, possession-type receivers. I'm not sure how any of them would fare if they had to lineup outside, and in this offense, where we might see two tight ends and a fullback, I'm not sure how many three receiver sets we're going to see.
The Rams will have to go three and four wide at times because of down and distance, but in Fisher's offense, with his philosophy, we won't see it as much. So that brings me back to Givens. Here is a guy who can line up outside, and he can run right by the defense. He is the fastest player on the Rams' roster, and he is a good route runner.
If the Fisherball formula works, and the Rams are able to pound teams up the middle with the run and play action, they could have two home run hitters on the outside in Quick and Givens. It's no coincidence that both of these players were drafted by GM Les Snead and Fisher. They fit the bill for what the new game plan is going to be.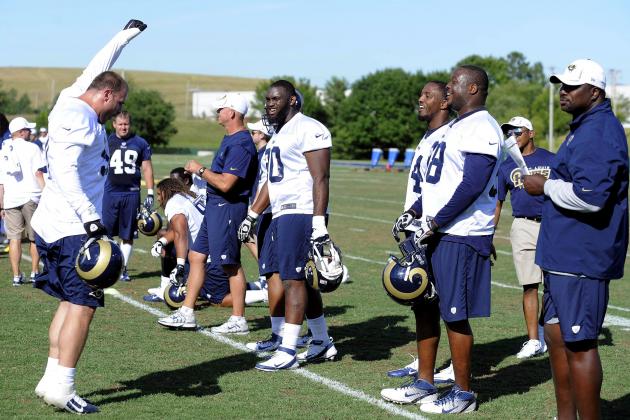 Jeff Curry-US PRESSWIRE

A lot of people forget, but the "Greatest Show on Turf" Rams' team that won the 1999 Super Bowl also had a very good defense. The Rams ranked fourth in points allowed that year, and the formula was pretty simple.
Get the lead. The other team can't run the ball. Rush the passer.
Kevin Carter had 17 sacks that season, mostly because the Rams were so far ahead sometime in the first half that the other team just quit running the ball. Rams fans also call this "the Rams' offense during the wasted prime years of Steven Jackson's career."
So what does this have to do with Bradford and the 2012 Rams?
This Rams team, as I've said a couple of times now, wants to pound teams with the run. In order for them to do this, the defense has to do their job. If the Rams are down 21-3 at halftime, it's going to be hard to keep running the football. If the defense knows we've scrapped the run, then they are going to pin their ears back and get after Bradford.
Do you really want to see Jason Smith pass blocking over and over in obvious passing downs?
For the Rams' overall success, and Bradford's safety and well being, the Rams' defense needs to step up and keep the score close. This will allow the Rams to stick to the game plan and keep pounding the run. If the D does their job, and the Fisherball plan works on offense, this is going to be a physical, hard nosed, relentless football team.
I can't wait. It will be fun to watch. Most of all, if the plan works, then Bradford will take the next step forward, and the Rams could be a sneaky good team in 2012.
Fisherball with an elite QB? That would really be something to see.