British Open 2012: 3 Big Threats to Adam Scott's Major Chances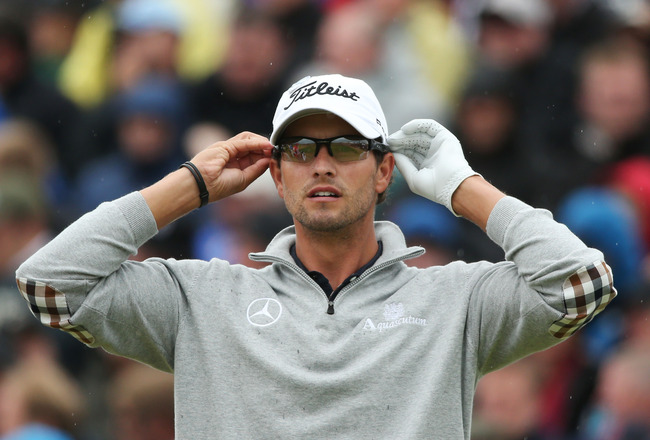 Andrew Redington/Getty Images
With the first round of the British Open ending on Thursday, Adam Scott would find himself as the man sitting on top. He had a great performance, and if Scott wants to keep his first-place spot, he will need to have an even better performance heading into this weekend.
Scott has three big competitors who are waiting for him to make the wrong mistake, and take that first place ranking for themselves.
With the weather set to be great for this weekend, it won't have as much of an effect on golfers that it usually does.
This weekend will be more about skill than someone getting lucky, weather-wise.
If Scott wants to prove that he has what it takes to win his first title, he will have to fend off these three big threats this weekend.
Bubba Watson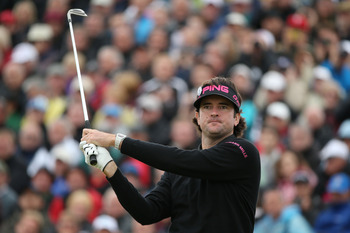 Andrew Redington/Getty Images
Bubba Watson sits three under, tied with other players like Tiger Woods for sixth.
While Watson played well, he could have easily done better. He struggled with his putting, and he also wasn't driving the ball as far as he normally does.
Still, with the good weather this weekend, Watson has a chance to make a surge for first place. Watson can be a pretty inaccurate driver, and while bad weather would have easily made him even more inaccurate, now that's one less thing Watson needs to worry about.
He has been an extremely steady golfer this year, with five top-five finishes.
Watson was also able to come up with some solid saves in the first round of the British Open, which would help keep him in the top 10.
Watson may have had a solid performance on Thursday, one that may not have been as great as some people were expecting, but it's way to early to count Watson out.
The 2012 Masters Tournament champion does not only have the aforementioned top-five finishes under his belt, but he is also fourth on the yearly earnings list and fifth in the FedEx Cup ranking.
Watson is just getting warmed up. Look for him to climb up the ranks and try to take that No. 1 spot from Scott by the time this weekend is over.
Zach Johnson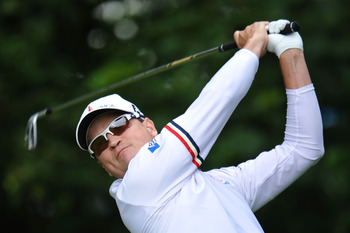 Stuart Franklin/Getty Images
After the first round was done, Zach Johnson sat in second, just one stroke away from Adam Scott.
With the weather set to be great for golf, Johnson has begun to focus on the other problems that lie in wait at the British Open.
More specifically, the 206 bunkers.
Johnson was quoted by Christopher Clarey over at the New York Times as saying:
I was really trying to avoid them; I played pretty conservative off the tee. I think if you get it inside a pot bunker greenside, you can get it up and down. You get it in a pot bunker fairway side, you are going to have a really, really difficult time making pars. So I think the tee shot in this Open championship is as important as any tournament I've ever seen.
Johnson was able to play with extreme care and avoid the Bunker situation that other golfers like Phil Mickelson would end up in.
Lytham has the most bunkers out of all the other courses on the rotation of the British Open.
Johnson, though, was in the right mindset when he was focused on playing conservatively. While he may have had some small issues at the beginning and end of his round, he was able to maintain solid birdies, like scoring a birdie on the par-four 16th hole.
Look for Johnson to continue his conservative performance and look to take away Scott's lead.
Tiger Woods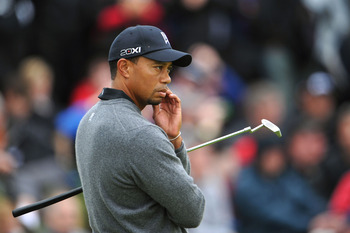 Stuart Franklin/Getty Images
Tiger Woods is a threat to any golfer.
He's even more of a threat when he puts on a solid performance in the opening round.
Woods is three under par after Thursday and tied for sixth place. This is a major problem for Adam Scott. When Woods struggles in the first round of a tournament, he tends to have a hard time making a comeback.
During the British Open, though, Tiger is only three strokes away from leader Adam Scott. Woods is also the most accurate when it comes to driving, with a accuracy percentage of 92.9
Tiger was solid when it came to putting. He might not have been putting as well as he would have liked, but of all 12 players who Woods is currently tied with or trailing, only four have putted better.
Woods was quoted over at cbsnews.com as saying:
I felt like I played well. I really hit it well. I was very close to making a few more putts. Every ball was starting right on my line. I was very pleased with that. I've just got to hit the putts a little harder.
While Tiger has struggled over the years, he is still clearly one of the top golfers in the world. He would birdie four of the seven opening holes and would play even par for the first part of his round besides one bogey, which occurred on the 15th hole.
With such an early dominate performance, if Woods can manage to have a solid performance through the rainy weather on Friday, look for him to become even more dominate once the nicer weekend weather shows up at the British Open.
Look for Tiger to make a big run this weekend and dethrone Scott for his 15th major title.
Keep Reading