The New York Knicks have successfully climbed out of the massive hole left by Isiah Thomas, but they've gone right back into salary-cap hell, even without re-signing Jeremy Lin.
Lin would have pushed them into a deeper circle of that aforementioned hell, but he also would have given the team a chance—a chance, not a guarantee—of achieving a level of cohesiveness that could have pushed them into true title contention.
If anything, the Knicks are in a worse position than they were with Zeke at the helm, simply because they're in the worst position the NBA has to offer. They're too good to rebuild but not good enough to win.
So, how did we get here, focusing first on the trio of stars playing at Madison Square Garden?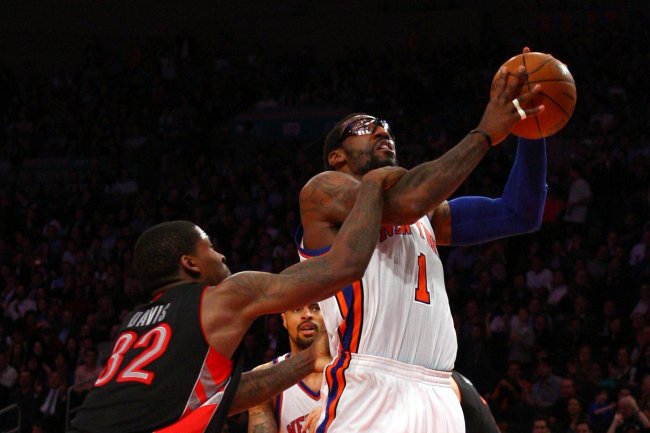 Chris Chambers/Getty Images
Amar'e Stoudemire signed a five-year deal worth $99.7 million in July 2010, ending his successful tenure with the Phoenix Suns that started when he was a rookie in 2002.
In February of the next season, the Knicks traded for Carmelo Anthony, bringing Chauncey Billups—who they would later amnesty—from Denver to New York along with him.
Then, after Melo's first partial season with the Knicks came to an end, the Knicks shored up their defense by completing a sign-and-trade for defensive stopper Tyson Chandler. The former Dallas Maverick was brought aboard for four years and $58 million in December 2011.
Now, after a couple of less expensive salaries were added to the books, the Knicks don't exactly have much financial room to work with.
Assuming that Melo chooses to exercise his player option for the 2014-2015 season, the entirety of the trio will still be in New York and getting paid even more, unless one is traded away.
During that year, the Knicks are set to have eight players under contract if the club retains the services of Iman Shumpert with a team option.
Using Spotrac.com as a reference and assuming that Raymond Felton is paid $3.3 million in the third year of his three-year, $10 million contract, the salaries add up to roughly $74.5 million.
Do the New York Knicks need to move one of their star players?
The salary cap this season is $58.044 million and the luxury-tax threshold is $70.307 million. Even if those numbers slightly increases each season, the Knicks are still going to be over the luxury-tax threshold already with only eight players on the roster.
Does anyone think that Felton, Jason Kidd, Steve Novak, Iman Shumpert, Marcus Camby, Melo, Stoudemire and Chandler can win a title with veteran's minimum players surrounding them?
I certainly don't.
The Knicks better enjoy first- and second-round playoff games, because that's about all they have to look forward to unless the team is blown up.