WWE Raw: The Top 10 Best Moments in the Program's History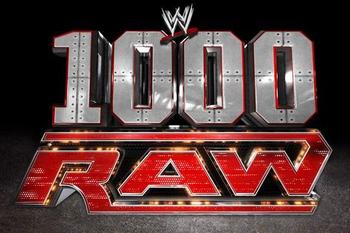 Photo courtesy of wwe.com
Tonight's episode of Monday Night RAW will be the 1,000th in the history of the flagship show for WWE programming. With that said, there has been a lot of recapping of the great moments in the history of the show. RAW has seen so many unforgettable moments that have made the show must see television every Monday night. As we approach the incredible milestone, here are some of the greatest moments in RAW history.
There are invasions from other promotions onto WWE soil. WWE did some invading of their own. There was even some invading done from within. The scheming of the McMahon family has left them all wet in the past and not even a "higher power" has been able to keep television's most dysfunctional family from making each and every RAW unique. They've even made some relatively large purchases over the years.
When you think of RAW's greatest moments, the segments among the highest in the ratings come to mind. With WWE having to compete with rival WCW and their Nitro program for the 1990s, as well as their constant fall foe, Monday Night Football, RAW has been able to bring the viewers in, just like they anticipate doing on Monday night with episode number 1,000.
These are my personal top moments over the previous 999 episodes of RAW, but they may not be yours. Feel free to comment with your own personal fond memories or drop me a tweet by following my Twitter account with a link at the end of this slideshow.
Honorable Mentions to Tribute Shows

The full tribute episode of RAW of the late Owen Hart.

It's hard to actually convince anyone that a show dedicated to a tribute for a superstar is supposed to be a moment belonging on a list recapping the best moments in the show's history. There's nothing great about them, honestly. If they never took place, meaning that stars like Owen Hart and Eddie Guerrero never passed away so suddenly, it would not really have changed the landscape of WWE too much. That one RAW for a fallen star may not have been good for storylines, but each one of them has had a profound effect.
It's hard to really single one tribute as being more touching than another, but I do still remember watching RAW Is Owen back in 1999. It wasn't the best moment because it was just so tragic. However, wrestlers and fans alike were able to mourn together. Superstars had a heavy heart while they continued on with their show, which also included having to continue on with their Over the Edge pay-per-view the night of Owen's death.
This is included separately because I couldn't possibly bring myself to include touching tributes as great moments. Sure, they were nice moments, but they only came out of very dark days in WWE history. Still, I will remember such tributes as John Cena removing his shirt, placing it in the ring, putting the WWE Championship on top of it and walking away. It was that type of simple, yet profound moment that will always be carried with a wrestling fan.
10) Corporate Ministry's "Higher Power" Revealed

The "Higher Power" overseeing the Corporate Ministry is revealed.

In the world of WWE, few factions were as large or as dominating as the Corporate Ministry. A lot of that was based upon the fact that it was two factions that had merged into one. The Corporation was begun by the McMahon family and included superstars who had sold out to be paid well and given opportunities by their boss. The Ministry of Darkness was led by The Undertaker, who used his dark powers to try and wipe whoever they wanted off the face of the earth. The Ministry converted superstars to the dark side and often tried to sacrifice superstars for their own dark enjoyments.
It didn't seem like RAW was big enough for the two strong factions, but it seemed to do just fine when the two merged together, forming the Corporate Ministry. The business sense of the corporate aspect, as well as the dark intentions of the former Ministry made for a unique stable with unusually similar tasks. One of them seemed to be against Stone Cold Steve Austin and Mr. McMahon, who had separated himself from The Corporation some time before. With his daughter, Stephanie, being the object that The Undertaker sought after, McMahon and Austin banded together to take on the huge group.
The group spoke of a "higher power" that led both groups together in the merger. That "higher power" was revealed to be none other than Mr. McMahon himself. It was such an incredible swerve and a perfect example for how crazy storylines in WWE can get.
9) ECW Invasion of RAW

ECW accepts an invitation to WWE programming.

A wrestling company promoting their competition isn't a very common thing with the major promotions. It happens a lot with territories of the smaller companies, who often benefit from such advertisement. WWE doesn't really do such a thing with their competition. They don't mention TNA by name and have rarely mentioned other wrestling companies. During the Monday Night Wars, they never wanted to mention WCW.
This was different in 1997, when a struggling WWE used the cult following for Extreme Championship Wrestling to make their broadcasts more interesting. ECW signs would pop up at WWE events, so WWE used that to their advantage. In a swap of sorts, cross-promotion for WWE and ECW began in the late 1990s. Jerry Lawler showed displeasure for the ECW signs and challenged the extreme promotion to come on to WWE programming to showcase their stuff. They did just that and it was a taste for what was to come.
This was before WWE began the Attitude Era. This was before anyone knew who Tazz or The Dudley Boyz were. This showed the world all about what ECW was, and helped ECW expose themselves to new audiences. WWE would adopt a lot of ECW style following this, but it sure led to a cool comparison between the two companies at the time.
8) DX Invades WCW Territory

D-Generation X attempts to get into a WCW event.

Speaking of invasions and WWE taking extreme measures, few made for more extreme measures than D-Generation X causing a scene at a WCW event. WWE was in Hampton, Virginia, while WCW was in nearby Norfolk. DX manned themselves with military gear and a tank and went en route to a WCW event.
When they got there, WCW fans outside ate up the DX shtick. Fans came around the WWE faction and began to turn against WCW. There were acknowledgments of WCW sucking, as well as a claim that some fans were given tickets for free to help fill the arena. This claim led to a lawsuit that never came to fruition, but it did not stop DX in that moment from trying to get free tickets at the box office. Unsuccessful in that attempt, DX then tried to get themselves directly into the backstage area of WCW, but had the doors closed on them.
Eric Bischoff has stated that he was very upset at the stunt and the first great firing shot was taken in the Monday Night Wars that night.
7) Nexus Invades RAW

The NXT rookies dismantle RAW during the main event.

The Nexus consisted of the eight rookies from the NXT program. Wade Barrett won the season and a spot on the WWE roster. However, the other seven rookies had uncertain futures attached to them. In an angle that went unspoiled, Barrett showed up on RAW following his NXT victory. What happened next shocked an immense amount of fans.
The other seven former NXT rookies appeared in the crowd, jumped over the guardrail and attacked The Straightedge Society. The eight men then surrounded the ring, came in simultaneously, and attacked John Cena. Eight men took down the mighty Cena, then decided to destroy the ring. The layers of the ring were exposed, as well as ropes being broken off and the ringside area being trashed. The crew around the ring was attacked as well, including ring announcer Justin Roberts being choked with his own necktie.
The attack made for a great debuting impact for The Nexus, who could not continue the same momentum in their existence. Still, that moment lives on as a night where it became cool to watch professional wrestling on a mainstream level again. It left many parents upset with the product, but it ultimately shook things up, which is always a great thing.
6) Austin Douses McMahons with Beer from Beer Truck

Stone Cold Steve Austin squeezes a beer truck into the arena.

Stone Cold Steve Austin does absolutely whatever he feels like doing. The most famous example is that Austin drinks beer in the ring on a regular basis. He also likes to make the time that Vince McMahon has on RAW a living hell. Austin got to do just that on this night prior to WrestleMania XV. With Shane and Vince McMahon in the ring alongside The Rock, Austin's music hit and out came a gigantic beer truck.
The truck was actually so large that it took down signs, and actually the titantron nearly came down on the truck as well. It was shocking enough to see the beer truck in the arena, but all the more unbelievable when a hose was introduced and the three were being sprayed down by the beer from the truck.
Austin was a man who connected with many people in such an incredible way. Any person back then would just love to spray their boss with beer coming out of a hose. Austin got to actually do that. It was an unforgettable moment done right before a forgettable WrestleMania, but it was still a fantastic moment. Jerry Lawler's reactions on commentary are absolutely priceless.
5) Bret Hart Returns to WWE

Bret Hart returns to WWE and mends his relationship with Shawn Michaels.

We are getting into "never thought this would happen" territory. Many years after Bret Hart had a sour ending to his career with WWE, he returned to WWE by appearing on an episode of Monday Night RAW. Hart left the company following an unfortunate ending to Survivor Series 1997. It seemed as if things would never be repaired between the two sides. On the first RAW of 2010, they were. There was Hart, coming down the aisle and going into a WWE ring once again.
Hart was able to address WWE fans who had waited more than a dozen years for this return. We also got to see Shawn Michaels come to the ring and the two men address the famed screwjob that left a sour taste in people's mouths. Michaels and Hart buried the hatchet in a rather unforgettable moment for wrestling history.
Hart would get inserted into storylines again when a moment with Mr. McMahon in the ring was ruined by a kick to the groin by McMahon. A WrestleMania match came out of it where Hart got to get the shots in on his boss that he has always wanted to.
4) "The Rock, This Is Your Life"

Mankind presents "The Rock, This Is Your Life" on RAW in 1999.

It was one of the highest-rated segments in the history of Monday Night RAW. Mankind, feeling guilty for accidentally attacking The Rock the night before at Unforgiven, presented The Rock with an unforgettable series of gifts. It was "The Rock, This Is Your Life" and the people absolutely loved it. The People's Champion, however, didn't like it as much.
Mankind brought The Rock to the ring to show him his home economics teacher, his high school football coach and his high school sweetheart. The Rock always seemed to have a problem with each of these people. His teacher wouldn't let him make pancakes. His coach made him run sprints. His girlfriend cut him off at second base. Seriously. This is what was said as reasons.
In a last ditch effort, Mankind opened up gifts, which had Rock N' Sock Connection jackets and a Mr. Socko version for The Rock referred to as "Mr. Rocko". Still not pleased, The Rock then saw Yurple the Clown come out and sing Happy Birthday to The Rock as a cake was rolled down to the ring. The Rock then said it wasn't his birthday and a nearly 20-minute segment was ended with the insertion of Triple H.
3) CM Punk's Shoot Promo

CM Punk lets out his frustrations while millions watch on.

This happened just a year ago, but it is still ranking among the greatest moments, especially due to the attention that the situation brought on to WWE programming again. With just weeks before his WWE career could very well have been over, CM Punk delivered a spirited speech at the conclusion of a RAW episode. With a ruined t-shirt, Punk was wearing a Stone Cold Steve Austin shirt instead. He came to the ring and helped R-Truth defeat John Cena in a Tables match.
Punk then grabbed a microphone and sat down on the ramp. Nobody was out of bounds for Punk, as he mentioned Mr. McMahon, The Rock and John Laurinaitis by name. He brought up Brock Lesnar, Hulk Hogan and Paul Heyman as well. He stated that fans annoyed him for autographs, while WWE refused to put him in the WWE signature or on the collector's cups sold in concessions. Punk complained that he was not a movie star or on Jimmy Fallon or the other late night shows.
A year later, Punk is WWE Champion. He has appearances on a lot of merchandise. Lesnar and Heyman are on the roster right now. McMahon and Laurinaitis are not seen on a regular basis anymore. Punk is not a movie star, but he does show up on late night talk shows now. Punk has gotten just about all he wanted at the time, though we still don't have WWE ice cream bars.
2) Shane McMahon Buys WCW

The McMahons purchase WCW, but which McMahon owns them?

WCW was struggling after being blown away in the Monday Night Wars. We then found out in 2001 that WCW was being sold. The buyer was none other than WWE. Vince McMahon had now owned his competition. As the final episode of Nitro went on, WWE teased all night long about what McMahon would do with the product.
As the episode of RAW ended, Mr. McMahon came to the ring with the intention of ending WCW and not letting any of their stars come into WWE. Suddenly, Shane McMahon, the son of Mr. McMahon and his WrestleMania opponent the following Sunday, would appear on WCW turf. Shane would then announce that he was the one who owned WCW, not his father. It would begin an invasion of WCW onto WWE programming and a feud that wouldn't end until late 2001.
1) Mankind Becomes WWE Champion

WCW spoils Mankind's world title victory, loses Monday Night Wars.

Mick Foley never seemed like a world champion. In WCW as Cactus Jack, Foley was extreme, but could not keep up with the mega stars being brought into the company. In WWE, Mankind was formed, and some good rivalries surfaced. Foley was a workhorse and did whatever they asked from him. He was also a huge fan favorite and the fans would get their wish when Foley was to be crowned world champion in WWE to begin 1999.
WCW knew that this would happen. It wasn't because they were psychic. This was a taped episode of RAW to help the travel around the holidays. WCW knew the spoilers and told their viewers in an attempt to not have people change the channel. As Buff Bagwell and Scott Steiner were on television for WCW, they announced yet again that Foley was going to win the title. Over 600,000 people took the hint and changed the channel to watch Foley win the title. It helped WWE win the ratings. They would never lose again to WCW, effectively winning the Monday Night Wars.
WCW literally lost the war for themselves. This could never happen in today's wrestling world. Shows that are already taped are spoiled in real time, effectively ruining taped episodes of shows. The surprise of such an event backfires nowadays, but even back then, seeing Foley become a champion, even with a spoiled ending, was exciting enough for fans.
Keep Reading