British Open 2012 Leaderboard: Highlights and Recap for Round 2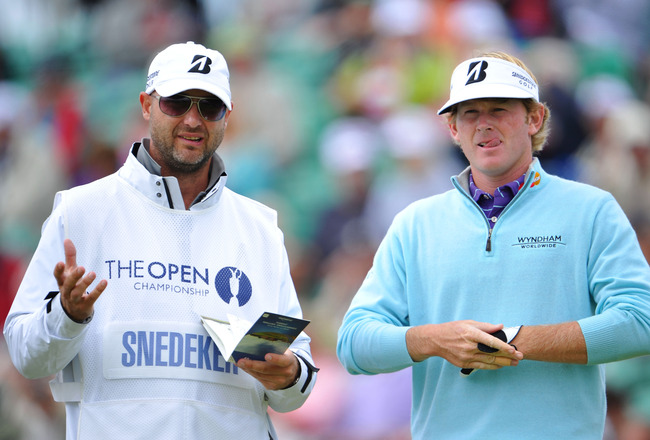 Snedeker going low at Royal Lytham & St. Annes.
Stuart Franklin/Getty Images
Brandt Snedeker has proclaimed his game "boring golf." But, there is nothing boring about 10-under par and the top of the leaderboard. Snedeker followed his opening round 66 with a six-under 64 on Friday to grab headlines, nods and quips of, "who is this young American."
The Tennessee native made a bunch of long putts on his way to the top of the leaderboard. Putts over 20 feet on one, six and 11 led him to become the only player since Tiger Woods (2000) to navigate 36 holes in bogey-free fashion.
Snedeker grew up on the slow public course greens in Tennessee. His ability to get it around Royal Lytham from tee to green is remarkable, but maybe more impressive is his comfort on the greens.
His previous three Open Championships resulted in three missed cuts. Not this year.
Tiger's Chip in on 18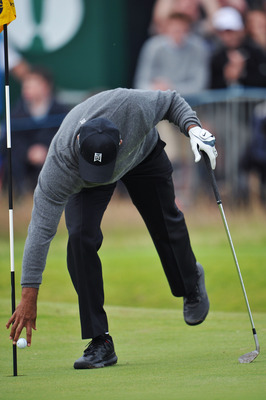 Woods plucks his birdie on 18
Stuart Franklin/Getty Images
Tiger Woods knows drama. His chip in for birdie in the second round completed his second consecutive 67, and keeps him a paw away from Snedeker, just four of the pace.
The birdie on 18 might be a sign that his short game is starting to ebb with his ball striking. After two rounds, he has missed only two fairways, one in each round. His putting has been close to Crenshaw-like.
With the U.S. Open weekend in his rear-view mirror, the chaser might become the one to beat come Sunday since the young thoroughbred on top has not closed a major.
Adam Scott Remains Rock Solid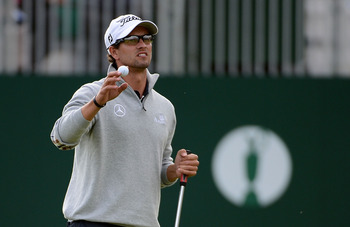 By Scott perfection.
Harry How/Getty Images
Thursday's opening round six-under 64 was really not a shock to the golfing populous. But, when Adam Scott put another solid round together on Friday, there was a wee bit of chatting in the gallery. While Scott has matinee idol looks, his game has not donned the same personae, especially at major championships.
Friday was different. He put together a solid round which has him entrenched on the first page of the leaderboard.
Keegan Bradley's Water Hazard Bunker Shot on 15
Splish splash.
Kyle Terada-US PRESSWIRE
Keegan Bradley's shot from casual water in the bunker should make the highlight reel from Day 2 at Royal Lytham. The defending PGA Champion made the cut on the number (+3).
John Daly's Pants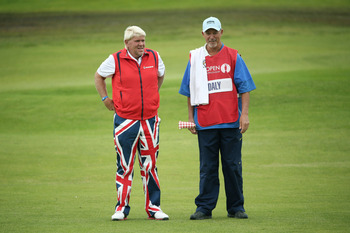 British flag apparel by John Daly.
Andrew Redington/Getty Images
Before they awarded the Claret Jug to the British Open Champion, they gave the Champion Belt.
John Daly did not play in the era, and as we know he has a penchant for loud remarks and loud trousers. His Day 2 apparel did not disappoint. A wonderful pair of Union Jack trousers all hitched up by the one time British Open champ was enough for the Arkansas native to record a second round 71 which allowed him to make the cut at three-over par.
Stevie Williams Red Caddie Smock and Red Hat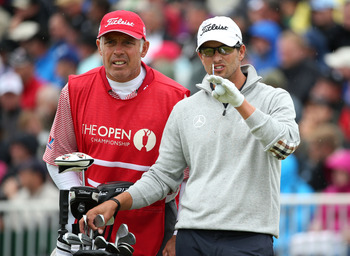 The look of a championship caddie
Andrew Redington/Getty Images
Almost as equally impressive in the apparel category, Steve Williams looked strong in a red hat which matched his caddie smock. The looper's combination propelled his player to a three-under par round, good for second place and a tee time on Saturday with the leader, Brandt Snedeker.
Snedeker's Par on 18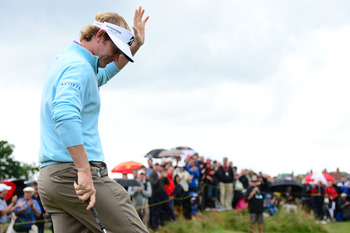 Hail to the leader.
Kyle Terada-US PRESSWIRE
The Tennessee flash has made an impact on the leaderboard, and he shows no sign of stopping. He made some long birdie putts on holes one, six and 11. But maybe more impressive was the conservative play on 18.
Showing David Toms type caution, he sent his second shot on 18 into a wedge zone. Two shots later he was in the clubhouse at 10-under. A smart play from a former Vanderbilt Commodore.
Tom Watson Makes the Cut
Tom Watson makes another cut at the Open Championship
Andrew Redington/Getty Images
Just when you thought Tom Watson would ride off into the Open Championship sunset, he made the cut—again. His bunker shot on 17 was epic Watson. Unfortunately, the putter continues to be the five-time Open Champion's nemesis.
Keep Reading