Pac 12 Media Days: 12 Burning Questions for Head Coaches Going into 2012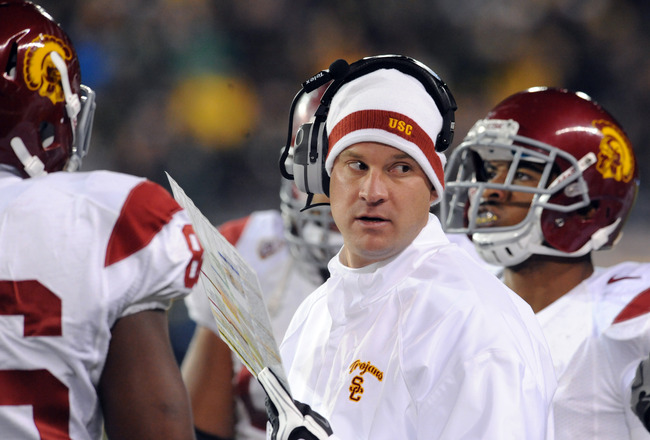 Steve Dykes/Getty Images
The Pac-12 only gets one day to the media, which will kick off on July 24th.
Although it isn't as big as the SEC or ACC media days, there are still many questions that will be asked and much interest every time these coaches open their mouths. There are many things going on in the Pac-12 this season, with new coaches taking over, possible national championship contenders, several award nominees and many dark horses that have the potential to surprise many college football fans.
With media day just a couple of days away, here are some of the main questions each team will face during Pac-12 media day.
Arizona: Is Your Offense Ready for This Style of Offense?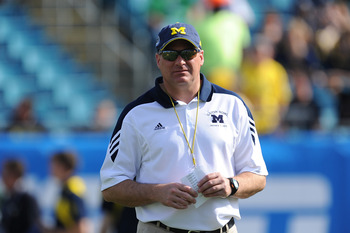 Rick Dole/Getty Images
After taking a season off, Rich Rodriguez is back on the sidelines and will begin his coaching debut with the Arizona Wildcats. Rodriguez is not only an accomplished head coach; he is also one of the brightest offensive minds, running the spread option offense to perfection.
The problem is that you need playmakers to run this attack, and judging by some of the comments by Rodriguez, he still thinks this is a work in progress.
The Wildcats return six starters from an offense that averaged nearly 31 points per contest but lost starting quarterback Nick Foles and leading wide receiver Juron Criner.
Arizona State: What Is Going on with Brandon Magee?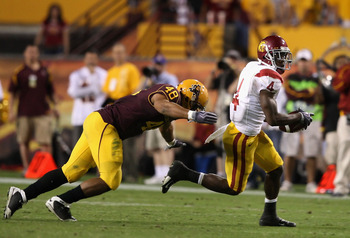 Christian Petersen/Getty Images
Arizona State returns seven starters on the defensive side of the ball, but getting linebacker Brandon Magee back on the field would be absolutely huge. He missed the entire 2011 season with a torn ACL but finished the 2010 season with 73 tackles, five tackles for loss and 1.5 sacks.
He is a playmaker for this team and somebody who will help lead the younger guys on the roster. Magee was named to the 2012 Butkus Award watch list, but it is still unknown how healthy he is coming off such a major injury. Hopefully we can find out a little bit more on media day.
Cal: Can You Guys Actually Win the Pac-12?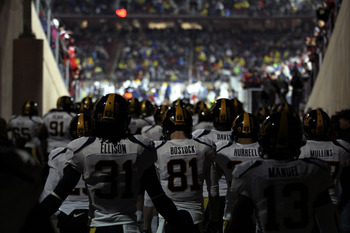 Ezra Shaw/Getty Images
While everybody is only concerned about USC and Oregon, Cal is a team that has the talent to surprise. The Golden Bears return six starters on both sides of the ball, including a quarterback and a 1,000-yard rusher and receiver. The defense is full of potential and extremely young.
The Golden Bears will get Arizona State, UCLA, Stanford, Washington and Oregon all at home.
Can Cal actually go from 7-6 to Pac-12 champs in one season? The talent is certainly there; question is, do they actually believe?
Colorado: Who Is the Starting QB?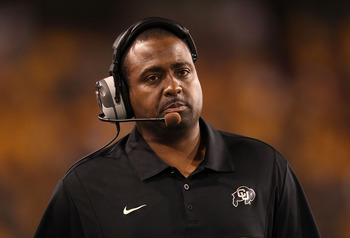 Christian Petersen/Getty Images
The most experienced quarterback for Colorado is Nick Hirschman, who has thrown 35 total passes in his career. He missed the entire spring with an injury, which opened the door for Connor Wood, a transfer from Texas.
Regardless of who wins the quarterback competition, it will be a young player who will come with many growing pains along the way. The Buffaloes have many things they have to fix to improve a 3-10 record, but finding the right quarterback can certainly go a long way in the 2012 season.
Oregon: Is Carson York Truly Ready to Go?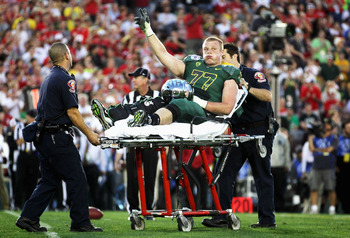 Jeff Gross/Getty Images
Carson York is a very talented offensive lineman for the Oregon Ducks and is also the most experienced, having 37 career starts under his belt. The problem is that he suffered a knee injury in the Rose Bowl that required surgery.
Oregon could have one of the better offensive lines in the conference, returning three starters, but a lot depends on the health of York. He has been working extremely hard to get back onto the football field but was very limited in spring practice.
York was named to the Outland Trophy watch list and will be a huge addition to this team if he is ready by September.
Oregon State: What Will It Take to Turn Things Around?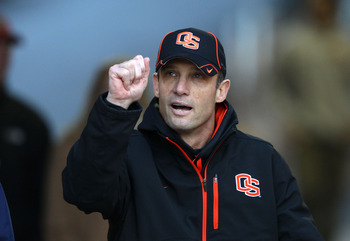 Ezra Shaw/Getty Images
It was just a couple of seasons ago that Oregon State was winning eight and nine games, although the last two seasons, the Beavers have won eight combined games and haven't clinched a bowl game since 2009. Last season, they won only three games and even lost to Sacramento State in the season opener.
In 2012, the Beavers return eight starters on both sides of the ball and have a defense that should be much improved. They also have home games against Wisconsin, Oregon, Utah, Arizona State and California.
Things are looking good for this team heading into the year; the results just must be different.
Stanford: Who Will Replace Andrew Luck?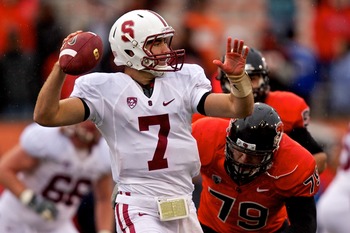 Craig Mitchelldyer/Getty Images
Although this question likely won't receive an answer until late August, it is certainly the question everyone wants answered and is worth a shot by the media. Andrew Luck was the most dominant quarterback in the country the last two seasons, so the replacement will have huge shoes to fill.
It will likely be Brett Nottingham or Josh Nunes. Nottingham was last year's backup, but it was Nunes who started with the first team in the spring game. He also played better than Nottingham, completing 11 of 29 passes for 167 yards and two touchdowns.
This is a quarterback battle worth watching as it will likely be the key to Stanford's success in 2012.
UCLA: How Are You Enjoying the Transition?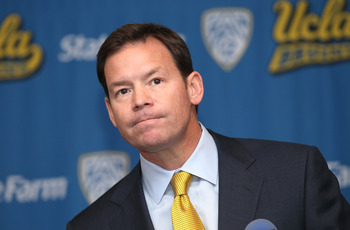 Stephen Dunn/Getty Images
Jim Mora has spent his entire coaching career at the NFL level, so it was really surprising when UCLA decided to make him the next head coach. Although we have yet to see what Mora is capable of on the football field, he certainly knows how to get players to believe in his program, putting together a loaded 2012 recruiting class.
The Bruins put together a class of 28 players, including seven who were 4-star (of 5) recruits. They have also landed 11 early commitments for the 2013 class, with six of them being highly recruited players as well.
It appears that the Bruins are quickly on the rise in the Pac-12 under the first-year collegiate head coach.
USC: How Do You Keep Your Team Grounded?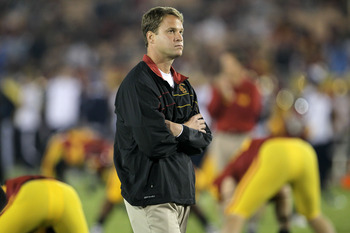 Stephen Dunn/Getty Images
The SEC has won the last six national championships and is the overwhelming favorite to repeat once again. One of the main teams that everyone believes can knock off the power conference is USC. The Trojans return 17 starters from a year ago, including arguably the best quarterback in the country and one of the deepest wide receiver corps.
There are oodles of players on this team who are eligible for awards, and the hype for the 2012 season is as big as it has ever been for Trojans football. But even with all the hype and weak schedule, the Trojans must remain grounded and take one game at a time on the schedule.
Utah: Is This Team Ready to Take That Next Step?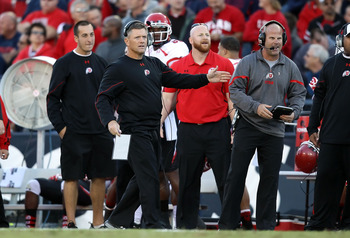 Christian Petersen/Getty Images
Utah finished with an 8-5 record, snapping its three-year streak of double-digit victories, but head coach Kyle Whittingham has done a great job of replacing Urban Meyer, as far as keeping this Utes team relevant. They return 16 starters from a year ago and have several things going for them heading into the regular season.
Quarterback Jordan Wynn is finally healthy and provides experience at the most important position. John White is a 1,500-yard rusher who showed last year that he can carry a huge load. The starting defensive line is also arguably the best this conference has to offer.
Can they give USC a run for its money in the Pac-12 South, who knows? But this team should compete at a very high level in 2012.
Washington: Is Your Team Ready for the 2012 Schedule?
Stephen Dunn/Getty Images
Despite what a 7-6 record may say about a team, this Washington roster has a bunch of talent. Quarterback Keith Price is a dark horse Heisman candidate who showed several times last season what he was capable of. A defense that returns seven starters has potential, and the wide receiver corps is about as solid as it is going to get.
I like this Huskies team to improve in 2012, but the schedule isn't a cakewalk. Taking trips to LSU, Oregon and Cal is not going to be easy, and that doesn't include games against USC, Stanford and Utah.
Steve Sarkisian has his work cut out for him heading into his fourth season.
Washington State: Can Your Team Make a Bowl Game?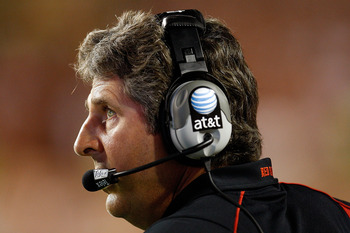 Ronald Martinez/Getty Images
Washington State is a team that has many key pieces in place. An experienced quarterback in Jeff Tuel, one of the best receivers in the country in Marquess Wilson and a defense that should improve under the new 3-4 scheme. The Cougars also have a bright offensive mind in Mike Leach now running the show.
There are many things to be excited about for this 2012 team; the question is, can Leach lead the Cougars to a bowl game for the first time since 2003?
Keep Reading