SEC Media Days: Nick Saban Gives Candid Thoughts on Penn State Punishment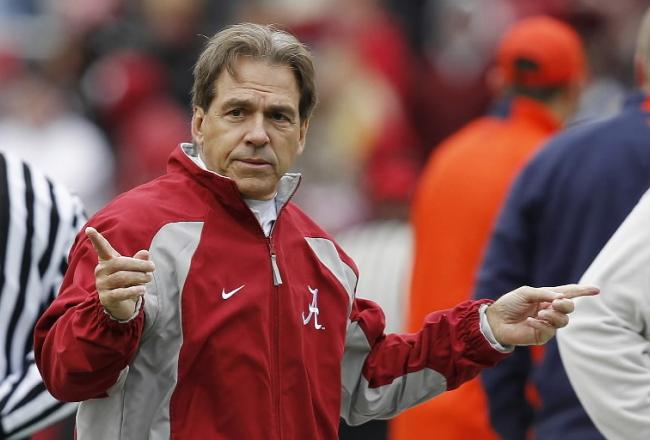 Butch Dill/AP -- Nick Saban: "...Tax all the [Penn State] tickets ... and give the proceeds to child abuse."

In the wake of the Freeh Report, NCAA President Mark Emmert has balked from taking swift, decisive action against the Penn State football program. This hesitation, coupled with speculation that the NCAA plans on giving Penn State the dreaded "death penalty," has led local experts to urge the university to preemptively shut down the football program.
And amid all this irresolute finger-pointing, none other than Nick Saban has made pragmatic sense of the situation.
The Alabama coach made an incisive suggestion when asked about Penn State yesterday, proposing a system where the school is taxed for athletic events and forced to donate all that money to child abuse funds. As Saban explains it:
What do we want the outcome to be? Something that's a win-win for the kids and the people there now, the players there now. Maybe tax all the tickets that they sell and give the proceeds to child abuse … rather than worry about some punishment that's not going to have some positive effect on anything.
Saban's lesson in Hammurabi-ism is a breath of practicality in a situation where things have become especially convoluted.
The punishment should fit the crime, should it not? The forcible termination of Nittany Lion football would be a grand gesture, sure––one that would definitely earn Mark Emmert and Co. a pat on the back from the blogosphere––but in practice, it's a wanton non sequitor.
In Saban's proposed solution, the punishment would be a direct consequence of the crime. More importantly, the punishment would help prevent the crime from happening again in the future. Shutting down Penn State football wouldn't help raise awareness for child abuse; if anything, it would be taking revenue away from an organization that's extremely motivated to donate to that cause.
Saban's proposal also keeps the punishment away from one group that doesn't deserve to be punished: The fans. The Nittany Lion fans take their football pretty damn seriously, but despite their innocence in this fiasco, they run the risk of becoming collateral damage. They aren't Sandusky apologists, and they aren't Paterno apologists, either (the sane ones, at least). They're as mortified by this whole situation as the rest of us are––probably more so. Why should they lose their football?
The NFL had a similarly huge (though far less officious) scandal this summer, when the details of the Saints' bounty program came to light. Roger Goodell chose to bring the hammer down, suspending Gregg Williams indefinitely and Sean Payton and Jonathan Vilma for the entire season. Goodell has been lauded in the media for his decisiveness.
But the punishment doesn't fit the crime. I don't think Gregg Williams should be anywhere near an NFL locker room either, but how does this penalty help solve the problem? Jonathan Vilma has been suspended without pay for the 2012 season--why isn't that money going to concussion research, instead of disappearing into thin air?
The actions (or inactions) of a select few Penn State higher-ups were egregious, and Jerry Sandusky is a monster, but you can't punish the entire, mostly-innocent community for what they did.
They need to be punished, and they need to be punished severely, but there needs to be a proactive solution in there somewhere. Otherwise, the NCAA is just arbitrarily flexing its muscles, not helping anybody but its own reputation.
Nick Saban hasn't exactly been a beacon of morality during his career, but in this case, he got it exactly right.
This article is
What is the duplicate article?
Why is this article offensive?
Where is this article plagiarized from?
Why is this article poorly edited?

Alabama Crimson Tide Football: Like this team?