5 Reasons 2012-13 Is Finally the Year for the New York Knicks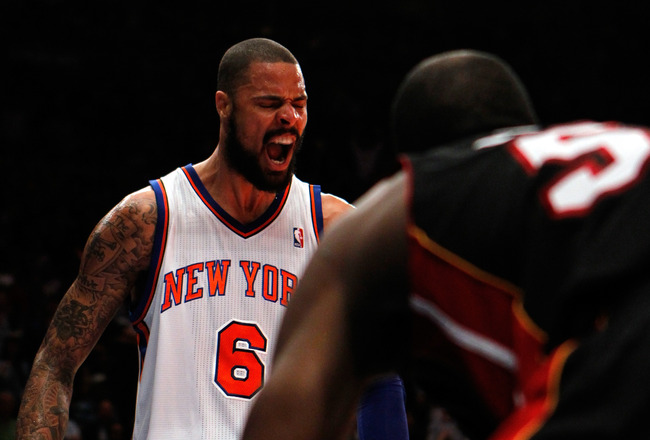 Jeff Zelevansky/Getty Images
Linsanity may be over in New York City, but that isn't going to stop the New York Knicks from going out in 2012-13 and making some noise.
Many of the key players from last season are returning, and with the team's first playoff win in over a decade to fuel them throughout the season, chances are that this will be a focused, angry team. Move over, Eastern Conference elite, the Knicks are back!
Yet, let's take a step back for just a minute. Every team goes into every season with the drive to succeed and win. Given how 14 teams always fall short of making the playoffs, let's temporarily throw the hunger out the window.
It's obvious that teams need more than determination to get the highly coveted Larry O'Brien trophy. The Knicks certainly have that.
This is going to be the year where New York finally steps out of mediocrity and once again becomes a force to be reckoned with in the Eastern Conference.
I outline five reasons why this will be the case.
No. 5: Bench Depth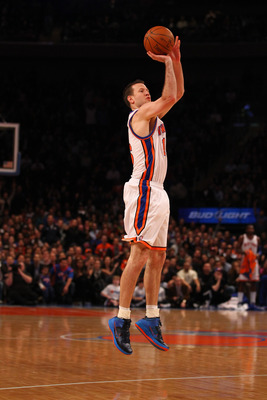 Al Bello/Getty Images
As past NBA championship teams have shown us, one major key to success is reliable players in the second unit.
Knicks general manager Glen Grunwald realized that going into free agency, and he made the bench a strength for the foreseeable future.
Not only did Grunwald re-sign last year's three-point percentage leader Steve Novak (pictured) and the versatile J.R. Smith, but he also brought in some key veteran leadership in Jason Kidd and Marcus Camby.
Though both are getting up there in NBA years, they are still valuable contributors in their respective specialties and will be welcome additions to the team.
Should the starting players hold up their end of the bargain and the second unit theirs, the Knicks are going to look a lot more dangerous than usual entering the 2012-13 season.
No. 4: Mike Woodson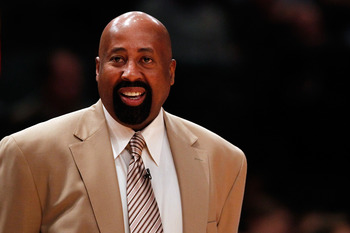 Jeff Zelevansky/Getty Images
Though I will defend Mike D'Antoni until the day I die, I'm not blind to the fact that his fast-paced offensive system wasn't right for New York.
For as long as I can remember, this has been a franchise that has been all about defense with just one or two players doing most of the scoring.
Mike Woodson will bring that successful approach with him as he mans the sidelines for his first full season as Knicks coach. Simply put, if the Knicks are to win a title in the next few years, Woodson is going to be the man to lead them.
The team went 18-6 under him last year after he took over following D'Antoni's resignation. That was with Amar'e Stoudemire and Jeremy Lin injured most of the time.
Stoudemire and Carmelo Anthony were playing well together before Stoudemire went down with a back injury, so I'm optimistic as to how the team will do in a full season with Woodson at the helm.
By continuing to have Stoudemire and Anthony be the go-to guys on offense, the Knicks can be nothing but successful.
No. 3: The Drive to Win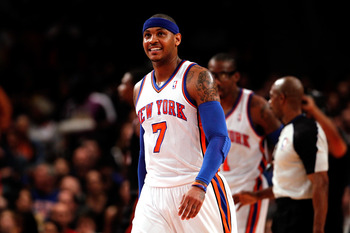 Jeff Zelevansky/Getty Images
After losing in five games to the Miami Heat in the playoffs—and subsequently watching them win it all—the Knicks are hungry to prove themselves.
In fact, shortly after the Heat won it all, Carmelo Anthony came forward and said that it would soon be his turn to raise the Larry O'Brien trophy over his head.
For someone who is basically just a scorer, those are big words. If you ask me, he wants that ring to show that he can be a leader.
With that kind of drive and a good supporting cast, he definitely has a shot at bringing New York a ring this year.
No. 2: Batman and Robin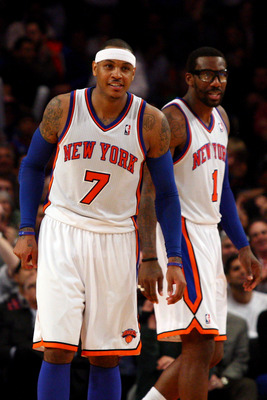 Chris Chambers/Getty Images
Carmelo Anthony and Amar'e Stoudemire are due for big years after having disappointing seasons last year.
At this point, both players have been on Knicks teams that barely made it to the playoffs. This time around, they're out to prove that they will be a force to be reckoned with in the postseason.
Given how Woodson's offense will be having them do most of the work and not solely relying on the pick-and-roll, keep an eye on these two stars to lead the Knicks to victory most nights.
No. 1: Defense, Defense and More Defense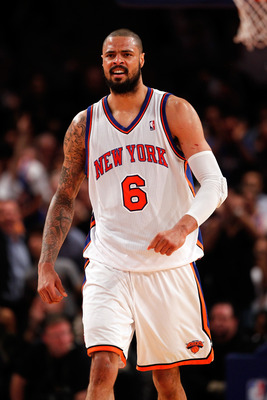 Jeff Zelevansky/Getty Images
Defense wins championships, and the Knicks have plenty of it.
Marcus Camby and Jason Kidd, even at this stage in their careers, are solid defenders.
They will also get shooting guard and absolute pest Iman Shumpert back once he is fully recovered from the ACL injury he sustained in last year's postseason.
Those guys are small potatoes compared to the man who will lead the Knicks in the defensive department.
Center Tyson Chandler averaged 9.9 rebounds and 1.4 blocks last season on his way to being named the NBA Defensive Player of the Year. He anchors Woodson's defense perfectly.
Seeing as how he probably won't be playing this season as banged up as he was last year, I wouldn't at all be surprised if he put up even better numbers in 2012-13.
With Camby giving him a rest from time to time, he should have no trouble staying healthy.
Keep Reading

New York Knicks: Like this team?