TNA Impact 07/19/12: What Worked & What Didn't
guysnation.com
Welcome, boys and girls, to yet another "What Worked & What Didn't" after another Open Fight Night. I can't be bothered writing an introduction as it's been a long day, so here is the BFG table after tonight.
(1) Samoa Joe - 47 points [5-3-0] ... 8 matches
(2) James Storm - 43 points [4-1-1] ... 6 matches
(3) Kurt Angle - 27 points [3-3-0] ... 6 matches
(4) Mr. Anderson - 23 points [3-2-1] ... 6 matches
(5) Jeff Hardy - 21 points [3-2-0] ... 5 matches
(6t) Magnus - 14 points [2-3-0] ... 4 matches
(6t) Rob Van Dam - 14 points [2-3-0] ... 5 matches
(8) Daniels - 12 points [2-3-0] ... 5 matches
(9t) A.J. Styles - 7 points [1-3-0] ... 4 matches
(9t) The Pope - 7 points [1-5-0] ... 6 matches
(9t) Bully Ray - 7 points [1-3-0] ... 4 matches
(12) Robbie E. - 5 points [1-5-0] ... 6 matches
What Worked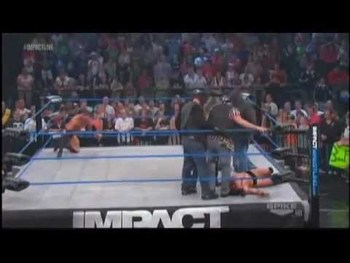 fan2sport.com
Mike Tenay/Taz Opening Statement—Really short two minute segment that really sold to me that Sting and Hogan are legitimately hurt and this is a serious situation.
James Storm Promo—James Storm came out and cut a standard James Storm promo, but let's face it: his standard promo is better than most people's best performance. The attack of Kurt Angle really helped set the tone for the show and prevented this feud from being just Aces and Eights vs. Hulk and Sting.
Samoa Joe vs. "Pope" D'Angelo Dinero—It was a really short match, but it showcased both Joe's "live and die by the submission" philosophy and Pope's boxing ability. Pope looked really strong in the match and Joe looked vulnerable, which is something we haven't seen in a while.
Jeff Hardy vs. Robbie E—This was a pleasant surprise for me as Hardy's ring work can seem to be sloppy at times for a main event guy and Robbie E has his bad days at the worst times. A bigger surprise is that Robbie T is what really sold me on the match. After a less than stellar singles run, he is back to what he does best: cheap muscle. It's a part he plays really well and he got Robbie E the victory.
AJ Styles vs. Mr Anderson—It was not either man's best work and the finish was incredibly sloppy, but I enjoyed the match for the most part. AJ and Anderson hit their spots well and performed okay, but I can't help but think there was some miscommunication in the finale because it was terrible.
Bully Ray vs. Magnus—Magnus has gone from languishing on Xplosion to a great tag team wrestler and now he is one of TNA's brightest young stars. Bully Ray put in another great performance and deservedly got the seven points.
Austin Aries vs. Robert Roode—Was the match a tease? Yes. Was it an incredibly enjoyable tease with a interesting ending? Hell yes. Both men are the best at what they do and they could main event any promotion right now.
Aces & Eights—Lets face it, the star of the show was the Aces & Eights who ran over everyone in sight. TNA has done a great job of slowly building this mystery faction, and I can't wait to see what happens next.
What Didn't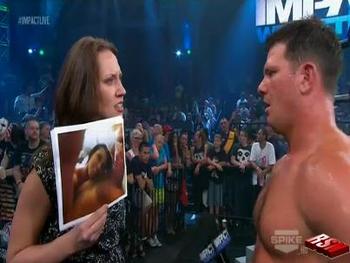 ringsidenews.com
Eric Young/ODB Backstage—I have put up with EY's idiot character for so long that when he came back (I use that term loosely) tonight, I felt sad that he and ODB have to keep this garbage up when they should be holding titles (Knockout tag titles don't count.)
Gut Check—This segment really bored me until Aces & Eights attacked Sam Shaw. The whole point of this segment was to separate Gut Check from Open Fight Night and confuse people about the intentions of the Aces & Eights. Shaw doesn't interest me much (his look is very generic,) and his promo was dull.
Claire/AJ Segment —This storyline really has annoyed some people and, so help me, a Crackhead Claire driven segment is only going to make things worse. I like the storyline and the photos were a good way to keep it going, but Claire just isn't good enough to carry a segment and that is what TNA asked her to do.
RVD vs. Christopher Daniels—RVD seemed off throughout the match and he seemed to misjudge at least three spots towards the end that ruined the match for me. Daniels was great and he seems to be riding a huge wave of momentum
Garrett Bischoff—How many times do we have to put up with Garrett Bischoff being shoehorned onto TV? HE ISN'T ANY GOOD!! I have put up with him as long as anybody, but this is just stupid.
Random Thoughts
tnainsider.com
-AJ Styles' clash with Daniels from Destination X is part of the opening video. Nice to see they are being up to date.
-Guys from the top of the BFG series get to call out first? Shouldn't it be the other way around?
-Kurt Angle isn't coming out, this means only one thing....
-ACES AND EIGHTS, I knew it. I really hope these guys don't just focus on faces. But wait, are they back to four again?
-Pope is doing the money drop again. This can only be a good sign for his career.
-Dixie has signed a new talent? Holy cow, I just looked at a dirt sheet and apparently it's Chavo!
-Joe looks like he has hurt his jaw. It seems legitimate.
-Robbie E is on the scoreboard? That mean Bully Ray is on the bottom and that is unacceptable
-Gut Check is tonight? it wasn't advertised at all before now.
-Daniels is making me want an appletini. I really need to see a therapist before I get the crap kicked out of me.
-Is it just me or does the long haired member of Aces and Eights resemble Brian Kendrick with more muscular arms?
-It's easy to forget how good Anderson is on the mic. He was gold tonight.
-Clair has an awful lot of pictures with passed out AJ. I don't think Daniels is behind this one—I honestly think she is a stalker.
-RVD is "tickled pink?" Did he pay someone to do that to him or did his wife do that?
-At some point, RVD/Daniels turned into an add for Bellator.
-RVD seems to be dropping the ball a little in the ring.
-Bully Ray finally picks up points against Magnus. it was getting kind of sad.
-It is official: Chavo is coming to Impact. Thank God.
-Is the crowd chanting "We Want T-Shirts" during Roode/Aries?
-Aces and Eights are attacking Aries? Maybe they do work for Roode.....Maybe Not.
Keep Reading