Los Angeles Galaxy vs. Chivas USA Live Blog: Play-by-Play Analysis, Reaction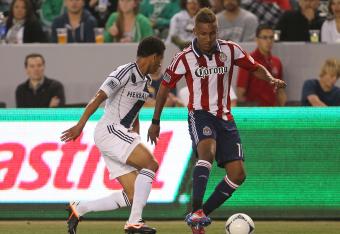 Victor Decolongon/Getty Images
Bruce Arena's Los Angeles Galaxy continue their season on Saturday, when they host Robin Fraser's Chivas USA in the second leg of the 2012 Honda SuperClasico.
The Galaxy currently have a record of 8-10-3 (27 points) and are chasing the Vancouver Whitecaps and Seattle Sounders in the MLS Western Conference. Chivas USA have a record of of 6-7-5 (23 points) but have three games in hand over the Galaxy. A win on Saturday by the Goats will give Chivas their first SuperClasico victory since 2007.
Kickoff is scheduled for 7 p.m. PT/10 p.m. ET and will be televised by Telefutura. The Live Blog will start at approximately 5:15 p.m. PT/8:15 p.m. ET.
Stay tuned to Bleacher Report for continuing coverage of the 2012 Major League Soccer season and all things world football, including the Olympics.
That's it for this Live Blog. Tune in for a recap of this match on Bleacher Report and the View from Victoria Street. Good night, everybody!
90' + 3' - One last corner from Beckham. That's it.
FINAL
LOS ANGELES GALAXY 3
Robbie Keane 14'
Landon Donovan 48', 78'
CHIVAS USA 1
Paolo Cardozo 52'
90' + 2' - Juan Pablo Angel fails in what should have been an easy tap in. He's like the Chad Barrett of Chivas. Can't finish, in spite of being paid the big bucks.
90' + 1' - Keane! Christ Almighty! Another miss from Robbie. Maybe he'll be a bit more motivated to finish when Tottenham come calling.
90' - Ask not what beating Chivas can do for you, ask what you can do to beat Chivas. I made that up myself. Throw-in, G's. Three minutes of additional time.
89' - Corner for Chivas. This is interesting. Sean Franklin with the clearance. Ben Zemanski now. First time I called his name tonight. Goal kick, Daniel Kennedy.
88' - Some fans are already leaving the stadium, and I don't know why. Omar Gonzalez plays it forward. He looks pretty good in the back tonight. Good night out on the road to recovery.
87' - Keane with the first goal, Donovan with a brace, Cardozo scores on his old team, Saunders with another punchout followed by a collection.
86' - I don't think so, Juan Pablo, says Joshua Saunders on the pick-up. Robbie Keane is marked tight.
85' - Another chance wasted by Chivas USA. Gonzalez with the clearance. And this is trouble...except the pass for Robbie Keane was snuffed out.
84' - This is why Omar Gonzalez is important to the Galaxy. He bails small-timers like David Junior Lopes out. Juninho, Franklin, DeLaGarza, and a logjam in the box is culminated with a Kennedy collection.
83' - May be a bit too soon to call this one, LA Riot Squad...throw-in, Bryan Gaul.
82' - 25,180 in attendance. No one on that Beckham delivery. Average night for Becks.
81' - Substitution Los Angeles Gaaxy
IN 26 Michael Stephens
OUT 8 Marcelo Sarvas
Shot goes wide.
80' - This is Ante Jazic. And Chivas are cooking up a good sequence here. Decent clearance by Omar Gonzalez.
79' - Goal kick for Josh Saunders, as Chivas tried to equalize through Jose Correa. Maybe I was hyping him a little bit too much this past week. I apologize, readers.
78' - GOAL! Los Angeles Galaxy 10 Landon Donovan

Second chance opportunity goes in, and now Chivas USA are really under the 8-ball. Brace for Landon.
77' - Corner for David Beckham. Chalk this up as another bullet dodged. Corner again.
76' - And Landon Donovan wastes another chance! Goodness gracious, the three stars of LA are struggling!
75' - A blistering one-timer from Robbie Keane sails wide right.
74' - Omar plays it forward, but Sean Franklin is offsides. Rauwshan McKenzie redistributes. Everything to play for. Franklin slips and falls.
73' - Chivas pile on the pressure. They are dominant in ball possession but have not made the most of their chances.
72' - Gonzalez to Saunders, to Juninho, and Marcelo, but the through ball is all Kennedy's.
71' - A.J. DeLaGarza with the throw. He's getting a final warning from the ref.
70' - Miller Bolanos takes it short. The other Gonzalez, Jorge, calls a foul. Throw-in, G's. Omar Gonzalez with speed.
This article is
What is the duplicate article?
Why is this article offensive?
Where is this article plagiarized from?
Why is this article poorly edited?