7 Veterans the Minnesota Twins Should Deal Before the Trade Deadline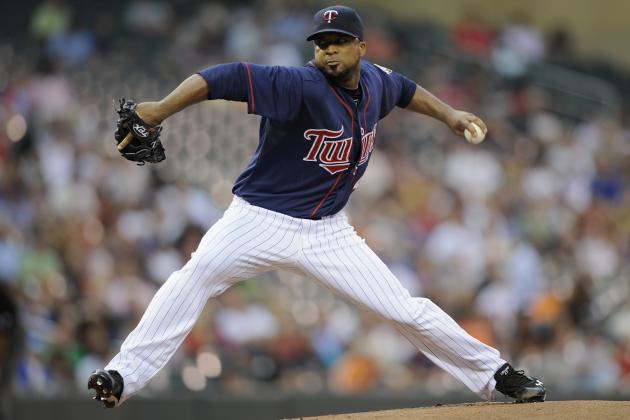 Hannah Foslien/Getty Images

Fire sale!
Get ready for it because it should be happening very soon, Minnesota Twins fans. The Twins are nowhere near contention, but lucky for the Twins most of the league is, and that means a lot of teams are looking for a lot of players.
Not a lot of teams are selling, but the Twins are.
You thought you didn't know anyone on the Twins roster before? Just wait until Terry Ryan and crew can sit back and wipe their collective brow after the trade deadline passes—you won't recognize many names. Chances are still pretty good that Joe Mauer will be around, so that's a plus, depending on your perspective.
Here are seven players the Twins should unload before the trade deadline.
Begin Slideshow

»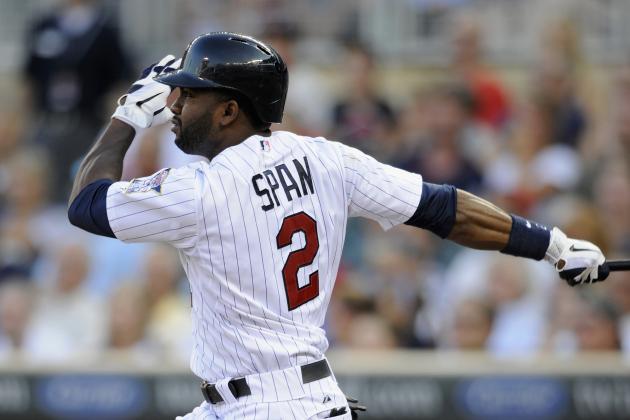 Hannah Foslien/Getty Images

In football if you have two quarterbacks, you have none… That may not apply to center fielders in baseball, but it might be a good excuse if the Twins need one.
Span has a very team-riendly salary that many teams would love. They'd also probably love the quality center field/leadoff man that Span is.
Trading away Span opens the door for Ben Revere to play where he belongs in center and opens the door to the likes of Joe Benson to come up from the minors.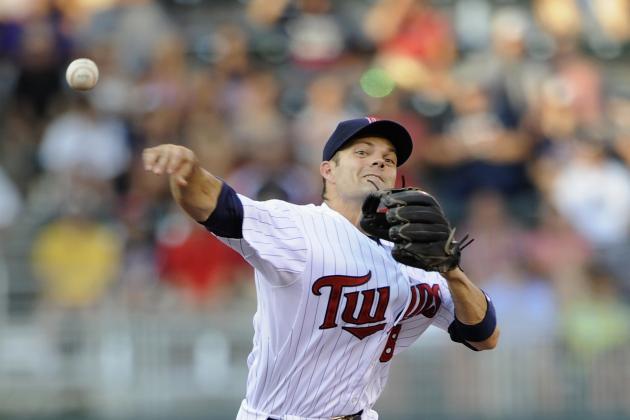 Hannah Foslien/Getty Images

Build for the future. It's probably safe to say that the 38-year-old Carroll doesn't fit in to that future plan for the Twins. He's a quality guy and has done just what the Twins have asked him to do, but the smart move is to get something in return for him.
More of the league is buying rather than selling, so someone is destined to be looking for at least a high-quality utility infielder, and Carroll fits that bill.
Carroll's veteran leadership has been great for a young team, but the young prospect the Twins might get in return would definitely be great for this team.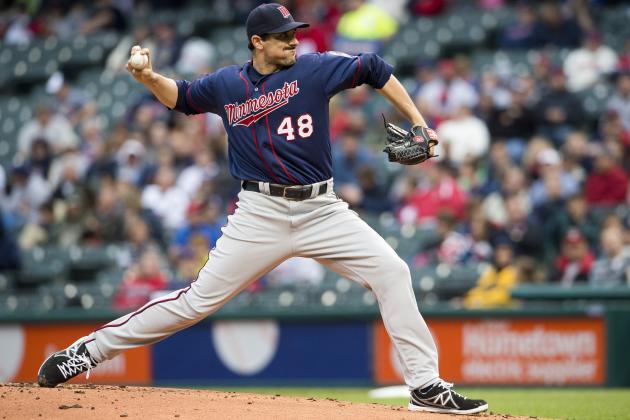 Jason Miller/Getty Images

I'll admit that I haven't watched as many Twins games as I usually do this year, but can you blame me?
I seriously forgot that Carl Pavano was still a Twin until someone mentioned him on the radio this morning. Uncle Carl has been on the DL since June 4, but he's firing it back up just in time to be traded.
There are three things guaranteed in life: death, taxes, and the need of pitching at the trade deadline. Someone will be willing to take a chance on Pavano just like the Twins did in 2009 when he helped them win an AL Central championship.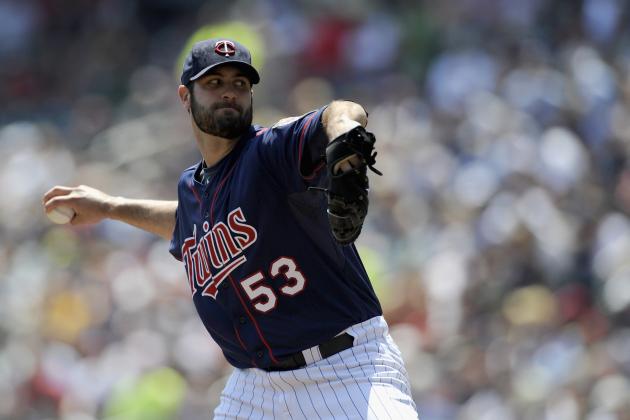 Hannah Foslien/Getty Images

Joe Mauer, Justin Morneau, Carl Pavano, Josh Willingham, Francisco Liriano and Nick Blackburn.
Those are the Twins six highest-paid players this year ranging from Mauer's $23 million to Blackburn's $4.75 million. That's right, the Twins sixth highest-paid player was just recalled from Rochester on Wednesday. Trade him.
The Twins have better things to waste $4.75 million dollars on. Blackburn has underperformed and someone should be willing to take him on. You need to be able to pitch with that contract on a small-market ballclub.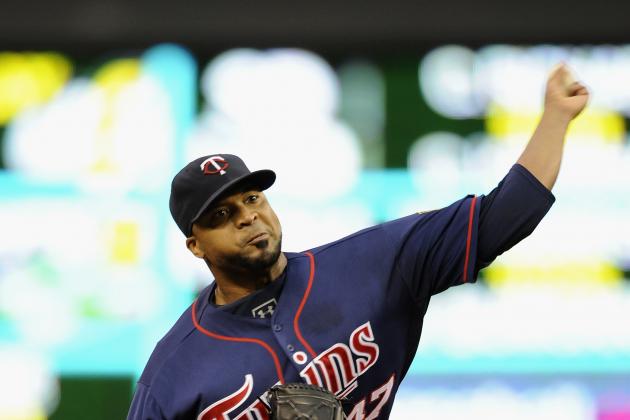 Hannah Foslien/Getty Images

Trade him while he's hot. Francisco Liriano is showing to be the Liriano of old and not the Liriano we've been used to as of late. He's channeling the 2006 version of Liriano.
In his last two starts (both losses, not really his fault only in giving up five runs in 14 innings) Liriano has struck out 15 and 10 batters, respectively. Domination.
Many teams are lining up at the door for Liriano's services, and why wouldn't they be? If he can continue to pitch the way he has been, he can be one of the best in the league.
If he goes back to bad Franky, well I wouldn't want to be the Toronto Blue Jays, Washington Nationals or whoever else grabs Liriano.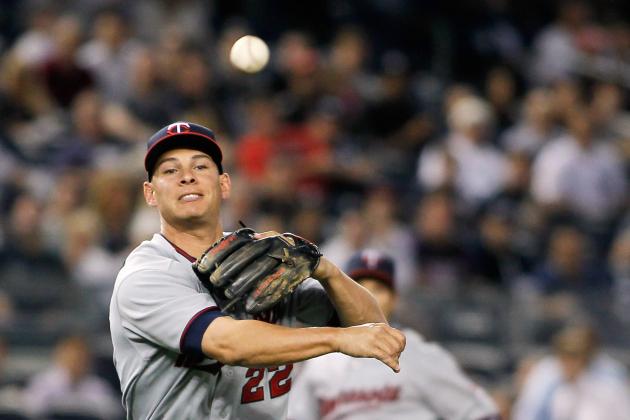 Mike Stobe/Getty Images

Oh, the beauty of Triple-A baseball!
Triple-A is where major league teams can hide their horrible mistakes that still have options left on their contracts, and that's exactly what the Twins did with Danny Valencia earlier this season. Buried him down in Rochester.
Not often should a team trade a player just for the sake of trading him, but that exactly what the Twins should do.
Trevor Plouffe has taken over third base and is not giving it back anytime soon. It's best for the organization if they trade Valencia sooner rather than later, because he'll just cause rifts if he sits down in Rochester complaining.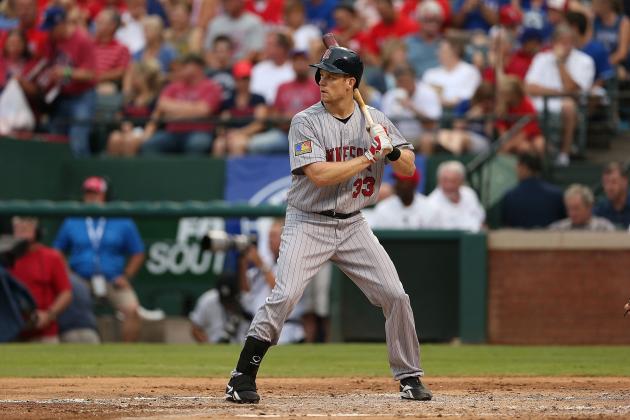 Ronald Martinez/Getty Images

I'm going to be honest, I'm not sold on trading Justin Morneau yet. I can't get myself to openly trade a former MVP. He's not playing great, but he's not playing horrible either. In the month of July he has an average of .296, which is respectable.
Morneau has not yet fully come back from his concussion—and he may never—but you just can't go trade him willy-nilly. This is one of those guys that if exactly the right deal comes along, you take it.
If that deal doesn't come, you build around him, Joe Mauer, Josh Willingham, Brian Dozier and Trevor Plouffe for the future.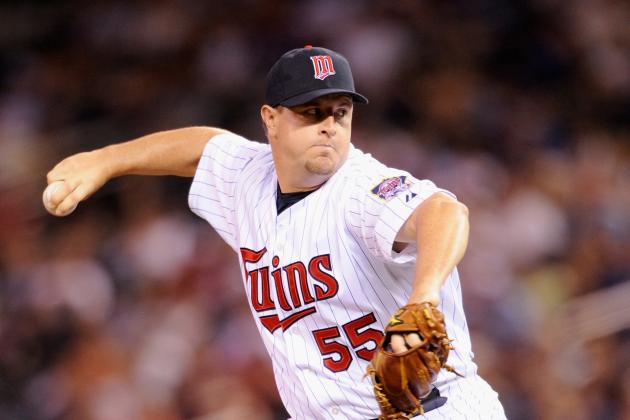 Hannah Foslien/Getty Images

July 13: The Twins activated Matt Capps from the DL, thanking their respective deity that he could be traded away.
July 18: The Twins placed Matt Capps back on the 15-day DL in disbelief that they just can't get rid of Matt Capps.
It's hard to move Capps now that he's on the DL and can't be activated until after the deadline passes. He'd be moved if he could; no use in having a veteran closer on a team this bad…it was still a really bad signing in the first place.