Dallas Cowboys Complete 2012 NFL Preseason and Training Camp Guide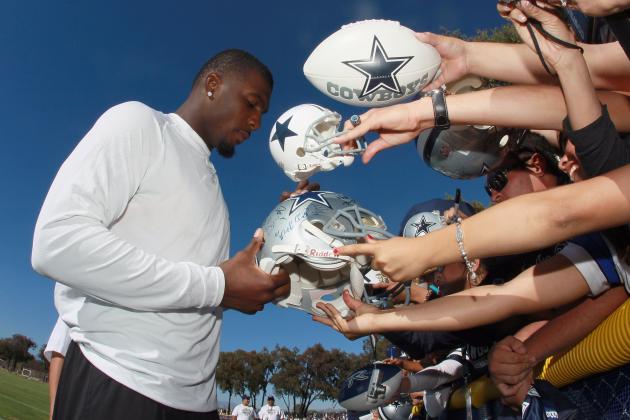 Jeff Gross/Getty Images

The time that all fans have been waiting for has finally arrived. National Football League training camps are just around the corner and that hope that springs eternal has been renewed.
Dallas opens camp on the 30th of July in Oxnard, California with a 2:30pm practice time.
Before Dallas takes that trek to West Vineyard Avenue in Oxnard, I have put together a training camp guide that will surely get you ready for the 2012 season.
Begin Slideshow

»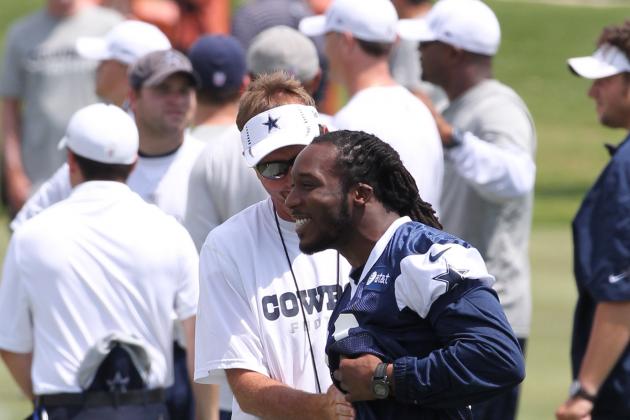 Matthew Emmons-US PRESSWIRE

First question: Can the Cowboys secondary recover from last season's bad performance?
When your team ranks 23rd against the pass, I believe there may be a problem.
So Jerry Jones loaded up his checkbook and went cornerback hunting. In comes Carr and Claiborne to the rescue. Claiborne was ranked as the top cornerback before this year's draft and Carr was near the top of every free agency list that I saw.
On paper, the Cowboys look great headed into the 2010 season. But can defensive coordinator Rob Ryan govern his system according to his new players' skill sets?
Second Question: How will Tyron Smith work at left tackle?
I am really curious to see just how well Mr. Smith will work on the left side of the offensive line. He did a great job on the right side in 2011 and proved himself to be one of the more athletic tackles in the league.
He did so well that head coach Jason Garrett decided to move him over to the left to protect quarterback Tony Romo's blindside.
But as Doug Free found out, playing left tackle isn't necessarily a walk in the park. Smith will look good in training camp but seeing him in preseason and the first couple of regular season games will be interesting.
Third Question: Who will play left and right guard for Dallas?
The Cowboys signed guards Nate Livings, Mackenzy Bernadeau, Harland Gunn and Ronald Leary.
There may be a lot of unknown names on that list but before long, these guys may be part of your starting guard rotation.
Frankly, who in the world will win this battle?
Fourth Question: Will Dez Bryant make it through training camp?
By now, I'm sure everyone is aware of Mr. Bryant's legal issues. How will this impact the Cowboys in the locker room and Bryant's performance on the field?
I like Bryant but I am concerned about his off-the-field issues. Can he overcome the issues that are going on in his personal life?
Fifth Question: Who will win the battle for the slot receiver position?
Not that this question is on the tips of everyone's tongues, but it is an interesting one. Kevin Ogletree is inconsistent and may not know the entire playbook. Outside of him there are a bunch of rookies and players with little experience.
My vote, without seeing him actually play in the NFL, is for Danny Coale. He still isn't cleared to practice because of his broken foot. But from what I understand his work ethic and skill may give him a leg up.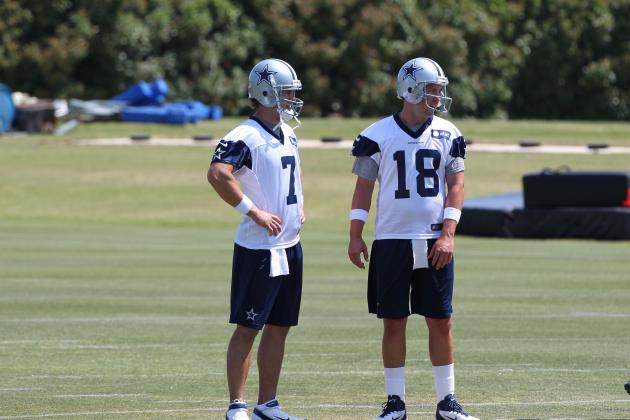 Matthew Emmons-US PRESSWIRE

Remember last season when the Cowboys decided to cut Leonard Davis and Marion Barber? There were rumors that these two players would be jettisoned and when it finally happened, it seemed to that the Cowboys were finally ready to take a step forward from the past.
How about 2012? There are a few players on the list that may end up making the free agency report before training camp and the preseason are done.
Kevin Ogletree, WR – If Dallas truly believed in Ogletree, there wouldn't be a contest for this position. Once Coale is cleared to play and the team gets a full look at the basket of receiving talent they have, Ogletree may not last.
Kevin Kowalski, C – He'll be battling for time with Phil Costa and Bill Nagy at center, so not really sure how Kowalski will last. Well, unless he beats them out for the position.
The Cowboys had center issues in 2011 and there will be no need to keep two centers on the roster if Nagy can play backup.
Mike Jenkins, CB – I like Jenkins and believe the Cowboys should do all they can to keep him. Well, maybe it should be vice versa. At any rate, the Cowboys are refusing to trade him and his training camp and preseason will determine just how far he goes with Dallas.
My hope is that he'll be kept because the team needs depth and he's talented enough to start for the other 31 teams.
Ronald Leary, G – Dallas actually has a couple of guards that may not make it to the regular season. Leary is a rookie and if he flames out in training camp, then no harm no foul.
Its just a matter of seeing him on the field in NFL situations.
Harland Gunn, G – Another rookie who will probably end up on the cutting room floor. Gunn is a rookie out of Miami and will fight for a roster position. He's 324 pounds but only stands at 6'2."
How his height and position work against large defensive lineman and linebackers will be interesting to watch.
Rudy Carpenter, QB – He was claimed off waivers to compete with Stephen McGee for the third quarterback spot. McGee hasn't worked out and would have left the team in a terrible spot if he were to ascend to the back-up spot.
Carpenter should push McGee and my honest opinion is that he'll usurp McGee and make him expendable.
Stephen McGee, QB – I thought that his last season as a Cowboy would be 2011 because of his inconsistency. Carpenter will push him and if he fails to respond, then he will not last through the preseason.
Akwasi Owusu-Ansah, S – He seems to get demoted to the practice squad every season and this year may be no different. Dallas has about nine safeties on the roster right now and the vast majority of those men will be cut.
Owusu-Ansah has speed and experience as a kick returner. But his coverage skills leave a lot to be desired.
George Bryan, TE – George is a rookie out of North Carolina State who stands at 6'5" and weighs 263 pounds. James Hanna is my guy and I fully believe he'll eventually ascend to the top tight end spot.
Bryan and the other two rookies will fight for a practice squad position and for time to show why they may be worth keeping around.
Cole Beasley, WR – Beasley has been making news lately because he said that he's tiring of the comparisons to Patriots Wes Welker.
Let's hope that he can make this much noise on the field.
A few measurables on Beasley are that he's short for a receiver, at 5'8," and he runs a brisk 4.49 in the 40-yard dash. Think he has a pretty good shot to make the team? I do.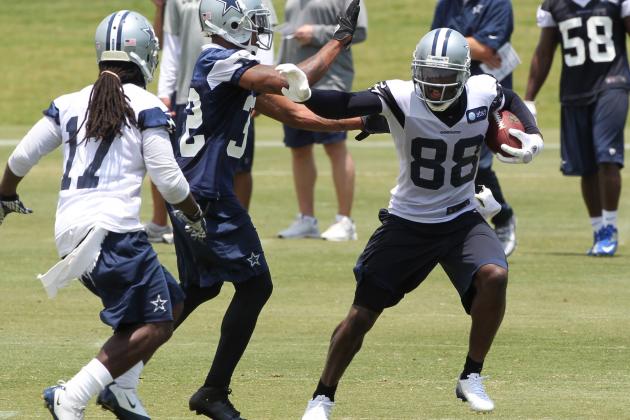 Matthew Emmons-US PRESSWIRE

Dez Bryant, WR - With all of the news focused on him this off-season, it will be interesting to see how he reacts. Will he immerse himself in his playbook or will the off-field distractions lead to his undoing?
DeMarco Murray, RB - He's recovering from a fractured ankle and seems to be doing well. But that's now the reason we should watch him. He came out of the gate last season and emerged as one the NFC East's best runners. How will his sophomore season go now that teams have had time to study him?
Kyle Wilber, LB - Wilber will play the strong side behind Anthony Spencer. If he plays well enough and pushes hard enough, I can see him challenging Spencer for playing time this season.
James Hanna, TE - He can be inconsistent at times but I believe he should be able to overcome that with talent and hard work. Let's just hope he's not another Martellus Bennett.
Brandon Carr, CB - How will he fit into Rob Ryan's scheme and will his 2012 prove to be just as good as his 2011? Was he only playing for a contract or can Carr become one of the Cowboys best defensive players?
Morris Claiborne, CB - A rookie that the Cowboys traded up to grab. His wrist should be healed and we'll get our chance to see him play. Talent and skill are one thing; learning the playbook is another. Will it all come together during his first season at corner?
Tyron Smith, T - He's moved to the blindside and will be Romo's main protector. He's very athletic and has all of the skills to turn into a great offensive tackle. Will he take a step back in 2012?
Dan Bailey, K - Another player in danger of having a sophomore slump. Will his foot work just as well as it did in 2011?
Felix Jones, RB - He's in a contract year and the Cowboys have no incentive to keep him if his play is average. He has to remain healthy and show that he's worth keeping around.
Mike Jenkins, CB - He's been silent toward the media lately because he wants to be traded. He also wants a new deal and his play on the field will determine his worth for 2013. My hope is that he remains a Cowboy beyond this year.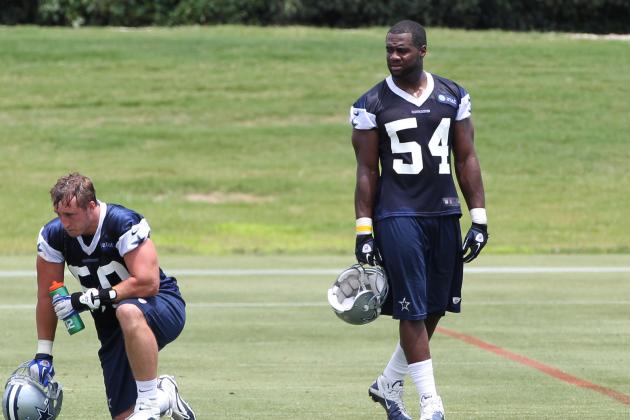 Matthew Emmons-US PRESSWIRE

Dan Connor vs. Bruce Carter – Connor will more than likely start and Carter will split time with him. Unless Carter completely disappoints during training camp, I believe he'll still be given time to grow and mature.
Connor is a great stop gap and will be a pretty good mentor for Carter. It will be good to watch because if Carter is hungry enough, he may beat Connor to the punch.
Kevin Ogletree vs. Danny Coale and etc... - Ogletree, Coale, Beasley, Dwayne Harris and Andre Holmes will all compete for the slot position. There are others who may compete but these are the five names that will surface as true competitors.
I like Danny Coale, still, and Andre Holmes is a big receiver who can use his size to his advantage.
Dez Bryant vs. Miles Austin – This isn't really a battle. It's more of my thought that Bryant would turn into the team's top receiver.
Because of his recent legal troubles, its tough to say if he'll make it to the top spot. Austin has been a disappointment because of his lucrative contract and Bryant has a great opportunity to make it to number one.
Austin had a horrible season in 2011 and will look to rectify his play in 2012.
My main concern is with Bryant. He has all of the potential to become the best wide receiver in the league but what happens in his personal life may hold him back. I hope I'm wrong.
The Cowboys Offensive Line Guards – The battle of the no-names will be interesting to watch because two of the players will end up starting.
Again, this is strictly opinion-based on what I've read and not what I've seen. I believe it will end up being Nate Livings and Mackenzy Bernadeau.
While I like Bill Nagy and David Arkin, if these two players were truly ready to take the next step, the Cowboys wouldn't have signed every single free agent guard available.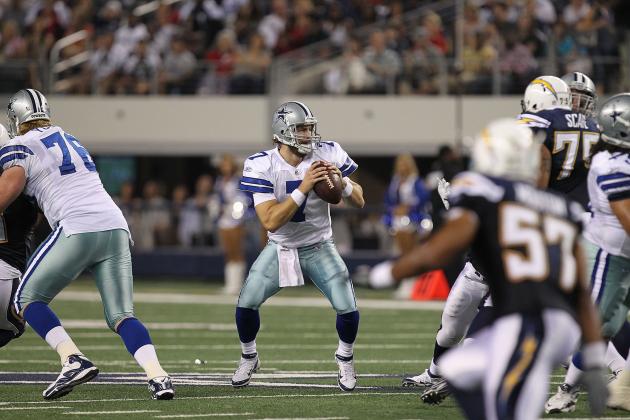 Ronald Martinez/Getty Images

Monday, July 30th 2:30 p.m. – Practice
Tuesday, July 31st 2:30 p.m. – Practice
Wednesday, August 1st 2:30 p.m. – Practice
Thursday, August 2nd – No practice
Friday, August 3rd 2:30 p.m. – Practice
Saturday, August 4th 2:30 p.m. – Practice
Sunday, August 5th 2:30 p.m. – Blue-White Scrimmage
Monday, August 6th 2:30 p.m. – Practice
Tuesday, August 7th 2:30 p.m. – Practice
Wednesday, August 8th – No practice
Thursday, August 9th 2:30 p.m. – Practice
Friday, August 10th 2:30 p.m. – Practice
Saturday, August 11th 2:30 p.m. – Practice
Sunday, August 12th TBA – Walk-through
Monday, August 13th 5 p.m. – Preseason Game – Dallas @ Oakland
Tuesday, August 14th – No practice
Wednesday, August 15th 2:30 p.m. – Practice
Thursday, August 16th 2:30 p.m. – Practice
Friday, August 17th TBA – Morning Walk-through
Break Camp
August 18th 6 p.m. – Preseason Game – Dallas @ San Diego
August 25th 7 p.m. – Preseason Game – St. Louis @ Dallas
August 29th 7:30 p.m. – Preseason Game – Miami @ Dallas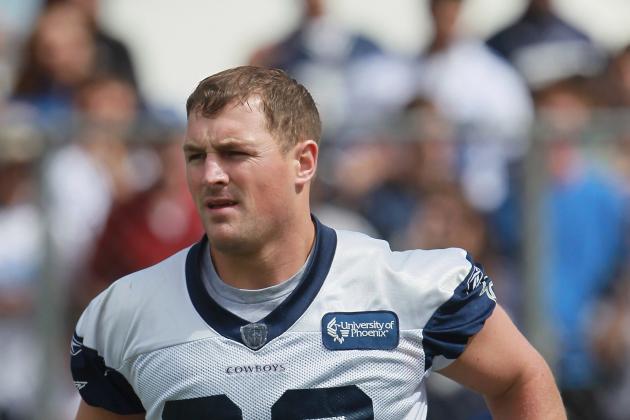 Jeff Gross/Getty Images

The Dallas Cowboys return to Oxnard, California for their 2012 training camp. They trained in Oxnard from 2004 to 2006 before returning to Texas.
But the 'Boys returned and this will make their seventh time training in California in the past 12 years.
The Cowboys spent their entire camp in San Antonio, Texas last season but will head back to the California coast this year.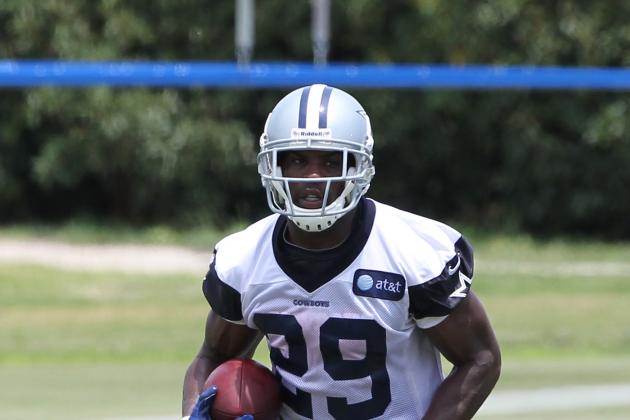 Matthew Emmons-US PRESSWIRE

| | | |
| --- | --- | --- |
| 67 | Costa, Phil | C |
| 60 | Kowalski, Kevin | C/G |
| 31 | Butler, Mario | CB |
| 39 | Carr, Brandon | CB |
| 24 | Claiborne, Morris | CB |
| 21 | Jenkins, Mike | CB |
| 30 | Madison, Isaac | CB |
| 32 | Scandrick, Orlando | CB |
| 41 | Smith, Lionel | CB |
| 20 | Williams, Teddy | CB |
| 27 | Wilson, C.J. | CB |
| 59 | Atkins, Baraka | DE |
| 79 | Bass, Ben | DE |
| 99 | Coleman, Kenyon | DE |
| 70 | Crawford, Tyrone | DE |
| 98 | Geathers, Clifton | DE |
| 95 | Lissemore, Sean | DE |
| 96 | Spears, Marcus | DE |
| 72 | Callaway, Rob | DL |
| 97 | Hatcher, Jason | DL |
| 45 | Chapas, Shaun | FB |
| 49 | Olawale, Jamize | FB |
| 47 | Vickers, Lawrence | FB |
| 62 | Arkin, David | G |
| 73 | Bernadeau, Mackenzy | G |
| 63 | Gunn, Harland | G |
| 65 | Leary, Ronald | G |
| 71 | Livings, Nate | G |
| 61 | Nagy, Bill | G |
| 5 | Bailey, Dan | K |
| 55 | Albright, Alex | LB |
| 57 | Butler, Victor | LB |
| 54 | Carter, Bruce | LB |
| 52 | Connor, Dan | LB |
| 48 | Greenhouse, Isaiah | LB |
| 53 | Hamilton, Adrian | LB |
| 50 | Lee, Sean | LB |
| 58 | Lemon, Orie | LB |
| 56 | McSurdy, Caleb | LB |
| 93 | Spencer, Anthony | LB |
| 94 | Ware, DeMarcus | LB |
| 46 | Whiteside, Aston | LB |
| 51 | Wilber, Kyle | LB |
| 44 | Hughlett, Charley | LS |
| 91 | LaDouceur, L.P. | LS |
| 92 | Brent, Josh | NT |
| 90 | Ratliff, Jay | NT |
| 1 | Alvarado, Delbert | P |
| 6 | Jones, Chris | P |
| 11 | Carpenter, Rudy | QB |
| 7 | McGee, Stephen | QB |
| 18 | Orton, Kyle | QB |
| 9 | Romo, Tony | QB |
| 25 | Dunbar, Lance | RB |
| 28 | Jones, Felix | RB |
| 29 | Murray, DeMarco | RB |
| 35 | Scott, Darrell | RB |
| 34 | Tanner, Phillip | RB |
| 42 | Church, Barry | S |
| 37 | Johnson, Matt | S |
| 40 | McCray, Danny | S |
| 26 | Owusu-Ansah, Akwasi | S |
| 23 | Pool, Brodney | S |
| 43 | Sensabaugh, Gerald | S |
| 36 | Silva, Mana | S |
| 33 | Taplin-Ross, Justin | S |
| 38 | Whitley, Eddie | S |
| 75 | Adams, Jeff | T |
| 64 | Adcock, Levy | T |
| 74 | Dever, Taylor | T |
| 68 | Free, Doug | T |
| 76 | McQuistan, Pat | T |
| 76 | Novikoff, Tyrone | T |
| 78 | Parnell, Jermey | T |
| 77 | Smith, Tyron | T |
| 49 | Bryan, George | TE |
| 84 | Hanna, James | TE |
| 83 | Nalbone, John | TE |
| 89 | Phillips, John | TE |
| 80 | Szczerba, Andrew | TE |
| 82 | Witten, Jason | TE |
| 19 | Austin, Miles | WR |
| 14 | Beasley, Cole | WR |
| 16 | Benford, Tim | WR |
| 88 | Bryant, Dez | WR |
| 81 | Coale, Danny | WR |
| 13 | Hakim, Saalim | WR |
| 17 | Harris, Dwayne | WR |
| 15 | Holmes, Andre | WR |
| 87 | Kemp, Donavon | WR |
| 85 | Ogletree, Kevin | WR |
| 86 | Radway, Raymond | WR |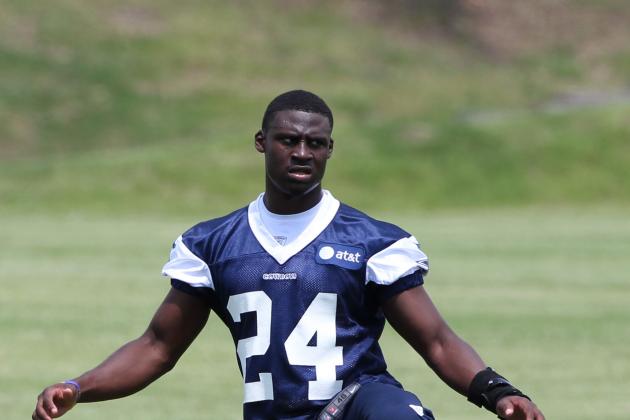 Matthew Emmons-US PRESSWIRE

1st Round: Morris Claiborne, CB – Claiborne is expected to start as soon as he's healthy enough. Jones didn't trade up in the draft just to watch Claiborne sit on the bench.
He was the best cornerback available and Dallas was right to grab him. Now, its just a matter of him acclimating to Rob Ryan's defensive scheme.
3rd Round: Tyrone Crawford, DE – Crawford is a five-technique defensive end who can play down or the outside linebacker position.
He was drafted for pass rushing reasons to bring more heat to the quarterback along with DeMarcus Ware.
What's most important for Crawford will be to put pressure on the quarterback so that the secondary isn't left out to dry. He should do fine in that role.
4th Round: Kyle Wilber, LB – I have really warmed up to Wilber and believe he'll eventually turn into a very good linebacker for the Cowboys.
He's going to play the strong-side and should push Anthony Spencer for playing time, especially if he can get to the quarterback. Back in April, Wilber said that his main goal is to destroy quarterbacks.
You'll get your chance soon, good sir.
4th Round: Matt Johnson, SS – I am not as high on Johnson as others because I see him as a member of the special teams unit. Johnson will compete for the strong safety spot, so he will get a chance to prove himself.
If he proves to have a nose for the ball and makes plays as he did in college, then he'll push for the starting job. I'm just not a believer.
5th Round: Danny Coale, WR – He is the person that I believe will take the slot position for the Cowboys. He's only six feet tall but he runs a 4.44 in the 40-yard dash and should be able to disappear within a lot of defenses.
He broke his foot and will not be available for training camp, which will push his availability to compete for that position back. I still believe that through camp and preseason he'll show and prove enough to make the team and run in the slot.
6th Round: James Hanna, TE – Hanna will be the Cowboys top tight end in about five years, mark my words.
There is one main problem with Hanna: He's inconsistent. I have some trepidation about how fast he'll grow but my faith in his ability outweighs that fear.
He should make the team and eventually usurp John Phillips as the second tight end.
7th Round: Caleb McSurdy, ILB – Every single rookie has the chance to make the team, but the lower the draft round, the lower the chances.
The Cowboys were light at linebacker and needed to add depth. McSurdy will have to work hard to earn a roster spot that I'm not sure is there for him.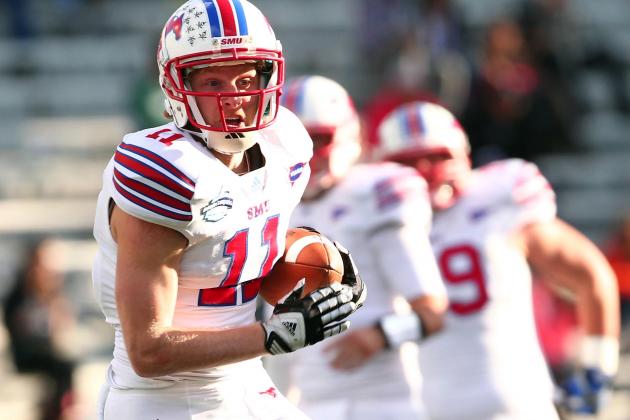 Marvin Gentry-US PRESSWIRE

Cole Beasley, WR – He's been making waves and will have a real shot to make the final roster. The slot receiver position is wide open and Beasley is making it known that he wants the spot.
Tim Benford, WR – Benford will make a huge push for the slot as well. Kevin Ogletree hasn't done anything to lock up the position, which is making room for players like Benford and Beasley. In the end, I do not expect for him to make the team.
George Bryan, TE – He'll compete with Phillips and Hanna but if anything he's a practice squad player.
Lance Dunbar, RB – DeMarco Murray and Felix Jones are one and two. Phillip Tanner should be third and Dunbar will try to overtake him.
I don't expect him to make it.
Saalim Hakim, WR – Another receiver who will work toward the slot and special teams. But seeing him in training camp is about as close as you'll get to seeing him in a Cowboys uniform.
Adrian Hamilton, LB – The Cowboys only signed two free agent rookie linebackers. Hamilton was one and he'll have a very good shot at making the team during training camp.
Charley Hughlett, LS – We are all aware of the snap issues the Cowboys had last season. If anything Hughlett deserves a chance to show what he can do.
Donavon Kemp, WR – You think the Cowboys were serious about upgrading at wide receiver? Kemp is a rookie free agent out of UTEP and his best shot at making the team is on special teams.
Isaac Madison, CB – Finally, a cornerback. He's not that fast, running a 4.63 in the 40-yard dash and isn't that big. I believe I just talked myself out of him making the team.
Darrell Scott, RB – Scott left school early and decided to enter the draft. He went undrafted but the Cowboys decided to sign him. It will be an uphill battle for him but running backs are honestly a dime a dozen in the league now.
Lionel Smith, CB – Here is the thing about the secondary. As long as the Cowboys have competition, then the fanbase should be happy. Having a vast number of options to choose from is good because it's kind of tough to get lower than the bottom.
Smith will get his chance to show if he should make the team.
Andrew Szczerba, TE – If he can show that he's better than Hanna and Phillips, he's in. If not, he'll be cut or relegated to the practice squad. My prediction? Cut
Aston Whiteside, LB – Whiteside totaled 29 sacks during his college career and six blocked kicks. He'll be a project but he has potential. He may be cut and brought back but I would like to see how he grows.
Eddie Whitley, S – He had four career picks and averaged around 80 tackles during his junior and senior seasons. Another project that looks to have potential.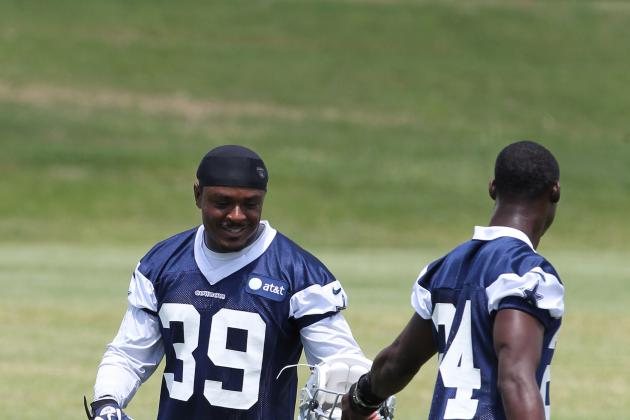 Matthew Emmons-US PRESSWIRE

Lawrence Vickers, FB – Vickers was brought in after the team decided not to bring back Tony Fiammetta. How he fits in with the offense will determine how well the Cowboys running games goes.
Mackenzy Bernadeau, G – He's injured but he's expected to take one of the starting guard roles.
Brandon Carr, CB – He is the largest offseason signing for the Cowboys and will be looked upon to turn their secondary woes around. Carr will be good but can he turn the defensive backfield around?
Kyle Orton, QB – Stephen McGee isn't working out and with Jon Kitna retiring, Dallas needed a viable second option at quarterback. Orton can start for a great number of NFL teams and the Cowboys have him as a backup.
Brodney Pool, S – This signing reminds me of the Abe Elam signing from last season. Rob Ryan is familiar with him and he will add stability to the safety position. He'll probably split time with Johnson and Church but don't expect to see him beyond 2012.
Dan Connor, LB – Connor is matched against Bruce Carter and is expected to start. If he shows that he wants it more than Carter then hopefully that will light a fire under Bruce to get him going.
Nate Livings, G – He'll probably end up starting at guard. There is the quick and dirty.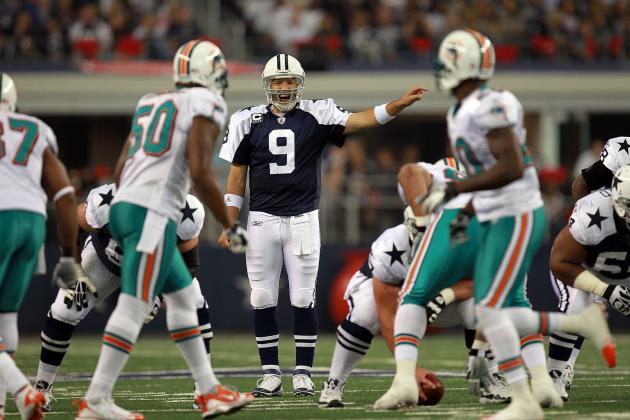 Ronald Martinez/Getty Images

August 13th Preseason Game – Dallas @ Oakland – The first game where we will get to see the Cowboys rookies and how much they've learned during training camp. We will also get a peek at the new offensive line and how they may end up rotating.
Dallas 13 Oakland 10
August 18th Preseason Game – Dallas @ San Diego – The second game is a little bit of a tune-up as teams are still knocking rust off. The Cowboys won't have to travel far to get to San Diego from Oxnard a day after wrapping up camp.
This will not be a full test but we will get to see the integrity of the defensive backfield against Chargers quarterback Phillip Rivers.
San Diego 23 Dallas 16
August 25th Preseason Game – St. Louis @ Dallas – The Rams are rebuilding, so to speak, and this is the final tune-up before the regular season starts. Romo and the rest of his offensive weapons will be ready but we will get a good look at where the Cowboys are headed with their offensive line.
Dallas 29 Rams 18
August 29th Preseason Game – Miami @ Dallas – The last game will feature a bunch of players that no one has every heard of or will remember. That's OK because that is when some of the best players are found and men get to live out their childhood dreams.
Miami 22 Dallas 21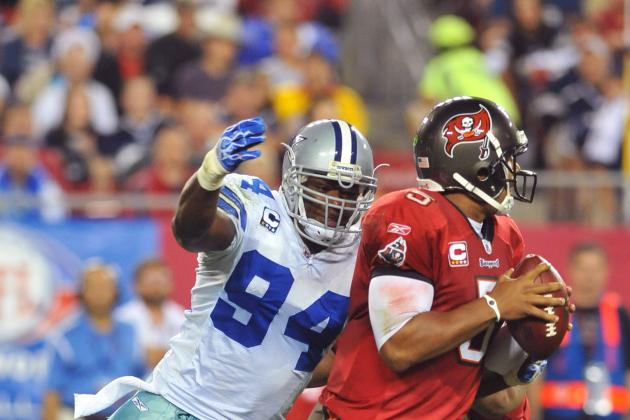 Al Messerschmidt/Getty Images

| | | |
| --- | --- | --- |
| 67 | Costa, Phil | C |
| 39 | Carr, Brandon | CB |
| 24 | Claiborne, Morris | CB |
| 21 | Jenkins, Mike | CB |
| 32 | Scandrick, Orlando | CB |
| 41 | Smith, Lionel | CB |
| 20 | Williams, Teddy | CB |
| 70 | Crawford, Tyrone | DE |
| 95 | Lissemore, Sean | DE |
| 96 | Spears, Marcus | DE |
| 72 | Callaway, Rob | DL |
| 97 | Hatcher, Jason | DL |
| 47 | Vickers, Lawrence | FB |
| 62 | Arkin, David | G |
| 73 | Bernadeau, Mackenzy | G |
| 71 | Livings, Nate | G |
| 61 | Nagy, Bill | G |
| 5 | Bailey, Dan | K |
| 55 | Albright, Alex | LB |
| 57 | Butler, Victor | LB |
| 54 | Carter, Bruce | LB |
| 52 | Connor, Dan | LB |
| 50 | Lee, Sean | LB |
| 93 | Spencer, Anthony | LB |
| 94 | Ware, DeMarcus | LB |
| 51 | Wilber, Kyle | LB |
| 91 | LaDouceur, L.P. | LS |
| 92 | Brent, Josh | NT |
| 90 | Ratliff, Jay | NT |
| 6 | Jones, Chris | P |
| 11 | Carpenter, Rudy | QB |
| 18 | Orton, Kyle | QB |
| 9 | Romo, Tony | QB |
| 28 | Jones, Felix | RB |
| 29 | Murray, DeMarco | RB |
| 34 | Tanner, Phillip | RB |
| 42 | Church, Barry | S |
| 37 | Johnson, Matt | S |
| 40 | McCray, Danny | S |
| 23 | Pool, Brodney | S |
| 43 | Sensabaugh, Gerald | S |
| 75 | Adams, Jeff | T |
| 68 | Free, Doug | T |
| 78 | Parnell, Jermey | T |
| 77 | Smith, Tyron | T |
| 84 | Hanna, James | TE |
| 89 | Phillips, John | TE |
| 82 | Witten, Jason | TE |
| 19 | Austin, Miles | WR |
| 14 | Beasley, Cole | WR |
| 88 | Bryant, Dez | WR |
| 81 | Coale, Danny | WR |
| 85 | Ogletree, Kevin | WR |
| 67 | Costa, Phil | C |
| 39 | Carr, Brandon | CB |
| 24 | Claiborne, Morris | CB |
| 21 | Jenkins, Mike | CB |