Denver Broncos: Which Rookie Will Have the Biggest Impact in 2012?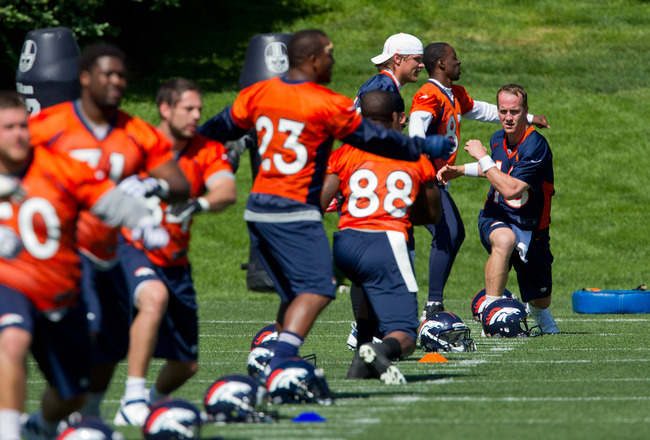 Broncos organized workouts
Justin Edmonds/Getty Images
After a 1-4 start, Tim Tebow led the Denver Broncos to an 8-8 record and an AFC West title and a first round victory over the Pittsburgh Steelers.
But now, Tebow is no longer with the team; the Broncos replaced him with four-time NFL MVP Peyton Manning.
In the 2011 NFL draft, the Broncos struck gold with their first round pick Von Miller, who won NFL Defensive Rookie of the Year. They also gained a starting tackle in Orlando Franklin, who started all 18 games for the Broncos, including their two playoff games. Rahim Moore and Quinton Carter split time at the safety position and appear to be solid back line players.
When it comes to the 2012 NFL Draft, the Broncos might not have landed a star like Miller, but they do have young prospects who could emerge into impact players.
John Elway, executive vice president of football operations, will yet again have to prove he knows talent. Elway's fingerprints are all over this draft, and he hopes he has landed future starters and stars.
So which rookie will have the biggest impact for the Denver Broncos?
Philip Blake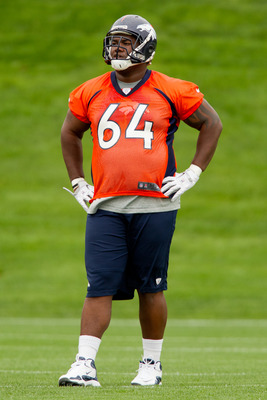 Justin Edmonds/Getty Images
Here's the problem with Blake: He may not even start.
He will be in competition with current starting center J.D. Walton. Blake is a versatile player, with 12 starts at right tackle and 26 starts at center. Ironically, Blake replaced Walton at Baylor, and he could be doing the same in Denver.
Blake's impact will be felt if he does replace Walton. With Manning at quarterback, he would be in charge of keeping the signals straight.
Danny Trevathan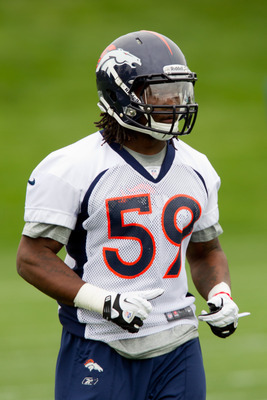 Justin Edmonds/Getty Images
It might be odd to have a sixth-round pick from Kentucky be an impact player, but with questions about D.J. Williams, there's a potential void at the linebacker position.
Williams is facing a possible six-game suspension for his second failed drug test, that could open the door for Trevathan.
While at Kentucky, Trevathan was a tackling machine. He had 144 tackles as a junior in 2010, which garnered him All-American honors. He followed up that season with 143 tackles and three sacks as a senior.
Though he doesn't have the size and speed that is usually wanted at linebacker, he has the natural ability to find and locate the ball.
Trevathan's true impact this season might come on special teams, but if he proves he can play during preseason, then Williams' six-game suspension could be his opening for greater opportunity.
Omar Bolden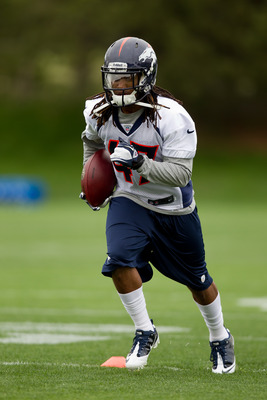 Justin Edmonds/Getty Images
It's not often that a team can draft an impact cornerback in the fourth round.
But the Broncos might have landed a gem in Bolden.
An ACL injury before his senior season raised red flags for many teams. The former All-Pac-10 Arizona State Sun Devil has the ability to be a playmaker. In three years, Bolden totaled 138 tackles and seven interceptions.
Bolden said he feels great and fully recovered from the knee surgery and the Broncos agree.
Bolden won't crack the starting lineup for the defense with Champ Bailey and newly added Tracy Porter occupying the two outside spots. But with defenses now playing in more nickel and dime packages, a door could open for him. Bolden will be competing with Drayton Florence and Chris Harris for the nickel and dime spots.
Bolden has natural ball instincts and can create turnovers. He could turn out to be the steal of the draft if the knee is 100 percent and he shows the ability he did in Tempe, AZ.
Derek Wolfe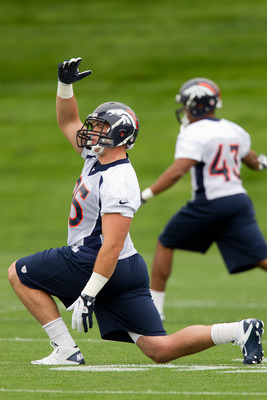 Justin Edmonds/Getty Images
Wolfe will have a lot of pressure on him to succeed and have an immediate impact.
Wolfe is the Broncos first overall pick, though he was selected in the second round. He has the ability to be a good run-stopper, but he will be marked on his ability to get after the quarterback. With Von Miller and Elvis Dumervil occupying the outside, Wolfe should see a lot of one-on-one opportunities.
He'll have to show the ability to shed blocks consistently and give the Broncos something they haven't had from the defensive tackle position in a while.
Wolfe will also have to prove the Broncos brass correct since it took him over other quality defensive tackles.
Ronnie Hillman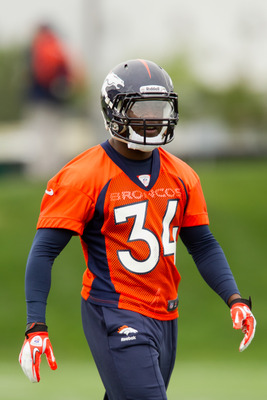 Justin Edmonds/Getty Images
The rookie that will have the biggest impact for the Denver Broncos will be former San Diego State running back Ronnie Hillman.
Hillman is a smaller back—5-foot-9-inch and 190 pounds—but he will make a huge contribution to the Broncos offense. For most teams, a back-up running back wouldn't have the opportunities needed to contribute on a meaningful basis. But, even though he doesn't do much in the return game, Hillman's presence will be known to Manning and the rest of the Bronco offense.
Hillman possesses breakaway speed and the ability to catch the ball out of the backfield. Having Manning at quarterback, will only increase his ability to have the most impact of any of the Broncos rookies.
Hillman will be used as a Darren Sproles-like back that can have a similar role. Hillman will also have the benefit of being behind Willis McGahee who will pound and wear down the defensive front.
Keep Reading

Denver Broncos: Like this team?