Missy Franklin 2012 Olympics: Event Schedule, Results, Highlights & More
Al Bello/Getty Images

Are we witnessing the rise of the greatest female swimmer of all time?
Missy Franklin was just 16 when she was named 2011 FINA Swimmer of the Year in December. We don't trust her to vote yet, but she does hold two world records. She is undeniably one of the most appealing figures to follow during these London 2012 Olympics, as she is projected to become one of the most decorated Olympians of all time.
Franklin is set to become the first American woman ever to swim seven events at an Olympics, making her the busiest girl in Great Britain. Bookmark this slideshow to enter her world... Schedules, results and detailed analysis so you can keep your finger on the pulse of her riveting Olympic debut.
Begin Slideshow

»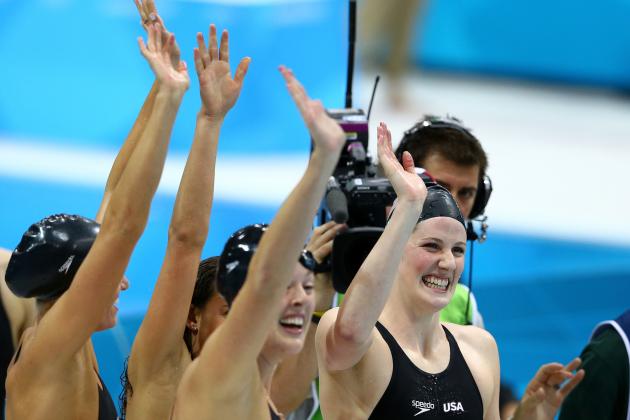 Al Bello/Getty Images

Missy Franklin and her team put on a show on Day 8, winning the gold medal and setting a new world record in the process in this race.
Franklin started things off with her backstroke, and her efforts gave the team the lead after the first 100 meters. Her teammates kept the momentum going, and they blew away the competition.
This concludes Franklin's 2012 Olympics, and she put together quite a memorable resume. Her final tally: four gold medals and one bronze.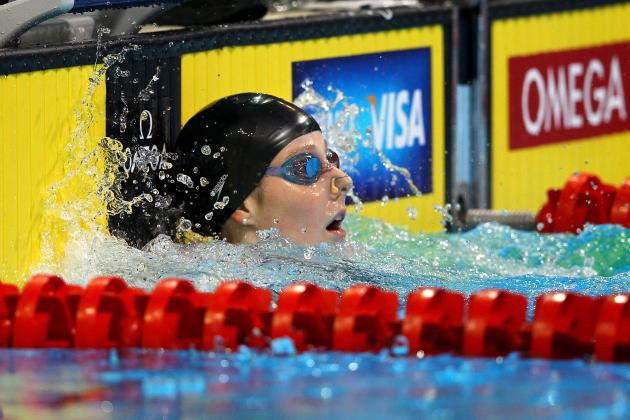 Al Bello/Getty Images

As her Summer Olympic Games wind down, here's a quick look at what's coming up for Missy Franklin.
Saturday, Aug. 4 at 3:07 p.m. ET (4x100-Meter Medley Relay Final)
Although she didn't compete on Friday morning, the United States needs Franklin to race in the medley relay if they want to challenge for gold.
And according to the Denver Post:
The United States' 4x100 medley relay team qualified fourth for Saturday's final — likely giving Missy Franklin another shot at a medal.

Franklin didn't swim in Friday morning's prelims, but is expected to race in the final.
Despite this remaining to be seen/known, Franklin's contribution must be strongly considered for at least another shot to medal.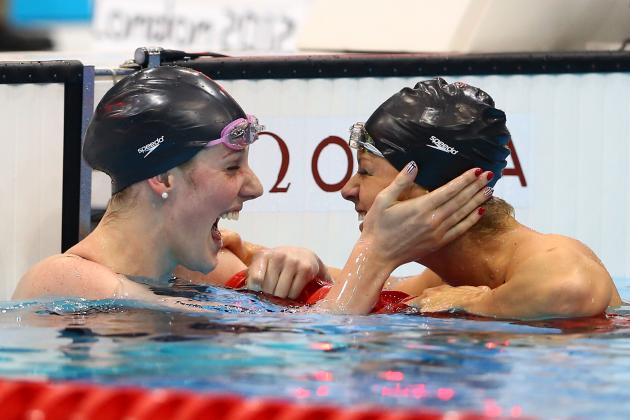 Al Bello/Getty Images
Franklin sharing the joy of a world record and gold medal with teammate Beisel.
Missy Franklin and Elizabeth Beisel entered this race as overwhelming favorites. Beisel was expected to grab the gold, but the young star had a different plan in mid.
So did the home-crowd favorite, Elizabeth Simmonds. She got off to a very fast start and was leading for most of the first lap, but Franklin passed her at the first turn. She was 0.41 seconds below world-record pace at 100 meters, with a full length on the competition.
Franklin was able to hold her pace and shattered the world record by 0.75 seconds with a time of 2:04.06.
Beisel was well back for much of the race but had a late surge to pass Simmonds and secure the bronze medal. Russia's Anastasia Zueva received the silver, 1.86 seconds behind Franklin.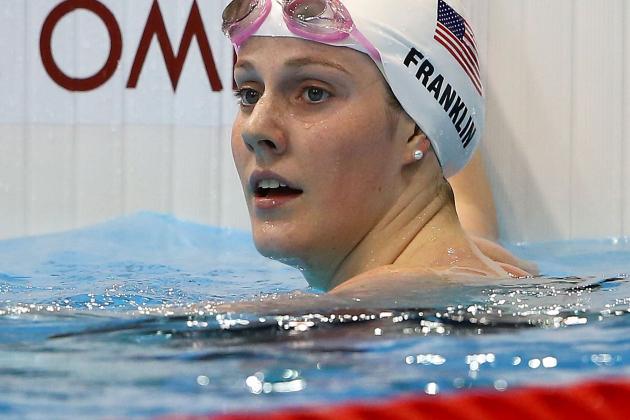 Al Bello/Getty Images

Finishing with a time of 53.64 seconds, Missy Franklin only managed fifth place in the women's 100-meter freestyle final.
On the bright side, Franklin still has plenty of time to develop this race in her repertoire and become a more complete swimmer.
The 100 free final result is a rare occasion for the U.S. in the 2012 Olympics as well, because teammate Jessica Hardy finished eighth with a time of 54.09. No American won a medal and Ranomi Kromowidjojo of the Netherlands won gold with an Olympic record time of 53 seconds flat.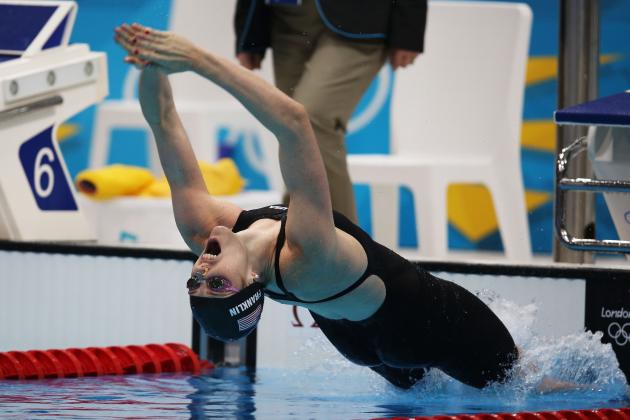 Clive Rose/Getty Images

Winning her heat with a time of 2 minutes and 6.84 seconds, Missy Franklin qualified for the women's 200-meter backstroke final.
She swam the second-fastest time in the semifinals to teammate Elizabeth Beisel (2:06.18) and is ahead of Australia's Meagen Nay (who was third overall) by almost 0.5 seconds. Her confidence is building and Franklin has quickly become an Olympic veteran.
That said, we can only expect her to be near the front of the pack in the 200 backstroke final: dueling with Beisel for gold.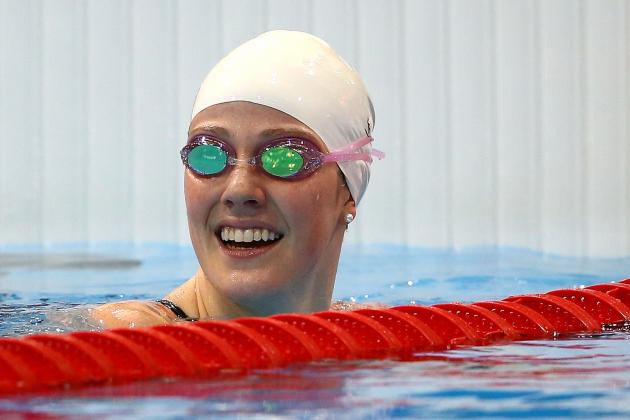 Al Bello/Getty Images

Missy Franklin looked quite comfortable and controlled in the heats of the women's 200-meter backstroke Thursday morning.
And why shouldn't she? Backstroke is Franklin's specialty.
Franklin, who finished with the best time (2:07.54) wasn't the only American looking sharp. Elizabeth Beisel was the second-best swimmer of the morning, clocking a time of 2:07.82.
Even though veteran South African swimmer Kirsty Coventry took third and is still in the mix, she has yet to prove in these Olympics that she can close out a race. If Franklin is going to take gold in this event, it looks like she will have to take down Beisel to do it.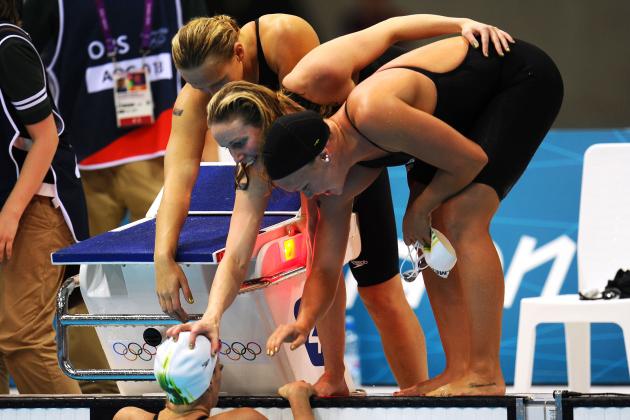 Mike Hewitt/Getty Images

Missy Franklin capped off another busy day in the pool by swimming the opening leg of the women's 4x200-meter freestyle relay. She got out to an early lead but wasn't able to hold on over the final 50 meters. She had a semifinal race earlier in the evening.
The women were dominant in this race, even if it took 650 meters to prove it. Australia was able to swim neck and neck with the U.S. until 200 free gold medalist Allison Schmitt took the water. She took the lead back after 50 meters and led the team to an Olympic record.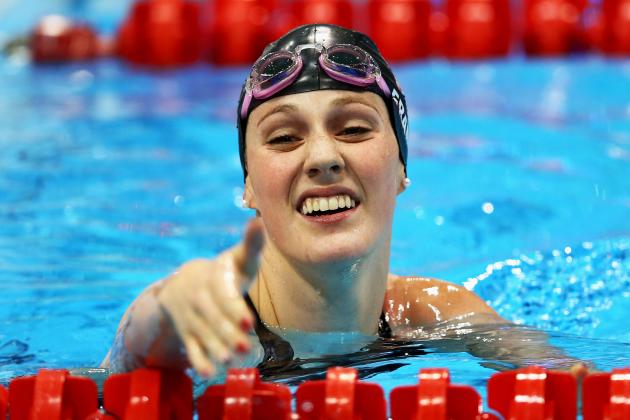 Al Bello/Getty Images

Franklin wasn't a favorite in this event, but don't bother telling her that. She was visibly conserving energy but still had the third-fastest qualifying time for tomorrow's finals.
She was second in Heat 1, 0.212 seconds behind Australia's Melanie Schlanger.
She'll have her work cut out for her if she wants to win gold in this event, though.
Ranomi Kromowidjojo was an impressive winner of Heat 2, setting a new world record.
Franklin's teammate, Jessica Hardy, qualified eighth for the finals.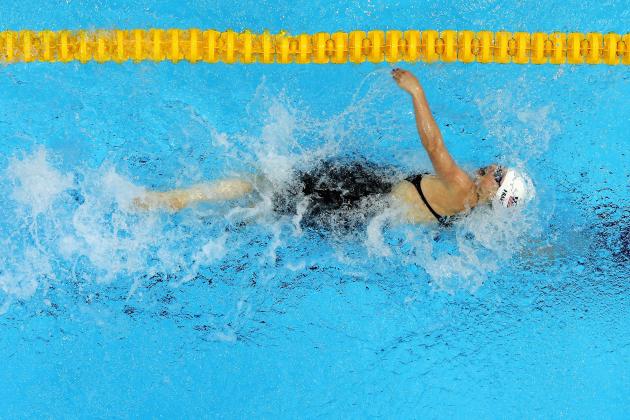 Richard Heathcote/Getty Images

The latest update in this sensational debut Olympics for Missy Franklin is that she's now qualified for the women's 100-meter freestyle semi-finals.
Franklin is another prodigy and she's destined for success. She swam a time of 54.26 in the qualifying heats on Thursday morning.
Whether or not she wins gold in this event remains to be seen, as she finished almost a second behind the fastest qualifier, Tang Yi.
The 16 women who qualified for the semi-finals were only separated by 1.15 seconds, so to be quite honest, it's still anybody's race.
You can't read too much into qualifying times though and I'll bet that Missy Franklin will be up there when the medals are being handed out.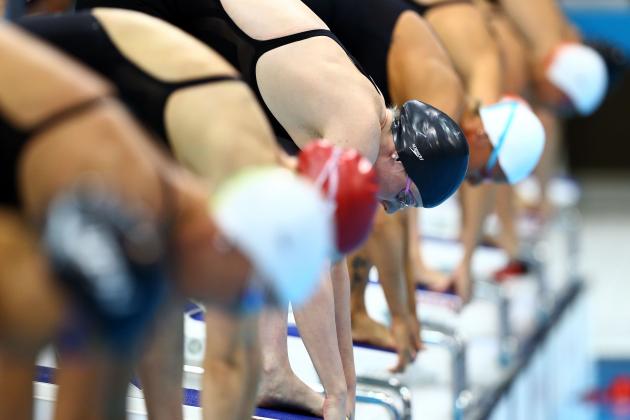 Al Bello/Getty Images

Missy Franklin started the 200-meter freestyle final in Lane 8 after just sneaking into the race in the semifinal. That semifinal was just 14 minutes before her 100 back final, so she had to conserve some energy with an eye to that final.
Even though she started in the least favorable lane, Franklin came out well in the 200 free. She was in the top three all the way until the end.
However, this race isn't one of her strongest. The backstroke is her preferred stroke, and the rest of the field was just too strong for Franklin to overcome.
She ran out of gas in the last 50 meters and ended up touching the wall in fourth, just barely behind Bronte Barratt of Australia. Franklin's time was 1 minute, 55.82 seconds.
She will be disappointed not to win a medal in this race, but she still exceeded all expectations.
--Liviu Bird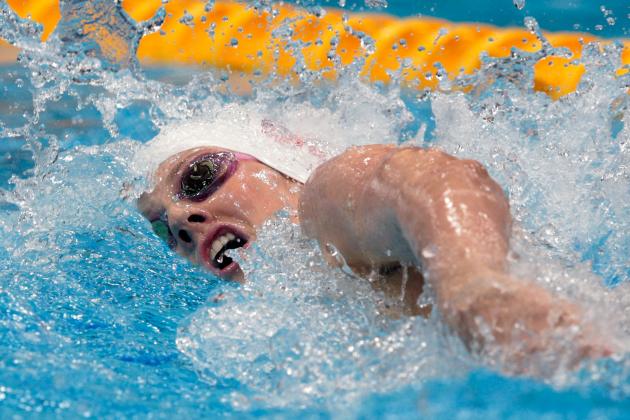 Adam Pretty/Getty Images

Missy Franklin is the latest in a long line of American sporting prodigies and her precocious talents were there for all to see in Monday's 200-meter freestyle heats.
Franklin entered the semifinals after posting a time of 1:57.62, just behind World and Olympic record holder Federica Pellegrini.
She finished fourth in her heat, seemingly a bit spent from racing two events on the day. She had the 100 backstroke coming up in a matter of minutes and looked to be conserving energy.
It was a well-played gamble, as she qualified for the finals. However, she was last and will have the difficult task of swimming from lane eight.
Joining her in the finals is teammate Allison Schmitt, who qualified third.
It's frightening to think that she's still just 17 years old and she could well use the London games to announce her arrival on the Olympic stage.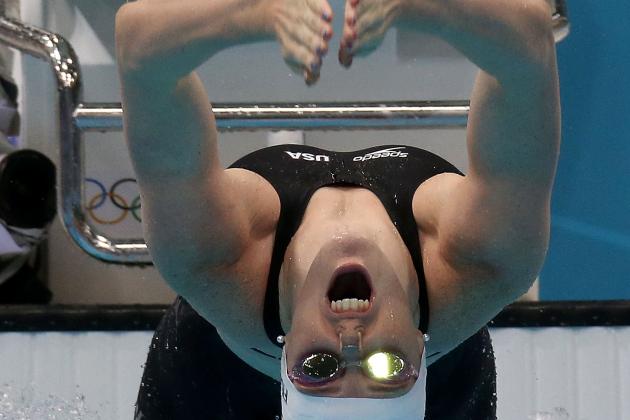 Clive Rose/Getty Images

Coming off the second-fastest preliminary time of 59.37 seconds, Franklin wasn't about to let a busy day interrupt her quest to win the 100-meter backstroke.
She had barely dried off from her 200-meter semifinals race when she took to the pool for her second 100-meter backstroke of the day.
She didn't have enough push to overtake the world-record time of 58.12, but might have made a run at if she was better rested.
Still, Franklin was all smiles after setting an American record of 58.33 seconds to win gold.
Emily Seebohm of Australia took the silver, 0.35 seconds behind, while the bronze went to Aya Terakawa of Japan.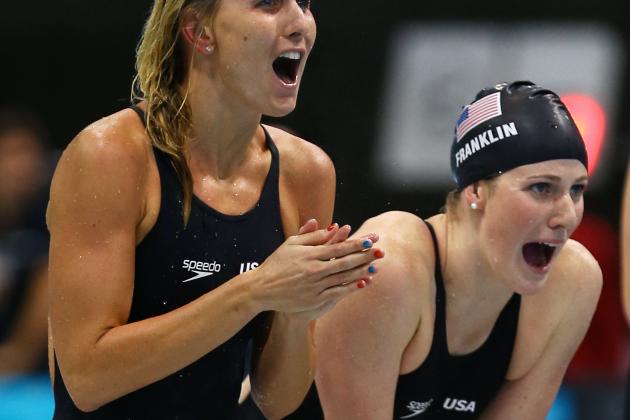 Al Bello/Getty Images

Missy Franlin has won her first Olympic medal. The sensational 17-year-old star helped the U.S. secure a third-place finish in the 4x100m freestyle final.
Australia established a new Olympic record in the event while earning gold in the 4x100-meter relay finals. The Australians dethroned defending champion Netherlands with a finishing time of 3:33.15.
The Netherlands (3:33.79) placed second and saw the Olympic record it set at the 2008 Beijing Games erased. The U.S. (3:34.24) followed directly behind to earn bronze.
Franklin did extremely well in her leg of the race, completing the 100 meter stretch in 53.52 seconds.
If she does go on to have a highly decorated Olympic swimming career, we just witnessed its start.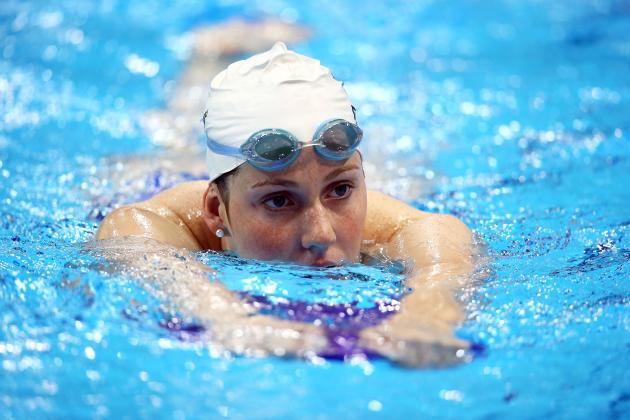 Al Bello/Getty Images

Missy Franklin didn't race for the United States in the women's 4x100-meter freestyle relay qualification round.
Still, Team USA swam the second-fasted time at 3 minutes and 36.53 seconds. Australia leads with a time of 3:36.34 and one can only imagine how the finals will pan out if Franklin competes.
Well, it seems that may end up being the case.
According to John Henderson of the Denver Post:
Missy Franklin of Centennial will not open her first Olympic Games quest in Saturday morning's semifinal of the women's 4x100 freestyle relay. She is being saved for Saturday night's 2 p.m. MDT final.
Veteran Natalie Coughlin swam the fastest split for the U.S., so it would be surprising to see her not race later on Saturday. To that end, the Americans can make up that ground and catch Australia with Franklin slicing through the water.
Therefore, expect one exciting final and to think it's only Day 1.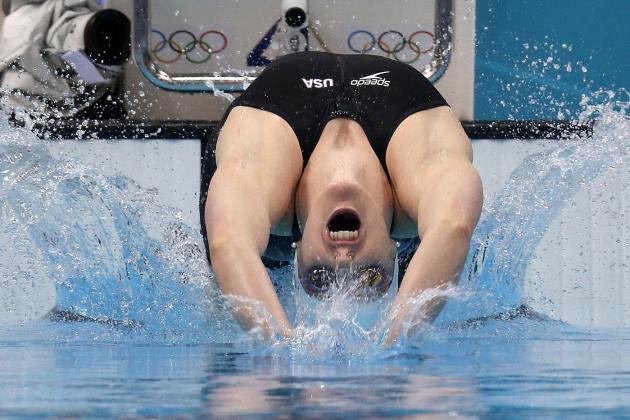 Clive Rose/Getty Images

Missy Franklin blew away the competition during her heat of the 100-meter backstroke semifinal and swam a 59.12, which was good to advance.
She was second at the 50-meter mark, then pulled away in the final 50 meters.
She was second overall only to the Olympic record of 58.23 by Australia's Emily Seebohm. Russia's Anastasia Zueva qualified third in 59.88.
"It was the fastest I've ever been in prelims so I'm thrilled," Franklin said in an interview with the Denver Post.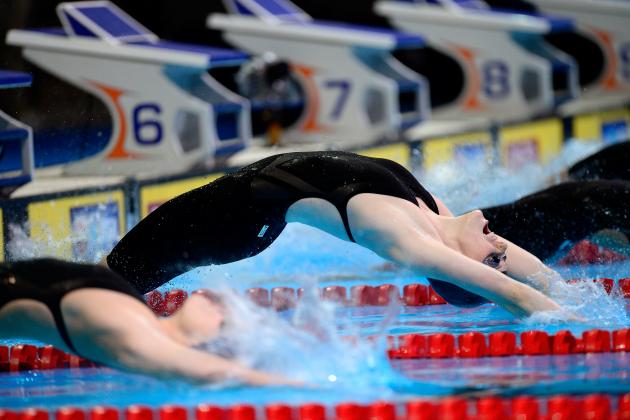 Jamie Squire/Getty Images

* All times are EDT
Saturday, July 28th
4x100-Meter Freestyle Relay (Heats and Final—7:16 a.m. and 3:50 p.m.)
Sunday, July 29th
100-Meter Backstroke (Heats and Semifinals—5:00 a.m. and 3:44 p.m.)
Monday, July 30th
200-Meter Freestyle (Heats and Semifinal—5:00 a.m. and 2:30 p.m.)
100-Meter Backstroke (Final—2:49 p.m.)
Tuesday, July 31st
200-Meter Freestyle (Final—2:39 p.m.)
Wednesday, August 1st
100-Meter Freestyle (Heats and Semifinal—5:00 a.m. and 2:38 p.m.)
4x200 Freestyle Relay (Heats and Final—6:39 a.m. and 3:57 p.m.)
Thursday, August 2nd
200-Meter Backstroke (Heats and Semifinals—5:00 a.m. and 2:30 p.m.)
100-Meter Freestyle (Final—3:34 p.m.)
Friday, August 3rd
4x100 Medley Relay (Heats—6:50 a.m.)
200-Meter Backstroke (Final—2:30 p.m.)
Saturday, August 4th
4x100-Meter Medley Relay (Final—3:07 p.m.)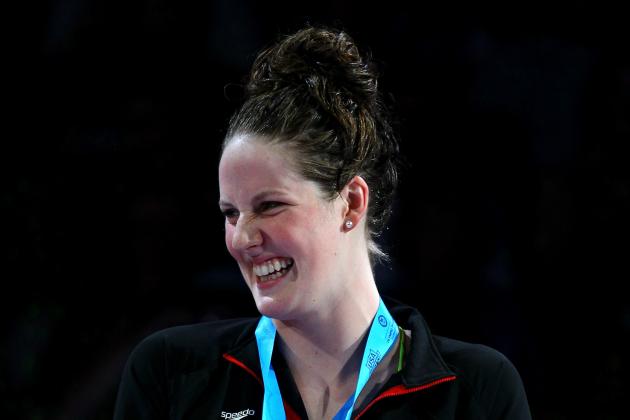 Al Bello/Getty Images

Born: May 10, 1995 (Pasadena, CA)
Currently resides in: Aurora, CO
Twitter: @FranklinMissy (she re-tweets dutifully)
- 2011 FINA Swimmer of the Year
- Will be a senior at Regis Jesuit High School
- Dual citizen of the United States and Canada
- 6-foot-1, women's size 13 shoe
- Won three golds, one silver and a bronze at the 2011 World Championships in Shanghai
- World Records entering 2012 Olympics: 200-meter backstroke (2:00.03), 4x100 Medley Relay (3:45.56)
Links to learn more:
- Missy Franklin: Day-by-Day Schedule and Predictions
- 10 Things You Need to Know about Missy Franklin