Minnesota Twins: 5 Things to Take Away from the Baltimore Orioles Series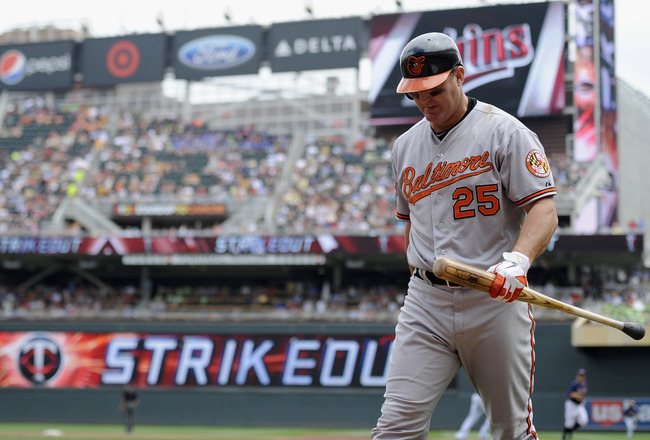 Hannah Foslien/Getty Images
Starter Cole De Vries gave up one run in six innings and, while getting run support in the first and fourth, but Twins had relied heavily on their bullpen during the homestand and it caught up to them in Game 4, a 4-3 loss.
"With the way we've used our bullpen, anything can happen now," said manager Ron Gardenhire. "Every night it's three and four innings."
Brian Duensing forced former Twin Jim Thome into a double play with the bases loaded, but gave up a run. Anthony Swarzak gave up two runs to the first batter he faced in the eighth. Brian Dozier had men on the corners in the eighth, but lined out to center.
"You've got guys up there trying," continued the manager. "They're trying to get hits and pitchers make pitches sometimes and get you every once and a while."
After the 2-2 series split, the Twins are 38-54 and the reaction from many fans in the Twin Cities is trade, trade, fire (it's like Russian Roulette meets Duck, Duck, Grey Duck).
Trade Denard Span. He's making mental errors! We need pitching! We've got Ben Revere!
Trade Francisco Liriano. He's mercurial! Sell high! We can't trust him!
Fire Rick Anderson. Our pitching staff is struggling! His shtick has worn thin! He's too comfortable!
There is merit in many of these claims:
Revere can play center field and, in fact, the outfield is pretty stacked. Josh Willingham will not be replaced in left. Darin Mastroianni has shown improvement and could potentially play right field (although that's up for debate too).
While his stuff has been virtually untouchable, Liriano does have a reputation of breaking down mentally when things don't go his way. To be honest, his value is as high as it's going to get right now.
Anderson has to be feeling some heat right now, but he's also playing with the cards he's dealt. Let's be honest, he wasn't dealt pocket aces. He has the poker equivalent of a five and two off-suit right now.
So, while fans are going to have the tendency to gripe during a poor season, it would be wise to take an in-depth look at both players and the situation the Twins have now.
Francisco Liriano Has His Stuff Back (and Might Be a Big Trade Asset)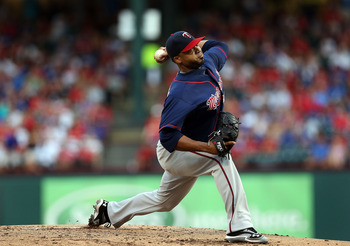 Ronald Martinez/Getty Images
He threw 10 strikes in his Wednesday night outing.
Ten!
"Being more consistent and throwing the ball down in the zone," Liriano said after his outing. "That's the whole key."
He gave up a two-run home run to Adam Jones in the first inning, but didn't let it rattle him.
"He's doing a lot better…in terms of staying composed and staying relaxed," said acting manager Scott Ullger, who replaced Ron Gardenhire when he fell ill to a stomach virus.
Liriano claims he's aware that there are a couple more eyes on him now that he's subject to trade rumors, but claims that it has not affected his game.
"I haven't even called my agent asking about it," he said. "I don't want to think about it too much."
He could be dealt at the deadline but, then again, it's difficult to see Minnesota getting fair value for him. Even with his stock as high as it is, he's an ace if he keeps his stuff up and a No. 2 or No. 3 starter unless he completely implodes.
Unless the Twins think they can get a prospect that will turn into a surefire ace in return for Liriano, they may be better off sticking it out with the man they once called "Franchise."
Denard Span Kept Errors to a Minimum and Made Some Spectacular Plays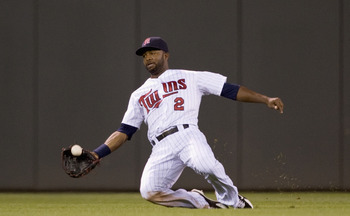 Hannah Foslien/Getty Images
I know I wrote about his mental errors in the Oakland series, but Span has had a better series against Baltimore. In fact, he made two spectacular catches in Game 1 after seeing Ben Revere save Scott Diamond's butt in the first inning.
"Every time I try to make a catch, he turns around and dives and flips," he said of Revere.
"He's killing me on the web gems. I can't let him do me like that. You got to let the old man get in there every once and a while."
Two guys competing to make spectacular catches?
That's never a bad thing.
Ben Revere May Not Be Ready to Take on Role as Centerfielder or Leadoff Man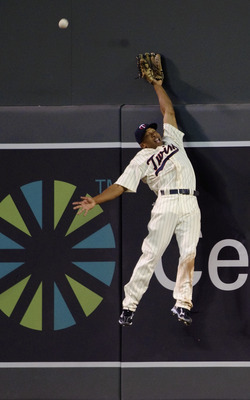 Hannah Foslien/Getty Images
"He's our center fielder," said Revere of Span, "and he's the leadoff guy."
Revere can play center, but his arm strength is a concern. As a leadoff hitter, he has trouble working counts.
"Ben's going to get 0-2 a lot because he's hacking," Gardenhire said on Tuesday, addressing the latter point. "Span works counts, looks at a lot of pitches, sees a lot of pitches [and] is not afraid with two strikes either."
Of course Revere is in the team's long-term plans, but dealing Span may force him into a position he's not fully equipped to handle yet.
The Table Setters Have Helped Joe Mauer out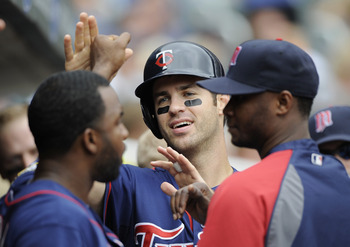 Hannah Foslien/Getty Images
The hometown hero heard his fair share of boo birds last year, but his good health and production have silenced the hecklers so far this year.
In fact, he made a pretty spectacular catch Tuesday night that won everybody's heart over.
"I saw it pretty good off the bat," he said. "I just kinda locked on the ball and went after it."
Batting third in the lineup, Mauer feels that Span and Revere's efforts as table setters have helped him with his bounce-back season.
"Those guys, Benny and Denard, they give great at-bats whether it's a righty or lefty," he said. "Those guys have been doing a great job putting together quality at-bats."
Putting together quality at-bats? Mauer knows all about that.
Justin Morneau Is Back!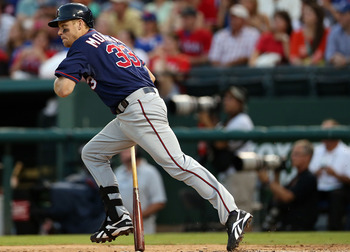 Ronald Martinez/Getty Images
A four-hit night for Morneau on Monday may indicate that he's back.
"It's been…it's been a while since I've had one of those," he said with a tense laugh.
"I've been putting in the work and it's nice to see those results."
He said he's increased his workload recently and is feeling closer to 100 percent.
"I started doing my program that I usually do in the offseason that I haven't been able to do," he said. "I'm finally starting to feel better."
It's hard to see the Twins separating the M&M boys but, if they're going to do it, it's now or never. Morneau's healthy and productive and there are many teams on the market that could use a hitter like him.
All quotes were obtained first-hand.
Tom Schreier writes for TheFanManifesto.com.
Follow him on Twitter @tschreier3.
Keep Reading

Minnesota Twins: Like this team?