Fantasy Football Guide to the Atlanta Falcons
Kevin C. Cox/Getty Images
For years the Atlanta Falcons have been a good team. Yet the question persists: when will they become a great team?
Each season, the club seems to do just enough to make the playoffs. However, in the Matt Ryan years they have never made it past that.
Further, with each passing offseason it looks more and more like they are treading water.
For instance, the addition of Julio Jones is lauded by many as the signing to put them over the top. However, I would argue that the declining potency of Michael Turner and Tony Gonzalez—due to age—probably negates Jones' positive effect.
Thus, we get back to where we started. Lots of potential, lots of questions. Perhaps too much of the latter for this team to make a serious run in the NFC.
That said, they will score points. If drafted appropriately, there is lots of value here.
QB: Matt Ryan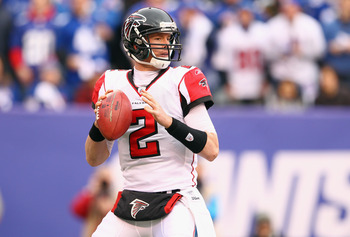 Al Bello/Getty Images
Outlook: Low-End No. 1 QB
When the running game slows down, Ryan never seems able to carry the load on his own. Thus, as Turner wore down towards the end of last season, Ryan declined as well.
That fact is disheartening. Arthur Blank went out and signed two stud wide receivers to highlight a serious passing game. Unfortunately, his signal caller has yet to prove that he can consistently carry a franchise outside of a run-first system.
To call him a game manager undersells his talent. Certainly, he is among the league's 12 best. However, I have not seen enough at this point to conceive of Brees/Rodgers numbers any time soon.
For that reason, Ryan represents good value if you need a solid quarterback to round out your roster in the middle rounds. However, do not overpay for a player who has plenty of substitutes available for less.
RB: Michael Turner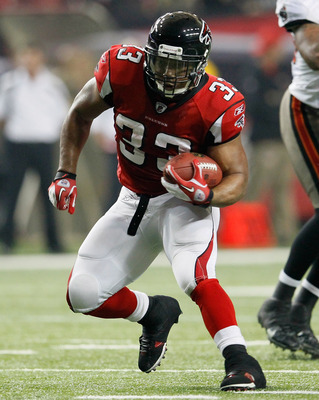 Kevin C. Cox/Getty Images
Outlook: Solid No. 2 RB
Drafting Michael Turner is essentially a roll of the dice.
He is a very young 30, after years spent in reserve of Tomlinson in San Diego. However, for the past few seasons he has been shouldering 300-plus carries a season. In addition, his straight-ahead running style means that those hits are going to add up eventually. To that end, there were worrying signs of fatigue towards the end of last year.
However, if you draft Turner and he stays healthy, you get a huge bargain. Finding a running back who exists outside of a platoon is a rarity these days. He is going to get a lot of carries and will put up some big numbers by default.
Thus, it comes down to how lucky you feel. If you think the clock is about to run out, stay away. If you think "Burner" has one more campaign in him, do not hesitate to pull the trigger in the fourth or fifth round.
RB: Jacquizz Rodgers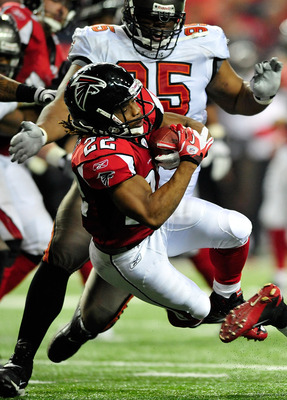 Grant Halverson/Getty Images
Outlook: Sleeper Reserve RB
Rogers is the heir apparent to Turner. If the starter goes down, he's your guy.
Likely Scenario: Third-down back who could vulture a few scores.
Best Case Scenario: Turner goes down, Rogers runs with his chance to start.
In the late rounds, Rodgers is worth a flier. This is a one-back system. If he gets his chance, he will put up numbers. Further, Turner is one of the larger injury risks in the league. When the starters are gone, Rodgers represents a smart pick.
WR: Roddy White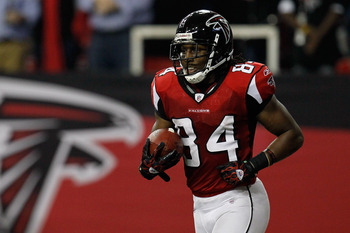 Kevin C. Cox/Getty Images
Outlook: Mid-Level No. 1 WR
1,000 yards, 100 catches and eight-plus touchdowns are the norm for "Rowdy" Roddy White. He has become one of the league's most consistent performers. He is a welcome addition to any roster.
He and Ryan have a great rapport and there is little in the way of injury worry. The only serious concern is whether or not Julio Jones will eat into productivity in his second season in the Georgia Dome.
I think that with the aging of Turner and Gonzalez, there will be enough balls to go around for both receivers.
This year, the receiver market is particularly deep, so do not reach. However, by Round 3 White is a steal.
WR: Julio Jones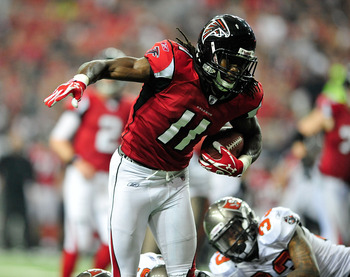 Grant Halverson/Getty Images
Outlook: Solid No. 2 WR
Wide receivers typically do not adjust to the league as quickly as other position players. Thus, when Jones put up 959 yards and eight touchdowns as a rookie, it put the league on notice.
There is nowhere to go but up for Jones. In addition, there is so much hype surrounding A.J. Green that there is a good chance you will get Jones at something of a discount.
Think of 2011 as the basement for Jones. He has tremendous potential and ability. Ryan also seems to have already developed a great rapport with the former Alabama star.
The fourth round is not too early to grab Julio.
WR: Harry Douglas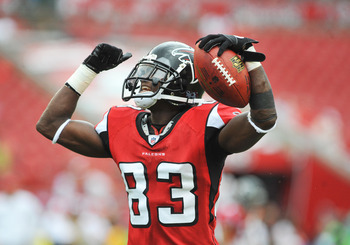 Al Messerschmidt/Getty Images
Outlook: Don't Draft
When the starting wide receivers go off the board, you should focus on backups with a high potential ceiling.
For instance, last season there was a clear vacancy in the slot when the Giants traded Steve Smith. Thus, Victor Cruz was a wise waiver wire pickup because he had the potential to fill that void.
Douglas is never going to be more than a third receiver who perhaps aids in special teams. Look elsewhere when you start reaching at the end of your draft.
TE: Tony Gonzalez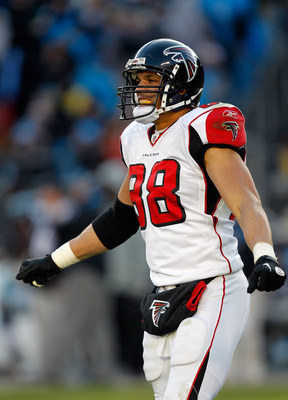 Streeter Lecka/Getty Images
Outlook: Mid-Level No. 1 TE
Gonzalez is a great player and a surefire Hall of Famer. Unfortunately, his price will not be worth the output in 2012.
The former Chief saw his stock rise when the running game faltered in the second half of the year. This time around, he is one year older and Julio Jones is one year wiser. Thus, he is a larger injury risk and should get fewer targets.
Because he is coming off a big year and carries such a famous name, someone will reach for Gonzalez.
They may not be as sexy, but players like Greg Olsen of the Panthers or Coby Fleener of the Colts will probably offer you the same value about six rounds later.
Keep Reading