Washington Redskins 2012: After RGIII, Which Rookies Could Make Instant Impacts?
Patrick McDermott/Getty Images
Robert Griffin III will need help if he's going to have success in Washington
The key to a successful franchise lies in building through the draft. Teams like the Patriots, Packers, Giants, Ravens and any other perennial playoff contender establish quality depth and talent through careful and considered draft decisions. Unfortunately for the Redskins, that idea was forgotten during the Vinny Cerrato era in favor of a system that valued big-name free agent and trade acquisitions like Jason Taylor at the expense of draft picks.
That trend appears to have come to an end during the Mike Shanahan and Bruce Allen regime.
Already the two have made significant strides in overturning the roster through the draft process, allotting 12 picks in last year's draft. By putting a premium on acquiring picks rather than trading them away for aging stars (Donovan McNabb being the exception), the two were able to bring plenty of talent into camp each year, even with the compensation given up in the Robert Griffin III trade.
But with most things, quality is more important than quantity. It is one thing to acquire multiple picks; it's entirely different to put them to good use.
Luckily, the Washington front office has made good use of their draft picks, even hitting on all 12 of last year's picks to find players that would contribute on the field at some point during the year. Shanahan prides himself in finding late-round running back prospects which he accomplished last year with Roy Helu and Evan Royster. While there are still plenty of holes on the Redskins roster, recent drafts should have fans feeling optimistic for the first time in years.
Time will tell how the three drafts under Shanahan will pan out, but for now, we can take a look at some possible breakout players from this year's draft who could make an immediate impact this season.
Begin Slideshow

»
Patrick McDermott/Getty Images

When Southern Methodist University guard Josh LeRibeus was selected in the third round of the draft, many fans said the same thing: Who?
LeRibeus had a much lower draft grade—many saw this pick as a reach—but he was still snatched up early by Shanahan who loved his potential to fit in his zone-blocking scheme. LeRibeus has the size and strength to succeed at the next level, along with the determination. After gaining too much weight in the off-season last year LeRibeus shed 70 pounds to get back in playing shape. Of course, the fact that he gained that much to begin with does raise some concerns.
During OTA's LeRibeus saw most of his time at center and guard for the second-team offense. His versatility should make him a valuable prospect if someone goes down on the line, especially with starting LG Kory Lichtensteiger coming off an ACL tear last season. While he may not start at the beginning of the season, he could surprise and find his way onto the field sometime in December.
Even if he doesn't see action in his rookie campaign, LeRibeus still provides solid depth on an offensive line that severely needed it last year.
Best Case: LeRibeus overtakes Will Montgomery in camp as the starting center.

Worst Case: The starting line holds and LeRibeus stays a reserve for the season.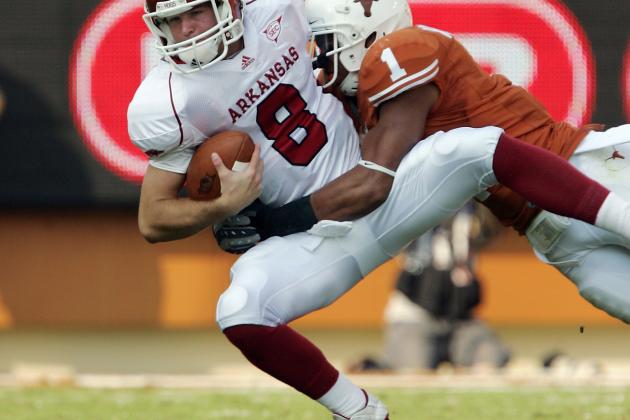 Brian Bahr/Getty Images

Texas OLB Keenan Robinson was teammates with Brian Orakpo in college, so he should have no trouble getting to know the increasingly impressive group of linebackers starting in Washington. The plan is to have Robinson transition inside as a future replacement for 37-year-old London Fletcher, but there are reasons to believe that he could jump in and have an impact now.
Robinson hits. Hard. Add that to above average speed and length and you get the potential for a star. However, while Robinson has a lot of talent, he needs to work on pass-rushing, specifically getting off blocks. He is a sure tackler in the open field, solid against the run and can cover tight ends well. If he can develop the rest of his game and stay focused, he could very well step into the giant shoes left when Fletcher retires.
For now, he will spend most of his time on special teams, where he can put his athleticism to work recording monstrous hits in the return game.
Best Case: Robinson shines playing special teams and in coverage which earns him a spot in the rotation for certain packages. He challenges Perry Riley for a starting job.

Worst Case: Robinson can't make anything happen in camp or preseason and only sees the field on special teams.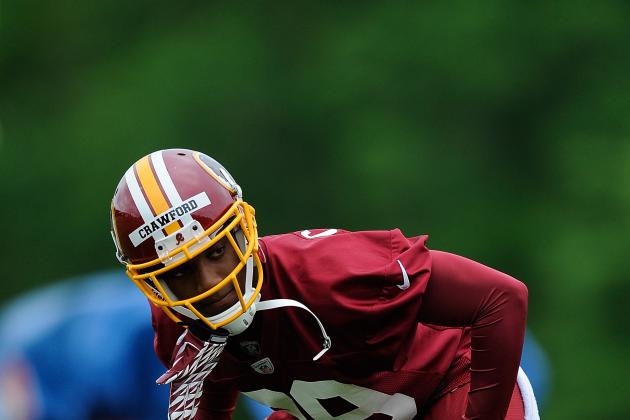 Patrick McDermott/Getty Images

Another SMU project, Richard Crawford is all upside at CB. He went through a trial by fire the first day of OTA's covering Pierre Garcon, but he has held his own so far. He has good size and speed for a corner, and opportunity will come through the wide open competition at corner behind starters DeAngelo Hall and Josh Wilson.
For a seventh-round pick, Crawford has been surprisingly adept in OTA's on Garcon, going stride-for-stride with the speedster. The coaches love his athleticism and ball skills that he developed playing receiver during his first year in college before transitioning to defense. Granted he's not going to come in and become a lock-down corner, but if he can continue to prove himself against the veterans in camp, he could find himself playing the fourth or fifth corner spot and special teams during the season.
Best Case: Crawford impresses in camp and preseason with a few big plays and finds himself playing as a nickel corner to start the season ahead of Cedric Griffin, Kevin Barnes and Morgan Trent.
Worst Case: Crawford struggles in training camp when the pads come on and is relegated to the practice squad.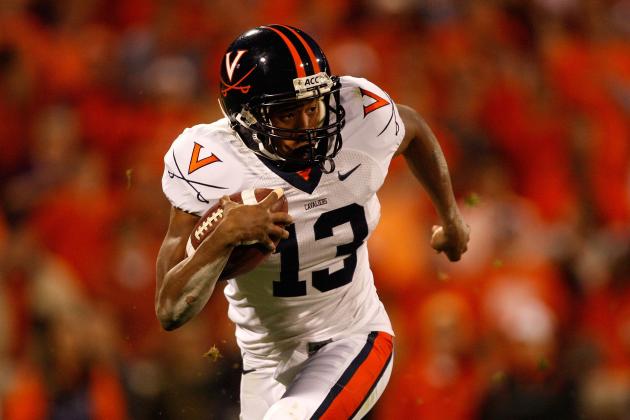 Streeter Lecka/Getty Images

Virginia CB was rated as high as the second-round before the news broke that he would need arthroscopic knee surgery after his final college season. The injury plummeted his draft stock to the point where no team took a chance on him in the draft, despite the fact that he was a two-time first-team all-ACC selection, has elite potential at the position and is the son of Pro Bowl Browns corner Frank Minnifield.
Minnifield caught the eye coaches during the end of OTA's with his coverage and a nice Rex Grossman interception. If he can successfully come back from his injury, there's no reason to believe he won't be in the mix as the third cornerback on the depth chart.
Unfortunately, that is a big "if," and at the moment he is believed to be starting the season on the Physically Unable to Perform list, which will require him to miss the first six weeks.
He can still be brought off the list before the start of the season, but at this point it, appears the coaches want to give him as much time to recover as necessary.
Best Case: Assuming he start the season on the PUP list, Minnifield comes off his injury on fire, forces his way into the third cornerback spot and shows the league why they shouldn't have counted him out.

Worst Case: Minnifield's injury persists even after six weeks, causing him to miss the season and possibly more.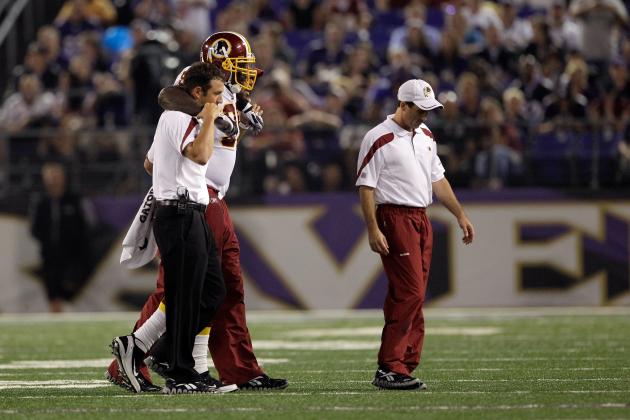 Rob Carr/Getty Images

Jarvis Jenkins is not a rookie. While this might be cheating to include him in this list, he has never played a down in the regular season because of his injury in week three of the preseason against Baltimore. Before that, Jenkins was arguably the most promising defensive lineman on the roster during preseason last year. He already has earned a spot in the rotation during the off-season, and he could likely start during the regular season.
Jenkins has great instincts and talent at any position on the line. If he can get back to form, he could easily develop into an impact player and open up lanes for Brian Orakpo and company. So far he appears to be fully recovered and able to participate in practice.
With a full year to study the defense and recover, he is poised to be a stud in a formidable front seven for Washington.
Best Case: Jenkins meets all expectations and opens up the defense for Haslett and company. Along with the help he gives the linebackers in the pass rush, Jenkins records upwards of seven sacks for the year.

Worst Case: Jenkins fits in the rotation, but isn't the dominant player everyone expects. He provides solid relief for Adam Carriker and Stephen Bowen on the line, but doesn't quite reach starter status.