2012 Olympics Basketball: Power Ranking Each Team's Center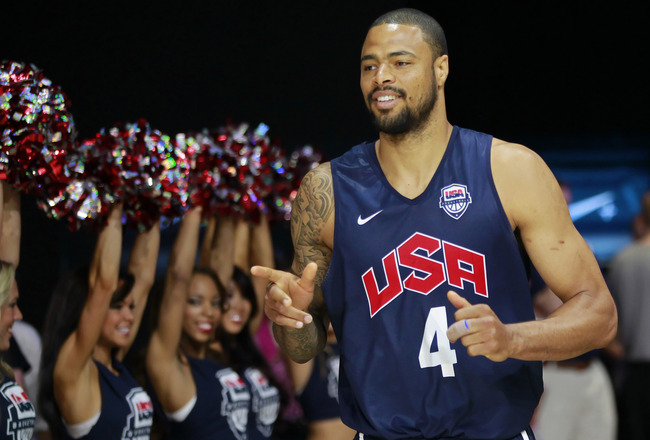 Geoff Burke-US PRESSWIRE
Since professional basketball players were first welcomed to the Olympics in 1992, the United States has dominated the sport, winning gold medals at four of five Olympiads. Team USA is expected to win the gold medal at this year's Olympics, though the Americans face a much tougher field than they have in decades due to the growing popularity of basketball worldwide.
Of the five positions on the floor, perhaps none has greater parity in 2012 than the center position. All but one of the 12 starting centers at the Olympics either has NBA experience or are expected to play in the NBA in the near future, and a few are very good NBA players.
Here we rank each of the 12 Olympic teams' starting centers.
No.12: Juan Pedro Gutierrez, Argentina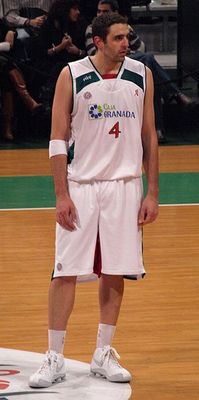 Photo Courtesy Wikipedia
The Argentinian national team has been the most successful South American team in recent years and has regularly been one of the best teams in the world. The team has won four of the last eight South American Basketball Championships, trading titles with Brazil since 1999.
Though Manu Ginobli, Luis Scola and Carlos Delfino get most of the team's credit and attention, Juan Pedro Gutierrez will be critical to the team's success. He is one of the stars of Obras Sanitarias, a Buenos Aires basketball team, where he is a dangerous scoring threat.
Gutierrez was a member of Argentina's 2008 bronze medal winning Olympic squad, where he played a largely supporting role, averaging 2.3 points and 2.0 rebounds per game. He had no blocks and only three steals in the Olympics. His best game was in the group match against Russia, in which he scored five points with four rebounds and two steals.
Gutierrez will split playing time at the Olympics with Martin Leiva. Center is not the Argentinian squad's strongest position, but Gutierrez has Olympic experience and is a viable scoring option.
No. 11: Robert Archibald, Great Britain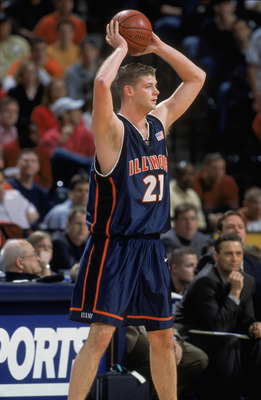 Jonathan Daniel/Getty Images
Robert Archibald has been the definition of a basketball journeyman since he was drafted 31st overall by the Memphis Grizzlies out of the University of Illinois, where he led the Big Ten in field-goal percentage in his senior season . The 6'11" center/power forward was the first Scottish born player to ever play in a regular-season NBA game.
After spending two seasons in the NBA, where he averaged 1.2 points and1.6 rebounds in 7.5 minutes per game playing for four different teams, Archibald moved to Spain to play for the Valencia Basket Club. He quickly moved to play in Italy, then back to Spain, then to Ukraine, then Spain again to play for Baloncesto Malaga. Archibald currently suits up for CAI Zaragoza,
Great Britain's team faces an uphill battle in the Olympics. This will be the team's first Olympiad since 1948, and the team's only player with an international profile is Luol Deng. As one of only three members of the team with NBA experience (Joel Freeland will join the Blazers next season), Archibald will be critical to Great Britain's chances.
Archibald is hardly a dominant center, but he's one of the better players on the British team, and the Olympics will likely be the capstone of his career.
No. 10: Salah Mejri, Tunisia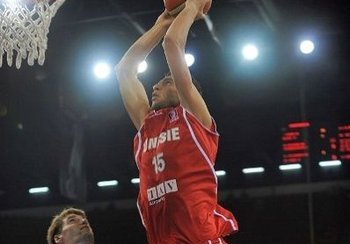 Photo Courtesy FIBA.com
Salah Mejri is the star of the Tunisian team, and he has already attracted the attention of the NBA. The 7'1" center most recently played in Belgium for the Port of Antwerp Giants, where he showed himself to be a promising rebounder and shot-blocker.
Mejri was a member of Tunisian's FIBA Africa Championship 2009 bronze medal and 2011 gold medal winning teams.
Mejri has been a big factor behind Tunisia's resurgence as a force in African basketball, helping return the team to the forefront of the continent for the first time since the 1970s.
Mejri is perhaps the biggest question mark of any center in the Olympics, and a strong performance by the Tunisian would surely help him find employment in the NBA.
No. 9: Ike Diogu, Nigeria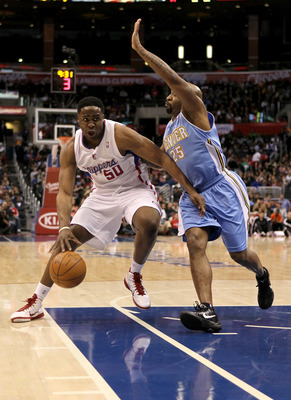 Stephen Dunn/Getty Images
Ike Diogu is typically a power forward, and an undersized one at that, but due to the needs of the Nigerian national team, he will play center at the London Olympics.
This year's Olympics will be only the second in Nigerian basketball history, but the team has become a dominant force in African basketball. In the last two decades, Nigeria has won three silver medals and three bronze medals at the FIBA Africa Championship, and a number of their players have made the move to the NBA.
Ike Diogu has played for six NBA teams since 2005. He showed promise early in his career with the Golden State Warriors, averaging more than 7.0 points per game over two seasons, but saw his playing time and productivity dip upon being traded first to the Indiana Pacers and then the Portland Trail Blazers.
Diogu had a brief resurgence with the Sacramento Kings and the Los Angeles Clippers but left the NBA after briefly joining the San Antonio Spurs.
Diogu most recently played for the Xinjiang Flying Tigers of the Chinese Basketball Association, where he was signed during the playoffs as an injury replacement.
Diogu will likely struggle against the premiere centers of the Olympics on teams like the United States, Spain and China, due both to their advantages in height and talent. Still, he has significant NBA experience and is a good scorer, and he should be able to help further establish Nigeria as an international basketball presence, even if they do not have much hope of a medal.
No. 8: David Andersen, Australia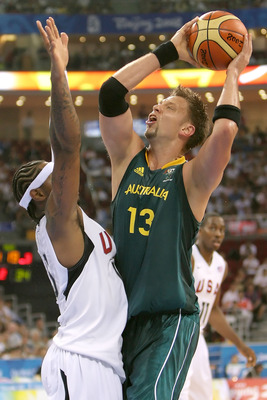 Streeter Lecka/Getty Images
In the past several Olympiads, the Australian basketball team has pushed hard to win its first ever Olympic medal, but the Boomers have yet to top a fourth-place finish.
Though the squad has looked better and better in recent years, Andrew Bogut's announcement that he would miss the Olympics due to ankle surgery was crushing news to the team. With Bogut out, the team will lean heavily on journeyman David Andersen.
Andersen started his professional career playing for the Wollongong Hawks of the National Basketball League of Australasia, before moving to Europe to play for teams in Italy, Russia and Spain. His play for FC Barcelona attracted the NBA, and the Houston Rockets obtained his 2002 draft rights from the Atlanta Hawks.
Anderson had a decent but unspectacular year for the Rockets (5.8 PPG, 3.3 RPG) and was traded to the Toronto Raptors. He played only 11 games in Toronto before he was traded to the New Orleans Hornets, where he finished out the season. Andersen then moved back to Europe, where he currently plays for Sana Siena, the powerhouse of the Italian league.
Andersen is a very good player in the European league, even if he was not able to break through in the NBA. While he will likely have trouble keeping up with the elite centers from teams like China and the United States, he should dominate many of the other teams' big men. Australia could make a strong run for their first medal, even without Andrew Bogut.
No. 7: Timofey Mozgov, Russia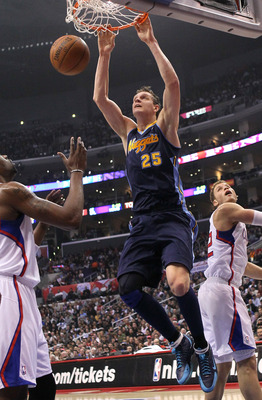 Stephen Dunn/Getty Images
The New York Knicks had enough faith in Timofey Mozgov to give him a three-year, $9.7 million contract. He became an occasional starter for the Knickerbockers, and though he wasn't a terribly strong scorer, he became a pretty good rebounder.
The Knicks would have liked to hold onto Mozgov and develop him for awhile, but he was offered as part of the trade package that brought Carmelo Anthony to the Knicks.
Mozgov finished out the 2010-11 season playing off the bench but became a regular starter last season, playing 15.6 minutes per game. He upped his points per game average to 5.4 and his rebounds per game average to 4.1, while also blocking 1.0 shots per game.
Timofey Mozgov is only 26 years old, and he is still very much a work in progress. He has held his own against the NBA's big men and will likely be one of the better players on the Russian team. Still, there are several centers in the tournament who are far more developed and talented than Mozgov, and it's unlikely he will do much in the Olympics.
No. 6: Wang Zhizhi, China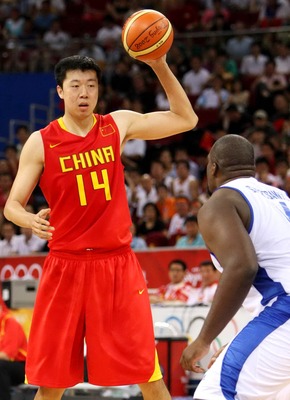 CSPA-US PRESSWIRE
China has made a great deal of progress in basketball over the past few decades, dominating the sport in Asia. From the mid-1990s to the end of the last decade, a large part of China's success was due to the presence of one man: Yao Ming. With Yao's retirement from basketball, China has turned to their two most reliable big men, Wang Zhizhi and Yi Jianlian.
Though both men are capable of playing center, Yi will play more of a power forward role, while Wang will be the team's starting center.
Wang, who currently plays for the Bayi Rockets in the Chinese Basketball Association, spent five seasons in the NBA playing for the Dallas Mavericks, Los Angeles Clippers and Miami Heat, where he was the first Chinese born player to ever play in the NBA. He played a supporting role, starting only one game in his NBA career, and averaged 9.2 minutes per game. Over the course of his career, he scored 4.4 points and pulled down 1.7 rebounds per game.
Wang has been much more important to the Chinese team than he was to his NBA employers. He played for the 1996 Olympic team, averaging 11.1 points and 5.6 rebounds per game. He was part of three gold medal-winning Asia Games teams and two gold medal-winning FIBA Asia Championship teams.
Wang is not the long-term future of China's national team; that distinction belongs to Jianlian. Still, he is one of the most experienced centers playing in this year's Olympics, and if China manages to take a step forward at this year's Olympics, he will likely be a big part of that success.
No. 5: Ronny Turiaf, France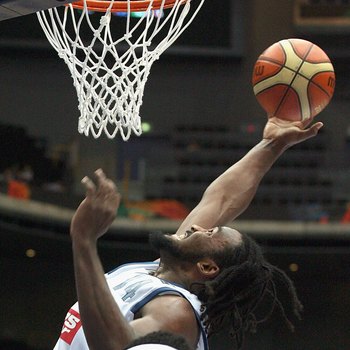 Koichi Kamoshida/Getty Images
France's basketball team has failed even to qualify for the Olympics since their silver-winning effort in 2000. The team hopes to turn things around this year with a team led by NBA players Tony Parker, Boris Diaw, Nicolas Batum and Ronny Turiaf.
Turiaf is fresh off of an NBA championship with the Miami Heat, where he started seven playoff games and helped fill in for an ailing Chris Bosh.
Turiaf has had a successful seven-year career, yet he has never been much of a scoring threat, turning in a career-best 6.6 points per game in 2007-08. He's a solid defensive player and a good presence in the lane, and his 6'10" 245 pound frame, coupled with his basketball IQ, have made him a solid contributor to five teams he has played for.
Turiaf will at least be able to hold his own against the best centers in the Olympics, but he will not be the star of his squad. France has a good shot at competing for the bronze medal, and Turiaf's ability to dominate the weaker centers and competently defend the elite centers will make him critical to France's success.
No. 4: Jonas Valančiūnas, Lithuania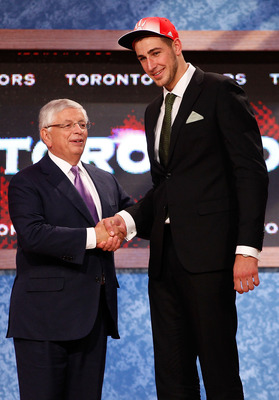 Mike Stobe/Getty Images
The position of center for the Lithuanian national team is a prestigious one, held for years by international basketball legend Arvydas Sabonis. Jonas Valančiūnas is only 20 years old, but he's one of the most promising young European basketball players in the world, and he quite likely will be the face of the Lithuanian national team over the coming decade.
Valančiūnas has won nearly every award a young Lithuanian basketball player can win. He's been named an all-star of the Lithuanian Basketball League three times; won the MVP award at two of the all-star games; was named MVP of the FIBA Europe U-16, U-18, and U-19 championships; was named Lithuania Basketball Player of the Year and FIBA European Young Player of the Year; and was the MVP of the Lithuania Basketball League 2012 regular season.
It's clear that Valančiūnas is the brightest young talent in Lithuania and one of the best international players in the game. The Toronto Raptors were impressed enough by his talent to draft him fifth overall in the 2011 NBA draft. He had to delay his arrival in the NBA due to contractual restrictions and will make his NBA debut next year, injecting some much-needed talent into the Toronto Raptors roster.
Though Valančiūnas has been a monster against the best young talent in Europe and has been the leader of Lithuania in their qualifier matches, we haven't yet seen him play against the truly elite centers in the world. Still, his talent is undeniable, and the 2012 Olympics could be his coming-out party to the basketball world.
No. 3: Nenê, Brazil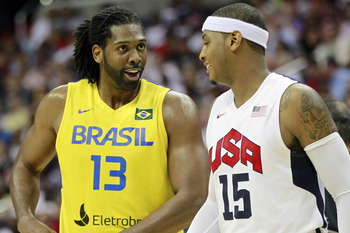 Geoff Burke-US PRESSWIRE
Nenê has been a member of Brazil's national team since 2001, when he helped lead Brazil to a bronze medal at the Goodwill Games and a silver medal at the FIBA Americas Championship. He attracted the attention of the NBA and has been one of the better centers in the league since the Denver Nuggets acquired him from the New York Knicks.
Nenê has started 457 games since 2002-03 and has averaged 12.4 points, 7.0 rebounds, 1.2 steals, and 0.9 blocks per game, while shooting a career .561 field-goal percentage.
Nenê has never been the flashiest player in the league, and he has spent much of his career being overshadowed first by Carmelo Anthony. He looked spectacular in the final games of the 2011-12 season after he was traded to the Wizards, and he has the size and talent to be a dominant force in the Olympics.
No. 2: Marc Gasol, Spain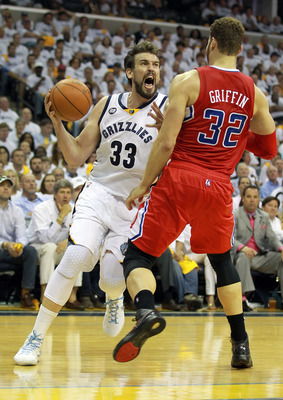 Andy Lyons/Getty Images
There will be no more exciting frontcourt at the Olympics than Spain's, the United States' included. Brothers Marc and Pau Gasol will serve as twin towers and will be joined by Rudy Fernandez at small forward.
Once known as little more than Pau's little brother, Marc Gasol has emerged as a legitimate star in his own right. He was elected to his first NBA All-Star team this year and matched or set new career highs in points, blocks, steals and assists per game.
Gasol was a member of Spain's 2008 silver medal-winning team in Beijing and is looking to help lead the team to an upset win over the U.S.
Gasol is one of the premiere centers in the center-weak NBA, and a legitimate case could be made that he is actually the best center in this year's Olympics. Spain has the best chance of any team to topple the United States, and the team is only getting better. They should cruise to a medal, and Gasol can be expected to dominate nearly every other center he will face in the Olympics.
No. 1: Tyson Chandler, United States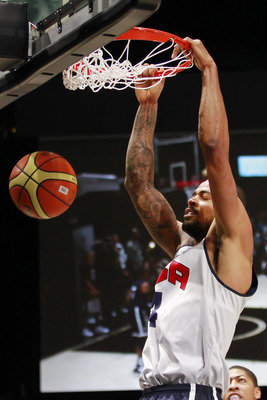 Geoff Burke-US PRESSWIRE
When Dwight Howard announced that he would sit out the London Olympics due to his back injury, Team USA realized they had a bit of a problem on their hands at filling the center position.
Roy Hibbert had become a member of the Jamaican national team, Andrew Bynum decided he needed to use the time to rest his knees, and DeMarcus Cousins was...well, DeMarcus Cousins. Kentucky standout and No. 1 draft pick Anthony Davis could fill the role, but he was viewed as a bit too green and more of a power forward.
Enter Tyson Chandler.
Chandler, who often struggled early in his career with injuries and personality conflicts, has seen a career resurgence since joining the Dallas Mavericks and New York Knicks. Always a superb defensive player, Chandler was a critical component to Dallas's championship team, serving as the interior presence on defense that forced Miami to take less than desirable shots instead of driving to the basket.
Despite being known primarily as a defensive player, Chandler has become quite a good offensive player as well.
Last season, in his first year as a member of the New York Knicks, Chandler made a jaw-dropping 67.9 per cent of his field goals, the third highest single season performance in NBA history. He averaged 11.3 points per game, the second highest total of his career, and pulled down 9.9 rebounds and blocked 1.4 shots per game, all while earning the NBA Defensive Player of the Year award.
Chandler may not have been Team USA's first choice, but he is clearly the best center playing in this year's Olympics, and his strong defensive presence and excellent shot selection are the perfect complements to his teammates.
Keep Reading