Predicting Winners for the 6 Most Important QB Battles of NFL Training Camp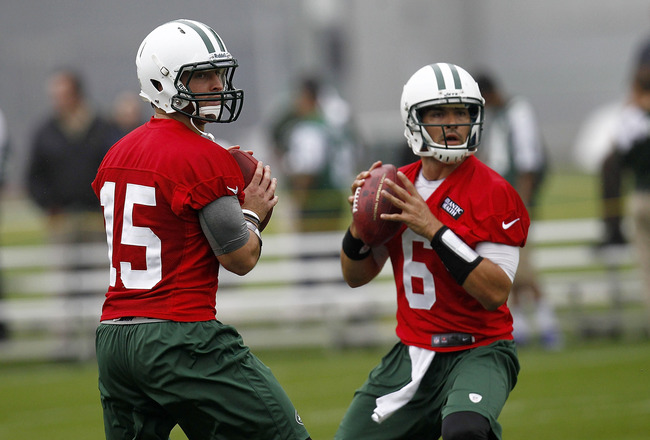 Jeff Zelevansky/Getty Images
If quarterback is the most important position in football, quarterback battles are the most important part of NFL training camps every year.
Most coaches and general managers get three years (more or less) to put together a winning team. Without a quality quarterback, it's near-impossible to win in today's NFL, and not every franchise has an Andrew Luck or Robert Griffin III ready to step in from day one.
Some teams have two (or more) good choices; others may be settling no matter who they end up with in 2012. Either way, a lot will be riding on decisions made in the next month that will control the outcomes of careers, franchises and so much more.
So who will win the NFL's most important QB battles this season?
Miami Dolphins: Ryan Tannehill vs. David Garrard vs. Matt Moore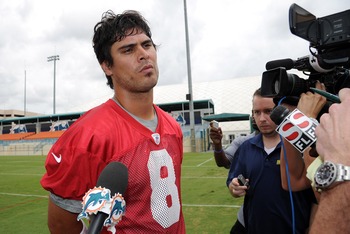 Steve Mitchell-US PRESSWIRE
Prediction: Matt Moore
Ryan Tannehill was drafted this past April to be Miami's quarterback of the future. However, he's got some work to do before he is ready to start at the professional level.
The Dolphins' offensive coordinator, Mike Sherman, was his college coach and is certainly in the former Aggie's corner. But new head coach Joe Philbin will be making the final decision, and it's difficult to see him forsaking wins to prematurely put a rookie on the field.
David Garrard is a seasoned veteran who has been through a few camp battles. Garrard is used to being the underdog as well, consistently underrated while in Jacksonville and eventually cut in favor of two quarterbacks—Luke McCown and Blaine Gabbert—who still got their head coach fired.
Then there's Matt Moore.
Moore has always been a substance-over-style guy—just good enough to play reasonably well when he's called upon, but not good enough to win games on his own or keep teams from drafting his replacement. Tannehill is the third rookie quarterback he's had to deal with, as he battled Jimmy Clausen in Carolina and was replaced by Cam Newton.
Moore doesn't have a lock on this job quite yet, but Tannehill isn't ready, and Moore is the best choice for now.
Arizona Cardinals: Kevin Kolb vs. John Skelton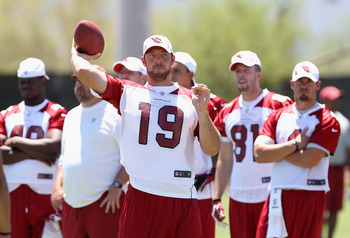 Christian Petersen/Getty Images
Prediction: Kevin Kolb
Kolb, brought over from Philadelphia before the 2011 season, hasn't been the next coming of Kurt Warner. He's barely been the next coming of Jake Plummer. However, 2011 was arguably Kolb's best season as a pro—playing in nine games, throwing nine touchdowns to eight interceptions and posting a 81.1 QB rating.
John Skelton, drafted in the fifth round of the 2010 draft, subbed in for Kolb last year and looked decent at times—11 touchdowns, 14 interceptions and a 68.9 QB rating in eight games. While the stats are worse than Kolb's, the results were not. Skelton was 6-2 as the main QB, while Kolb was 2-6 (Skelton replaced Kolb in Week 14 after just three plays due to an injury to Kolb).
Yet, wins notwithstanding, this looks like Kolb's job to lose. Outside of arm strength, he clearly has better physical tools than Skelton and is far more efficient moving the ball down the field. Skelton, who has problems with accuracy, can kill drives even when he's making all the right decisions—which is rare in and of itself.
If Kolb doesn't win this battle or falters early on in the season, it should be a quick hook and could mean the end of Kolb's legitimate shot at starter.
Jacksonville Jaguars: Blaine Gabbert vs. Chad Henne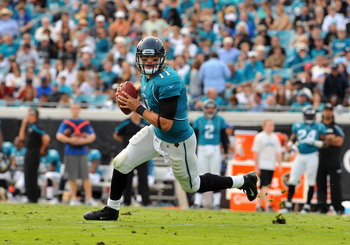 Al Messerschmidt/Getty Images
Prediction: Blaine Gabbert
Picking what will happen in this scenario is easy. Debating what should happen is an entirely different matter.
Simply put, this franchise has been built around Gabbert. The coach (Mike Mularkey) was brought down from Atlanta to tutor him, and both he and the general manager (Gene Smith) have backed the quarterback relentlessly.
Laurent Robinson and Justin Blackmon were brought in to provide him weapons and give him absolutely every chance to succeed.
That doesn't mean Gabbert will succeed, however.
Going back to his days at Missouri, Gabbert has never been an outstanding QB. His physical tools are top-notch, but he doesn't place the ball well, and his decision-making is some of the worst I've seen. Most notably, his confidence shatters under pressure, and he breaks down in anything less than a pristine pocket.
Chad Henne, discarded by the Dolphins, is a much better signal-caller, but he certainly isn't the future in Jacksonville, and he's not the quarterback this team was built for.
This is Gabbert's job, for better or (more likely) for worse.
Tennessee Titans: Jake Locker vs. Matt Hasselbeck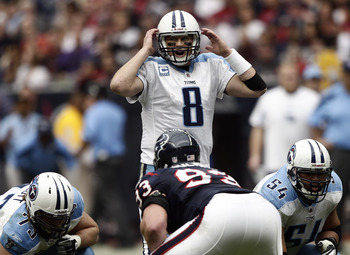 Bob Levey/Getty Images
Prediction: Matt Hasselbeck
In five appearances last season, Jake Locker completed just over half of his passes, throwing four touchdowns and no interceptions. The three games he played heavily in were all losses. At times, he looked absolutely dynamic, but he didn't ever look particularly ready.
Matt Hasselbeck, who was drafted by the Green Bay Packers when Jake Locker was in fourth grade, doesn't have a lot of NFL play left in him, but he wasn't brought to Tennessee to sit on the bench. He appeared in all 16 games last year and put up good but not great numbers.
The biggest trade-off between the two is dynamic play (Locker's 8.21 yards/attempt vs. Hasselbeck's 6.89) and consistency (Hasselbeck's 61.6 completion percentage vs. Locker's 51.5).
The death knell for Locker's chances to start was when coaches said that the early-season schedule would factor into who starts. Regardless of who outperforms who in camp, that quote belies a lack of trust in Locker that isn't going to go away anytime soon.
The Titans will hope that the added weapons of Kendall Wright and a healthy Kenny Britt will help Hasselbeck become more dynamic and hope that Locker learns valuable lessons on the bench.
UPDATE: Britt was recently arrested for DUI, which puts his playing status for this season in jeopardy.
Seattle Seahawks: Matt Flynn vs. Tarvaris Jackson vs. Russell Wilson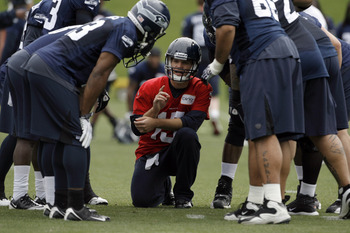 Joe Nicholson-US PRESSWIRE
Prediction: Matt Flynn
Tarvaris Jackson has never made it easy on coaches. Whether he's the eventual starter who falls flat when called upon (as in Minnesota) or he's the supposed backup who outplays the competition, Jackson continues to be just good enough to frustrate everyone involved.
Russell Wilson was drafted in the third round this past spring, and the former Wisconsin Badger projects as a fringe starter or high-level backup in the NFL. He has absolutely every tool a quarterback needs except for prototypical height. Pete Carroll isn't against trying new things and could be amenable to giving Wilson a chance.
However, even though Jackson and Wilson aren't going to give up without a fight, Matt Flynn is being paid way too much money to not start unless he absolutely falls flat. Even at his worst, Flynn is not the kind of quarterback to make a lot of mistakes. He can be a high-volume passer in Carroll's offense, even if the talent around him isn't as dynamic as Flynn was used to in Green Bay.
New York Jets: Mark Sanchez vs. Tim Tebow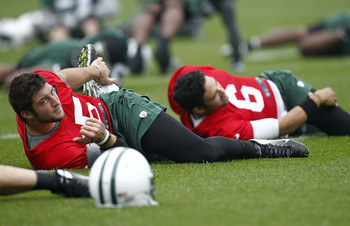 Jeff Zelevansky/Getty Images
Prediction: Push
Tim Tebow was not brought in to be the starter for the New York Jets. However, he wasn't brought in just to sit on the bench and pray either. The Jets have plans for him, and that means Mark Sanchez needs to make sure he's keeping an eye on America's most polarizing athlete.
Right now, Tebow's role is as a personal protector on punts and as a short-yardage/red-zone quarterback. The issue, of course, is that situations like the one the Jets are getting themselves into lead to chemistry issues and a lack of flow during games. It is entirely conceivable that Sanchez, who isn't a great quarterback anyway, falters.
After Tebowmania took hold of the country last season, it's hard to envision Tebow sitting idly by if (when?) Sanchez opens the door for him. Tebow's role—small as it may be now—will expand if Sanchez isn't at his absolute best.
So, while Sanchez may "win" this battle in training camp, this quarterback war will continue for the entire 2012 NFL season.
Michael Schottey is an NFL Associate Editor for Bleacher Report and an award-winning member of the Pro Football Writers of America. He has professionally covered both the Minnesota Vikings and the Detroit Lions, as well as NFL events like the scouting combine and the Senior Bowl.
Keep Reading