Phil Mickelson British Open: Analyzing What Makes Mickelson so Entertaining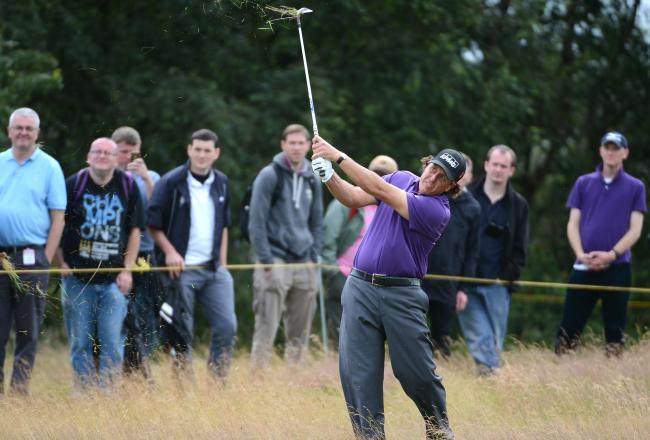 Harry How/Getty Images
When Phil Mickelson takes to the fairways, the only thing you can expect is the unexpected.
That's what makes him so fun to watch, especially during majors: You never know what's going to happen. You don't know if he'll win or lose, if he'll bomb the first day and surge back the next, if he'll thank the fans for their respect and their support or shame them for their distracting behavior.
Whether or not he's projected to finish first or dead last (not like that would ever happen), any tournament featuring Lefty is one worth tuning in to. Here's why.

He's Always Looking to Improve, Even at 42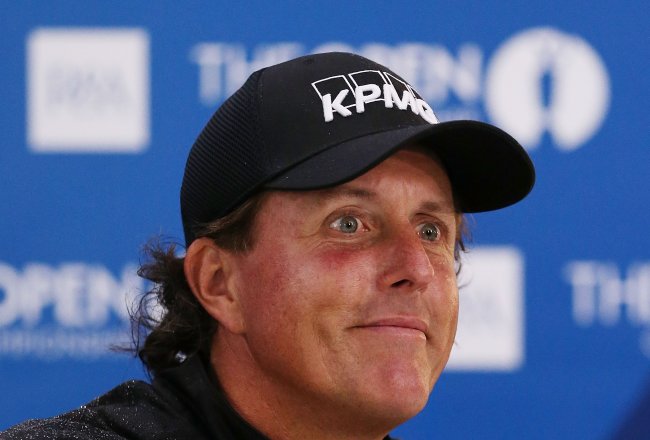 Richard Heathcote/Getty Images
Even after playing in 18 British Opens, and even after coming so close to winning his first just one year ago, Mickelson is still looking to change things up and find new ways to improve.
There are some pros who won't let anyone tinker with their mechanics (see: Bubba Watson) and would rather quit the Tour than take a lesson. Mickelson isn't one of those guys.
Whether it's working with a new short-game coach—as he did nearly a decade ago, in order to learn how to hit without spin—or working on a new mindset, his game is always a work in progress.
After last year's second-place finish at The Open, Mickelson explained his attitude evolution to the New York Times' Bill Pennington:
For me, it's an attitude adjustment that has evolved favorably. It took me a while to be able to understand what it meant to get the ball on the ground, because I hit the ball low, but I would still hit it with spin and it would stay in the air and kind of hover above the ground rather than getting on the ground. I don't do that any longer. And it's the same with the bad weather or wet conditions. I appreciate the elements. I almost look forward to them.
No matter how many years he spends on the Tour, Mickelson is never too old to grow. He's always been able to find new ways to evolve, and maybe that is the very thing that's kept him competitive for so long.

He Understands That Staying Competitive Is a Choice
Mickelson got off to a good start in 2012: He won the Pebble Beach Pro-Am in February, then followed it up with a playoff loss at the Northern Trust Open. After dabbling in mediocrity for the month of March, he finished tied for fourth at the Houston Open and tied for third at the Masters.
How will Phli Mickelson finish at the British Open?
He doesn't believe in ebbs and flows during a season; he doesn't believe in bad days that lead to poor performances. He knows that winning is up to him: If he focuses, and if he is 100 percent ready to compete, he knows he can win.
And if he's not 100 percent ready to compete, he doesn't even bother.
Perhaps that's what happened at the Memorial this year: He withdrew after a bad first round, realizing that his game wasn't where it needed to be with the U.S. Open approaching so quickly. Instead of trying to salvage a decent finish at the Memorial, he opted to practice on his own.
It didn't help him at the U.S. Open, where he finished tied for 65th, but he recognized that, too. He agonized over it until a week before the British Open, when, according to USA Today's Steve DiMeglio, he committed himself to focusing and regaining the confidence it would take to succeed at Royal Lytham.
He told DiMeglio:
I wasn't really playing as well as I wanted to in some tournaments… It didn't feel that far off, but I just wasn't holding my focus for all 18 holes. I just wasn't in a good, competitive frame of mind. And adding [the Scottish Open] has really helped get me in a much better frame now.
It's refreshing, for once, to see a professional athlete take accountability for his performance instead of blaming it on something silly.
Mickelson is well aware that competing and winning is all up to him, and he does whatever he needs to do in order to stay at the top of his game, whether that means bowing out of a race entirely or adding something new to his schedule.

He Always Stands a Chance of Winning
As of the first round on Thursday, Mickelson's odds of finishing atop the leaderboard were just 100/1 (via Bet365.com). But that means nothing. Somebody who's emerged victorious in three Masters and a PGA Championship can't be counted out, especially in a year like this, when the British Open is truly anyone's to claim.
There are a select few members of the PGA Tour who are consistently considered to be threats, no matter how often or how little they've been winning in a given year. Mickelson is one of the few guys who's been in that category for nearly two decades. That's what happens when you've racked up 48 wins in your career.
So despite the fact that he's never won this major and the best he's ever done at The Open is a tie for second, it would surprise nobody if he ended up ahead of the pack on Sunday. For him, the odds don't matter because he's never really an underdog. You can't say that about Phil Mickelson.
That's precisely why, no matter how good or how bad he looked in the early going on Thursday, you can never count him out.
This article is
What is the duplicate article?
Why is this article offensive?
Where is this article plagiarized from?
Why is this article poorly edited?