What Training Camp Can't Teach Us About the Cleveland Browns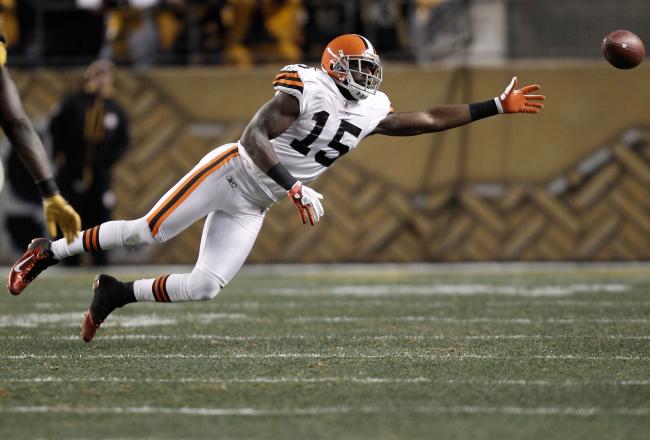 A good camp for Greg Little does bode well for his regular season performance, but until that time, we won't truly know if he's gotten over his drops issues.
Jared Wickerham/Getty Images
The Cleveland Browns begin training camp a week from Saturday, and with the kind of aggressive offseason they've had this year, hopes are high that this is the year they finally turn things around and become a competitive team.
There will be many things we learn from Browns camp, but at the same time, there are other that we cannot find out from training camp alone. In this piece, I focus on the latter. Here are three things that the Browns training camp won't teach us about their upcoming season.
Whether Brandon Weeden Will Air it Out
Doug Pensinger/Getty Images
Much has been made of the strong arm of likely starting quarterback Brandon Weeden this offseason after impressing those watching on at the Browns' OTAs and minicamps.
A big-armed quarterback is just what the Browns need to bring more dynamism to their offense, and as long as wide receiver Greg Little (he of the impressive vertical leap) and rookies Travis Benjamin and Josh Cooper (who are both quite fast) do their jobs well, it looks like Weeden will have viable deep targets to throw to.
We're likely to see more deep passing out of Weeden in the upcoming training camp, but that doesn't necessarily mean he'll be airing the ball out regularly once the season begins. As Mike Daneshgar of Pro Football Focus points out, quarterbacks coached by Pat Shurmur have never thrown for 20 or more yards more than 11.3 percent of the time (Mark Bulger, 2009).
David Richard-US PRESSWIRE
Most of these numbers are reflective of the quarterbacks' first years as well, which also seems to point to Shurmur being more conservative with his passing calls for Weeden's rookie season.
Daneshgar also notes that these quarterbacks also lacked deep targets. Weeden has a slightly better crop to work with this year, but there are still more questions than answers about just how deep of threats his receiving corps really are.
So while we may see Weeden being asked to do many things in camp, including throw long bombs, and though this may also continue into preseason games as the Browns continue to tweak their offensive formula to help their new quarterback succeed, Shurmur's history seems to indicate that the Browns could be taking things slow with Weeden this year.
Either way, we're not going to know much about this aspect of the Browns passing game until the regular season starts. Training camp will still be about Weeden learning the offense; how they use him won't be clear until September.
If the Browns Have Solved Their Problems Stopping the Run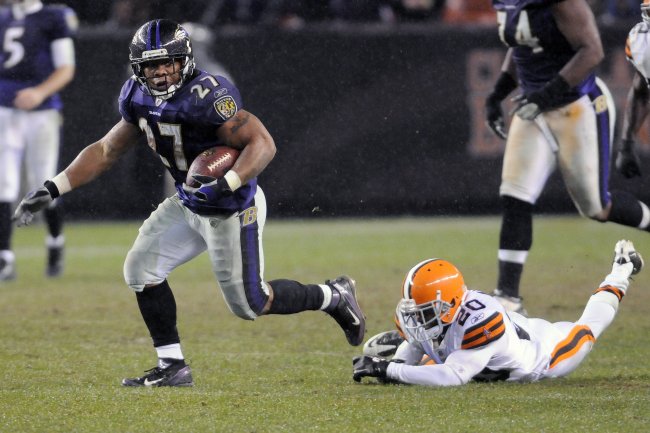 Jason Miller/Getty Images
Cleveland had trouble stopping the run last season, allowing an average of 147.4 rushing yards per game. This is an area the Browns worked hard to improve this year, bringing on two veteran defensive ends (with one, Frostee Rucker, likely to start) and picking up a number of run-stopping specialists in the draft.
Rookie defensive tackle John Hughes, linebackers James-Michael Johnson and Emmanuel Acho and defensive end Billy Winn all have shots at making their way into the starting rotation and will be part of a major shift in strategy for the defensive front seven.
However, in camp, the Browns will be trying to stop their own running backs from gaining meaningful yardage and scoring—without hurting them, might I add—and the success they have against members of their own team doesn't necessarily indicate the same success against regular-season opponents.
The best thing we can learn about the Browns' ability to stop the run is how well the rookies take to the system. If they pick it up quickly and earn starting jobs, it seems like improvement is on the way; if not, it could be more of the same struggles against the run we saw last year.
Likely, we won't have much inkling on the Browns' improvement until they face LeSean McCoy and the Philadelphia Eagles in Week 1.
Will Greg Little Really Get Past His Drops Issues?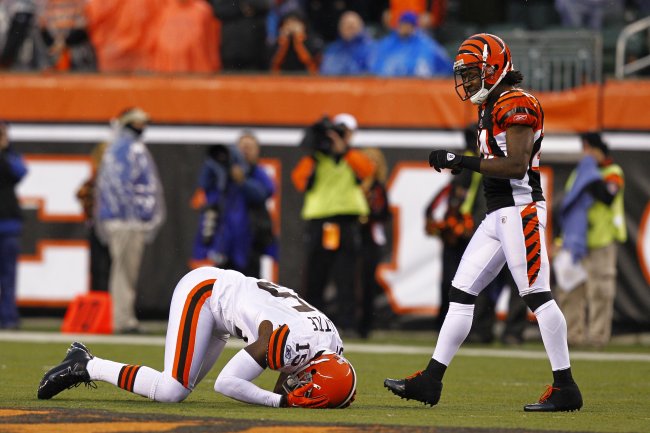 Tyler Barrick/Getty Images
Last year, Greg Little had the third-most drops of any receiver in the NFL despite having the 17th-most targets. Those 14 drops managed to affect the outcomes of games and spurred much bewilderment this offseason that the Browns didn't pick up a more sure-thing receiver in the draft.
While Little's drops can be mostly blamed on the fact that he didn't play football in his final year of college and was brought onto the Browns' squad to be an instant starter without the benefit of an offseason program and a chance to really master the playbook, he was still having issues with ball security during minicamp in June.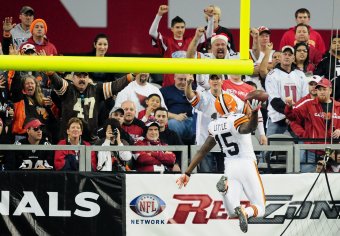 Mark J. Rebilas-US PRESSWIRE
It's almost excusable that Little had issues concentrating on the act of catching a pass when he had so many other things running through his head at the same time—routes, timing, keeping track of defenders and so on—while also having to fight through the rust of having been off the field for so long.
This offseason should provide Little with the time he needs to really get used to the playbook, develop chemistry with Weeden and not have to over-think things when he's on the field. But no matter what Little looks like in training camp—bad or good—it's quite different from what he'll be experiencing once the season begins.
No member of the Browns defense will be looking to level Little in practice; in actual games, opponents will. Last year, Little seemed a bit skittish when the prospect of heavy contact came his way, and that's something he can't really shake until he's in an actual, in-game situation.
While I firmly expect Little to have an improved sophomore season in Cleveland, we really won't be able to tell how improved or in what ways until camp is over. That's when the real test begins.
This article is
What is the duplicate article?
Why is this article offensive?
Where is this article plagiarized from?
Why is this article poorly edited?

Cleveland Browns: Like this team?