2012 Doak Walker Award Watch List: It's Montee Ball and Everybody Else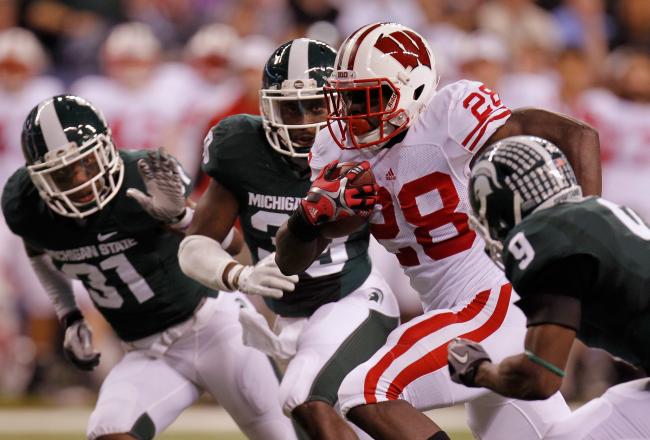 Gregory Shamus/Getty Images
The Doak Walker Award, given annually to the top running back in the nation, announced its preseason watch list on Thursday morning. The list is comprised of 52 tailbacks this year. If that sounds like a lot to put on a watch list, well, you're right. That's not a typo, by the way; two schools put two running backs on the list.
All in all, the Big Ten has seven of the 52 running backs honored on the list. The press release is here (.PDF warning), the full list is below, then we have an accounting of the Big Ten's candidates.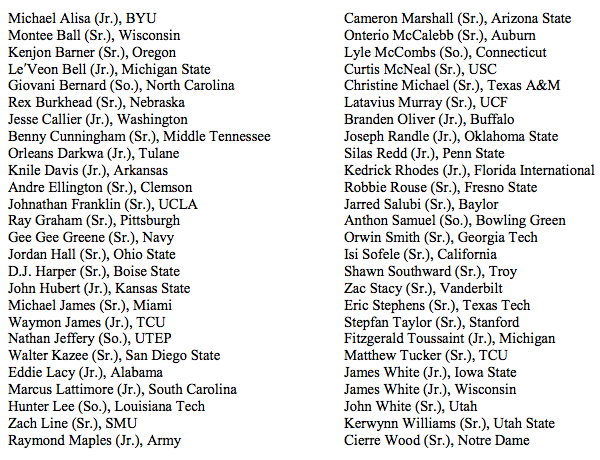 CONTENDERS
Montee Ball, Wisconsin: Well, duh. Ball is back after a season that saw him rush for 1,923 yards and 33 touchdowns, catch 24 passes for 306 yards and five more scores, and even complete two passes to Russell Wilson for 57 yards and one more touchdown. He had a good year.
Incidentally, though, if there's a way for Ball to not win the award this year, it's because of another name on the watch list—James White, fellow Badger. Remember that White was higher on the depth chart than Ball as recently as the middle of the 2010 season, and the Wisconsin staff has explored putting both Ball and White on the field at the same time this season. Could White cut into Ball's production enough to cost him the Doak? It's possible.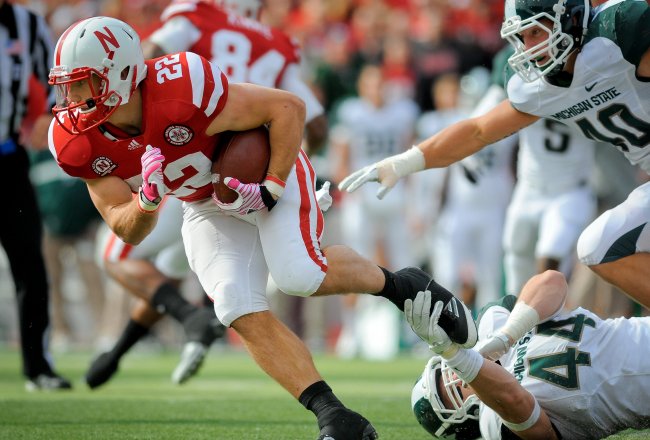 Eric Francis/Getty Images
Rex Burkhead, Nebraska: If anybody in the Big Ten is going to challenge Ball's supremacy, it's going to have to be the only other guy who also looked superhuman at times last year: Burkhead. Taylor Martinez may be improving as a quarterback and a faster runner to boot, but Burkhead is the heart and soul of that Nebraska offense. Voters like that—especially on a team that racks up a lot of wins.
PRETENDERS
Silas Redd, Penn State: On the other hand, being the heart and soul of an offense that scores 20 points a game on a team that only wins like seven games is something voters turn their noses up at. So while Silas Redd is a damned good running back, he's not about to impress postseason voters unless Bill O'Brien's offensive wizardry takes effect immediately.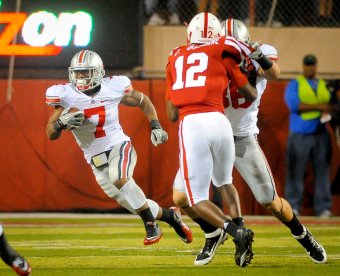 Eric Francis/Getty Images
Jordan Hall, Ohio State: Hall absolutely doesn't lack for talent, and being on Ohio State's roster is going to be a boon for his public standing. But the problem isn't only his torn foot tendon and the weeks it'll take out of his year, it's that Ohio State has such a crowded situation in the backfield, there's no telling how much Hall will be used once he gets back. The notion of a "feature back" is relatively foreign to Urban Meyer's offenses, so Hall will have to work to even reach 1,000 yards.
THE FORGOTTEN
Stephen Houston, Indiana: Hard to say anybody was "forgotten" in a conference that puts seven running backs on a watch list, but if anyone in the conference is going to overcome his team's bad record with a superlative performance on the year, it's probably Stephen Houston at Indiana.
Houston emerged as the team's workhorse after a slow start to the year, averaging nearly 90 yards per game and over 5.5 yards per carry in Big Ten play and scoring seven of his eight TDs in the last six games. Obviously, that kind of production by itself isn't going to impress anybody, but if the Indiana offense becomes even moderately efficient, Houston could flirt with 1,400 yards and double-digit scores.
This article is
What is the duplicate article?
Why is this article offensive?
Where is this article plagiarized from?
Why is this article poorly edited?