British Open Favorites 2012: Biggest Strengths and Weaknesses for Top Contenders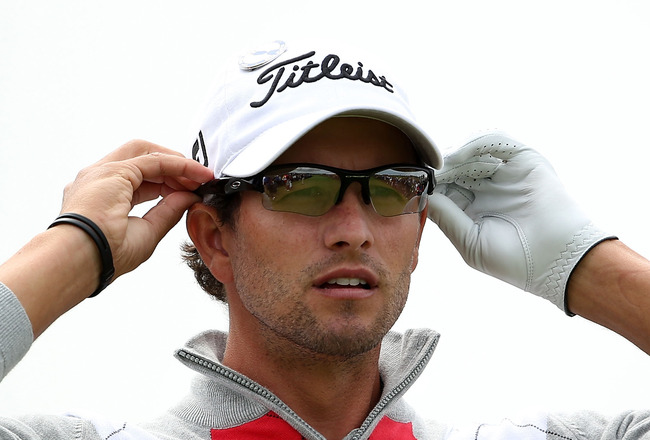 Adam Scott
Ross Kinnaird/Getty Images
It has been an unusually easy scoring Thursday at the 141st Open Championship at Royal Lytham & St. Annes.
The best defense that a links course has for scoring is not the tall rough or the pot bunkers, but the wind. That freshening wind was on vacation for the golfers for the most part. With the lush conditions and greens that were receptive, there were plenty of birdies to be had—especially on the front side.
A general rule of thumb to try and guess what the winning score should be is to take the leading score after day one then halve it. With Adam Scott's opening 64 or six-under, we can estimate that the winning score Sunday should be in the eight-under range.
If a player is not at or under par by the end of the day, it will be very hard to seriously challenge as even par is at worst six shots behind.
There are not many surprises on the front page of the leaderboard and assuming that all of them will fall back is just not happening.
Here are the strengths and weaknesses of the top players that are still in contention at the Open Championship.
The wind will come and, as the weekend moves on, the course will dry out a bit. Scoring really will become a premium.
Adam Scott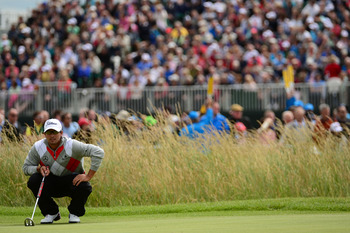 Kyle Terada-US PRESSWIRE
Scott has always been a solid iron player and a good putter, two essential ingredients in winning any major. He finds fairways and manages his mental game very well.
Scott also has maybe the best caddy on tour with Steve Williams. Williams was a big part of Tiger Woods' success all those years by helping Woods manage his game. The first week Williams was on Scott's bag, the low-key Australian won.
One of Scott's bigger weaknesses is that he really is too low-key. He has yet to show the killer instinct on this stage needed to win.
When he started to realize he had the chance to set the all-time scoring record in a round at a major, he thought about it a bit too much and ended up with a 64 after misplaying the last two holes.
Tiger Woods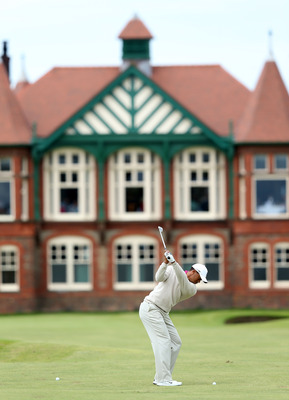 Richard Heathcote/Getty Images
Tiger's course management is his biggest strength. When he is on like he was Thursday, he made sure that he found the fairway off the tee even if it meant sacrificing length. Woods missed just one fairway all day, something he has mightily struggled with recently.
Woods is also a great putter. If he is on from tee-to-green, he translates that on the green by reading the correct line of the putt and hitting it with the right speed. Even if they do not go in, they are close enough to the hole that nothing more than a tap-in is needed for par.
Woods' biggest weakness currently is with his own swing thoughts. If he is more worried about making his shot, then he loses the incredible creativity he has in trying to score. He had that in check the first two rounds at the US Open and he had it Thursday at the Open Championship.
Watch where Woods is hitting his iron shots on the green. When he is on you can draw a 15-foot circle where he is aiming and he will hit it. When he is off, the shots are either a club short or long.
Zach Johnson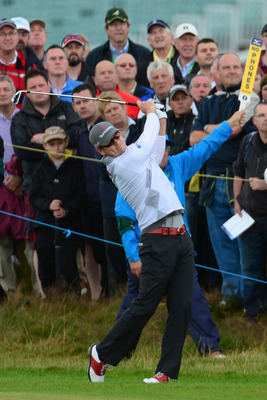 Kyle Terada-US PRESSWIRE
Johnson's game fits this course amazingly well. He hits fairways and greens. He is a deliberate putter and knows his own limits on when to press and when to lag.
Zach is very underrated in managing his game as well. When he won the Masters, he laid up on Sunday on both the par-5's on the second nine. While grabbing an eagle can really boost your chances, Johnson aimed squarely for birdie and took anything worse than par out of the equation.
His overall weakness is not really a factor this week as length is not something needed to play this short course.
Zach will need to keep enormous concentration over the last three days to win this week. The leaderboard is packed with the world's best players.
Rory McIlroy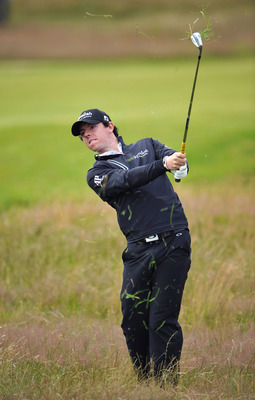 Stuart Franklin/Getty Images
Rory is a great on-course thinker. He can adapt from bombing it on the longer courses to keeping it in play on shorter ones like Royal Lytham.
When he is on, he is really good with the putter. He reads the lines well and judges speeds very well as his US Open win and Masters near-miss can attest too.
His biggest weakness is his wavering concentration. It certainly has let him down a bit this summer with a run of inconsistent play, but we all need to remind ourselves that he is only 23-years-old.
He has to remain patient with himself when his tee shots go awry. He also has to learn on the fly. While he grew up on these courses, he does not have the years of experience his fellow older players do.
Ernie Els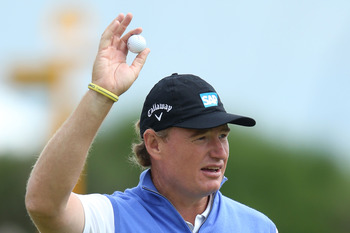 Richard Heathcote/Getty Images
Els seemed to find his game again on his failed run to get into the Masters this spring. He does not need to be long off the tee and just put the ball in play—two things he can do exceedingly well.
He has a full career of experience on links courses. It seems hard to believe, but he won the Open 10 years ago in 2002. This Open Championship is also the third one he has played here at Royal Lytham.
His biggest challenge will be keeping up the pace. It takes a lot of mental agility to win at this level, especially difficult if his body cannot do what his mind would like him to.
Els has to stay patient with himself, especially if a putt is missed or a drive lands in the thick stuff.
Bubba Watson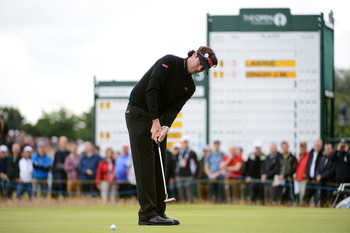 Harry How/Getty Images
Watson's biggest strength here is that he has an amazing short game and the confidence to try whatever he wants to around the greens.
He has especially soft hands for someone known as a pure power player. He is a very good putter that can judge pace and break very well. You do not win the Masters without the ability to putt under pressure in difficult conditions.
What Watson usually has for his biggest strength is probably his biggest weakness here. He cannot overpower this course and has to really plan just where he can use the driver and where he needs to use a three-wood or a long iron. He also misses a lot of fairways.
Watson also is a very streaky player. If he starts to struggle, you see it in his confidence and game plan. If they go badly, it affects the rest of his game accordingly.
Links golf should be in his wheelhouse. Thursday showed that he understands that.
Luke Donald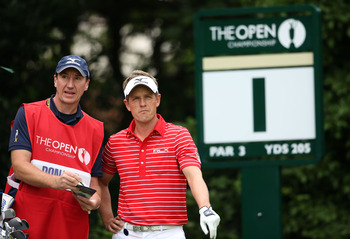 Ross Kinnaird/Getty Images
He has the perfect game for this course. He is extremely accurate off the tee and finds the fairway. He can putt very well, especially on greens that are not extreme in speed or break.
He knows that length is not needed here and he has played these kind of courses all of his life.
He needs to focus on the task at hand and ignore the added pressure on him this week with his ranking and expectations that are on him.
He cannot force the issue. He has to accept that his shots are not always going to go where he wants and realize that par is always a good score.
Steve Stricker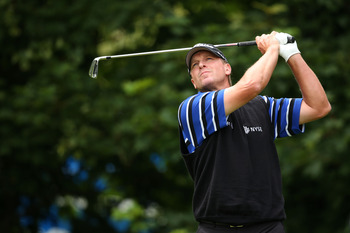 Ross Kinnaird/Getty Images
Stricker's biggest strength and weakness is that he is one of the best "jack of all trades, but master of none" players ever.
He can do everything quite well from tee-to green, but just has to show outside of a few times that he can emphasize any part of it to win a major.
What may work in Stricker's favor is that length off the tee means very little. If he can be creative when he is forced to be, that will be the difference for a player that really has no glaring weaknesses.
Paul Lawrie and Nicolas Colsaerts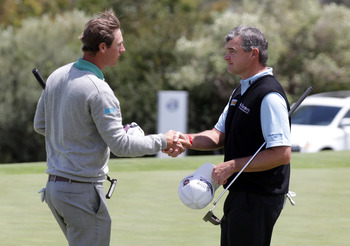 Nicolas Colsaerts and Paul Lawrie
Ross Kinnaird/Getty Images
Both are players that we just do not see very often on the PGA Tour.
Lawrie, the 1999 Open Champion, has rediscovered his game this year and can flat out grind through a round.
Colsaerts has had a great summer on the European tour and will feel at home here. He is not really under any pressure to win and is riding a hot putter.
Lawrie has not had another top-10 in a major since defeating Jean Van de Velde in a playoff after Van de Velde had the most epic collapse in modern Open Championship history.
Colsaerts has yet to contend in a major and will quickly need to figure out just how to keep things going forward when his game is not going his way.
Keep Reading