FIFA 2013: Predicting Player Ratings of Top European Clubs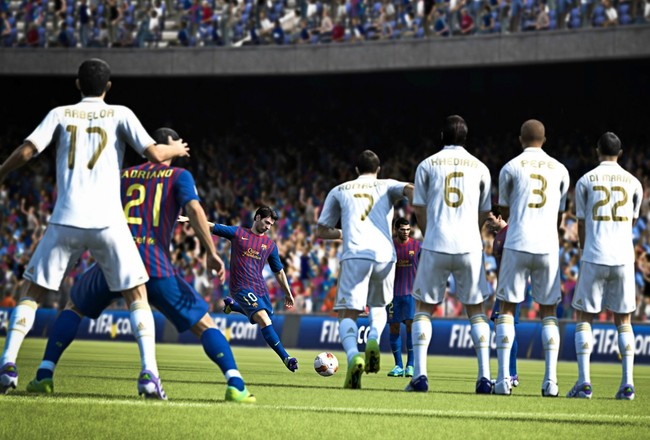 FIFA 13 comes out this fall.

FIFA '13 is set to be released this fall.
With each release of the franchise comes heated anticipation of the new features, new gameplay, and most importantly, the new player ratings.
FIFA's player ratings are one of the hottest points of debate with lovers of the game. Everyone has a right to their opinion, and everyone wants to see their beloved club have good players.
Here are my player ratings for the upcoming FIFA '13 game, with the starting XI's, benches, and potential transfers in/out of the top clubs throughout Europe.
I invite you to leave your thoughts and reactions in the comments below! Here goes, starting with Arsenal.
Arsenal F.C.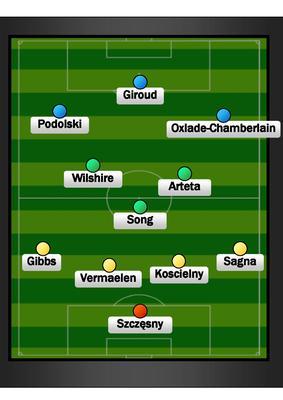 Team Rating: 4.5 stars
Formation: 4-3-3 (4-1-2-3)
GK
Wojciech Szczesny
82
RB
Bacary Sagna
84
RCB
Laurent Koscielny
82
LCB
Thomas Vermaelen
82
LB
Kieran Gibbs
79
CDM
Alex Song
83
RCM
Mikel Arteta
82
LCM
Jack Wilshire
82
RW
Alex Oxlade-Chamberlain
81
ST
Olivier Giroud
83
LW


Lukas Podolski
83

Bench

CB
Per Mertesacker
79
LB
Andre Santos
79
CAM
Tomas Rosicky
82
RW
Theo Walcott
82
LW
Gervinho
81
Transfers?


ST

Robin Van Persie
89
CM
Yann M'Vila
84
Conclusion
The departure of Robin Van Persie will be a huge blow to the Gunners. Sagna is the highlight of a relatively weak defense, but they are strong in the midfield with the likes of Jack Wilshire and Mikel Arteta. If Arsenal can sign Yann M'Vila from Ligue 1 side Rennes, the Gunners look to be a five-star team again. If you like to play fast, with lots of slick passing, this could be your team.
Chelsea F.C.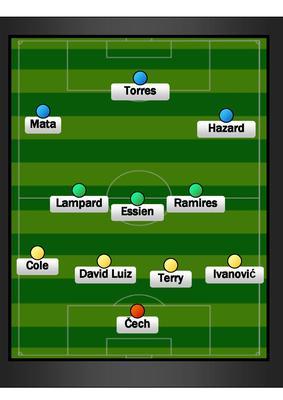 Team Rating: 5 stars
Formation: 4-3-3
GK
Petr Cech
87
RB
Branislav Ivanovic
84
RCB
John Terry
86
LCB
David Luiz
81
LB
Ashley Cole
85
RCM
Ramires
81
CM
Michael Essien
82
LCM
Frank Lampard
84
RW
Eden Hazard
85
ST
Fernando Torres
84
LW
Juan Mata
86

Bench

CB
Gary Cahill
82
CAM
Yossi Benayoun
79
LW
Flourent Malouda
81
ST
Daniel Sturridge
82
ST
Romelu Lukaku
80

Transfers?

RW
Hulk
84
CAM
Oscar
83
Conclusion:
Chelsea have been active thus far in the transfer market. They are physical, fast and deep. What was a previously aging squad is getting younger with every transfer, such as that of Eden Hazard, who I've rated a healthy 85. Perhaps Torres' rating should be higher, but only recently has he hit form. Let's not forget his disastrous goal drought—it wasn't too long ago. Chelsea are an easy team to play with and it's hard to lose playing with them.
Liverpool F.C.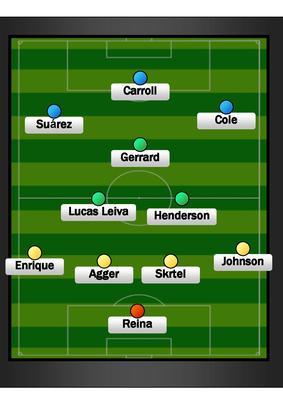 Team Rating: 4.5 stars
Formation: 4-3-3
GK
Pepe Reina
84
RB
Glen Johnson
83
RCB
Martin Skrtel
82
LCB
Daniel Agger
84
LB
Jose Enrique
80
RCM
Jordan Henderson
79
LCM
Lucas Leiva
81
CAM
Steven Gerrard
85
LW
Luis Suarez
85
ST
Andy Carroll
81
RW
Joe Cole
82
Bench
LM
Stewart Downing
81
CB
Jamie Carragher
79
ST
Fabio Borini
80
CM
Alberto Aquilani
81
Transfers?
CAM
Clint Dempsey
82

Conclusion:
Liverpool has added a lot of fresh faces to the squad over the past couple seasons. Steven Gerrard and Luis Suarez are easily the team's best players. The poor form of Andy Carroll affects his rating here. New signing Fabio Borini may not start, but the youngster has a lot to prove at Anfield. Liverpool have some serious talent, but it's not at the level of Chelsea, Manchester City, or Manchester United.
Manchester City F.C.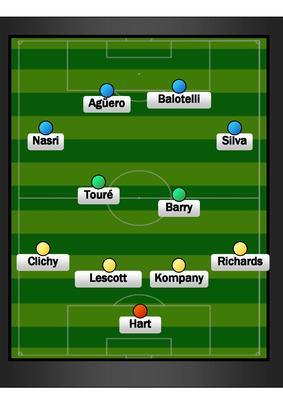 Team Rating: 5 stars
Formation: 4-2-4 (4-2-2-2)
GK
Joe Hart
84
RB
Micah Richards
83
RCB
Joleon Lescott
84
LCB
Vincent Kompany
87
LB
Gael Clichy
80
RCM
Gareth Barry
82
LCM
Yaya Toure
88
RAM
David Silva
89
LAM
Samir Nasri
83
RS
Sergio Aguero
87
LS
Mario Balotelli
84
Bench
CB
Kolo Toure
81
LB
Aleksandar Kolarov
79
CDM
Nigel De Jong
80
LM
James Milner
81
ST
Edin Dzeko
84
ST
Carlos Tevez
83
Transfers?
ST
Robin Van Persie
88
Conclusion:
Manchester City have a deep and talented team. They are strong in all parts of the pitch, from defense to striker. David Silva is their best player. It's hard to predict the starting XI of such a deep squad. Do they really need RVP? They are one of the easier teams to use in the game thanks to their physicality, speed and sheer talent in numbers. In my opinion, Manchester City is the best team in the game behind Barcelona.
Manchester United F.C.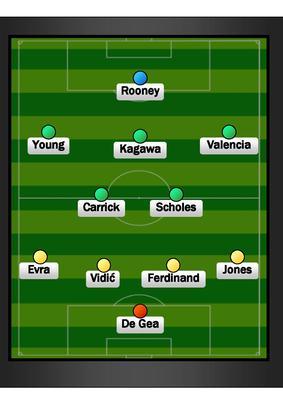 Team Rating: 5 stars
Formation: 4-5-1 (4-2-3-1)
GK
David De Gea
83
RB
Phil Jones
81
RCB
Rio Ferdinand
84
LCB
Nemanja Vidic
87
LB
Patrice Evra
83
RCM
Michael Carrick
82
LCM
Paul Scholes
81
RAM
Antonio Valencia
85
CAM
Shinji Kagawa
83
LAM
Ashley Young
83
ST
Wayne Rooney
89
Bench:
CB
Jonny Evans
81
CB
Chris Smalling
82
LM
Ryan Giggs
80
CM
Tom Cleverly
80
RW
Nani
83
ST
Javi Hernandez
81
ST
Danny Welbeck
81
Transfers?

CAM

CF

Lucas

Robin Van Persie

84

89
Conclusion:
Manchester United have signed Shinji Kagawa, an attacking midfielder from Japan. It's hard to speculate whether or not he will start but Fergie doesn't pay that much cash for a benchwarmer. Deep in attack, Manchester United have wingers and forwards in abundance.
Giggs and Scholes are so old, it's hard to give them ratings any higher than this. Using Manchester United in FIFA is bound to produce hundreds of combinations of starting XI's, as they have multiple players for every position. They are also one of the easier teams to use.
Tottenham Hotspur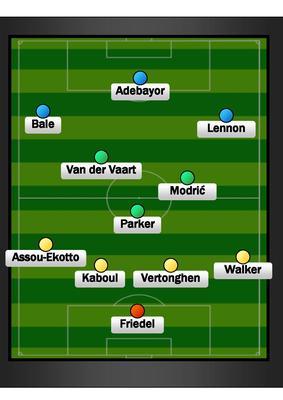 Team Rating: 4.5 stars
Formation: 4-3-3 (4-1-2-3)
GK
Brad Friedel
82
RB
Kyle Walker
80
RCB
Jan Vertonghen
83
LCB
Younes Kaboul
81
LB
Benoit Assou-Ekotto
80
CDM
Scott Parker
82
RCM
Luka Modric
86
LCM
Rafael van der Vaart
83
RW
Aaron Lennon
82
ST
Emmanuel Adebayor
82
LW
Gareth Bale
85
Bench:
ST
Jermain Defoe
81
CAM
Gylfi Sigurdsson
82
CB
William Gallas
79
Conclusion:
If Luka Modric leaves Tottenham, it will be tough for the London club to replace him. Midfield is where Tottenham are weakest. Andre Villas-Boas loves his 4-3-3 system, which will make it difficult for exciting youngster Gylfi Sigurdsson to crack the starting XI right off the bat. Tottenham is comparable to the level of Arsenal and Liverpool in the game, though they are one of the fastest teams in England, with Lennon and Bale running the wings.
A.C. Milan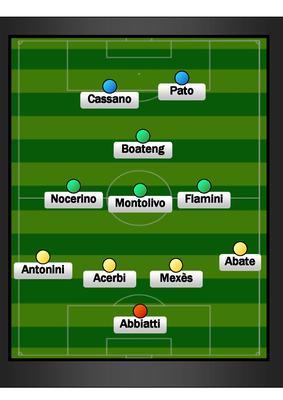 Team Rating: 4.5 stars
Formation: 4-3-1-2
GK
Christian Abbiatti
84
RB
Ignazio Abate
82
RCB
Philippe Mexes
82
LCB
Francesco Acerbi

80

LB
Luca Antonini
77
RCM
Matthieu Flamini
80
CM
Riccardo Montolivo
82
LCM
Antonio Nocerino
81
CAM
Kevin-Prince Boateng
84
RS
Alexandre Pato
85
LS
Antonio Cassano
83
Bench
ST
Robinho
82
LM
Urby Emmanuelson
80
CAM
Stephan El Shaarawy
79
CB
Mario Yepes
78
CDM
Massimo Ambrosini
78
CB
Daniele Bonera
79
Transfers?
ST
Eden Dzeko
84
Conclusion:
A.C. Milan have sold their two best players to another club on this list, PSG. At the time of writing this, the club have not replaced them. This leaves Milan woefully thin at the back, as Alessandro Nesta also parted ways with the club this summer.
Milan are strong in attack but that's where the good stops. Other than Boateng, Nocerino and Montolivo, Milan don't have a lot of quality in midfield. Milan have never been an easy club to play with in recent years of FIFA, thanks to their lack of speed and physicality. They are a bit younger, and a bit faster, but the loss of Nesta and Thiago Silva has made Milan's defense look like a rickety old shack about to collapse. If you're up to the challenge, go for it—you'll embarass the heck out of your Real or Barca-using opponents.
F.C. Internazionale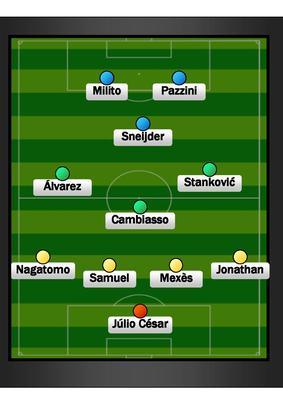 Team Rating: 4.5 stars
Formation: 4-3-1-2
GK
Julio Cesar
85
RB
Jonathan
81
RCB
Andrea Ranocchia
81
LCB
Walter Samuel
82
LB
Yuto Nagatomo
80
LCM
Ricardo Alvarez
82
CM
Esteban Cambiasso
81
RM
Dejan Stankovic
80
CAM
Wesley Sneijder
85
RS
Giampaolo Pazzini
80
LS
Diego Milito
82
Bench
CB
Juan
81
LB
Javier Zanetti
80
CAM
Phillipe Coutinho
82
RB
Maicon
83
Conclusion:
Inter Milan have done relatively little to refresh their aging squad. They seemed to have sold away much more talent than they have bought back. Those that they do buy aren't even good enough to crack the starting XI for the most part. They may even be worse off than their city rivals. Sneidjer and Julio Cesar are the bright spots on an otherwise unimpressive roster. Not an easy team to play with against the top sides.
Juventus F.C.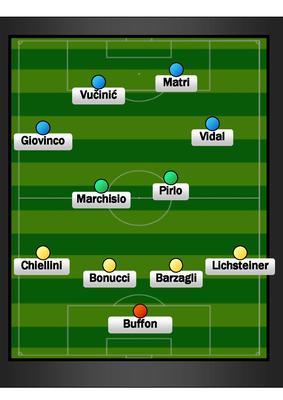 Team Rating: 5 stars
Formation: 4-2-4 (4-2-2-2)
GK
Gianluigi Buffon
88
RB
Stephan Lichsteiner
81
RCB
Andrea Barzagli
82
LCB
Leonardo Bonucci
83
LB
Giorgio Chiellini
86
RCM
Andrea Pirlo
88
LCM
Claudio Marchisio
81
RAM
Arturo Vidal
84
LAM
Sebastian Giovinco
83
RS
Alessandro Matri
80
LS
Mirko Vucinic
81
Bench
CB
Lucio
81
RW
Simone Pepe
77
CM
Kwadwo Asamoah
81
LM
Milos Krasic
79
ST
Fabio Quagliarella
79
ST
Marco Borriello
78
Transfers?
ST
Robin Van Persie
88
Conclusion:
Juventus have added several players this summer, but few will crack the starting XI already in place. Andrea Pirlo and Gianluigi Buffon are head and shoulders above the rest of the squad in ability. Juve is strong in all areas but attack. Their forwards are not at the level of the rest of the squad—if Juventus were to add a world-class striker this summer, they'd be a serious force in FIFA.
A.S. Roma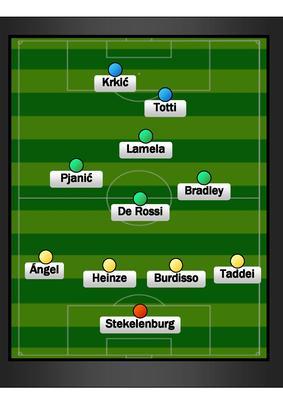 Team Rating: 4.5 stars
Formation: 4-3-1-2
GK
Maarten Stekelenburg
85
RB
Rodrigo Taddei
80
RCB
Nicolas Burdisso
81
LCB
Gabriel Heinze
79
LB
Jose Angel
77
RCM
Michael Bradley
79
CM
Daniele De Rossi
85
LCM
Miralem Pjanic
83
CAM
Erik Lamela
82
CF
Francesco Totti
81
ST
Bojan Krkic
80
Bench
RM
Simone Perrotta
78
ST
Mattia Destro
77
ST
Pablo Osvaldo
80
Transfers?
ST
Marco Borriello
80
Conclusion:
Roma have been rebuilding for a while now. They boast plenty of young talent around their core of Daniele De Rossi and Francesco Totti. Roma's defense is somewhat weak, but it's backed by a very talented shot-stopper in Maarten Stekelenburg. If you're gonna win with Roma, the team won't do you any favors—your talent will win you the game, not the players.
F.C. Bayern Munich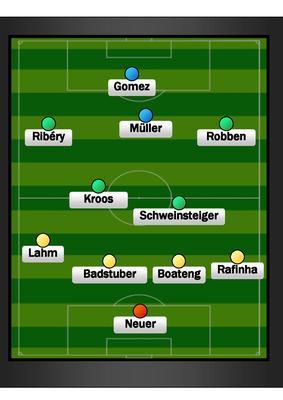 Team Rating: 5 stars
Formation: 4-2-3-1 (4-2-4)
| | | | |
| --- | --- | --- | --- |
| GK | | Manuel Neuer | 87 |
| RB | | Rafinha | 82 |
| RCB | | Holger Badstuber | 84 |
| LCB | | Jerome Boateng | 81 |
| LB | | Phillip Lahm | 86 |
| CDM | | Bastian Schweinsteiger | 85 |
| CDM | | Toni Kroos | 83 |
| RAM | | Arjen Robben | 88 |
| CAM | | Thomas Muller | 82 |
| LAM | | Frank Ribery | 87 |
| ST | | Mario Gomez | 85 |
Conclusion:
Bayern Munich are loaded with talent at all positions on the pitch. They have two of the world's best wingers in Ribery and Robben, who each deserve at least 87. While Gomez is certainly a formidable force up front, he doesn't deserve more than 85. Bayern's issues, if you can call it that, lie in defense, with inconsistent talent across the back four. Bayern will be one of the best squads in FIFA 13.
F.C. Barcelona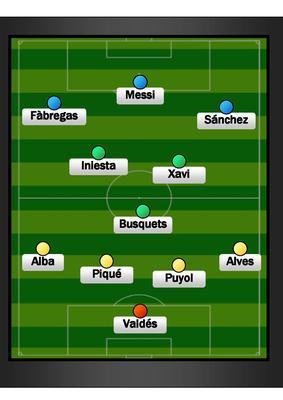 Team Rating: 5 stars
Formation: 4-1-2-3 (4-3-3)
GK
Victor Valdes
84
RWB
Dani Alves
86
RCB
Gerard Pique
88
LCB
Carles Puyol
85
LWB
Jordi Alba
83
CDM
Sergio Busquets
83
RAM
Xavi Hernandez
90
LAM
Andres Iniesta
91
RW
Alexis Sanchez
85
CF
Lionel Messi
94
LW
Cesc Fabregas
87
Bench
ST
David Villa
86
LW
Pedro
84
CM
Thiago Alcantara
82
CDM
Javier Mascherano
82
RW
Ibrahim Affelay
80
LB
Eric Abidal
81
Conclusion:
Ahhh, FC Barcelona. We've heard it all with them—too stacked, too deep, too ... good. As the best player on planet earth, Lionel Messi is, and should be, FIFA 13's highest ranked player. Other mercurial talents supporting him such as Xavi and Iniesta also get high marks. One thing I've really gotten annoyed about over the years is how overrated Valdes seems to be in FIFA games. I'm sorry, he's no Casillas. It's hard enough scoring against Barca, but Valdes has been ranked way too high for too long. 84 is really good. If you're terrible at FIFA, use Barcelona. If you're really good at FIFA, don't use Barcelona. It's just not fair how good they are.
Real Madrid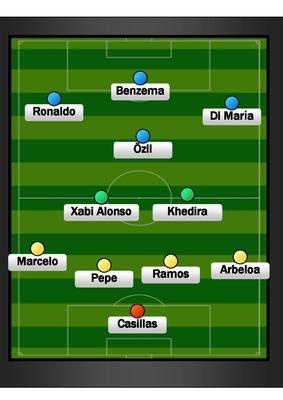 Team Rating: 5 stars
Formation: 4-2-3-1 (4-2-4)
GK
Iker Casillas
90
RB
Alvaro Arbeloa
81
RCB
Sergio Ramos
87
LCB
Pepe
85
LB
Marcelo
83
RCM
Sami Khedira
82
LCM
Xabi Alonso
85
RAM
Angel Di Maria
84
CAM
Mesut Ozil
88
LAM
Cristiano Ronaldo
93
ST
Karim Benzema
85
Bench
CAM
Kaka
83
CM
Nuri Sahin
81
CM
Callejon
81
CDM
Lassana Diarra
80
ST
Gonzalo Higuain
84
LB
Fabio Coentrao
81
Conclusion:
Barca's eternal rivals, Real Madrid, boast the second-best player on earth in Cristiano Ronaldo. I think Ozil is one of the best attacking midfielders in the world. Di Maria has been overrated in past renditions of FIFA. As the best goalkeeper in the world, Casillas' 90 is the highest for a goalkeeper in the game. Very much akin to using Barca, using Madrid as an elite FIFA player will do nothing but boost your ego as you slaughter all signs of opponents. This is another team that will mask your own ability to play FIFA, as the talents of the players are so high.
Paris Saint-Germain F.C.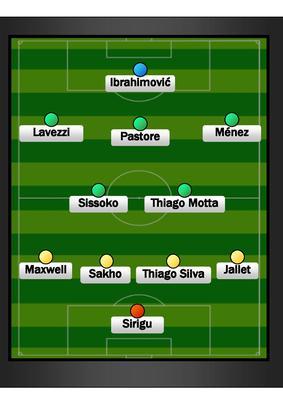 Team Rating: 5 stars
Formation: 4-2-3-1
GK
Salvatore Sirigu
81
RB
Christophe Jallet
77
RCB
Thiago Silva
90
LCB
Mamadou Sakho
83
LB
Maxwell
80
CDM
Mohamed Sissoko
82
CDM
Thiago Motta
81
RAM
Jeremy Menez
84
CAM
Javier Pastore
85
LAM
Ezequiel Lavezzi
84
ST
Zlatan Ibrahimovic
88
Bench
CB
Alex
81
LW
Nene
82
ST
Guillaume Hoarau
79
Conclusion:
PSG are Europe's latest club to play the Manchester City spending-spree role. In the past year this team has acquired a squad capable of doing some serious damage in Europe. Thiago Silva is worthy of his 89 rating, as I think he's the best center back in the world. New signing Zlatan Ibrahimovic had a season to remember at Milan, scoring 28 goals in 32 appearances. This justifies his 88. Still weaker in the middle of the park, PSG have a front four that could do great things together. PSG will be a lot of fun to use in FIFA, thanks to its mix of world-class talent and not-so-skilled players.
Team Rankings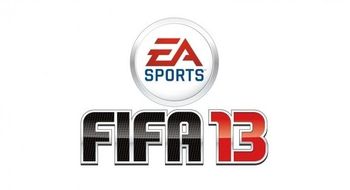 So my ratings aren't perfect, but how could anyone's be? It's opinion, but I tried to be as objective as humanly possible.
Here are my rankings of each team. Remember, these are FIFA 13 ratings, not real-life ratings. I think in FIFA 13 the best teams, in this order, will be:
Barcelona
Manchester City
Real Madrid
Chelsea
Bayern Munich
Manchester United
Paris Saint-Germain
Juventus
Tottenham
Liverpool
Arsenal
AC Milan
Inter Milan
AS Roma
I'd love to hear your opinions on the matter—which players/teams should be rated higher? Lower? Just right?
Leave your comments below.
Follow me on Twitter @BeauBourne
Keep Reading