UFC 149 Bleacher Report MMA Staff Predictions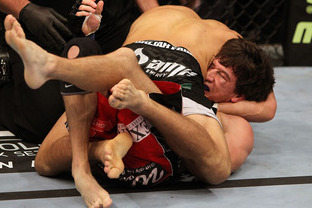 MMA Fighting
While UFC 149 may easily be the most injury-plagued card of all time, but that doesn't mean there aren't some fights worth watching on Saturday night.
The main event of the evening gives two elite bantamweights a chance to win the interim title with champion Dominick Cruz on the shelf with an ACL injury.
"The California Kid," Urijah Faber could be looking at his last title shot in the UFC when he takes on the versatile Renan Barao.
Opening up the main card, welterweights Chris Clements and Matt Riddle are ready to throw down and put on a show.
Staying at 170 pounds, Brian "Bad Boy" Ebersole has no issues fighting twice in one month when he steps up against James Head.
In a heavyweight clash, Cheick "The French Sensation" Kongo squares off against Shawn "The Savage" Jordan in what could be an entertaining slug fest.
In the co-main event of the evening, Hector "Lightning" Lombard makes his long-awaited Octagon debut against Tim "The Barbarian" Boetsch.
Predicting the action this week are Bleacher Report MMA Featured Columnists Dan Hiergesell, Jeffrey McKinney, Matt Juul and myself, John Heinis.
Take a look inside to get an in-depth analysis of the action.
Begin Slideshow

»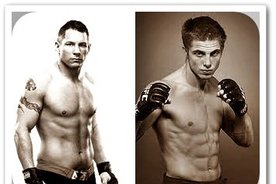 Pro MMA Now
John Heinis: Most fans have to be wondering how and why this is the first fight on the main card, but this matchup is the perfect example of how badly this card has been devastated by injuries.
Initially, Yoshihiro Akiyama was going to square off against Thiago Alves. Pretty solid matchup for a main card opener.
Then, "Sexyama" got injured. No problem, undefeated prospect Siyar Bahadurzada was ready to jump in as a replacement. But, oh wait, Alves got injured and Chris Clements was ready to fill in.
Can you guess what happened next? Bahadurzada got hurt. Hence a matchup that has no business being on a main card.
Clements is a heavy-handed striker who typically take a punch, but Riddle's wrestling and purple belt in Brazilian jiu-jitsu will be there to bail him out of trouble given "The Menace's" complete lack of a ground game.
Riddle likes to stand and trade though, so this actually shouldn't be a half bad fight.
Matthew Riddle via unanimous decision
Dan Hiergesell: Not too many people will be looking forward to seeing Chris Clements and Matthew Riddle take the center of the Octagon at UFC 149, but the fact remains that both guys are going to let the leather fly.

Riddle has vastly improved his stand up over the past few years, but it seems as if Clements' power will be too much.

If Riddle can somehow get the fight to the ground or bring it into the later rounds, he might have a chance. Until that happens, Clements is the favorite to win.
Chris Clements via Round 1 TKO
Jeffrey McKinney: In a battle between two young welterweights, TUF alum Matt Riddle will meet Chris Clements.
Clements has won five straight fights, including his UFC debut against Keith Wisniewski.
Although his match with Wisniewski was a split decision, he has won all of his other fights by knockout.
He will be taking a tough fighter in Riddle though.
Riddle is coming off a split decision victory of his own against Henry Martinez.
Riddle has gone 3-3 in his last six fights, and should be looking to prove he can take his game to the next level.
While this could be a toss-up between the fighters, I'm going to Riddle thanks to him having more octagon experience.
Matt Riddle via unanimous decision
Matt Juul: One of those rare fighters to have spent their entire career inside the Octagon, Matt Riddle has never really been known as a finisher.

A rudimentary striker who prefers grinding out his opponents on the ground, Riddle will likely look to not stand and bang with the more technical Chris Clements.

Clements has 10 knockouts win on his record making him a dangerous guy to stand with.
However, Riddle's ground game is significantly superior and should prove the difference in the this fight as he grinds out another win.

Matt Riddle via split decision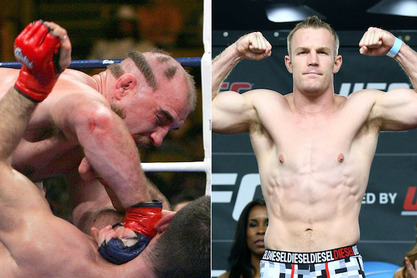 Guyspeed.com
John Heinis: After an impressive victory over up-and-comer TJ Waldburger last month, Brian "Bad Boy" Ebersole decided to be a company man and fill in for an injured Claude Patrick against James Head.
While there is no secret that Ebersole likes to scrap (with 66 professional fights under his belt), this bout is high risk with really no reward.
However, no way Ebersole loses this fight. While James Head submitted Papi Adebi in the first round of their April encounter, his stand up and submission skills will pale in compassion to his crafty Octagon adversary.
Ebersole's underrated Muay Thai will send Head to the canvas before he slaps on a signature submission to call it a night early.
Brian Ebersole via Round 2 submission (arm-triangle choke)

Dan Hiergesell: There's a reason why Brian Ebersole has only lost once since 2007, against Hector Lombard to boot, and that's because he's pretty well-rounded.

With over 60 professional fights under his belt it's going to be hard for challenger James Head to put Ebersole in vicarious positions.

Considering both of these guys have excellent endurance, as well as not really possessing fight stopping power, I see this bout lasting all three rounds with Ebersole coming out on top.
Brian Ebersole via unanimous decision
Jeffrey McKinney: In another welterweight bout, Brian "The White Anderson Silva" Ebersole will take on James Head.
Both Head and Ebersole are good on the ground and both also can end a fight by submission.
Ebersole of course has an awkward style where he can throw a wheel kick one instance and shoot for a takedown the next.
Ebersole also has a great chin as he has never been knocked out in 66 fights.
Although he is good on the ground, Ebersole will have to watch out for Head's jiu-jitsu.
Head currently holds a purple belt in jiu-jitsu and also trains in Muay Thai.
This could be another tough fight to call but I believe Ebersole's experience will come into play here.
Brian Ebersole via decision or submission
Matt Juul: Taking this fight less than a month after his win over TJ Waldburger, Brian Ebersole will look to extend his UFC winning streak to five in a row when he takes on James Head this weekend.

Head is a well-rounded finisher, especially on the ground, who's coming off his first UFC win in his welterweight debut against the highly-touted Papey Abedi.
However, Ebersole has a wealth of experience and, as seen in his bout with Walderburger, knows how to avoid submissions.

This is a very winnable fight for Ebersole and should reinforce his status as an emerging threat at 170.

Brian Ebersole via unanimous decision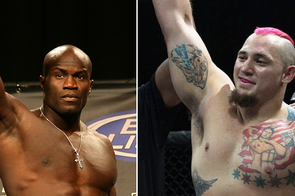 MMA Mania
John Heinis: This is another fight that looked a lot more promising weeks ago.
Antonio Rodrigo Nogueira withdrew from the scheduled bout with Cheick Kongo after he realized his right arm would not be recovered in time after being shattered by Frank Mir at UFC 140.
Shawn Jordan is actually not a terrible replacement though, as he has some serious knockout power and a submission game that is still superior to what Kongo has to offer.
Still, "The Savage" probably will not have any answers to Kongo's wrestling game and the best heavyweight we've seen him square off against is Lavar Johnson (who to his credit, he submitted).
Coming off of a pretty embarrassing loss to Mark Hunt at UFC 144, I see the French kickboxer bouncing back with an impressive win here.
Cheick Kongo via Round 2 KO
Dan Hiergesell: This fight is going to be one of those occurrences when an up-and-coming prospect meets a technically sound veteran.

Shawn Jordan has quickly made the jump up the heavyweight ladder strictly on power and athleticism. Due in part to his days as a fullback at LSU, his skills are starting to show.

However, he's never faced a guy quite like Cheick Kongo. Kongo is more diverse and able bodied to do things on his feet that Jordan hasn't seen before, including superb kickboxing.

If Kongo can keep this fight standing, and he should considering Jordan isn't an excellent wrestler, he should have no problem landing shin in all the right places.
Cheick Kongo via Round 2 TKO
Jeffrey McKinney: Two heavyweight strikers will meet when former Strikeforce fighter Shawn Jordan takes on UFC vet Cheick Kongo.
Jordan comes into this fight with nine knockouts including his most recent one against Oli Thompson.
Jordan has also defeated former Strikeforce Slugger Lavar Johnson.
His will face the biggest test of his young career though as he takes on Cheick Kongo.
Kongo is looking to make a statement in this fight as he was knocked out in his last fight against Mark Hunt.
Before the Hunt fight, Kongo was 3-0-1 in his last four fights and was looking to put his name in the mix for a heavyweight title shot.
Kongo has 10 knockouts to his name, including the come from behind win against Pat Barry.
While Kongo has the experience factor, I believe this will be Jordan's night.
Shawn Jordan via Round 1 TKO
Matt Juul: This heavyweight battle has one guarantee: someone's getting knocked out.

Perennial gatekeeper Cheick Kongo will get to test up-and-coming Shawn Jordan following his second round finish of Oli Thompson in his UFC debut.

Kongo's coming off a brutal loss to Mark Hunt and has shown a weak chin against heavy-handed guys like Jordan.
However, Jordan has also been susceptible to the knockout blow, so it's really anyone's fight.

I'm going with the young gun in this battle of giants.

Shawn Jordan via Round 2 KO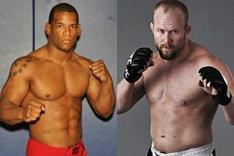 John Heinis: Is Hector Lombard for real? That's the question everyone is asking about the former Bellator middleweight champion, who is undefeated in 25 fights, heading into this fight.
"Lightning's" critics say that beating the Brian Ebersoles, Alexander Schlemenkos and Trevor Prangleys of the world don't make you a superstar. Could 20 wins in a row really be irrelevant?
Tim "The Barbarian" Boetsch would like to think so.
Boetsch entered UFC 144 a massive underdog against Yushin Okami and looked the part for two rounds, before rallying for arguably the Comeback of the Year and finishing "Thunder" with a series of vicious uppercuts in round three (there has to be a good thunder and lightning joke here somewhere).
The former light heavyweight is 3-0 since dropping down a weight class, but Lombard is going to be a tough customer.
He can throw some bombs on the feet, is a fourth dan black belt in Judo and a black belt in BJJ. That spells out a pretty well-rounded game.
Boetsch has one punch KO power and will have the wrestling advantage, but is that going to be enough? Probably not, but envision a more competitive fight than most are expecting.
Hector Lombard via unanimous decision (29-28)
Dan Hiergesell: This is honestly one of the most intriguing fights of the year.

UFC newcomer Hector Lombard is coming over from a very successful Bellator career and is trying to prove that he is fact the No. 1 middleweight contender in the world.

Coincidentally, Tim Boetsch is trying to do the same exact thing.
After a huge comeback victory over Yushin Okami, the powerful wrestler is in search of another impressive win that could launch him into title contention.

For this fight, involving two of the most heavy-handed 185 lb. fighters in the UFC, nutrition and cardio are going to be the biggest factors.

It's well known that Lombard dumps a lot of energy early in his fights, mostly due to pummeling his opponents into oblivion.
However, Boestch has one of the best chins in the division, so if Lombard doesn't pace himself then Boetsch could be setting the tone of the fight by the third round.

Assuming Lombard is going to try to impress in his UFC debut, along with Boetsch's wrestling pedigree, I really see this fight going one way.

Lombard will try to overwhelm Boestch in the first round only to gas and have Boetsch on top of him for the remaining 10 minutes.
Tim Boetsch via unanimous decision
Jeffrey McKinney: In the night's co-main event, Hector Lombard will make his long awaited UFC debut against Tim Boetsch.
Lombard is known for knocking guys out, usually in the first round, and being the long time Bellator middleweight champion.
Lombard has not lost in his past 25 fights and has defeated well known guys like James Te-Huna, Brian Ebersole, and most recently Trevor Prangley.
Along with his 17 knockouts, Lombard has seven submission victories and has never been knocked out or submitted.
He will have a challenge though in Boetsch.
Boetsch has looked good since dropping to middleweight going 3-0 in the division.
In his most recent win Boetsch knocked out Yushin Okami after losing the first two rounds of the fight.
This fight has many title implications as a win for either man could lead to a fight against Anderson Silva.
Boetsch is a tough fighter, but if Lombard can do what he's done throughout his career, this fight won't make it past Round 1.
Hector Lombard via Round 1 KO
Matt Juul: Barao's not the only fighter boasting a lengthy winning streak on this fight card as former Bellator champ Hector Lombard makes his UFC debut.

The newly signed middleweight has not lost since 2006 and has rolled over the competition since then.
However, the UFC is a different beast and his welcoming party of Tim Boetsch should prove to be an interesting challenge.

Boestch barely survived the opening two frames of his UFC 144 bout against Yushin Okami before defeating the Japanese star in his home country with a third-round knockout.
Now riding a nice three-fight win streak, Boetsch's chin will again be challenged by the heavy-handed Lombard.

While the American may be able to give Lombard a fight, I just don't see him taking out the muscly middleweight, save for another lucky, late rally.

Hector Lombard via TKO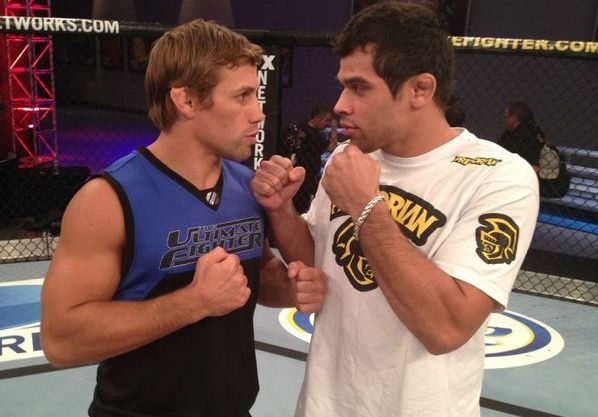 Zuffa LLC
John Heinis: Despite an very large and loyal fanbase, even the most hardcore supporters of "The California Kid" have to wonder how he has had three title shots in his past seven fights.
The fact that all three were unsuccessful makes this interim title fight a little more interesting. Is the 33-year-old Urijah Faber truly past his prime, or did he just lost to two of the world's best and fall victim to one bad judge's decision?
That's anyone's guess, but what we know for sure is that Faber brings electric, unorthodox striking to the cage, a powerful wrestling game and slick submissions (especially his guillotine choke).
His opponent, Renan Barao, is unbeaten in 29 professional fights and undefeated in 18. He has also looked basically untouchable in his five Zuffa-based bouts (two in the WEC, three in the UFC).
As much as I hate to say it, I really can't see Faber winning this one unless he snatches up a guillotine...and I just don't see that being realistic here.
Renan Barao via unanimous decision (49-46, 48-47 x 2)
Dan Hiergesell: If there was ever a fighter that could submit a submission wizard like Brazil's Renan Barao, it would be Urijah Faber.

Faber has showcased arguably the best guillotine choke in the division's history and has more power than his opponent to successfully sink in a submission in the championship rounds.

I realize that Barao is one heck of a standup specimen, but his cardio woes may come into play if this fight doesn't end quickly.

For Faber, aiming to take this fight into the fourth and fifth round should be his No. 1 priority. He's talented on his feet, with quick hands and KO power, but with a rangy Barao trying to land his own meaningful strikes, Faber's best chance of winning interim gold comes via ground and pound.

If he can stretch this fight out then he should have no trouble grinding out a win.
Urijah Faber via Round 4 submission
Jeffrey McKinney: In the night's main event, Urijah Faber will get another stab at UFC gold as he takes on Renan Barao for the interim UFC bantamweight championship.
While many fans would rather see Faber and Dominick Cruz end their rivalry, this fight should be just as exciting.
Barao has had 29 straight fights without a loss and holds wins over Scott Jorgensen, Brad Pickett and Cole Escovedo.
Barao has proven to be dangerous on both the ground and in the stand up department, and trains with one of the best fighters in the world, Jose Aldo.
Faber, who is no stranger to Aldo, has won three of his last four fights. The only loss came to Dominick Cruz at UFC 132.
Faber will come into this fight with a wrestling advantage. But the big question will be if he can get Barao down, will he keep him there?
Even if he does keep Barao on the ground, Faber will have to defend submissions as Barao has 13 wins submission.
Both guys will be highly motivated for this fight.
For Barao, it's a chance to prove he is the best bantamweight in the world. For Faber, a win will give him UFC gold, but more importantly put him one step closer to a rubber match with Cruz.
This fight will be a close one. While it's hard to go against Barao, Faber and Cruz must meet one more time.
Urijah Faber via split decision
Matt Juul: "The California Kid" is no stranger to the five-round title fight, but as of late, has come up short in his quest for the belt.

Urijah Faber just barely lost to Dominick Cruz in his last shot at the bantamweight belt at UFC 132.
Despite bouncing back with a big win over former WEC champ Brian Bowles, Faber will find that Renan Barao will be a more dangerous threat than either of his previous opponents.

Barao is a finisher and will throw much harder strikes. A well-rounded fighter, Barao is also a well-versed submission ace and should give Faber problems, no matter where this fight goes.

Faber will have an edge in the wrestling and strength department and may be able to bully Barao around in the later rounds if he can weather the early storm.

This fight will definitely be a war of a main event.

Urijah Faber via unanimous decision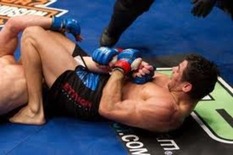 Zuffa LLC
John Heinis:
Fight of the Night: Urijah Faber vs. Renan Barao
Knockout of the Night: Cheick Kongo
Submission of the Night: Brian Ebersole
Dan Hiergesell:
Fight of the Night: Hector Lombard vs. Tim Boetsch
Knockout of the Night: Cheick Kongo
Submission of the Night: Urijah Faber
Jeffrey McKinney:
Fight of the Night: Urijah Faber vs. Renan Barao
Knockout of the Night: Hector Lombard
Submission of the Night: Brian Ebersole
Matt Juul:
Fight of the Night: Urijah Faber vs. Renan Barao
Knockout of the Night: Hector Lombard
Submission of the Night: Bryan Caraway