NBA Trade Rumors: Adding Andrew Bynum Would Put Cavaliers Back on the Map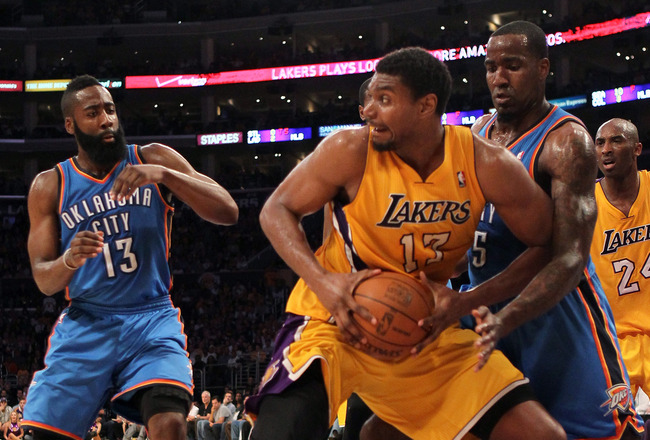 Stephen Dunn/Getty Images
Despite the incessant attention afforded to Dwight Howard and his narcissistic game of musical chairs, another big man may be on the move in one fell swoop.
According to ESPN's Ric Bucher, one of the more realistic scenarios involving Howard would bring Los Angeles Lakers center Andrew Bynum to the house LeBron abandoned:
The Cavaliers would land Lakers center Andrew Bynum for a package of draft picks and veteran power forward Anderson Varejao, according to one league source. The Lakers would receive Howard for Bynum. Orlando would get Varejao and draft picks.
Of course, the immediate reaction is some combination of disgust and sorrow—disgust that the new CBA hasn't done a thing to stop superteams from forming, and sorrow for Bynum.
Going from the Lakers to the rebuilding Cleveland Cavaliers appears to be more than one small step down for Bynum.
It seems more a giant leap backwards for the NBA.
Not so fast, though.
After all, Bynum is still just 24 and his best years are ahead of him in every possible way. With increased opportunities and the chance to step outside of Kobe Bryant's shadow, we may get an All-Star performance no one saw coming.
And, we'd see the Cavaliers catch up soon enough. This is an organization that's stockpiled some young talent, with Rookie of the Year Kyrie Irving headlining the renewal.
This could be a blessing for Bynum, and a not-especially-disguised one at that.
It could also put the Cleveland Cavaliers right back on the map and return them to title contention long before we thought they'd get there.
No Competition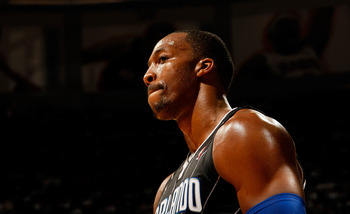 Kevin C. Cox/Getty Images
Since Andrew Bynum's arrival in Cleveland would mean Dwight Howard has gone to the Western Conference, the East would all of a sudden be in short supply of dominant big men.
Sure, there are some talented young guys out there like the Indiana Pacers' Roy Hibbert and the Detroit Pistons' Greg Monroe. But, there's no one who'd have an edge over Bynum in a one-on-one matchup.
The Miami Heat proved you can win a title without having much of a center.
For the Cavaliers, though, this isn't about winning a title—not anytime soon. It's just about a return to respectability.
With their conference's best big man in the mix, that respectability won't be far off.
Bynum would instantly create matchup problems against teams like the Heat, Boston Celtics and Philadelphia 76ers. The only playoff contenders with centers who can answer the bell defensively are the Chicago Bulls (Joakim Noah) and New York Knicks (Tyson Chandler).
That means Bynum would create a significant advantage for the Cavs on most nights.
A Perfect Pairing with Kyrie Irving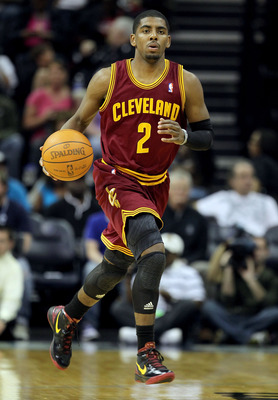 Andy Lyons/Getty Images
Rookie of the Year Kyrie Irving has become accustomed to acting as something of a one-man team.
That would change instantaneously if Andrew Bynum comes to town.
Yes, fourth-overall pick Dion Waiters will also make a difference, but it's still too soon to know just how much a difference he'll make. Where Bynum is concerned, there's no such doubt.
Irving does a little bit of everything. He can push the tempo or run a half-court offense. He can hit perimeter shots or take it to the hole. And, of course, he's one heck of a passer—especially for a 20-year-old.
The one thing he's lacked thus far is a big man to toss the ball to.
Even a healthy Anderson Varejao hardly qualifies as much of a scoring threat, and Tristan Thompson's ability in the paint remains a work in progress.
Bynum will change all that.
Low-Post Scoring
Andrew Bynum can increasingly score in a variety of different ways, and that's had a lot to do with his emergence as a legitimate All-Star.
Even without Kyrie Irving's help, this guy can fill it up.
There's probably no seven-footer in the game more adept at backing guys down in the post and deploying an arsenal of moves to get his shot off. Bynum can spin around for jumpers or go straight up with a baby hook, and he's got a quick pump-fake to get opposing bigs off their feet.
The Cleveland Cavaliers desperately need that kind of self-sufficient scorer, and Bynum wouldn't disappoint.
He averaged a career-high 18.7 points last season, making 56 percent of his field-goal attempts in the process. Look for those numbers to improve even further with the increased opportunities he'd have in Cleveland.
Rebounding and Defense
Sure, Andrew Bynum won't pull down 30 rebounds every night, but that's exactly what he did against the San Antonio Spurs in April.
He's always had the physical tools to be an elite rebounder, but his technique is much-improved. From his positioning to anticipation and timing, he's reached the point where he should be one of the league's very best on the glass for years to come.
He averaged 11.8 rebounds a game this year with the Los Angeles Lakers, but that's not the only way in which his size was a factor.
Bynum also blocked 1.9 shots per game and intimidated far more.
While Anderson Varejao has certainly been a capable defensive presence, he blocks shots at roughly half Bynum's rate and has averaged more than one block a game only once in his eight seasons.
Quite simply, Bynum is a difference-maker on both ends of the floor.
Youth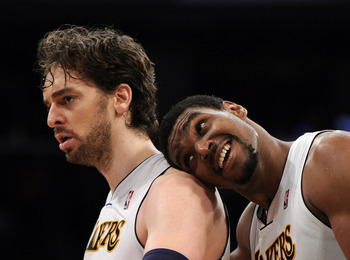 Harry How/Getty Images
The fact that Andrew Bynum was only 24 years old sometimes felt like a liability on the Los Angeles Lakers.
The otherwise-veteran outfit is attempting to seize its few remaining opportunities to win a title while Kobe Bryant is still ambulatory. At times, Bynum's lack of focus and youthful inconsistency seemed to offset whatever good he accomplished.
That wouldn't be the case with the Cleveland Cavaliers.
This is a franchise that barely qualifies as up-and-coming at the moment. It's nothing if not a young work in progress.
In fact, Bynum would almost instantly qualify as the old guy—thanks especially to his already-ample postseason experience.
Whether a Bynum-led Cavaliers made noise in the playoffs right away wouldn't matter nearly as much as what that team could do down the road. As the roster filled out and young talent developed, Cleveland could quickly go from a jilted rebuilding-site to a contender once again.
Keep Reading

Cleveland Cavaliers: Like this team?