London 2012 Olympics: Epic Rivalries That Will Be Born This Summer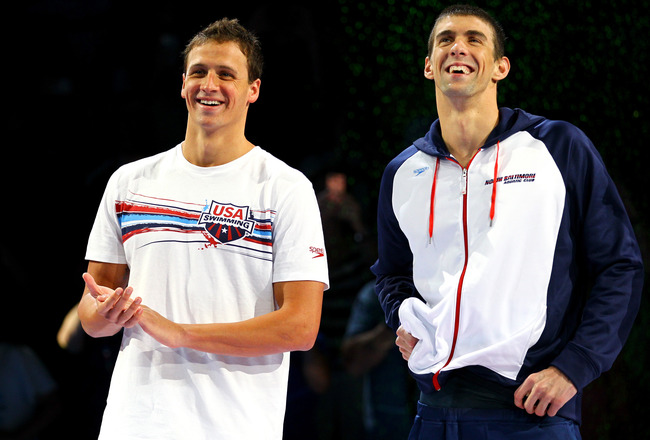 Al Bello/Getty Images
Nothing is more intense than an Olympic rivalry.
In the 2012 London Olympics, the greatest athletes in the world will compete in the most prestigious competition in the world.
There's only one gold medal per event. Competition for it will get heated. And from that heat, historic rivalries will be ignited.
Here are five pairs of competitors that will makes sparks fly this summer.
5. Jordyn Wieber vs. Gabby Douglas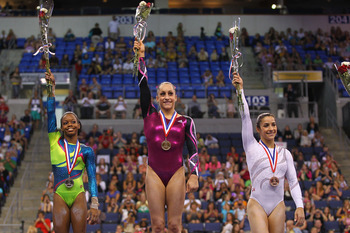 Douglas (Left), Wieber (Center)
Dilip Vishwanat/Getty Images
Jordyn Wieber is the best women's gymnast in the world. She was an overwhelming favorite going in to the Summer Olympics. All-around individual gold was hers to lose.
And then Gabby Douglas happened.
Douglas defeated Wieber to secure the lone automatic bid for Team USA's women's national gymnastics squad.
Wieber and Douglas have won multiple team all-around gold medals together, but they'll be competing for the individual all-around gold in London. Wieber has won the honor seven times in competitions that include the American Cup, World, Pacific Rim and Visa Championships, but Douglas emergence in the U.S. trials created a legitimate threat.
4. Tom Daley vs. Qiu Bo
Daley (Left), Qiu (Right)
Feng Li/Getty Images
Great Britain's Tom Daley is back.
In 2008, he participated in the Beijing Olympics at the age of 14. Now 18 years old, he's a true contender to take home a diving medal. China's 19-year old Qiu Bo is in his way, though.
In the 2011 World Aquatic Championships, Qiu won a gold medal in the 10-meter synchro platform as well as the individual event. Daley's partner was held back by an illness and the two finished sixth in the synchro. Individually, Daley didn't fare much better finishing fifth.
While Qiu currently has a noticeable edge on Daley, at the divers' ages, they'll be going head-to-head for quite some time.
3. Missy Franklin vs. Lia Neal vs. Katie Ledecky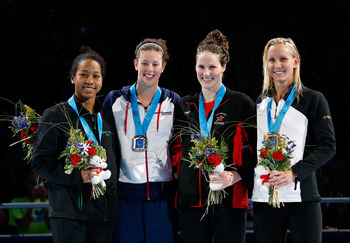 Lia Neal (Far Left), Missy Franklin (2nd From Right)
Jamie Squire/Getty Images
America's women's swim team is going to be set for the next couple of Olympic Games. They boast not one, not two, but a trio of teenage stars that will compete for the red, white and blue in London. But that also involves competition amongst one another.
Missy Franklin is 17 years old, but she's the veteran of the group. At 13 years of age, she participated in the 2008 Olympic trials. In the 2011 Aquatic World Championships, she won five medals including three golds.
Lia Neal is also 17, but she doesn't have quite the resume of Franklin. Katie Ledecky is only 15, though. She's the youngest competitor out of any U.S. Olympian.
According to Sports Illustrated, Ledecky set multiple national records for 13 and 14-year olds.
Expect all three to form a rivalry for years to come.
2. Usain Bolt vs. Yohan Blake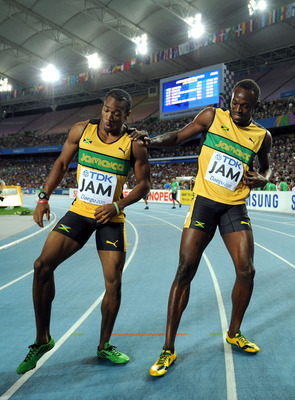 Blake (Left), Bolt (Right)
Stu Forster/Getty Images
Too many fans will head into the Olympics with the misconception that Tyson Gay is the greatest threat to Usain Bolt's title as the fastest man alive. In reality, his countryman and close friend Yohan Blake is the sprinter who should have Bolt on high alert. The two train together and will compete with one another for gold in the 100 and 200-meter dash.
According to The Press Association, Blake talked about racing Bolt in the world's grandest stage. He said (via the guardian): Every time in training I want to win but he's always there.
So I say: "OK, how am I going to win on the big day?" That's why some of the time I tend to be at the front so when I get on the track I can say: "OK, I beat him in training."
Blake is one of three men on the planet to ever defeat Bolt in a race. He took gold in the 2011 World Championships after Bolt was disqualified by a false start.
Who knows who'll cross the finish line first in London? But one thing is for certain—Bolt and Blake will be neck and neck throughout.
1. Michael Phelps vs. Ryan Lochte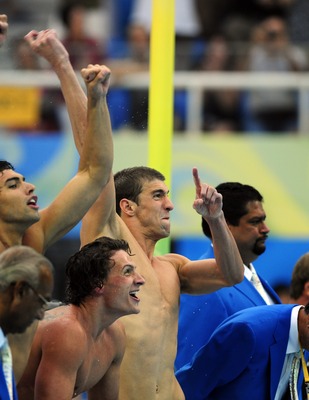 Lochte (Left), Phelps (Right)
US PRESSWIRE
Michael Phelps took home eight gold medals in the 2008 Olympics. If When that number goes down this year, Ryan Lochte is likely the swimmer that'll he'll have to thank.
Phelps overshadowed Lochte in Beijing, but Lochte's gotten the better of the Olympic legend lately. He beat Phelps head-to-head twice in the 2011 World Aquatic Championships in the 200-meter freestyle and the 200-meter individual medley.
Like Usain Bolt and Yohan Blake make each other better through their training, Team USA's swimming superstars do through their competition with one another. According to Vicki Michaelis of the USA Today, Lochte said of Phelps going into the Olympics:
A lot of people ask me, "Would I be the same athlete as I am today if he wasn't there?" No doubt about it, me and Michael, we push each other all the time.
This summer, no rivalry will be more heated than the one in the pool.
David Daniels is a featured columnist at Bleacher Report and a syndicated writer.
Keep Reading