World Football: 15 Most Iconic Goals of All-Time (Video)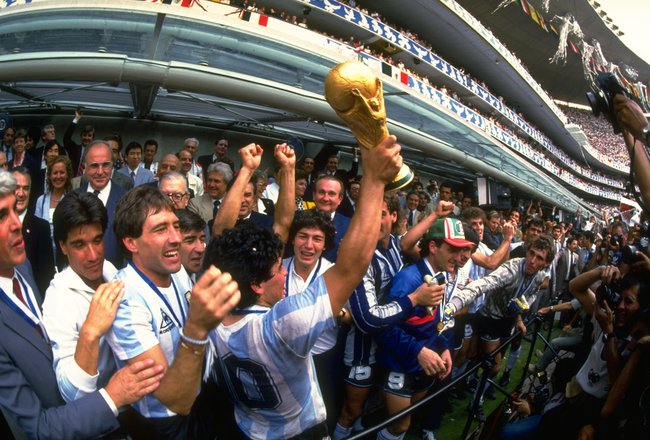 Getty Images/Getty Images
These are the goals that will never be forgotten.
These are the goals you know better than your first-born son.
These are the 15 most iconic goals in world football history.
Careful now. These aren't necessarily the 15 best goals football has ever produced. "Best" and "most iconic" mean different things.
To be iconic, a goal must live on in the collective memory of all football fans. It doesn't matter the reason.
Some came in big matches. Some feature skill that's too memorable to ever forget.
All of them share one trait: Fans around the world know them as soon as you mention them.
Check out our list, then leave your comments below or via Twitter @MikeCummings37.
Hand of God
It never should have counted. But it did, and no one will ever forget.
Diego Maradona's "Hand of God" goal against England in the 1986 World Cup helped Argentina to a second world title in eight years.
Still, it never should have counted.
Goal of the Century
Incredibly, Diego Maradona makes the list twice, with both goals coming from the same match.
Just minutes after the controversial "Hand of God" goal, Maradona scored perhaps the best goal of all-time.
Known today as the Goal of the Century (more on that momentarily), Maradona beat Peter Beardsley, Peter Reid, Terry Butcher, Terry Butcher again, Terry Fenwich and finally goalkeeper Peter Shilton in a mazy, breathtaking dribble through England's midfield and defense.
Goal of the Century, Redux
Twenty-one years after Maradona's Goal of the Century, another Argentine maestro made his case for the best goal of the 21st century.
Barcelona's Lionel Messi dribbled through Getafe's defense and scored a remarkably similar goal during a Copa del Rey match in April 2007. Messi was just 19 at the time.
Which one do you think is better?
Pele, World Cup 1958
In 1958, Pele was a young, skinny, largely unknown attacker for Brazil's World Cup team.
Not so after this goal.
Pele scored twice in the 1958 final against Sweden, and this is the one that made him an international sensation.
Brazil won the match, 5-2, and Pele went on to become Pele.
Marco Van Basten, 1988 Euro Final
Holland's Marco van Basten scored this exceptional volley from a nearly impossible angle against the Soviet Union in the Euro 88 final.
It was a goal worthy of Holland's lone international title to date.
Geoff Hurst, 1966 World Cup Final
"They think it's all over…it is now!"
Still the best moment in English football history.
Ole Gunnar Solskjaer, 1999 Champions League Final
Here's another all-time great moment in English football.
Like most of these goals, you don't even need to know the teams, the name, the occasion or the place.
Here they are anyway: Manchester United and Bayern Munich, Ole Gunnar Solskjaer, 1999 Champions League final and Barcelona's Camp Nou.
Zinedine Zidane, 2002 Champions League Final
Three years later, in the 2002 Champions League final, Real Madrid's Zinedine Zidane scored the winner against Bayer Leverkusen with this ridiculous left-footed volley.
This is one that would qualify for lists of the most iconic and best goals of all-time.
Ryan Giggs, 1999 FA Cup Semifinal
Before Manchester United could claim the Champions League crown and the treble in 1999, the Red Devils had to win the FA Cup final.
Before United could win the FA Cup final, they had to beat Arsenal in a semifinal replay at Highbury.
To beat Arsenal in the semifinals, Ryan Giggs had to produce this memorable moment of pure genius.
Roberto Carlos Free Kick vs. France
In his prime, Roberto Carlos could make the ball bend unlike anyone else in the world.
Case in point: this mind-bending free kick for Brazil against France in a 1997 friendly.
Special doesn't even begin to describe this goal.
Carlos Alberto, World Cup 1970
Twelve years after Pele's two-goal show in the World Cup final against Sweden, Brazil brought the best, most star-studded team of all-time to the 1970 World Cup.
The beautiful, flowing, blissful football of that 1970 team was summed up by this goal, which was finished by Carlos Alberto.
Marco Tardelli, 1982 World Cup Final
Speaking of bliss, Marco Tardelli produced perhaps the most memorable goal celebration in football history after scoring in the 1982 World Cup final for Italy against West Germany.
Tardelli's celebration made this one of football's most iconic goals.
Brandi Chastain, 1999 Women's World Cup Final
Brandi Chastain's winning penalty for the United States against China in the 1999 Women's World Cup final is the most memorable goal in the history of the women's game.
In fact, it's one of the most memorable, most iconic goals in all of football history.
Michael Thomas, Liverpool vs. Arsenal, 1989
To close this list, we've got a couple of title-winning goals from the English league.
The first is from 1989, and it involves Arsenal and Liverpool. Arsenal needed to beat Liverpool at Anfield by two goals to claim the title that spring, and heading into the closing minutes, the Gunners led 1-0.
Then, Michael Thomas did this in the final minute of injury time.
Sergio Aguero, Manchester City vs. QPR, 2012
In 2012, Manchester City needed only to beat relegation struggles QPR at home on the final day of the English Premier League season to claim their first league title since 1968.
Despite scoring first, City trailed 2-1 heading into second-half stoppage time. Edin Dzeko equalized before Sergio Aguero scored the unlikely and instantly iconic winner.
Honorable Mention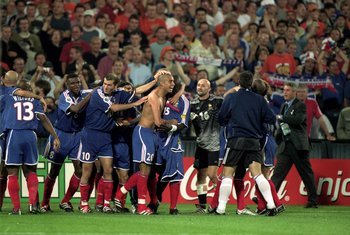 Ben Radford/Getty Images
David Trezeguet, golden goal for France, Euro 2000 final
Andres Iniesta, Spain, World Cup 2010 final
Landon Donovan, USA vs. Algeria, World Cup 2010
Abby Wambach, USA vs. Brazil, Women's World Cup 2011
David Beckham sends England to the World Cup with a free kick against Greece
Neymar against Flamengo in the Brazilian league
Wayne Rooney's overhead kick
Dennis Bergkamp against Argentina in the 1998 World Cup quarterfinals
Ronaldinho's overhead kick
Johan Cruyff's impossible flying goal
George Weah, AC Milan vs. Verona
Argentina's team goal, scored by Esteban Cambiasso
Your Turn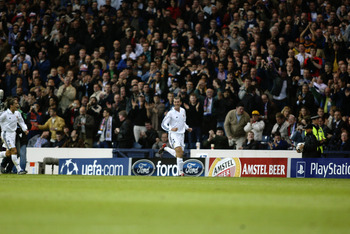 Gary M. Prior/Getty Images
Now it's your turn.
Which goal is football's most iconic of all-time?
Keep Reading