Fantasy Football 2012: Robert Griffin III and Breakout Stars at Every Position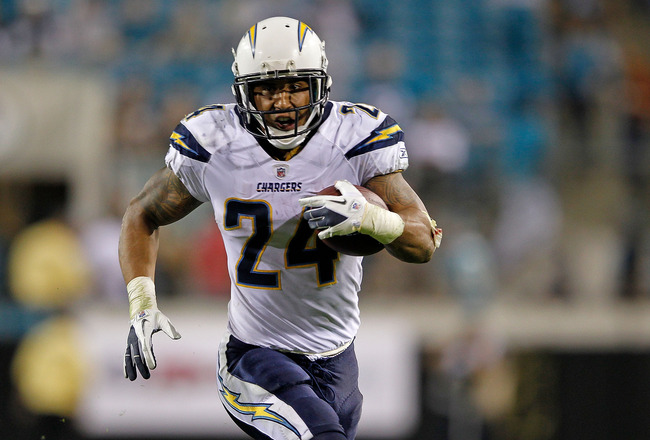 Mike Ehrmann/Getty Images
Football is almost here. By next Sunday, all 32 NFL teams will have reported for training camp, and by August, preseason football will have finally begun.
This time of year also means that fantasy-football drafts are just around the corner.
To help you get ready for your draft, let's break down the breakout player at each fantasy position.
Quarterback: Robert Griffin III, Redskins
Patrick McDermott/Getty Images
It wasn't long ago that taking a rookie quarterback to be your fantasy starter was nothing more than...well, fantasy. It was a crazy idea, and for good reason.
However, after the explosion of Cam Newton in Carolina a season ago, fantasy owners are going to feel comfortable taking a rookie like Robert Griffin III to be their fantasy starter.
Considering the circumstances, Griffin could be on track to put up a top-10 or top-12 fantasy season in 2012.
He's landing in a perfect offense for his skill set, and the weapons around him in Washington are better than most top rookie quarterbacks deal with upon entering the league. There are playmakers at receiver (Pierre Garcon), tight end (Fred Davis, Chris Cooley) and running back (Roy Helu, Tim Hightower).
Griffin is also more of a pure thrower of the football than Newton, and he's faster, too. The one worry here could be injury, especially if Griffin is scrambling often in 2012. He's a much smaller player than the monstrous Newton, who can withstand the rigors of rushing in the NFL.
Running Back: Ryan Mathews, Chargers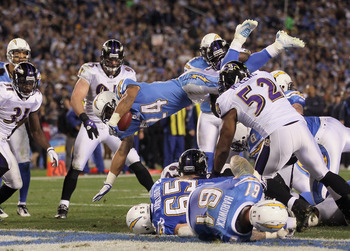 Jeff Gross/Getty Images
It's possible that only injuries—something he has struggled with at times—will keep Ryan Mathews from becoming one of the top fantasy running backs in 2012.
In 14 games last season, Mathews gained over 1,500 combined yards, including 1,091 rushing on just 222 carries (4.9 yards/carry). His touchdown total (six) was low, but that was partly due to scoring vulture Mike Tolbert (10 total touchdowns) taking most of the goal-line carries.
Tolbert is now in Carolina, and only veteran Ronnie Brown was brought in to replace him. That should mean Mathews has a realistic shot at scoring 10-to-14 touchdowns next season, assuming he's healthy for 16 games.
Tolbert's absence should also mean Mathews comes close to 350 total touches, which, considering his past production, would put him near the 2,000-yard mark in terms of total yards.
As long as you're comfortable taking a slight risk on the injury front, Mathews is one of the few running backs capable of making a huge jump in 2012.
Receiver: Eric Decker, Broncos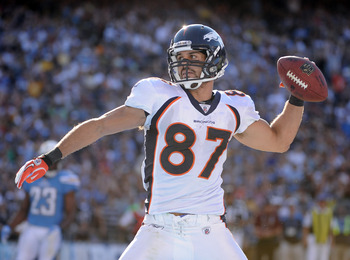 Harry How/Getty Images
The Peyton Manning effect obviously weighs heavily in this projection.
While Decker put up decent stats with what the Broncos were employing at quarterback last season, he'll smash those numbers if he's healthy for 16 games in 2012.
Despite playing the majority of his 2011 snaps in the slot, Decker is projected to play outside with Manning. That should mean the sharp route-runner will become one of Manning's favorite targets, possibly in the mold of Reggie Wayne with Manning in Indianapolis.
If we assume Decker, who has had lower-leg issues, stays healthy for all of 2012, a season of 80 catches, 1,200 yards and 10 touchdowns certainly isn't out of the question. He's certain to outperform his draft position.
Tight End: Kyle Rudolph, Vikings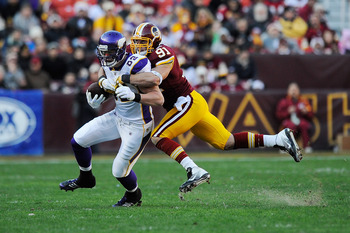 Patrick McDermott/Getty Images
ESPN currently ranks Rudolph as the 21st-best fantasy tight end for 2012, but that's crazy. Rudolph is ready to make a big jump in his second year with the Vikings.
The 6'6", 258-pounder is a load in the red zone, but he's surprisingly athletic and has great hands. While the Vikings did sign John Carlson in free agency, this is Rudolph's position in Minnesota. They'll be running two-tight-end sets, but Carlson is the No. 2, not the starter.
Christian Ponder, who would be wise to look more towards his talented tight end in 2012, will help Rudolph's ascension up fantasy boards as he progresses.
At the very least, Rudolph will double his 2011 numbers (26 receptions, 249 yards, three touchdowns). His ceiling could be 60 catches, 800-to-900 yards and close to double-digit touchdowns.
Defense/Special Teams: Buffalo Bills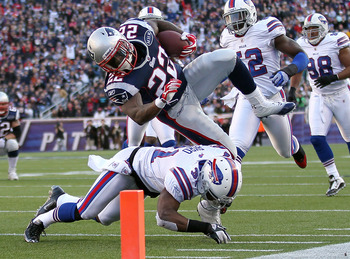 Jim Rogash/Getty Images
There's no skirting around the fact that Buffalo's defense crumbled down the stretch, and that collapse was a big part of the Bills' inability to keep up their early playoff pace.
However, there's also no denying the fact that Buffalo did something about that problem this offseason.
Mario Williams and Mark Anderson give the Bills two pass-rushers they lacked last season, and the secondary got a lot better when Buffalo took Stephon Gilmore with the No. 10 pick in the 2012 draft.
The Bills' defense will be better in 2012, if by nothing more than default. How much better will be the big question. If they make a big jump, this could be a Top Five-to-Top Seven defense.
Keep Reading