SEC Football: Top 20 SEC Games to Watch in 2012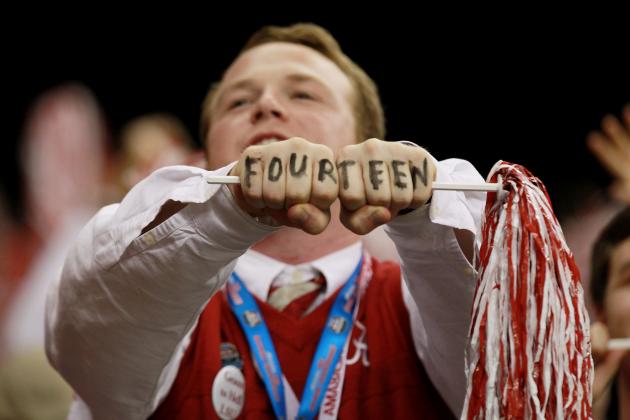 Ronald Martinez/Getty Images

If there was any question or doubt in your mind about which conference is top dog, the SEC took care of that last season.
After winning five consecutive BCS National Championships, the conference one upped themselves by sending two teams to the national championship last season and winning their sixth consecutive BCS title.
The league looks ready to make a run at seven straight titles with teams like LSU, Alabama, Arkansas, Georgia and South Carolina all believing they have a shot.
As we inch closer and closer to the college football season and anticipation builds, let's take a look at and rank the top 20 SEC matchups you should be looking forward to in 2012.
*All times listed are ET
Begin Slideshow

»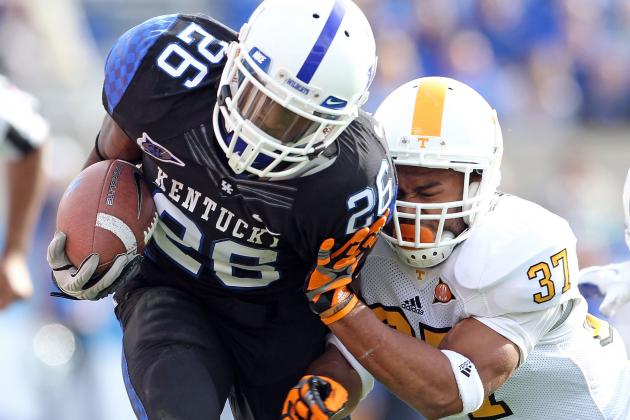 Andy Lyons/Getty Images

Date: November 24
Time: TBA
Kentucky ended a 26-game losing streak against the Vols with a 10-7 win at home last season. The loss kept Tennessee out of a bowl game, and the Vols will be looking for revenge in 2011.
Depending on how the Vols season goes, Derek Dooley could be coaching for his job by the time Kentucky comes to town.
In the end, Kentucky will succumb to 100,000-plus fans screaming "Rocky Top," and Tennessee will start a new win streak over Kentucky.
Prediction: Tennessee
Date: November 3
Time: TBA
These two teams last met in the 2000 Independence Bowl. The game is fondly remembered as the "Snow Bowl" due to a freak snow storm that caused a whiteout in Shreveport, Louisiana. Mississippi State won in an overtime thriller, 43-41.
Mississippi State has announced that they will wear an all-white uniform and have asked fans to wear white to the stadium in honor of the last time these two teams met.
The Aggies will travel to Starkville in the midst of a hellacious four-game stretch. A&M will play LSU at home, then travel to Auburn and have Alabama to look forward to the next week.
Dan Mullen's Bulldogs will show up, and Mississippi State will pull off the upset.
Prediction: Mississippi State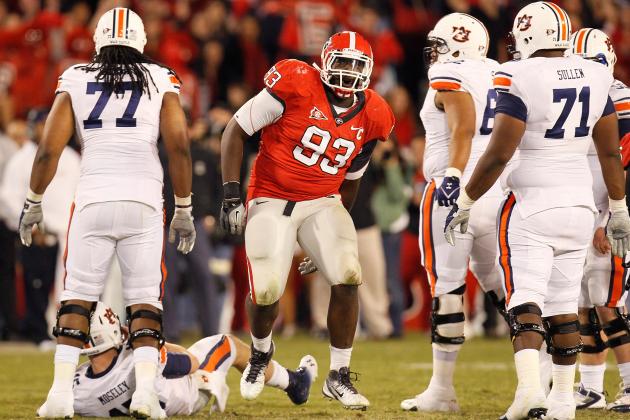 Kevin C. Cox/Getty Images

Date: November 10
Time: TBA
These two teams first met in 1892 in what is known as the "Deep South's Oldest Rivalry."
The Auburn-Georgia rivalry is one of the oldest in the country (it has been played 115 times) with Auburn holding a narrow 54-53-8 lead in the series.
Georgia dominated the game last season to the tune of a 45-7 victory. Auburn will again struggle to move the ball against a scary Georgia defense. Aaron Murray shouldn't have trouble moving the ball and scoring against Auburn's defense, and Georgia will tie the series at 54.
Prediction: Georgia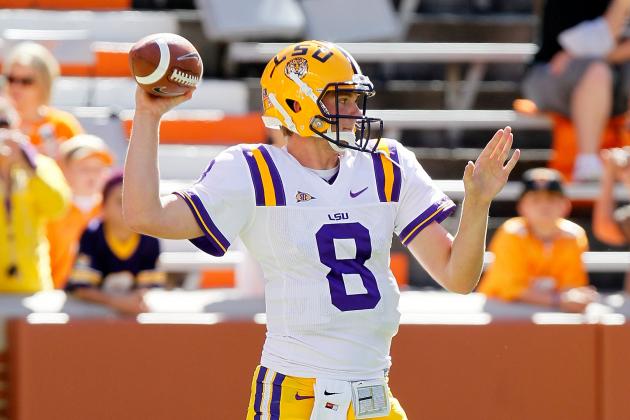 Kevin C. Cox/Getty Images

Date: September 6
Time: TBA
The Tiger bowl has been an evenly matched series, with LSU edging out Auburn 25-20-1.
LSU has just one question mark in 2012, and that is how well Zach Mettenberger will handle being the starting quarterback and leader of an offense. Mettenberger, a transfer from Georgia, will need to be productive this season if LSU wants another chance at a national title.
While it is yet to been seen if Mettenberger can lead the Tigers back to the promised land, he will be good enough to secure the win against Auburn.
Prediction: LSU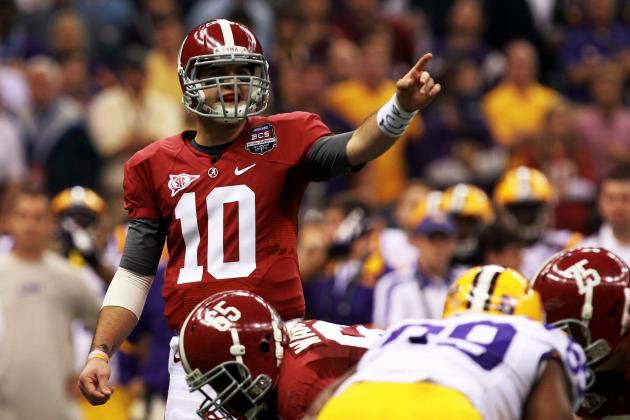 Ronald Martinez/Getty Images

Date: November 10
Time: TBA
Despite losing eight players to the NFL draft, including four first-rounders, Alabama appears to be reloading rather than rebuilding.
The Tide are serious contenders for both an SEC and national championship, and will be playing a Texas A&M team at the end of a tough four-game stretch.
Expect the Aggies to put up a good fight and keep it close for a while, but for Alabama to take the game over and win handily.
Prediction: Alabama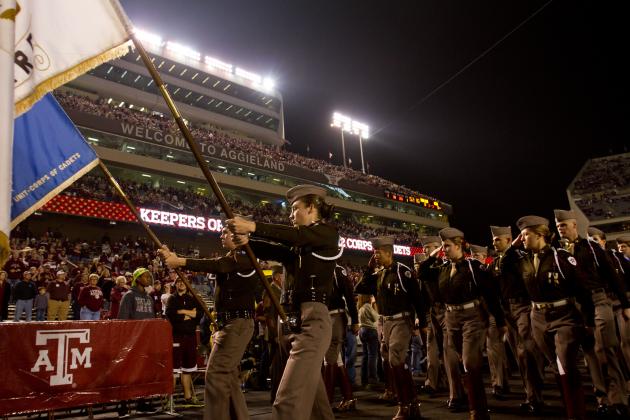 Darren Carroll/Getty Images

Date: September 8
Time: 3:30 p.m., ESPN
The Gators will be looking to give the Aggies a rude welcome into the SEC when they travel to College Station in Week 2.
Texas A&M is in a similar situation to the 2011 Florida Gators. A&M has a new coach, new offensive and defensive schemes and an unproven quarterback.
I have no doubt that A&M will be competitive in their first season as members of the SEC, but they will fall victim to all the offseason changes. Like the 2011 Gators, the Aggies will beat the schools they are supposed to and play the rest of their schedule close—with games against LSU and a trip to Tuscaloosa being the exceptions.
Florida pulls out a close one.
Prediction: Florida
Scott Cunningham/Getty Images

Date: September 8
Time: 7:45 p.m., ESPN 2
In the other "welcome to the SEC" game, Georgia travels to Columbia, Missouri, to take on the Tigers.
Georgia comes into the 2012 season with high expectations and a talented group of players. The Dawgs are the favorite to win the SEC East but could be without some key players on defense. Safety Bacarri Rambo, linebacker Alec Ogletree and cornerbacks Branden Smith and Sanders Commings will all miss one-to-four games this coming season.
Missouri will go as far as their quarterback, James Franklin, will take them. Franklin is a threat to run at all times but is also a very accurate passer. Franklin had offseason shoulder surgery, but he is expected to be healthy for the season opener.
Despite not having one or more of their starters available on defense, Georgia will be a rude house guest and give Mizzou their first loss in the SEC.
Prediction: Georgia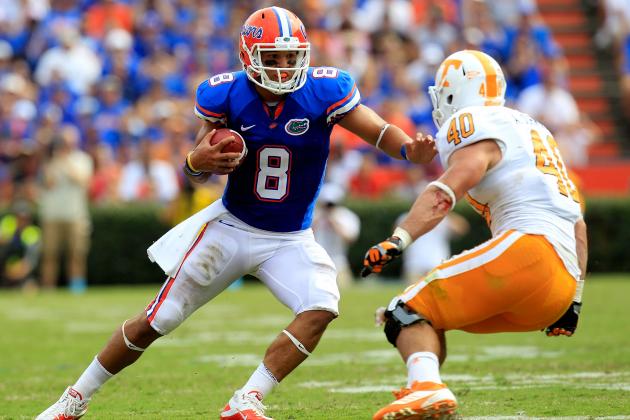 Sam Greenwood/Getty Images

Date: September 15
Time: 6 p.m., ESPN
After winning the first 10 matchups in the series, Tennessee has only managed nine more victories in 31 tries including a current seven-game losing streak to the Gators.
This game is a good barometer each year of where both teams are and how they will fare the rest of the season.
Tennessee kept the game close last season in spite of losing playmaking receiver Justin Hunter on their first offensive possession. Hunter, along with Da'Rick Rogers and newcomer Cordarrelle Patterson, form what could be one of the best wide receiver trios in the country.
Knoxville is no easy place to play and Florida will be coming off of a hard-fought ballgame against Texas A&M, but their defense and Brent Pease's new offense will do just enough to escape rocky top with their eighth consecutive win.
Prediction: Florida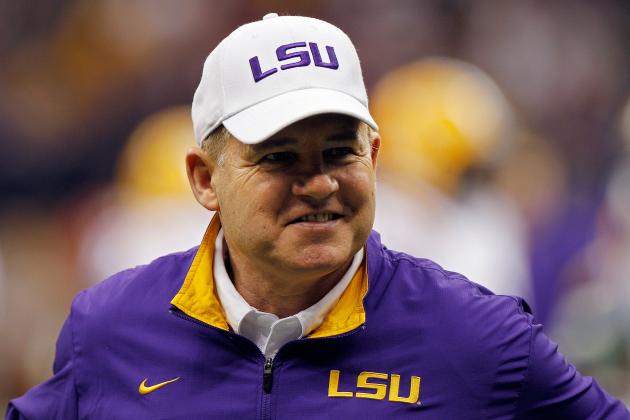 Chris Graythen/Getty Images

Date: October 20
Time: TBA
The Aggies have a few things going for them in their matchup against LSU. First, the game will be played at Kyle Field. Second, they have an open week before the game that will allow them some time to nurse injuries and an extra week to game plan for the Tigers. Last, the Aggies are sandwiched in between South Carolina and Alabama on LSU's schedule.
LSU undoubtedly has revenge on their mind after being blown out in the BCS National Championship Game and could be looking past A&M to their matchup against 'Bama.
In the end, even though it is a possible trap game, LSU is just too talented this season. The Aggies will give LSU a scare, but Les Miles will keep his team focused enough to come away with the win.
Prediction: LSU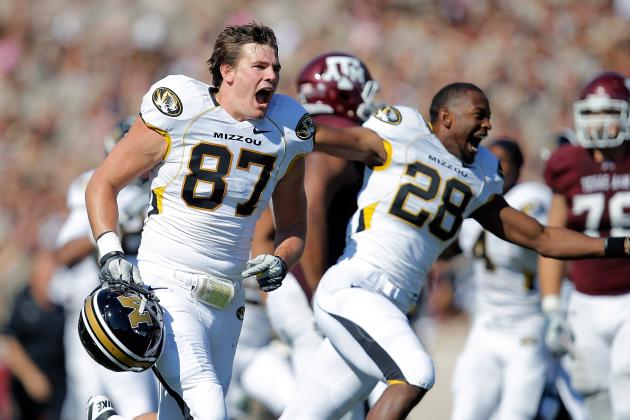 Sarah Glenn/Getty Images

Date: November 24
Time: TBA
After battling their way through an SEC season, the two newcomers will face off in College Station.
The 2011 matchup was an overtime thriller and the 2012 game will be the same.
You can almost take the home-field advantage that A&M would have and throw it out the window, as the Tigers won their last season and know what to expect from the rowdy 12th man.
James Franklin was the star of the game last season, throwing for 198 yards with two touchdowns and carrying the ball 20 times for another two scores. Franklin will again be the difference as the Tigers win their second straight game in College Station.
Prediction: Missouri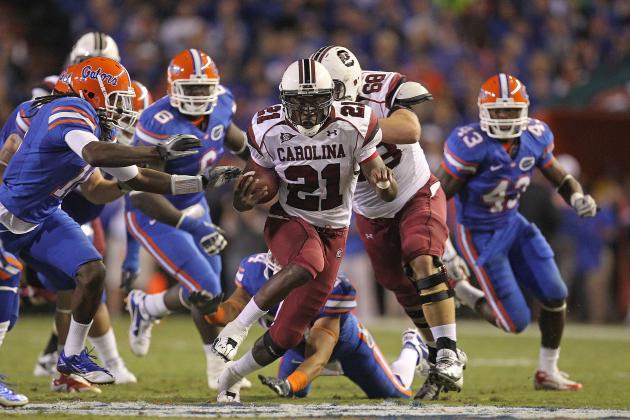 Mike Ehrmann/Getty Images

Date: October 10
Time: TBA
Much like he did in stops at Duke and Florida, Steve Spurrier has turned a struggling program into a championship contender.
It was Spurrier who gave the Gators stadium the nickname "The Swamp" and coined the phrase "In the Swamp Only Gators Get Out Alive." It was also Spurrier who took the Gamecocks into the Swamp in 2010 and beat the Gators in what was probably the biggest game between the two schools ever. The victory earned South Carolina their first ever SEC championship berth.
In that game, a freshman running back carried the ball 40 times for 212 yards. Marcus Lattimore is now a junior and a Heisman hopeful. Lattimore is coming off of a torn ACL in 2011 but should be healthy in plenty of time to try for a repeat performance in the Swamp.
The Gators defense will be much better this season than they were in 2010, but Lattimore will be too much for the Gators to handle.
Prediction: South Carolina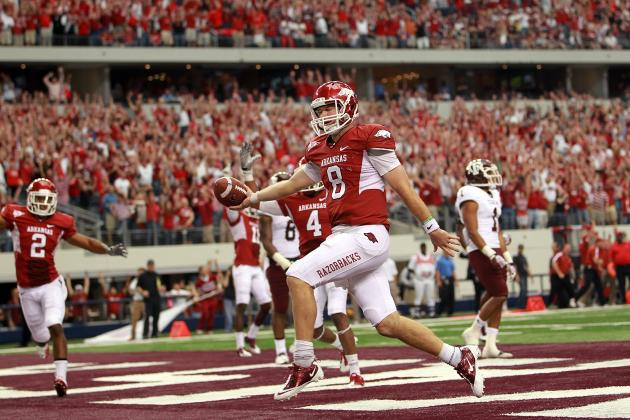 Ronald Martinez/Getty Images

Date: November 10
Time: TBA
Arkansas will come into Columbia with an offense that looks more like a traditional Steve Spurrier offense than what Spurrier runs with the Gamecocks.
Spurrier's offense became known as the "Fun 'N Gun" while he was coaching at Florida, and with a quarterback like Tyler Wilson, the Razorbacks will be putting up video game-like numbers this season. Additionally, the return of running back Knile Davis will give the Razorbacks a rushing threat that will force defenses to stay honest.
Arkansas is too balanced and too explosive for the Gamecocks and should be able to outscore South Carolina.
Prediction: Arkansas
Date: October 6
Time: TBA
In 2011, the Gators were forced to start Jacoby Brissett in Death Valley due to injury. Not only was it Brissett's first college start, but he took his first college snap in the same game. LSU dominated the game from the start en route to a 41-11 stomping of the Gators.
However, the last time these two teams played in Gainesville, it took some late-game trickery in order for LSU to escape with a win. With 35 seconds left, LSU lined up for a game-tying field goal, but holder Derek Helton flipped the ball over his head and placekicker Josh Jasper scooped it off a bounce and ran for a first down. Jarrett Lee threw a touchdown to seal the game.
The Gators will play LSU closer than they did a season ago, but the result will be the same as the past two seasons. Florida will keep this game close at home, but their offense is not developed enough to take down this LSU team.
Prediction: LSU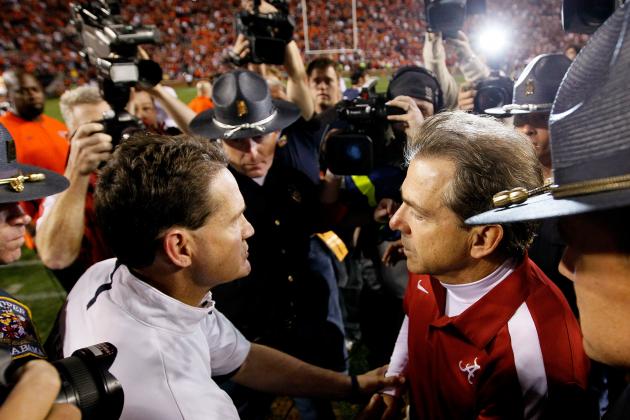 Kevin C. Cox/Getty Images

Date: November 24
Time: TBA
The Iron Bowl.
One of the most famous rivalries in the country.
There is no love lost between these two schools, players or fanbases. The rivalry has reached new heights as of late. Alabama fans feel that they gave the 2010 Iron Bowl away after they let a 24-7 halftime lead evaporate. Led by Cam Newton, Auburn would go on to win a national championship, and Harvey Updyke would go on to poison the trees at Toomer's Corner. Allegedly, anyway.
Alabama sought out their revenge last season, pummeling Auburn 42-14. If you ask me, Alabama and Nick Saban still have a sour taste in their mouths from 2010 and will continue to take it out on their in-state rival.
Prediction: Alabama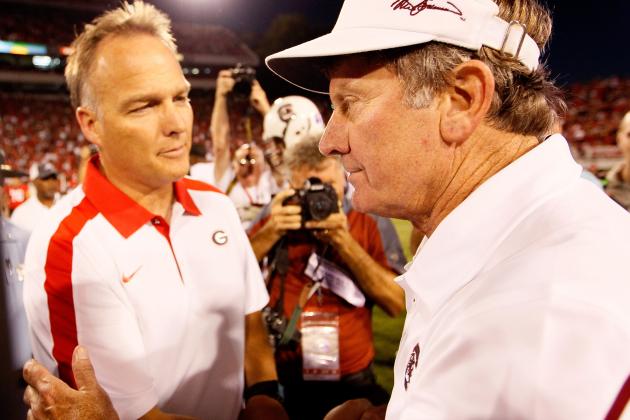 Kevin C. Cox/Getty Images

Date: October 6
Time: TBA
The winner of this game immediately becomes the front-runner to win the SEC East.
Last season South Carolina bested Georgia, 45-42. Lattimore ran the ball 27 times for 176 yards and a touchdown. South Carolina ran the ball 41 times and Georgia gave up a season-high 253 rushing yards. Aaron Murray did his best to keep the Bulldogs in the game, throwing for 248 yards and four scores.
Georgia should be back at full strength in time for the game, but the outcome will be the same as last season.
Prediction: South Carolina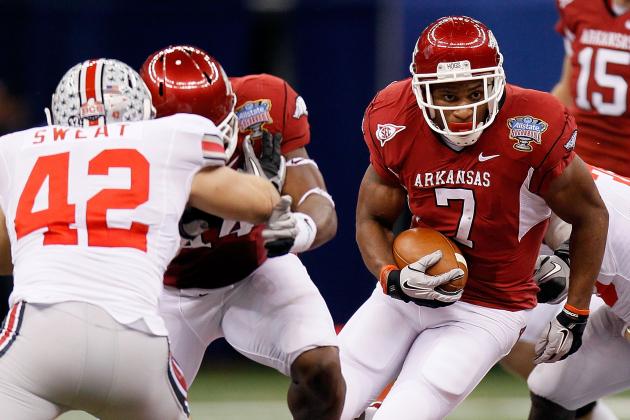 Kevin C. Cox/Getty Images

Date: September 15
Time: 3:30 p.m., CBS
In what is sure to be the game of the week, Arkansas will look to exact revenge on their 38-14 loss to the Crimson Tide last year.
In 2011, the Tide's defense was able to shut down the Arkansas running attack and force the Razorbacks to become one dimensional. It's hard to throw against a defense as good as the 2011 Tide defense was, especially when they know you have to throw.
Knile Davis will be the X-factor this year. Davis will be effective enough that it will open some holes in the defense, and Tyler Wilson will take advantage as the Razorbacks win a nail-biter at home.
Prediction: Arkansas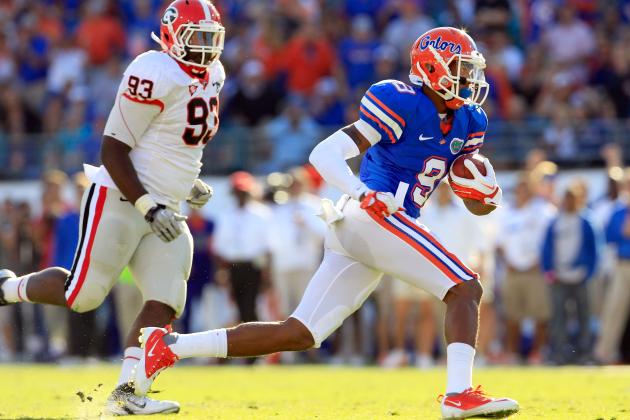 Sam Greenwood/Getty Images

Date: October 27
Time: 3:30 p.m., CBS
The Largest Outdoor Cocktail party has plenty of memorable moments. From "Run Lindsay Run" to the "Gator Stomp" to Tim Tebow breaking Herschel Walker's rushing TD record against Walker's alma mater.
The 2012 version will be another one for the ages.
Florida fans feel that they gave away the game last year with turnovers. Georgia fans say the Gators didn't give the game away, but that the Dawgs just took it.
Coming off of an ankle injury, John Brantley was basically immobile while playing quarterback. Florida ran almost exclusively out of the shotgun and couldn't manage any kind of running game. This year the Gators will be out for revenge and will look to stop prevent their first losing streak to Georgia since 1987-89.
Florida's new inside running game will be able to keep the Dawgs defense honest, and the Gators will pull off the upset win in an overtime thriller.
Prediction: Florida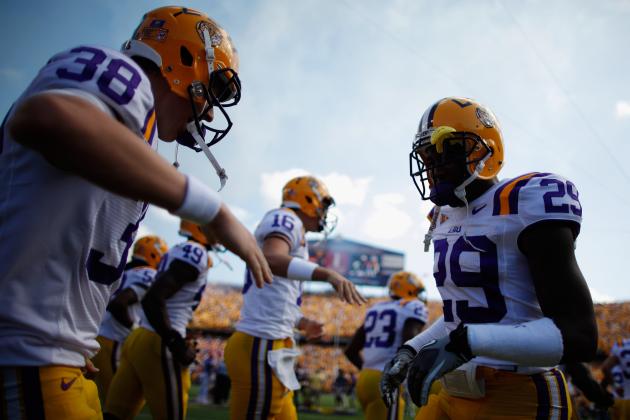 Chris Graythen/Getty Images

Date: October 13
Time: TBA.
Maybe Steve Spurrier is right to question the schedule makers. The Gamecocks will travel to Death Valley to take on LSU in between games against Georgia and Florida, respectively.
There is no rest for the weary in the SEC, and the Gamecocks will need to bring their A-game if they want to come out away from this game unscathed.
This is a game of strength versus strength. LSU had the fifth-ranked defense against the run last season, and Marcus Lattimore is a beast. Something's got to give. Unfortunately for South Carolina, they will not come away with the victory.
Prediction: LSU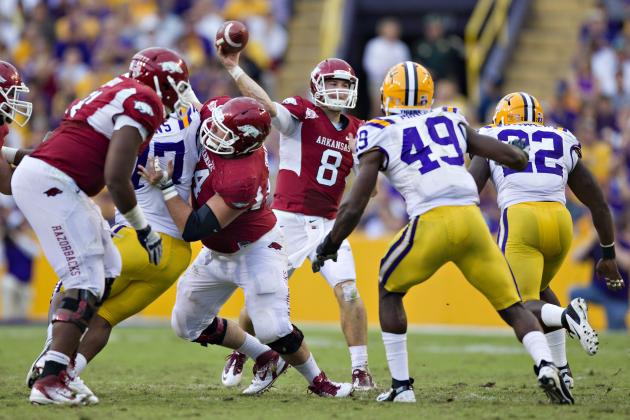 Wesley Hitt/Getty Images

Date: November 23
Time: 2:30 p.m., CBS
The Friday after Thanksgiving very well might decide who will represent the West in the SEC Championship.
Arkansas, LSU and Alabama are the cream of the crop in the SEC, and with Arkansas upsetting Alabama earlier in the year, they will be in the driver's seat in the SEC West.
Like in the Alabama game, Knile Davis will be the difference. Davis is a 6'0'', 226-pound running back who can pound the ball between the tackles but has the speed to score in a flash. The return of Davis will give the Razorbacks the best offense in the SEC, and Arkansas will get just enough offense to beat LSU.
Prediction: Arkansas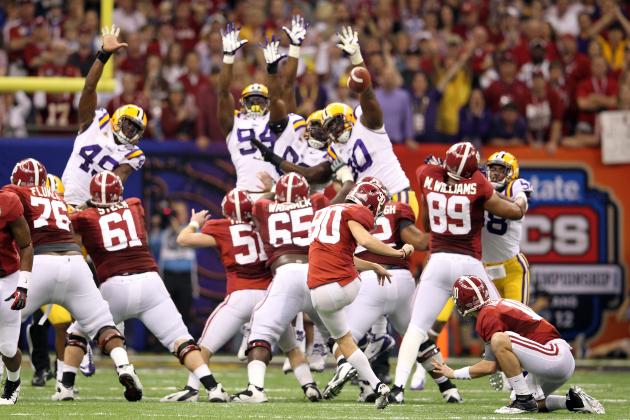 Andy Lyons/Getty Images

Date: November 3
Time: 8 p.m., CBS
Their first meeting was billed as "The Game of the Century," but unless you are a fan of defense, it left you begging for more. LSU won the game in overtime, 9-6. Alabama missed four field goals in the loss and left feeling as if they gave the game away.
The two teams met again in the BCS National Championship, and Alabama shut out the Tigers while not letting them cross midfield until the fourth quarter. LSU fans were left wondering why Les Miles stuck with Jordan Jefferson, as Jarrett Lee watched the offense from the sideline.
The 2012 matchup will again be a physical, hard-fought, defensive battle. The difference in the "Game of the Century III" will be Zach Mettenberger.
Mettenberger is a better passer than Lee and Jefferson combined, and he will be able to do just enough to win the game in Death Valley.
Plus, the Tigers don't lose on Saturday nights in Death Valley.
Prediction: LSU