5 New Jersey Devils Who Could Become Captain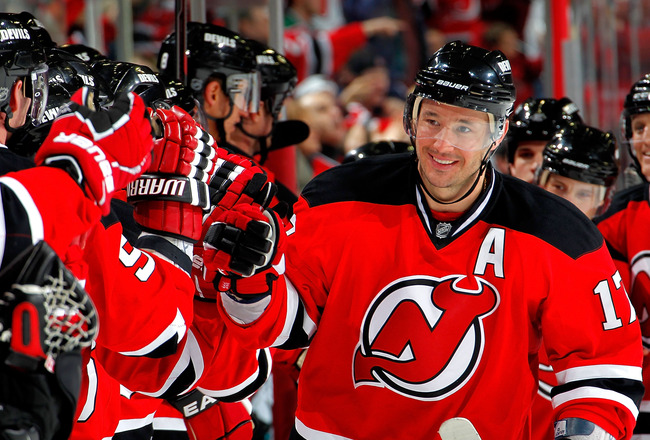 Paul Bereswill/Getty Images
With a desire to play in his hometown, former captain Zach Parise defected to Minnesota and left the Stanley Cup runner-up New Jersey Devils Captain-less for the 2013 season.
While New Jersey may have to find a player that can patch up the 60-plus points-per-season hole left in the Devils' offense, the Devils have plenty of leaders worthy of wearing a "C" on their chest.
The Devils shook things up a bit last season, giving a fairly young 27-year-old a high-pressure position as Captain during his last year under contract with New Jersey—a risky maneuver that was vital in bringing the team from Newark to the finals.
It could be wise for the Devils to shake things up with an unorthodox captain. It could also be wise to take the predictable route and give it to one of their strong veterans.
Here are five players, above and below the radar, who are deserving of leadership consideration in New Jersey.
5. Travis Zajac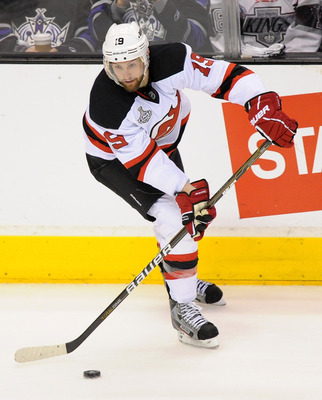 Noel Vasquez/Getty Images
In the 2004 NHL draft, the New Jersey Devils picked up Travis Zajac with their first round pick. Since then, Zajac has been a strong part of New Jersey's first and second lines.
During their impressive playoff run to the Stanley Cup Finals, Zajac put up strong postseason numbers (seven goals, seven assists, 14 PTS).
After playing only 15 games last season because of an Achilles tendon injury, Zajac is itching to play a full season in a Devils' sweater again.
With Parise gone, Zajac will have the opportunity to take on a larger role and return to the 60-plus point player he used to be.
Putting a "C" on his sweater could be the move to take Zajac's game to the next level. Instilling that much responsibility in Zajac could push him to play his best season yet.
4. Bryce Salvador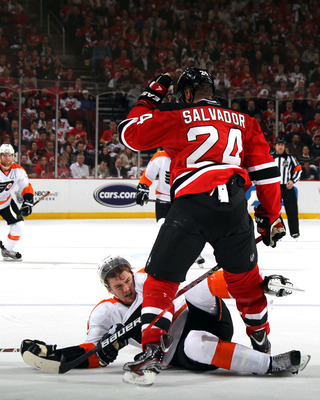 Bruce Bennett/Getty Images
After beating the Philadelphia Flyers in the quarterfinals, NHL Network's analyst E.J. Hradek said that New Jersey was bringing a "no-name defense" to the Eastern Conference Championship.
Devils defenseman Bryce Salvador expressed his resentment toward Hradek's remark when Hradek approached Salvador for an interview.
"Sal said to him,'I'm surprised you could remember my name, one of the no-name defensemen,'" said fellow defenseman Mark Fayne (via the Star Ledger). "We thought that was pretty funny because Sal is one of the only guys who is that quick-witted."
Salvador spun Hradek's criticism in a way that would unite and empower the New Jersey defense.
"We have a water bottle that we share among the 'D' and usually it has (Salvador's number) '24' on it because he started it," Fayne said (via the Star Ledger). "A couple games later it said, 'No-name defensemen.' "
Salvador may not be the top D-man in New Jersey with fellow defensemen like Anton Volchenkov on the team, but teammate Mark Fayne has shown that Salvador plays a huge role in molding the chemistry among the defense—a role that makes Salvador a viable option for Captain.
3. Patrik Elias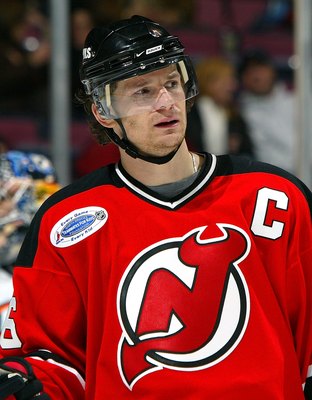 Jim McIsaac/Getty Images
Elias has been the Captain of the Devils before and he can do it again. He has spent his entire NHL career with the Devils, won two Stanley Cups with New Jersey and has put impressive numbers in the process.
As a 36-year-old, Elias managed to finish the 2012 season in the top-10 for point totals (26G, 52A, 78 PTS). Much like fellow goaltender Martin Brodeur, Elias is one of the few ageless players in the NHL who can be counted on to consistently perform.
The New Jersey Devils' all-time leader in points and goals is more than just an obvious choice for captain, he is entirely dedicated to acting in the best interest of the team—even if that means playing as an alternate captain instead.
Elias is a clear contender for the Captain's job, but he knows the potential power of the "C". If the Captain's responsibility could be better utilized to bring out the full potential of a player like Zajac or Salvador, Elias will gladly wear the "A" with pride—just as he did with Parise.
2. Ilya Kovalchuk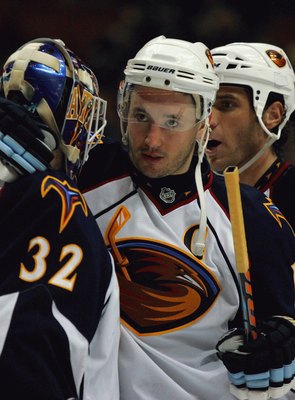 Victor Decolongon/Getty Images
Just as deserving of the "C" as Elias is Russian sniper Ilya Kovalchuk. His long-term commitment to the Devils, incredible skill and newly-acquired, two-way offensive play makes him an ideal candidate for the job.
In the 2012 season, Kovalchuk finished in the top five in the league with point totals (37G, 46A, 83 PTS).
Having previously captained the Atlanta Thrashers, Kovalchuk has already shown that he has what it takes to lead a team.
However, in his years with the Devils, he has undergone a transformation from the one-man-army, slap-shot superstar he used to be to the two-way team player he is now. Rather than just slapping one on net, Kovalchuk looks for the play and has much more poise with the puck than he did in Atlanta.
Kovalchuk's transformation shows that he is ready to take the reins in New Jersey.
1. Martin Brodeur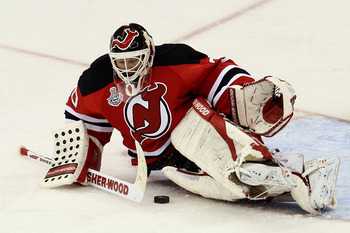 Jim McIsaac/Getty Images
Perhaps more heartbreaking to Devils fans than Parise's departure was the thought of losing Martin Brodeur after the franchise goalie had hired an agent for the first time during the 2012 free agency.
This possibility was daunting to New Jersey because Martin Brodeur is the heart and soul of the New Jersey Devils—he saw all three of the franchises' Stanley Cups, has broken countless goaltending records and is currently writing himself into NHL history as the best goalie to ever play the game.
Brodeur has just signed for two more years and will most likely end his career with the New Jersey Devils. Despite his 40 years of age, Brodeur brought the Devils to the Stanley Cup Finals, where he stood on his head, stomach and back in a valiant effort to bring the team two wins away from the cup.
Although NHL Rule 14D prohibits goaltenders from wearing the "C", the league cannot help it if the Devils choose to honor their goaltender as their Captain—even if he could not legally reap the perks of team captain, such as talking with the referee during a game.
In 2008, Roberto Luongo was named the Captain of the Vancover Canucks.
Brodeur might not be a typical choice for Captain, but Brodeur is not a typical goaltender. As outlandish as the idea might seem, Brodeur is an optimal choice as Captain of the New Jersey Devils.
Keep Reading

New Jersey Devils: Like this team?