Minnesota Twins: Don't Give Joe Mauer Too Much Credit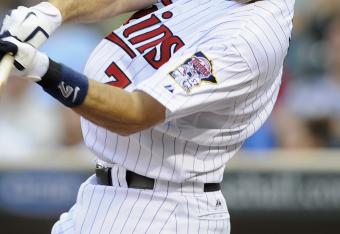 Joe Mauer is batting .333 and in contention for his fourth batting title.
Hannah Foslien/Getty Images
In Wednesday's edition of the StarTribune, Twins beat reporter Joe Christensen opened his story from Tuesday's 6-4 victory over the Baltimore Orioles with these four words: "Joe Mauer is back."
It's a nice sentiment, but I'm not buying it. That isn't to say Mauer isn't having a nice season. But he needs to do more.
Yes, Mauer was the Twins lone All-Star representative this season.
Yes, he is hitting .333 and is very much in contention to win the fourth batting title of his nine-year career.
Yes, his on-base percentage (.420) is the best in the American League, and he is strong defensively, whether he is at first base or behind the plate.
Yes, he has sat out only nine games this season (playing in 82 of 91 games) and is on pace to play in 145 games, which would be the second most of his career.
But the Minnesota Twins are paying Joe Mauer $23 million this season. That's tied for the third highest salary in all of baseball. Is a .300-plus batting average, good defense and a good eye at the plate all that $23 million buys you these days?
Mauer needs to drive the ball more consistently (whether it be homers or doubles) and drive in more runs.
Mauer's 28-home-run outburst of 2009 won't ever happen again. That outburst appears to be a fluke and came at the worst possible time for Mauer. He inked his big contract after that season and is now paid like someone who should hit for elite power, which isn't who he is anymore.
Are you satisfied with Joe Mauer's 2012 season?
Even if he's not hitting 25-plus home runs, is it too much to ask for Mauer to hit 15 home runs, 40-45 doubles and 85-100 RBI per year?
Those stats coupled with his stellar batting average, on-base percentage, defense and everyday contributions could warrant paying him $23 million.
In 82 games Mauer has hit a mere six home runs, 19 doubles (26th best in the American League) and driven in 44 runs with a .461 slugging percentage.
Those stats don't scream, "I MAKE $23 MILLION PER YEAR!"
This season he has averaged .53 RBI, .23 doubles and .07 home runs per game, which means he's on pace for 77 RBI, 33 doubles and between 10 and 11 home runs. That doesn't impress me much.
Yes, congratulations are in order for Joe Mauer.
He has proven he can hit .300 and be an everyday contributor again after a forgetful 2011 campaign. But it's time for him to start driving the ball again. It's time for him to surpass merely being the game's best singles hitter.
That's not what No. 3 hitters getting paid $23 million per year are supposed to do.
Call me a hater if you want, but I expect more before I declare "Joe Mauer is back."
This article is
What is the duplicate article?
Why is this article offensive?
Where is this article plagiarized from?
Why is this article poorly edited?

Minnesota Twins: Like this team?