Florida Football: Official Game-by-Game 2012 Season Preview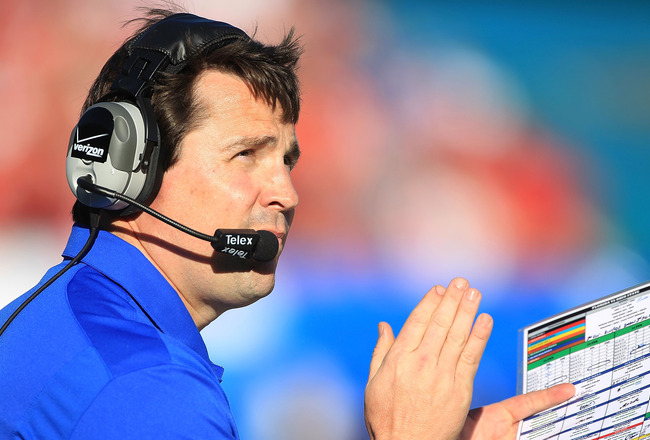 Scott Halleran/Getty Images
And so we come to the fall of 2012.
It's been a long, frustrating two years for Florida Gators fans. The simple mention of the name John Brantley triggers a shudder. Bring up Steve Addazio to a Gators fan, and regardless of your age and gender, you'll be lucky to walk away with both legs protruding from your waist and both arms attached to your shoulders. And if you dare to ask where the next Tim Tebow savior is, good luck living more than 24 hours.
But that was then, and this is now. And this is Bleacher Report, the best place on the web to find a slideshow presentation previewing each Florida football game, complete with scouting reports, opponent game plans, keys for the Gators and score predictions all in place.
So, let's get started!
Game 1: Bowling Green Falcons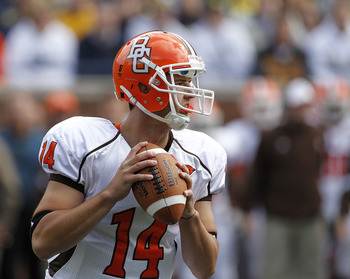 Can Matt Schilz pull off the upset?
Leon Halip/Getty Images
2011 Record: 5-7 (3-5 MAC)
Head Coach: Dave Clawson, (Fourth Season, 14-23)
Overall Series: First Meeting Ever
Last Season: N/A
Identity
This team is not the sub-.500 joke that its record from a year ago claims. Four of its seven losses came by an average of five points, and none of them were the fault of the offense.
Speaking of this offense, led by third-year starting QB Matt Schilz and his dizzying array of weapons, Bowling Green has a chance to give Florida some trouble and maybe even compete for the MAC title. But their defense will keep them from doing both in 2012, and it will also keep them from staying with the Gators.
On a less strategical and more interesting note, this is also the school with which Urban Meyer began his crazy, head coach hopscotch game around the nation.
Offensive Breakdown
This is the year it's all supposed to come together for the offense. Aside from Schilz, running back Anthon Samuel, receivers Shaun Joplin and Michigan transfer Je'Ron Stokes and tight end Alex Bayer, all provide the pieces for an explosive, balanced attack.
This gives offensive coordinator Warren Ruggiero the luxury of choice with his play-calling. Florida can't really predict what BGSU will run until it sees the formation, something that isn't true against Alabama, who loves to run the ball, or Georgia, who loves to throw it (of course, that doesn't mean Florida can always stop it).
The one knock against the Falcons is their weak offensive line. The question becomes, "Can the Falcons survive despite it?"
Key Offensive Player: QB Matt Schilz
Defensive Breakdown
Aside from Dwayne Jones and Chris Woods, this defense isn't even mediocre. It was simply awful last year, and it was downright horrendous against the run. That's not good when your opponent loves to pound it right up the gut, and you better believe that's exactly what Florida will do.
They love to load the box, so that means that every once in a while they'll get into the backfield and make a big play, but more often than not they won't, and that will mean a big play for Florida. The secondary isn't that bad, but it doesn't particularly impress either.
All in all, the Falcons sorely lack the all-around speed needed to keep up with the Gators, and it's going to cost them dearly more than once. Gators fans should expect to see both quarterbacks play plenty and play well.
Key Defensive Player: LB Dwayne Jones
Their Game Plan
Bowling Green are almost certainly going to try to kill a lot of clock and control the ball as much as they can, because whatever Florida's offense is like, BGSU's defense likely won't be able to stop it.
This means a lot of runs, some quick tosses and an occasional deep throw just to keep Florida honest.
But they need to be sly with the timing. Florida's secondary will be so sick and tired of hearing about the lack of turnovers that they would do anything to force one. Throw a 60-yard bomb on 3rd-and-7 against a hungry, streaking Matt Elam at your own risk.
Defensively, Bowling Green has to stop what it knows it can, which is Florida's deep game. The Falcons will probably get mauled in the trenches (on both sides, but particularly on defense), and there's nothing they can really do about it. So, they will probably play back and protect the deep strike since there's actually a chance they can stay with the Gators.
Good News
The last time Florida lost to a mid-major was in 1988 against Memphis State. Not a good piece of history for Bowling Green to fight against.
Bad News
If the Gators aren't careful, Schilz could hit a bomb or two and give them a scare.
Gators' Key
Keep everything in front; don't let Schilz toss the ball over the corner's head. Make the Falcons run as many plays as possible in order to score, because even though that tires out the Gators' defense after awhile, it also presents an inferior team with more opportunities to make mistakes.
Overall
It shouldn't be close. Bowling Green's offense could put together a few nice long drives and probably will, even against Florida's vaunted defense. But their defense is such a mess that it won't matter. What we'll see in this game is the complete opposite of what coach Will Muschamp's teams will be like in the future—the offense dominates and the defense doesn't lose it.
Bottom Line: Both QBs play plenty as the Gators cruise.
Projection: Florida 55, Bowling Green 20
Game 2: @Texas A&M Aggies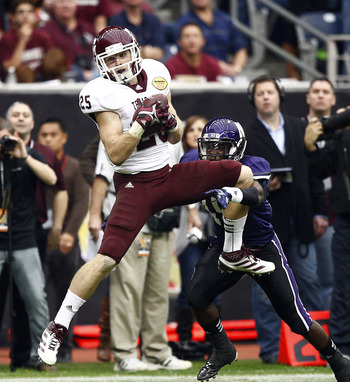 Senior pass catcher Ryan Swope
Bob Levey/Getty Images
2011 Record: 7-6 (4-5 Big 12)
Head Coach: Kevin Sumlin, First Year (0-0)
Overall Series: 1-1
Last Season: N/A
Identity
Texas A&M, the new guy on the block, moving into the SEC community from the Wild West, is hoping to knock out a traditional powerhouse to announce its arrival with a bang. This team has trap game and upset alert written all over.
Forget the fact that this will be the Aggies' first-ever game in the SEC. Forget the fact that this game will be played in their home, Kyle Field, which consistently makes the top-10 list for the rowdiest stadiums in the nation. This team is dangerous for other reasons.
Last year, the Aggies held big leads over final poll top-10 teams, Arkansas and Oklahoma State, only to lose two heartbreakers. They also silenced Heisman winner RG3 and blasted Baylor 55-28. Of their six losses, five came by seven points or fewer, and the sixth came by a 41-25 score to a solid Oklahoma team.
So, we know this team is talented. It does lose QB Ryan Tannehill, who was no doubt a major part of the Aggies' success, or at least of their untapped potential.
But Ryan Swope, his dependable receiver, is back along with tailback Christine Michael. If Michael is healthy and new starting QB Jameill Showers can quickly grip Kevin Sumlin's offensive philosophy, they'll put up points. The big question remains with the defense.
Offensive Breakdown
Texas A&M's new coach, Kevin Sumlin, is a smart man. He doesn't have a QB like Case Keenum or Landry Jones to work with, nor does he have a tailback like LaMichael James to rely on. So, what we're probably going to see from the Aggies is a very balanced attack.
However, this game is very early, and it usually takes a few games before a new QB gets acclimated to the offense with the same coach. Add a new coach and it may take even longer.
So, if Sumlin doesn't think Showers is ready to shine, expect Oklahoma transfer Brandon Williams and Michael to carry the ball a pretty good amount—even in seemingly obvious pass downs.
The one thing we do know is that the Aggies have a solid offensive line. Getting pressure on Showers will be difficult. Four of five starters return on an offensive line that was fourth in the nation in sacks allowed. Of course, word around the block is that the Big 12 doesn't play defense, so who really knows?
Key Offensive Player: QB Jameill Showers
Defensive Breakdown
Now we come to the part of this preview that should have Gators fans salivating.
For the second week in a row, the Gators get to test out Brent Pease's new offense against a horrendous defense—this one slightly better than Bowling Green's, but only slightly.
Maybe they held Robert Griffin III and Baylor to 28 points, but the fact that it's not only a bragging point for Texas A&M fans, but their biggest accomplishment on defense all season tells Gators fans all they need to know.
Mark Snyder came to town as Sumlin's defensive coordinator and brought the 4-3 scheme with him. He should have brought four tanks as his nose tackles. The Aggies simply don't have any massive guys to clog the middle and blow up plays.
Their outside pass rush isn't bad, and their linebackers, led by Sean Porter, are actually a strength. But their lack of monsters in the middle cripples any hope of shutting plays down up the middle against an SEC offense more than once or twice a game. Then again, this is Florida, and the offensive line last year was awful.
Overall, the Aggies do have a good pass rush. It's just that in order to make big plays, they will have to do it on the outside. Florida knows to block that, and this will dare Texas A&M to try to get to the QB up the middle.
Whether they can, and whether the Aggies' weak secondary gets burned for huge plays (sometimes they do and sometimes they don't, it's a 50/50), will determine the outcome of this game.
Key Defensive Player: LB Sean Porter
Their Game Plan
Even if Showers hasn't impressed Sumlin enough by this game to trust him in crunch time, he has too many weapons in the receiving game to work with to not air it out once in awhile. Look for receivers Swope, Uzoma Nwachukwu, Kenric Michael and Le'Kendrick Williams to each get their share of touches.
It's always hard to hide a bad defense, so this offense will be relied on to score often, and it has the weapons to do it.
But to ensure that their defense doesn't spend too much time on the field, this offense will probably play keep away from the Gators and put together long, methodical drives, sort of like what we saw against Tennessee in 2009, except that the Aggies will actually throw once in a while.
Defensively, the Aggies will probably try to blitz off the edge to get to the QB, and it might work out a little while until Brent Pease plugs the outside with more blockers, allowing Brissett/Driskel to throw with a peaceful mind (no pun intended). But if they get burned deep—and they very well might—they will probably drop back more, at which point Florida will slam it up the gut for solid yardage.
Good News
There's no sugar-coating this: The Aggies' defense is really bad. Florida's offense should have a field day.
Bad News
The Aggies will have all the intensity you could dream of, and if they start off well, it will be hard for the Gators to climb back into it.
Gators' Key
Survive the first quarter.
If the pressure of Kyle Field doesn't rattle the Gators after 15 minutes, it never will. Not when these Gators have played at LSU, South Carolina, Auburn and, in many players' cases, Alabama.
Overview
Gators fans, this cannot be stressed enough: This game has danger written all over it. Maybe too much for this team to handle. It comes down to psychology.
Sure, the Gators have more talent on paper, but it's in the Aggies' playground on the day of their reincarnation to college football as an SEC team. Kyle Field will be rocking, and if the Gators don't play their best possible game, they will be upset.
I believe Muschamp will have the guys ready though, having coached at Kyle Field before and knowing what it's like. The Aggies will put up the points, make a few big plays on defense and give the Gators the scare of their lives. But in the end, Caleb Sturgis will boot the Gators through in the last minute.
Projection: Florida 34, Texas A&M 31
Game 3: @Tennessee Volunteers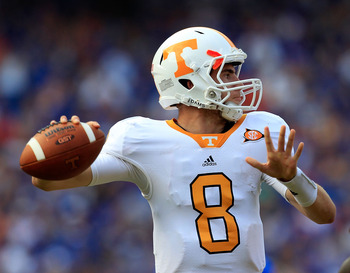 Tyler Bray, college football's most underrated QB
Sam Greenwood/Getty Images
2011 Record: 5-7 (1-7 SEC)
Head Coach: Derek Dooley, 3rd season (11-14)
Overall Series: FLA 22-19
Last Season: Florida 33, Tennessee 23; @ Gainesville
Identity
Tennessee has been the Gators' September rival for the last 20 years, and one that Florida has come to own over the better part of the last decade. It wasn't always that way, you know, back in the '20s and '30s, but boy have the Tennessee Vols had trouble with Florida since the Stone Age.
Let's reel off the facts: Peyton Manning was 0-4 against the Gators, Phil Fulmer was fired in part because he could never beat Florida when they were good (with the notable exception of 2001), and even that bumbling moron Ron Zook got the Vols once.
But most importantly, Florida has won the last seven in a row over the boys from ol' Rocky Flop down in the Tennessee hills.
Last year, Tennessee started out OK, but then their entire offense got injured. The level of play following the death of their firepower was pathetic, even by the exceptionally low standards Florida fans love holding them to.
They lost to Kentucky for the first time since Ronald Reagan was midway through his presidency and would have been winless in the SEC if not for a controversial (read: horrible) call that basically saved the game against Vanderbilt.
They should be better in 2012—much better, in fact, because of the return of what was pretty much their offense: QB Tyler Bray and receiver Justin Hunter. If both of them are healthy, the Vols could be dangerous.
Offensive Breakdown
It's very simple. If Bray and Hunter are both healthy, Bray will throw to Hunter often.
Tauren Poole is gone, meaning the Vols don't have an established runner to hand the ball off to. Marlin Lane will get some carries at running back but only as a change of pace and not in key situations. It's going to be a pass-heavy offense; we know that for sure.
There's just one problem. The offensive line situation in Knoxville was weak heading into Phil Fulmer's final season in 2008. It was still weak when Lane Kiffin took over in 2009. Enter Derek Dooley in 2010, and it was even worse.
The 2011 offensive line was better, but still not good enough to survive the warfare of the SEC. If this isn't the year the offensive line finally improves, the offense will become mute as we saw with Florida last year.
Assuming the O-line improves to the point where Tyler Bray has three seconds to throw, he has plenty of receivers to choose from aside from Hunter. Zack and Da'Rick Rogers, Mychal Rivera and Rajon Neal should all see plenty of touches. The bottom line: When this team needs yards, it's going to the air to find it.
Key Offensive Player: WR Justin Hunter
Defensive Breakdown
Have the Vols ever truly recovered from the loss of Eric Berry? They haven't been able to replace his production, but they do have safety Eric Gordon, who gave them their only win in 2011.
The Vols have the type of defense, especially in the secondary, that doesn't make huge plays but doesn't give up big plays either. Prentiss Waggner and A.J. Johnson seem to have a real nose for the football, so Florida needs to avoid them on offense at all costs.
But the good news for Florida is that the two of them, plus Gordon, are the only guys with real speed on defense. This defense is very short on firepower.
Can the Vols generate a pass rush?
That's the big question. With Malik Jackson gone, new defensive coordinator Sal Sunseri has installed a 3-4 scheme. This frees up Maurice Couch and Jacquez Smith to wreak havoc in the box if UF's offensive line doesn't really step it up. This could very well determine the outcome of the game.
Key Defensive Player: LB AJ Johnson
Their Game Plan
In short: Do whatever possible to get the ball to their speedy receivers, particularly Hunter while also limiting Florida's number of possessions.
I'm afraid the Vols will be able to score at will against most teams in the nation, Florida included, if everybody on their offense stays healthy and their offensive line does OK.
That said, once again, Florida is facing an opponent with a defense that isn't good enough for the head coach to trust. It's a very young defense, so you can bet that Derek Dooley will try to keep them out of the spotlight in crunch time as much as he can.
The Vols will play a very strange type of game: play to win in the first half, but play the clock for the last possession in the second half while staying in the game.
The matchup to watch here is Florida's Marcus Roberson vs. Hunter.
Roberson is a fast, aggressive corner that may be able to at least slow Hunter down. Tennessee will want no part of this matchup and will do whatever they can to free him—or one of their other receivers—up to make a big play. The outcome of the game depends on how successfully they can do this.
Good News
Florida has owned the Volunteers recently, and with each passing year, the monkey on the backs of the Vols get heavier and heavier. This is, after all, a legitimate SEC rivalry.
Bad News
Hunter could go deep on the Gators. Also, this is a huge game for Derek Dooley's job security, so prepare to see every trick in the book.
Gators' Key
Harass Bray as much as possible. I'll give up one big play if it means getting into Bray's head and forcing some bad decisions.
Overview
This is the second game in a row that reads "TRAP" in uppercase, bold, italics and underline. An SEC road game is never easy, unless it's Vanderbilt. Although this year, even that might not be easy. But we'll get there later.
The Gators need to get out of September unblemished if they even want to dream of an SEC championship, let alone a national championship, and that means they have to win in Knoxville.
You bet the Vols will be anxious to end the seven-year losing streak, and they'll give Florida a fight. But in the end, sheer talent volume wins. The Gators' defense is too good to get repeatedly burned, and the offense will do just enough to get out of Neyland in a game with plenty of field goals, their eighth win in a row over Tennessee and their second heart-stopper in a row.
Projection: Florida 33, Tennessee 27
Game 4: Kentucky Wildcats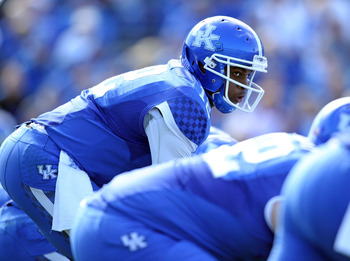 Can Morgan Newton have any success in 2012?
Andy Lyons/Getty Images
2011 Record: 5-7 (2-6 SEC)
Head Coach: Joker Phillips, 3rd season (11-14)
Overall Series: FLA 44-17
Last Season: Florida 48, Kentucky 10 @Lexington
Identity
All you need to know about the Kentucky Wildcats is that the last time they beat Florida, Will Muschamp was in middle school. The Gators have won 25 straight over the Cats, and no matter how bad Florida is or how good Kentucky is, the Gators beat Kentucky every year.
Recently, however, it's been even worse than usual. The combined score from the past four meetings: Florida 200, Kentucky 36. That's an unbelievable average score of 50-9. Seriously, imagine getting beat four straight times 50-9. You don't believe those numbers? Add them up yourself and tell me what you get: 63-5, 41-7, 48-14 and 48-10.
Joker Phillips enters his third year at the helm, but unfortunately for him, the last of his Rich Brooks inheritance that's of any value is gone. The ghosts of Kentucky football are endless: Randall Cobb, Mike Hartline, Derrick Locke, and now two more join them: Danny Trevathan and Winston Guy. Last year, they didn't have an offense, and now, they won't have a defense. This could get ugly.
Offensive Breakdown
Morgan Newton enters the season as the favorite to start, but he has two main problems. His first name isn't Cam and he doesn't have any help. That's a bad combination when you're facing Florida's defense. But it's not exactly news to hear that UK's offense will be nonexistent when you see that they finished ahead of only FAU and Kent State in yards per game. Yes, out of every FBS team in America.
Maxwell Smith is the other possibility to start at QB. But whoever does start will have to deal with an inexperienced O-line. Kentucky returns just two of five linemen. Zack West graduates from his redshirt season and should see action up front immediately.
The good news for Kentucky's offense is that every scholarship running back returns, including their best overall playmaker, Josh Clemons, along with all but one scholarship receiver, including La'Rod King.
The bad news is that... well, they return most of the offense that finished ahead of only FAU and Kent State in yards per game. Yes, out of every FBS team in America. Maybe Joker can rebuild in 2013, but we're talking about 2012, and unless Clemons has a huge day, the offense will struggle.
Key Offensive Player: Josh Clemons
Defensive Breakdown
The Kentucky WIldcats' defense wasn't merely beaten last year. This defense was torched, gassed, dumped on their heads, kicked in the collective groin and then thrown out of the park in disgrace.
It gets worse—the only two valuable players on this defense are gone. Linebacker Danny Trevathan and ball-hawking safety Winston Guy, along with three other starters, are gone.
Simply put: This defense is a mess, and both Jacoby Brissett and Jeff Driskel should be able to have a stats competition.
Key Defensive Player: DT Mister Cobble
Their Game Plan
What choice does this team have except to pin the game on their defense? It isn't like their offense can win a shootout. This offense may break a big play or two, but other than Josh Clemons, this offense doesn't appear to be capable of producing a spark.
It's very hard to predict what a team will do when it is so hopelessly overmatched, because it can do any number of things. The problem is, the Cats probably won't do anything well enough to give the Gators problems in the Swamp. But I will predict a slow, clock-killing offense just trying to stay in the game—again, sort of like what we saw against Tennessee in 2009.
Then again, be aware for Kentucky to pull out all the stops, since they know as well as we do that this is not a game they are supposed to win.
Good News
No matter which team appears better, Florida always wins this matchup. Kentucky gets its revenge in basketball, but Gators fans can deal with that later.
Bad News
Well... it's a football game and somebody has to lose, meaning that, theoretically, there is a mathematical chance that Florida could lose.
Gators' Key
This is pretty boilerplate for every game, but don't do anything stupid. If the Gators just play their game, Kentucky won't have a prayer.
Overview
After what could very well turn out to be two weeks of frustration and scary moments, the Gators should get to enjoy an afternoon on cruise control. Frankly, the Cats do not have the speed or athleticism to match up with the Gators at any position. The only way Florida can possibly lose this game is the Ole Miss way: turnovers and a collective lack of effort.
Want a prediction? Sure. Bet on the more talented team on their home turf. I'll be asleep at halftime. Wake me up when it's over so I can see if Joker Phillips throws anything in frustration after Kentucky's 26th loss in a row to Florida.
Projection: Florida 59, Kentucky 17
Game 5: Louisiana State Tigers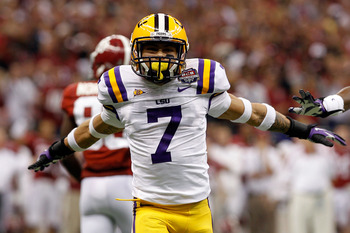 The Honey Badger takes what he wants
Chris Graythen/Getty Images
2011 Record: 13-1 (8-0 SEC)
Head Coach: Les Miles, 8th season (75-18)
Overall Series: FLA 30-25
Last Season: LSU 41, Florida 11 @Baton Rouge
Identity
The LSU Tigers are the Gators' permanent cross-division rival of choice and home of the fanbase whose molestation of Tim Tebow's phone number was rivaled by only that of their encore two years later of John Brantley's number.
Football related, this is the team that has beaten the Gators the most over the past 10 years (6). Only Alabama (5) and FSU (4) are even close. LSU somehow has the Gators' number, although this rivalry is funny that way: Upsets are quite frequent occasions. Specifically, the 1997 and 2003 games turned the college football world upside down, although LSU eventually rebounded from the loss to Florida to win the BCS title in 2003.
Here and now, LSU appears to be far superior, but beware, this game's in the Swamp, the place where no visiting team in its right mind can assume a victory. Then again, the incredible luck that follows Les Miles around like a rash cancels out UF's home field advantage. Remember 2010?
Offensive Breakdown
Finally, a true QB for LSU. Zach Mettenberger, former Georgia Bulldog and felon (come on, are we really surprised by that?) can really sling it. He has plenty of help, too. Star receiver Rueben Randle is gone, but Russell Shepard and Odell Beckam should fill his void nicely.
It all falls on Mettenberger, though, to get better results, because LSU had these same pieces plus Randle last year and the passing game struggled. It should be much better if Mettenberger is half as good as he's looked in practice.
The running game was a strength last year, and it should only get better with all their top runners returning. Spencer Ware, Alfred Blue, Kenny Hilliard and Michael Ford are all back to anchor the deepest stable of running backs in the nation. Add an experienced offensive line, and what you're looking at is a high powered, balanced offense that could blow the Gators out if the defense isn't ready.
Key Offensive Player: QB Zach Mettenberger
Defensive Breakdown:
LSU returns only five starters from the 2011 team, but those five are some of college football's best, including defensive end Sam Montgomery, safety Eric Reed and the Honey Badger himself, Tyrann Mathieu.
The other seven positions will be filled with solid players, don't worry. LSU doesn't rebuild on defense, it simply reloads.
Some of the incredibly talented players who will be seeing their roles increase include defensive backs Tharold Simon and Craig Loston, defensive linemen Barkevious Mingo and Anthony Johnson and linebacker Kevin Minter. Johnson, in particular, was highly recruited and will be counted on to anchor the defensive push into the Gators backfield. How well he does against the Gators offensive line could be a huge factor in the outcome of the game.
As a unit, this is a nasty, ball-hawking and opportunistic defense that may give up a big play or two every game but will shut down even the best offense for the other 75-80 plays in the game.
The key to beating this defense is to make one huge play on offense, one long touchdown drive and another drive for at least a field goal. That's 17 points, and then add a touchdown set up by the defense or special teams. If 24 points isn't enough to win, then it's the defense's fault.
Key Defensive Player: CB Tyrann Mathieu
Their Game Plan
Like Kentucky, play defense and punt. Unlike Kentucky, this isn't because they don't have any other options, it's because their defense is nasty and Les Miles trusts them to make a big play on every series. Their front seven will try to crash the line of scrimmage as much as they can, and their defensive backs will fearlessly go after every ball for the pick. This defense will take lots of chances as a unit, and whether they pay off could decide the game.
Offensively, the Tigers will show lots of different looks, but the look they will use the most is the ground and pound. They do indeed have a legitimate QB, but who needs passing yards when you can gas a defense with nine-minute touchdowns all on the ground? The Tigers will throw to keep the Gators honest, but the important yards will still come on the ground.
Good News
Well, it is in the Swamp, where crazy things have happened. SEC road games are no picnic, and this seems as likely an upset candidate as any for the defending SEC champs.
Bad News
LSU has a solid all-around team with no weakness that Florida could exploit when it needs to.
Gators' Key
Play like there's nothing to lose, particularly on offense. Brent Pease, the ball is in your court to come up with something wacky.
Overview
The only reason the Gators even have a chance in this game is because it's in the Swamp. This is, after all, a better version of the 2011 team. The Tigers will have likely fine tuned some of the early game kinks in time for their trip to the Swamp, and be ready for a battle. Will Muschamp will have his boys ready for the game as well, however, so don't bet on LSU quite so heavily.
This is a tough one to call. Sure, LSU is talented, but it's young. Sure, Florida's defense wasn't as good as LSU's last year, but this year they're veterans. Sure, it's in the Swamp, but never count out the streak of luck of Les Miles.
At the end of the day, Florida will go down. But not before we get a taste of what's to come in the future of Will Muschamp's tenure—in the form of a defiant middle finger directed at Gatorhaters that says, "We're on our way!"
Projection: LSU 26, Florida 14
Game 6: @Vanderbilt Commodores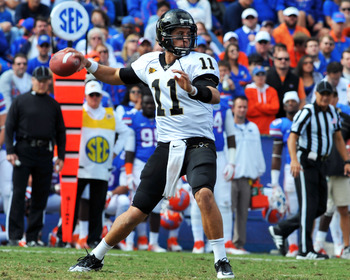 Make no mistake: leave Rodgers alone, and he will pick you apart
Al Messerschmidt/Getty Images
2011 Record: 6-7 (2-6 SEC)
Head Coach: James Franklin (6-7)
Overall Series: FLA 34-9
Last Season: Florida 26, Vanderbilt 21
Identity
The Vanderbilt Commodores, former SEC doormat, get the Gators at a nice time—just after a tough game against LSU and just before grudge wars with South Carolina and Georgia. This is a team that Florida has beaten 21 times in a row, but appears to be roaring from the depths of the SEC to at least the ground level.
Fiery coach James Franklin leads a scrappy but modestly talented group of intelligent young men onto the battlefield for his second year. Perhaps no Vanderbilt football season has been as hyped as this one. The Dores came from 2-10 to 6-6 and nearly beating Arkansas, Florida, South Carolina and Georgia. And although the scoreboard won't show it, they beat Tennessee.
But sometimes, new head coaches thrive for a year with the previous coach's players—and then flops. Just look at Houston Nutt. I tend to think that this won't happen to Franklin, though. He's too intense to let his team slip so far.
He'll have his guys ready to compete for an SEC East championship in 2013. Which is not this year. But, don't be surprised if they pull off an upset or two... including one against the Gators.
Offensive Breakdown
The Commodores' offense received a spark last year when Jordan Rodgers stepped in and took control of the reins. The 'Dores will try to take another step in the right direction in 2012 with Rodgers throwing a lot of balls in the direction of wideouts Chris Boyd and Jordan Matthews. Rodgers, the younger brother of Green Bay Packers QB Aaron, is a smart player and a good decision maker with a big arm. If the Gators don't get to him, he could light them up.
The strong passing game will be balanced with a solid ground attack. Zac Stacy and Warren Norman return to anchor the rushing game, and both have had some impressive numbers against the Gators in past games. They will be needed to take some of the load off Rodgers, and how well they do could go a long way in determining the outcome of this game.
Key Offensive Player: QB Jordan Matthews
Defensive Breakdown
The Dores lost star corner Casey Heyward and ball-hawking safety Sean Richardson, but they still return enough playmakers in the secondary to make Brent Pease think twice before airing it out. Andre Hal and Trey Wilson are by far two of the most underrated cornerbacks in the SEC and maybe the nation, and together, they could shut down Florida's aerial attack.
But that's about where the positives end for Vandy's defense. A popular question among Vandy fans is whether the Dores will ever fully recover from the loss of star linebacker Chris Marve. Archibald Barnes led this team in tackles last year, but after him, the front seven is extremely thin.
Maybe the Dores will turn to defensive tackle Rob Lohr for some big plays behind the line. Vandy needs to produce a big play every now and then, or its secondary will become exhausted, and that allows Florida to go deep and burn them. Unless somebody steps up and becomes a star, the pass rush and run defense will struggle.
Key Defensive Player: CB Andre Hal
Their Game Plan
Much like what we saw with the Green Bay Packers, this Vanderbilt team has a good (I wouldn't quite call it unstoppable, like Green Bay's) offense and a defense that will give up yardage but force a turnover here or there. And just what we saw with the Packers, that could backfire against a good team.
But that's what Vanderbilt will do. They will rely heavily on their offense to put up the points and will take a turnover when they can get one. Rodgers will put it up as much as he feels like, and then to keep the Gators honest, Stacy and Norman will get their share of carries.
Good News
Just ask a Vanderbilt fan what a "Vandy play" is. The Dores are bound to make plenty of them on defense.
Bad News
Rodgers could hit some deep balls. Also, Florida needs to be careful how they blitz him, because he is slippery in space for a QB.
Gators' Key
Contain Rodgers and don't let him run. Force Norman and Stacy to earn the tough yards on the ground.
Overview
This is the third SEC road game on the Gators' schedule, and it's the third game with "TRAP" written all over it. Then again, this is still Vandy, a team Florida has beaten 21 straight times, many of them by large margins, no matter who was playing QB. Not even Jay Cutler could beat the Gators, although he did take them to the wire in 2005.
That's exactly what I suspect will happen here. Rodgers will give the Gators a game, but in the end, the high powered athletic program trumps the small academic school once again.
Projection: Florida 41, Vanderbilt 28
Game 7: South Carolina Gamecocks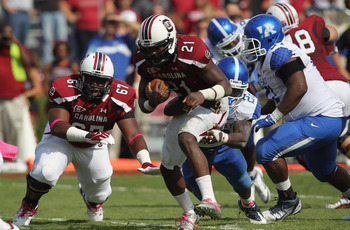 There's no denying what a healthy Marcus Lattimore can do
Streeter Lecka/Getty Images
2011 Record: 11-2 (6-2 SEC)
Head Coach: Steve Spurrier, 8th season (55-35)
Overall Series: FLA 23-6
Last Season: South Carolina 17, Florida 12 @Columbia
Identity
The South Carolina Gamecocks is a team from Columbia that currently employs Gainesville's favorite son and has historically been Florida's whipping boy at the end of a grueling SEC schedule. The 56-6 thrashing of the Gamecocks in 2008 seems to epitomize this once irregular, now annual series since its beginning in 1911.
Recently, however, it's been South Carolina who has the upper hand in this rivalry. The Gamecocks have won two straight against Florida and a third could suggest garnet and black dominance in this series. They certainly have the right coach to turn around a rivalry. Steve Spurrier knows very well what it's like to win in the Swamp, and now that he's got some experience doing it as a rival, he eyes his third straight season beating Georgia, Tennessee and Florida.
He's also got the horses to do it. Receiver Alshon Jeffrey may be gone, but as long as Marcus Lattimore is healthy, the Gamecocks should be all right. They also have a great defense, which is what they turned to last year to pull out the close ones.
Offensive Breakdown
Marcus Lattimore, folks. That is all. The junior tailback returns to carry most of the load for this offense. It's very simple: If he is healthy, he is a terror. He has great agility and breaks far too many tackles for defensive coaches to like, as Urban Meyer and Teryl Austin can attest to after he burned the Gators in 2010 for a career total in yardage.
Of course, the Gamecocks have to have a backup for Lattimore in order to keep him fresh, and they do. Brandon Wilds played very well after Lattimore got injured last year, and he may see more playing time as a result of that. The key is the offensive line. South Carolina returns just two of the five starters from a year ago.
Connor Shaw begins his first full year as the starter, and while he no longer has Jeffrey to throw to, he does have Ace Sanders, who isn't quite as big as Jeffrey but has a little more speed. The guy that needs to step up is Bruce Ellington. Can he become a big enough threat to free up Sanders?
Key Offensive Player: RB Marcus Lattimore
Defensive Breakdown
Lineman Devin Taylor highlights the returning stars and the pass rush. He'll have plenty of help from Jadeveon Clowney, who is expected to wreak havoc on the other side of the line. Together, the two could really abuse Florida's O-line and shut down any passing game Brent Pease may have dreamed up.
The linebacker group appears to be just as steady. Seniors Shaq Roland and Reginald Bowen are very steady tacklers who aren't afraid to stick their fist in and try to force a fumble. With DaMario Jeffrey moving to the Spur position, the Gamecocks have an all around fast and fearsome linebacker corps.
The secondary appears to be strong as well. Seniors DeVonte Holloman and DJ Swearinger return for their third straight year patrolling the deep ball together. The Gamecocks will have to replace both corners from last year, but aside from Victor Hampton, nobody has really stood out.
Key Defensive Player: DE Jadeveon Clowney
Their Game Plan
The Gamecocks have made no secret of it; they love their Heisman candidate running back and plan to use him as much as possible. Who wouldn't? Expect to see every type of run there is: draws, counters, sweeps with lead blockers and some smash mouth football. Lattimore can break any one of those for a huge gain.
It seems very un-Spurrier like, but South Carolina has become a ground and pound team. With Lattimore and stifling defense, Spurrier has no problem running Lattimore 25 times per game. Of course, we will probably see some deep throws from Shaw because Spurrier simply can't resist, but on the big plays, you can expect to see Lattimore.
On the other side of the ball, South Carolina will probably try to match up man to man with the Gators' speedy receivers because they have speed back there as well. They will play two or three safeties and dare the Gators to try to beat them in the trenches unless the power running game improves beyond imagination.
Good News
South Carolina no longer has that dominant receiver to torment the Gators all day long, like it did with Jeffrey.
Bad News
They do, however, still have monster running back Marcus Lattimore.
Gators' Key
Do everything possible to stop Lattimore and double cover Ace Sanders; make somebody else produce a big play.
Overview
I just can't imagine the Gators going into the Georgia game with just one loss, and South Carolina and LSU appear to be the two best teams on their schedule up until then. But this game means so much more than one tally in the win/loss record.
Here comes the true test of the Swamp, where we find out if the Swamp is just another stadium with a so-so team or if it's one of the most feared places to play for opponents the way it used to be for the better part of the past 20 years. It's one thing to lose to LSU, who will probably be top five in the nation, losing to a Carolina team at Florida's level is quite another.
My feeling is that Florida's not quite there yet. The Gators will get there, and soon, but right now, Florida is not at the level where the Swamp carries the aura of invincibility it did under Spurrier. Here's betting Spurrier gets them again with his defense and running game, proving that Florida is still a season away from where Will Muschamp wants them.
Projection: South Carolina 30, Florida 20
Game 8: Georgia Bulldogs (Jacksonville)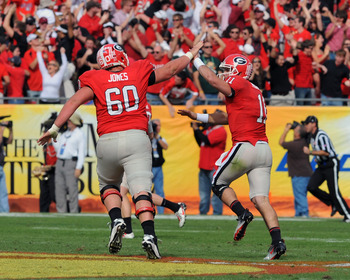 Aaron Murray looks for some more good times against Florida
Al Messerschmidt/Getty Images
2011 Record: 10-4 (7-1 SEC)
Head Coach: Mark Richt, 12th season (106-38)
Overall Series: UGA 47-40
Last Season: Georgia 24, Florida 20 @Jacksonville
Identity
The Georgia Bulldogs are the most bitter rival of the Florida Gators within the SEC. They've been the Gators' whipping boy for the past two decades, but in this rivalry, everything goes in 20-year swings.
Just take a look at the all-time scoreboard. After 50 years of UGA dominance to begin the series, the runs have gone as follows: 13-5-1 Florida, 15-5 Georgia and 18-3 Florida. The Gators had won 18 out of the past 21 before last year's contest, which suggests that it may be Georgia's turn to dominate for the next 20 years or so.
The Bulldogs certainly have the talent to continue the trend. Aaron Murray returns for a third year starting at QB. The problems start when you try to figure out who will help him out. With Isaiah Crowell and Orson Charles gone, the offense is a question mark. The defense will be frightening, especially if all the starters are healthy and not suspended.
Offensive Breakdown
The Bulldogs will miss Isaiah Crowell dearly, and while they've got names to replace him, it doesn't mean they will get any production out of those names. Let's tick them off: Kent Malcolm, freshman Keith Marshall, Carlton Thomas and fifth-year senior Richard Samuel. UGA is in the exact same spot it was in last year with its running backs: There's one veteran, and the rest of them are very young.
Malcolm Mitchell figures to be Murray's go-to guy this year in the passing game, and Tavarres King will help him. Expect Marlon Brown and Michael Bennett to also make big contributions through the air. The passing game will guide Georgia through its embarrassingly easy SEC schedule.
Like Florida, Georgia has major offensive line questions. Unlike Florida, its line isn't soft; it's just new. The Bulldogs return just two starters of the five offensive line positions. The entire fate of the offense hinges on how well the line blocks, as Florida fans can attest to.
Key Offensive Player: RB Keith Marshall
Defensive Breakdown
Georgia returns nine starters from the best defense in the nation not employed by Alabama or LSU. That's a frightening sentence, and it's even more frightening when you realize that this game will be played after the suspensions of half the starters wear off.
Jarvis Jones heads a fearsome front seven that will pressure Brissett or Driskel all day. Michael Gilliard and Alec Ogletree will press up the middle to try to shut down the run. The A-gap should be wide open thanks to monster nose man John Jenkins. To sum it up: This front seven will shut down the run unless the Gators' offensive line makes some huge improvement.
The secondary returns all four starters—Branden Smith, Sanders Commings, Shawn Williams and Bacarri Rambo. That's the bad news. The good news is that they're all seniors, so in 2013, the secondary should be a weakness. All of these guys are big-time playmakers and big hitters. Their only weakness is that sometimes they will all creep up, ready to lay a big hit and somebody forgets to watch the deep strike. Rambo does this the most, but don't expect it to happen more than once or twice a game.
Key Defensive Player: LB Jarvis Jones
Their Game Plan
Whether they like it, Georgia is rapidly morphing into Alabama: a weak offense and a tenacious defense. Defense wins championships, so that's not a bad thing for Georgia, and it'll play like it knows it. Even with Aaron Murray, this should be a field position game. Getting three first downs per drive just to change field position is considered a successful drive; points are a bonus.
They'll play the same way defensively, too: They'll be willing to give up an 80-yard touchdown pass on one drive if it means nine three-and-outs. So you can expect to see Georgia play defense as if it's in the red zone the entire time, maybe even a goal line defense here or there. The question becomes, can Florida hit multiple home run balls?
Good News

Florida still has the dominant special teams left by Urban Meyer, and the danger of a blocked kick or a return TD always lurks. By comparison, Georgia's special teams are near the bottom of the SEC almost every year.
Bad News

The 20-year curse has swung back to Georgia's side. Unless the Gators beat Georgia twice in a row, history suggests that the next 20 years could be hell.
Gators' Key
Force three turnovers and don't commit one. The Bulldogs have never beaten the Gators when coughing it up three times or more, and Florida didn't (0-21).
Overview
If only Florida had won last year, Gator fans could feel a lot more confident that the 20 year runs had been broken, and it was just plain Florida domination. But that didn't happen. So now, the dreaded thought that it's Georgia's turn has impacted my entire prediction, even without Crowell. We know both teams have great defenses and question marks on offense.
I would say that the difference will be special teams and turnovers, except that last year, Florida dominated the special teams, the turnovers were even and Florida still lost, so I can't say that. Instead, this entire rivalry is dominated by the two decade swings, so I'm not even considering picking Florida to beat Georgia no matter what the circumstances are until a year after the Gators actually do so—the same way I refused to pick Georgia every year from 2005 until now.
It will be close, just like the last two years. But with no clear advantage for either team (except at QB, and that's canceled out by special teams), I'm going with Georgia, as much as it disgusts me. Because if you don't believe the history of the 20-year swing, then you can't believe anything you read here. Florida will do something stupid to gift wrap Georgia with the victory in the end.
Projection: Georgia 21, Florida 17
Game 9: Missouri Tigers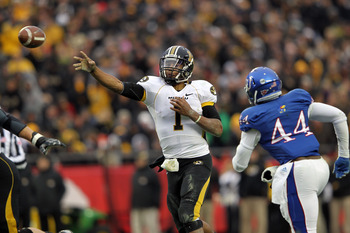 Dual threat QB James Franklin heads the Mizzou attack
Jamie Squire/Getty Images
2011 Record: 8-5 (5-4 Big 12)
Head Coach: Gary Pinkel, 12th season (84-54)
Overall Series: MIZZ 1-0
Last Season: N/A
Identity
The Missouri Tigers, the other new kids on the block, are led by promising dual-threat QB James Franklin. The Tigers come from the Big 12, a league that doesn't play defense but has big offenses.
The Tigers were decent last year, but remember, that's in the Big 12. Franklin played well against North Carolina in their bowl game, but he's going to need big-time playmakers to step up, and freshman Dorial Green-Beckham appears to be that guy.
The two teams don't really have a grudge against each other because they've only played once before, but be assured, late in the season with much on the line for at least one of these teams, both will be determined to finish strong.
Offensive Breakdown
The newest three initial guy, DGB, will replace Michael Ignew as the big receiver and will have a huge spotlight on him. The highlight reels from high school blew fans away, and of course it will be expected of him to produce immediately. Franklin will get him the ball plenty. The two can play pitch and catch all day if defenses will let them, but I don't think the defenses will.
Somebody else has to step and prove to be a threat to free up DGB, particularly on the ground. Returning leading rusher Henry Josey could be that guy. He has some speed and moves on him and could burn Florida if they get careless.
The other guys to watch out for are speedy receivers L'Damian Washington and TJ Moe (the SEC Media Day quote king). If left alone in one-on-one coverage, they could do damage. The big question mark of this offense is the offensive line. Missouri returns three, but nobody on the right side.
Key Offensive Player: WR Dorial Green-Beckham
Defensive Breakdown
Mizzou returns seven defensive starters, but perhaps it could have spread them out more among the positions. It only returns senior Brad Madison up front, and this is from a defense that gave up 35.3 points per game last year on the road.
But the linebackers and secondary return six out of seven, including lockdown corner EJ Gaines. The Tigers play a very good, deep ball, so look for Florida to try its hand in the short passing game.
The key is the linebacker corps. This was a unit that was very up and down last year, more up at home and more down on the road. Andrew Wilson and company better step in up in Gainesville if the Tigers want any chance at all.
Key Defensive Player: CB EJ Gaines
Their Game Plan
Missouri knows they're not going to come in and start slinging it everywhere because that's exactly what the Gators will be watching for. Instead, look for them to play a balanced game.
The Tigers were ninth in the nation last year in rush yardage per game, and they get a lot of that yardage from Franklin on scrambles. Look for Franklin to do a lot of run-pass option because he is very dangerous in space.
On defense, expect the Tigers to try to hide their inadequacies by blitzing Driskel or Brissett frequently. They may get a big play once or twice, but in the important downs, expect them to play back and play man coverage. It's the only surefire way to avoid getting blown out, and on the road, that's always a possibility.
Good News
The Tigers as a team play much worse on the road. They were 1-4 last year in away games.
Bad News
The Tigers have a nasty habit for playing even the best team very close, and now they have a big-time playmaker to produce a devastating late game play.
Gators' Key
Hit a huge play early to deflate the Tigers and to get the crowd revved up to remind the Tigers that they're not in Missouri anymore (yes, this is a thinly veiled Wizard of Oz joke, to those of you that are wondering).
Overview
The Tigers may be very weary when they come to Gainesville. They will have played Arizona State, Georgia, South Carolina and Alabama when they play Florida. But all in all, this is a team Florida cannot take lightly, and will not. The Gators' defense will bend, but it won't break. Remember the last time the Gators faced a powerful Big 12 offense? Yeah, that will happen again. The Gators get it done at home.
Projection: Florida 38, Missouri 17
Game 10: Louisiana Rajun Cajuns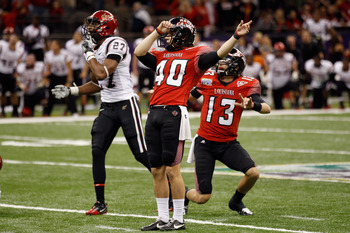 The Cajuns are a legit FBS team with bowl wins
Chris Graythen/Getty Images
2011 Record: 9-4 (6-2 Sun Belt)
Head Coach: Mark Hudspeth, 2nd season (9-4)
Identity
The Louisiana Rajun Cajuns are LSU's little brother in the Bayou. But like a good number of little brothers you'll come across, the Cajuns can pack a punch. Don't let the Sun Belt affiliation fool you. This is not only a team with bowl appearances and wins but a legitimate threat to upset you if you mess around.
QB Blaine Gautier returns along with pretty much his entire supporting cast on offense. They put up some pretty big numbers last year, albeit in the Sun Belt. But their defense has too many questions to make a serious run at the Gators this year.
Offensive Breakdown
Gautier has one of the best supporting casts in the Sun Belt. Receivers Javon Lawson and Harry Peoples return, and the offensive line is still intact. He can, and probably will, throw the ball 40 times, and as you might expect in a game where the Cajuns have nothing to lose, throw some deep balls. Peoples and Lawson have some speed, too, so the Gators can't get careless with them.
Top running back Alonzo Harris comes back to anchor the ground game. The question is how much help he will get, both from his fellow runners and his passing game. If no other running back steps up, Harris could be absolutely gassed from a very long regular season against a good team. Unless somebody else stakes a claim to get some carries in summer practice, Harris could be the lone back Hudspeth trusts.
Key Offensive Player: RB Alonzo Harris
Defensive Breakdown
Too bad the Gators don't play UL early in the season to ease into their schedule. I'm not going to sugarcoat this: The Cajun's defense is awful. Last year, the Cajuns gave up 30 points per game in the Sun Belt. It promises to be even worse this year, with just four returning starters.
If there's a strength in this defense, it would be the secondary. Cornerbacks Melvin White and JeMarious Moten return, probably just to tackle running backs 35 yards beyond the line of scrimmage, since the front seven won't help.
But forget a pass rush. The front seven got absolutely no pressure last year...but wait; that doesn't matter, since only two of the front seven starters are back. If the Gators can't block the Cajuns, then the offensive line should just quit football.
Key Defensive Player: CB Melvin White
Their Game Plan
The Cajuns have no choice but to engage Florida in a wild shootout. The Gators should happily accept. The problem is, the Gators defense will eventually force a turnover or two, while the Cajuns' won't.
But still, losing 59-49 is better than losing 77-0, which is what will happen if the Cajuns rely on their defense at any time and Gautier gets frustrated and starts throwing picks. They really don't have a choice, do they?
Good News
Both Driskel and Brissett (and maybe even Tyler Murphy) should have a field day with this toy of a defense.
Bad News
The high powered (at least by Sun Belt standards) offense of the Cajuns could throw the Gators off balance for awhile.
Gators' Key
Heavily blitz Gautier early and often. I'll give up a 75 yard TD in exchange for five sacks, a fumble and several bad throws, which presumably wind up being picked off.
Overview
The Cajuns just can't hide their defense all day, and that's really all it comes down to. The Gators shouldn't give up more than 20 points, but even if they do, they can always rely on their own offense to score right back. Gautier and company will keep it close for a while, but I'll be shocked if this is close at the end of the third quarter. In the end, the difference between the SEC and the Sun Belt is displayed for all to see.
Projection: Florida 52, Louisiana Lafayette 17
Game 11: Jacksonville State Gamecocks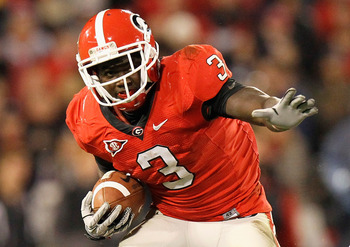 Former Bulldog Washaun Ealey anchors the ground attack
Kevin C. Cox/Getty Images
2011 Record: 7-4 (6-2 Ohio Valley)
Head Coach: Jack Crowe, 13th season (81-52)
Identity
The Jacksonville State Gamecocks are the Gators' cupcake of choice for the 2012 season and the practice dummies for the Florida State game. Aside from the rare moron that gets kicked off a strong BCS school, the Gamecocks aren't exactly the most formidable opponent in the world...one might think.
Ask Mississippi what happens when you close your eyes and drift off against the Gamecocks. Well, to be blunt, you lose. Coty Blanchard, the QB who led the comeback and the OT victory against the Rebels, returns. So does running back Washaun Ealey...wait...yes, the guy that Brandon Spikes tried to blind by poking his eyes out when he played for Georgia in 2009. Behind Ealey is the freshman Rashod Byers, who could also see some carries.
So beware, Gators. Remember what happened when you took a nap against Furman last year the week before the FSU game, and then remember that this team is better than Furman was last year.
Offensive Breakdown
The Gamecocks have three players to fear on offense. Blanchard, Ealey and wide receiver Alan Bonner. The three of them put up some pretty good numbers last year, but lucky for Florida, they don't appear to have much help. It's pretty standard for a FCS team: a few good players without much help, but those three can pull out a good number of wins.
It's not that difficult to figure out. If left alone, these three can and will cause damage, but if the Gators pay attention to them and treat them like another SEC opponent, they will not. Blanchard led a comeback over an SEC team (Ole Miss), and Ealey used to play for Georgia.
But the offensive line could be a problem for them. It's very young, and that's not good when you're facing a strong Gator defense the week before a high rivalry game that's anxious to try out some new schemes. The big question: Can the O-line mature enough to protect Blanchard enough to let him work his magic?
Key Offensive Player: RB Washaun Ealey
Defensive Breakdown
Once again, the Gators' cupcake opponent of choice has no defense. Even in big wins, their defense gives up yards and points in bunches. Last year, it was so bad that it surrendered 27 points per game in the Ohio Valley Conference plus a game against Kentucky (who, to be honest, belongs in the FCS for football anyway.) The year before, they gave up 25 points per game.
Simply looking at numbers, 27 points a game isn't so horrible. But when you realize that those numbers came in the FCS, and that the Gamecocks are playing the Florida Gators, it's horrible by Gators standards. Think: Would Will Muschamp be happy with his defense if it gave up four touchdowns per game in the FCS?
The Gamecocks have one legitimate star on defense, safety Pierre Warren. He can shut down the deep ball and isn't afraid to engage in a bone-jarring collision with a receiver on a fly route. Without him, this defense would surrender 50 points to a high school.
Key Defensive Player: FS Pierre Warren
Their Game Plan
The Gamecocks do possess the talent to air it out with Blanchard and Bonner, but against a traditional powerhouse like Florida, the Gamecocks will try to stay in the game for as long as they can. Of course, they will probably try a trick play or two because they have nothing to lose, but if this game is close after the first few drives, expect the Gamecocks to ride Ealey as long as they can.
Remember—he's an SEC running back on a FCS team. So the Gators must be careful when drawing up schemes to contain him. All of the Gamecocks' important plays will go to him, but also watch for Byers to get some touches. And of course, watch for the deep ball to Bonner.
Good News
The Gators get to face one more porous defense before they face FSU.
Bad News
Blanchard could hit a bomb or two and scare the daylights out of Florida. Also, this may be a game that winds up hurting the Gators because this is the second real cupcake in a row before they face a much better team.
Gators' Key
Score touchdowns on four of the first five possessions to get the Gamecocks down big early and to ensure that they can't crawl back in it by simply pounding Ealey.
Overview
Despite the dire warnings I presented here, I don't think the Gamecocks will pull the upset because they lack the defense to get a critical late game stop. However, I do believe that if the Gators don't bring their A-game, they're in for a three-and-a-half-hour nightmare. As far as FCS teams go, this is a pretty strong one as the Gamecocks regularly compete for a spot in the 16-team FCS playoff (see, even the FCS has a real playoff).
If this team was coached by Zook, I'd say JSU would win. But I trust Muschamp enough to not let the team lose. Get frightened for a few hours, maybe, but not lose.
Projection: Florida 49, Jacksonville State 21
Game 12: @Florida State Seminoles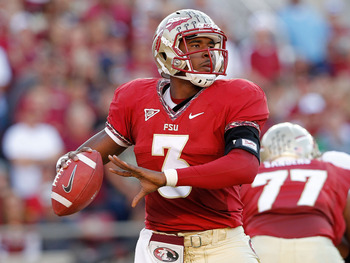 EJ Manuel pilots the Seminoles offense once again against the Gators
Mike Ehrmann/Getty Images
2011 Record: 9-4 (5-3 ACC)
Head Coach: Jimbo Fisher, 3rd season (19-8)
Overall Series: FLA 33-21
Last Season: FSU 21, Florida 7 @Gainesville
Identity
The Florida State Seminoles are the Gators' out of conference rivals of choice since the late 1950's. This is a textbook swing rivalry—the last two years, the Gators simply looked lost as the Noles delightedly blasted them by a combined 52-14 score. Of course, that was in retaliation for six years of Gator domination, with the average score being 34-12 for Florida.
Of course, if you're reading this, you know the intensity of this rivalry because you're probably a Gator fan, but even if you're not, you're probably an SEC fan, so you know the in-state wars that go on around the SEC. I don't need to be a Gamecock fan to know how much they hate Clemson, nor do I need to be an idiot (Georgia fan) to understand the hatred that they have for Georgia Tech. Good. There's no expanding on the strongest degree of dislike—these teams hate each other.
The Noles do have a very strong returning team, particularly on defense. Of course, Florida does too, meaning this year's game could be even uglier than last year's. The offense, led by returning QB EJ Manuel, isn't going to blow anybody off the field, but it should do enough to win games, assuming the defense doesn't choke it away.
The third year of Jimbo's tenure, the Noles are expected to step it up. Bobby Bowden's specific inability to beat the Gators was at least partly responsible for his firing; a sudden shift in the momentum of this rivalry back to Florida would not be good for Jimbo unless this is his only loss. The Gators and Noles both need this, really badly.
Offensive Breakdown
Senior QB EJ Manuel returns along with most of his starters. Wideouts Christian Green and Rodney Smith will once again be his top targets, and freshman tight end Nick O'Leary could contribute right away. Manuel is also a threat to break out of the pocket and take off, so the Gators need to be very careful with him.
The Noles don't really have any good running backs; they just have good fullbacks that happen to play running back. De'Vonte Freeman and Lonnie Pryor are their names, and the two of them have a history of outmuscling the Gators' front seven into the end zone. They will also be helped by an offensive line that returns four starters, and that didn't allow Manuel to be sacked much last year.
This may be the most balanced attack the Gators will see in 2012 aside from LSU, and Florida must prepare for a very physical war in the trenches. The Noles are only so-so on front, so if the Gators can shut down the run and force EJ Manuel to beat them exclusively through the air, the Noles are in trouble. The passing and running game come hand in hand; without one, the other one will struggle.
Key Offensive Player: QB EJ Manuel
Defensive Breakdown
Was last year's near shutout due to a great FSU defense or a poor UF offense? The short answer is both, but we know that FSU's defense will keep the pieces to do it again. The Seminoles return nine starters on defense, and the other two holes will be filled quickly by players that saw lots of time anyway last year.
Let's start up front. Brandon Jenkins returns to anchor a ferocious front seven that also returns Anthony McCloud and Everett Dawkins. The three seniors could give the Gators' offensive line three and a half hours of pure hell if they don't improve the way Muschamp expects. Christian Jones, Jeff Luc and Vince Williams return to their linebacker positions, and all three are coming off very solid 2011 campaigns. It could be a very long day for the Gators running backs.
If there's a weakness on this defense, it's the secondary. It's still probably one of the best in the ACC, but Greg Reid, Nick Moody and LaMarcus Joyner all have tendencies to go for highlight reel hits instead of the sure tackle. Sometimes they make the big tackles and become heroes; sometimes they miss them and guys like Aaron Hernandez wind up launching the ball halfway up the seats after a 45-yard touchdown on a shovel pass. This isn't the only example, or I wouldn't mention it.
However, these guys all have lots of talent, so if they just mature and make the sure tackle and forgo trying to knock a guy out, they could be even better.
Key Defensive Player: CB Greg Reid
Their Game Plan
Play defense and punt, of course. Except unlike Kentucky, and like LSU, the Noles have the defense to actually win with this formula. It worked last year against the Gators; what does Jimbo care if the two teams combine to gain four yards and FSU wins 2-0 on a safety? That's right, he couldn't care less.
Not that these tams won't generate any offense—I'm sure Manuel will lead a nice drive, and I'm sure that Debose or Hammond will break one deep, but as long as neither team breaks 20, the Noles are in their comfort zone. They would much rather play a 17-7 game then a 59-49 game because that's how they're built. When they're in their comfort zone, they're in control and will play with complete confidence.
This means running plenty up the middle, short swing passes and an occasional deep route just to keep the Gators honest. As long as the Noles tackle well and force that one big turnover to generate some points, they'll be happy.
Good News
The pressure in this rivalry shifts to Jimbo. If his third season isn't any better than his second, FSU fans will get antsy, and as any Nole can tell you, beating Florida is a huge part of how they determine a coach's success.
Bad News
Even in losses, FSU is perhaps the best non-SEC team at controlling the tempo of the game, and the Gators' defense could start to wilt late in the game.
Gators' Key
Don't turn the ball over. Without the three gift touchdowns, FSU would have been held scoreless last year.
Overview
Forget records and which team is better. Rivalry games are very difficult to predict, although you can sometimes detect a pattern. The Florida-Georgia rivalry is easy; it simply goes by every 20 years. This one is much harder, though, because there are frequently dominant runs by a team from anywhere from three to nine years, and then there are some 10- to 15-year stretches where the teams are even.
In a case like this, FSU appears to be better than the Gators by a little bit and have beaten them twice in a row. Seem familiar? Yes, it does; Ron Zook Field in 2004, when a clearly inferior Gator team that had been beaten twice in a row by Florida State shocked the eighth ranked Noles in Tallahassee 20-13. Crazier things have happened.
This game will definitely be close, and it will probably be even worse than last year's from a neutral college football fan's perspective. But if the Gators don't turn it over, there's no reason why they can't pull it out. I trust Muschamp to fix the turnover problem to at least the point of neutrality, which would have been good enough to win last year and will be this year. After three grueling quarters, the Gators put this one away late.
Projection: Florida 19, FSU 17
Game 13: Nebraska Cornhuskers (Outback Bowl, Tampa)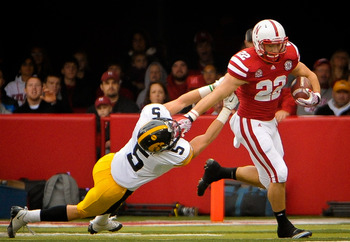 The Huskers' offense is led by bruising power back Rex Burkhead
Eric Francis/Getty Images
2011 Record: 9-4 (5-3 SEC)
Head Coach: Bo Pelini, 5th season (39-16*—Pelini was the head coach of Nebraska for the 2003 Alamo Bowl)
Identity
The Nebraska Cornhuskers are the team that ruined Florida's perfect 1995 season with an ugly blowout in the Fiasco Bowl. I'm still not sure if Tommy Frazier had been tackled yet, or at least pushed out of bounds. The Cornhuskers are almost like Alabama, except that their defense isn't quite as good: rabid fanbase, big tradition, they bleed red and they win with their defense.
But Bo Pelini's team has never quite taken off like he's wanted them to or like the fans have expected. The Huskers have been mediocre in the last few years, and they need a big season to change that. A bowl win on New Year's Day would at least help change that.
Offensive Breakdown
The Huskers return their bulldozer of a tailback, Rex Burkhead, and their quarterback, Taylor Martinez, but Martinez is more of a running threat than a passing threat. This means we may see some options from them, as well as some short screens and straight QB/RB smash plays.
The Huskers possess the offensive line needed to make this work. Star guard Spencer Long and top tackle Tyler Moore return to anchor the ground game. In addition, tight end Ben Cotton will be back to provide edge blocking for the outside running game.
Contrary to popular belief, the Huskers do occasionally throw it around. Receivers Kenny Bell and Quincy Enunwa are back, and they have some moves and speed on them. If the Gators get careless in their coverages...it's not good.
Key Offensive Player: QB Taylor Martinez
Defensive Breakdown
The Huskers lose Jared Crick, LaVonte David and Alfonso Dennard, three of the best defensive players in all of college football, but they do return the other eight starters. This is a very solid defense that does everything well, but they may be a little short of playmakers this year.
Seniors Baker Steinkuhler and Cameron Meredith return to anchor the offensive line. With the help of linebackers Will Compton and Sean Fisher, this could be the best pass rush the Gators face throughout the season, aside from maybe LSU. If the offensive line isn't ready for a three-and-a-half-hour war in the trenches, it could be a long day for Florida.
The secondary returns Ciante Evans and Andrew Green, but the loss of Dennard means that they won't have a bona fide No. 1 lockdown cornerback. Both are good corners, but the key of the defense lies in safety Damion Stafford. He's the one to watch out for on deep bombs.
Key Defensive Player: DE Cameron Meredith
Their Game Plan
It would be downright foolish of Nebraska to try anything other than pounding the ball down the Gators' throats on offense and stuffing them backwards on defense.
Expect a lot of Rex Burkhead and Taylor Martinez power runs, with a little option here and there to keep the Gators honest. Of course, the receivers need to be fed every once in awhile, but expect Martinez to do so with lots of short swing and hitch patterns. He may try and go deep once, because, let's be honest, they all try to go deep once or twice (except for Steve Addazio coached QBs of course; that leads to an automatic and indefinite benching).
The Huskers have a solid pass rush; expect them to unleash it as much as possible. Nothing is worse for a team than a rattled QB who starts making mistakes, and BoPa knows this (yes, that's an effort to cleanse the world of a similar sounding name, even though Pelini's last name has no "a" in it). Often, a good pass rush and a solid run stopping game come hand in hand, and the Huskers will try to stuff the inside running game and force Brissett or Driskel to beat them deep—while they're applying heavy pressure.
Good News
The Gators still have a little bit of Urban Meyer's speed left over, and the Huskers don't have the same speed on defense to match up. The Gators should also be much tougher up front, so they don't get bullied around all day.
Bad News
This could be even uglier than the FSU game. Nebraska is almost as good as the Seminoles at controlling the tempo, and its running game is better. If the Gators don't shoot their gaps and invade the backfield, they don't have a chance of taking down the Big Red Machine.
Gators' Key
Blitzing means that the sidelines are usually wide open. If Brissett or Driskel can get the ball to Gillislee on a screen, he could take it a long way. And the more the Gators hit the screen pass, the less Nebraska will blitz.
Overview
This game cannot be a replay of the Fiasco Bowl, if only because both teams have completely undergone 180's since then. Now that I've gotten that out of the way, it could be the single most boring game the Gators have ever played. At least FSU is a rivalry game. This has no stakes for either team aside for finishing strong, so there may be a trick play here or there that gives one team their only points.
But when all is said and done, I'm going with the Will Muschamp coached defense. I'm going to be optimistic and say that the Gators will force a huge turnover late to eclipse double digits to win.
Projection: Florida 13, Nebraska 3
Keep Reading

Florida Gators Football: Like this team?