The Ugly Truth About Every NBA Team's Offseason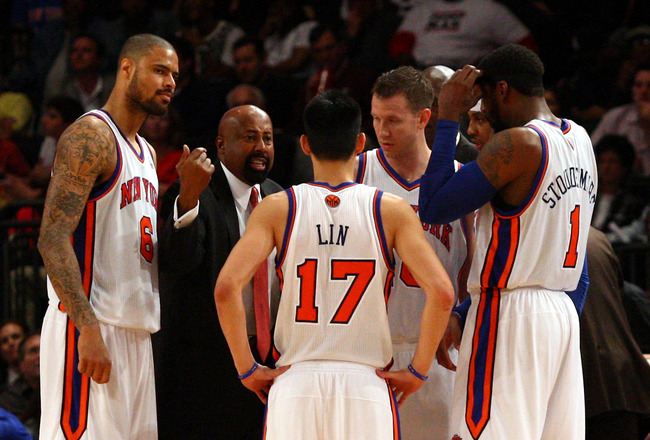 Chris Chambers/Getty Images
For many NBA front offices, the offseason is a time to take a deep breath, collect themselves and assess what their team needs to become a contender. If a club lacks size, they go out and track down a big man. If their backcourt rotation needs a boost, they search for available guards. Or if the team needs a recognizable face, they throw heaps of money at a star player without a contract.
Inevitably, every summer there are mistakes made. Whether they come in the form of areas not addressed or through holes created, every team is capable of a blunder or two during the summer.
Without further ado, let's indulge in some negativity and examine the dark side of every NBA team's offseason...
Atlanta Hawks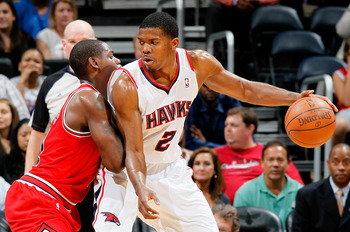 Kevin C. Cox/Getty Images
Dealing Joe Johnson Has the Team Banking on the 2013 Free Agent Class.
When new GM Danny Ferry found a taker for Joe Johnson's albatross of a contract, basketball fans across the nation instantly hailed it as a brilliant move. The declining All-Star is due nearly $20 million next year and $25 million during the final year of his contract in 2015-2016. With Johnson heading to Brooklyn, the team can commit to their young core and has positioned themselves to be a major player on the free agent market.
However, this is Atlanta we're talking about. The team has never been a major player on the free agent market, and while the possibility of bringing in marquee players like Chris Paul and Dwight Howard exists, the Hawks have never been able to lure in top shelf talent in the past.
The club has some talent in Jeff Teague, Josh Smith and Al Horford, but their roster has a number of glaring holes that will significantly hinder their ceiling without another star in town. They don't have a starting caliber small forward on their roster and could end up going with guards like Anthony Morrow and John Jenkins at the three spot.
They signed combo guard Louis Williams, but he is woefully undersized to play the two-guard and really excels with the ball in his hands. Williams is a solid scoring option because he can attack the basket and hit threes, but he is not as consistent as Johnson, who can explode for 25-plus points on any given night and also run the team's offense.
Atlanta could very well pull off a coup and land several big name players next summer because they have a slew of expiring deals and plenty of cap room. However, because they got so little value for Johnson, unless they make a major signing, the Hawks have potentially set their franchise back a few years.
Boston Celtics
Jim Rogash/Getty Images
The Team Is Still Heavily Reliant on Veteran Production
Much speculation was made about what direction the Boston Celtics would go this offseason—whether they would look to keep their nucleus intact and continue to contend for titles or rebuild with young talent and plan for the future. With the majority of signings over, it appears the Celtics have opted to retain their veteran status.
The team resigned Kevin Garnett for three years and brought in Jason Terry on the mid-level exception. The two are undoubtedly still high-level contributors, but they are 36 and 34, respectively, and are clearly in the twilight of their NBA careers. Garnett's rejuvenation at the center position was well-documented last season, but he has battled with some injuries in the past few years and will still be asked to pull the majority of the rebounding and interior defense duties for the Celtics.
Terry is a great scorer off the bench, but he relies on his quickness and has slowed down over the past couple seasons.
In addition, Paul Pierce will continue to play an integral role on both ends of the court, particularly now that Ray Allen is headed south to the Miami Heat. Pierce will continue to be the team's first scoring option and will often be asked to guard the opposing team's best scorer. He routinely checks the likes of LeBron James, Carmelo Anthony and Andre Iguodala on a nightly basis.
The team did retain Brandon Bass and Jeff Green, but the forwards are still primarily complimentary pieces to the core of Garnett, Pierce, and Rajon Rondo that will be shouldering the load in Boston for yet another season.
They were able to address one of their main areas of concern by adding size through the draft in Fab Melo and Jared Sullinger, but the pair of frontcourt rookies will not be counted upon to play significant minutes, as Doc Rivers rarely leans on rookies.
All this adds up to another year of heavy minutes and major roles for Garnett, Terry and Pierce as the Celtics look to raise their 18th banner in TD Garden.
Brooklyn Nets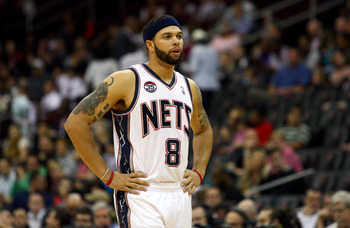 Chris Chambers/Getty Images
Without Dwight Howard the Team Is Still Not a True Contender
Deron Williams is back with the Nets after much speculation, so too is veteran forward Gerald Wallace. The team retained the services of Brook Lopez on a max contract and just signed Kris Humphries to a two-year, $24 million deal, according to ESPN's Marc Stein and Mike Mazzeo. The team made a blockbuster trade for All-Star Joe Johnson and is looking like a playoff caliber club, but unless they can pry Dwight Howard from Rob Hennigan's hands, that's all they will be.
As of right now, the Nets are looking like a mid-tier postseason team, with maybe a Conference Finals run in them, but they lack the defensive prowess to win the Eastern Conference. Williams and Johnson are primarily offensive players, Lopez is a poor post defender who gets pushed around easily on the block and Humphries is more of a hustle guy than a great interior defender. That leaves Gerald Wallace as the team's best defensive player, but he will have his hands full with the elite small forwards in the conference.
In addition, the team does not have a huge window of contention. Johnson's production has been declining since he signed his contract in 2010, and Wallace, whose game is primarily predicated on athleticism, is beginning to show signs of age and injury. Williams is in his prime, but it is unlikely that he will become much better than he is currently, and the same goes for Lopez and Humphries.
The Brooklyn front office succeeded in surrounding Deron Williams with talent as the organization moves, but without a transcendent big man like Howard, they simply cannot take the leap. The Nets are serious about building a winner, but they need to do everything possible to broker a deal with Orlando as soon as possible.
Charlotte Bobcats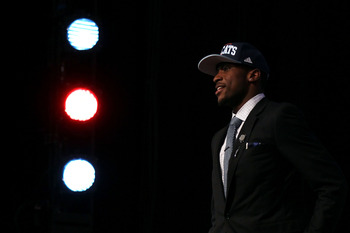 Elsa/Getty Images
The Team Improved, but is Still in the League's Basement
After a 2011-2012 season that can only be described as horrifying, the Charlotte Bobcats have actually made significant strides this offseason. They drafted Michael Kidd-Gilchrist, a potential star down the road, and defensive stalwart Jeffery Taylor. The team signed starting-caliber point guard Ramon Sessions, and brought in Brendan Haywood and Ben Gordon via amnesty and trade, respectively.
This will be a better team next year, but their roster has so many blatant holes and so little experience that the Bobcats are still going to be stuck in the league's cellar for the foreseeable future. Kidd-Gilchrist needs time to develop the finesse aspects of his game and will not be able to shoulder as much of the offensive load as the team hopes. Taylor is a quality defender and athlete, but does not have a very high ceiling.
In addition, it is worth wondering if the moves they made to improve immediately will be detrimental to the development of the youth already on their roster. In the 2011 draft, Charlotte tabbed Kemba Walker to be their point guard of the future, and the departure of D.J. Augustin cemented that fact.
However, with Sessions and Gordon coming to town, there will not be a ton of minutes for Walker. Sessions needs the ball in his hands, and so does Gordon, who is a scoring combo guard that likes to initiate the offense. Walker has the most upside of the three, but he needs time on the floor to mature and develop.
The same goes for Bismack Biyombo, who showed flashes of being a solid defensive big man, but will now have to contend for time with Haywood. Biyombo's game is still extremely raw and the best way to learn is by actually seeing floor time. The same goes for Byron Mullens and Tyrus Thomas, who still have some untapped potential.
Ultimately, Charlotte has climbed the first step back to NBA respectability, but there is a long road ahead before they are back in the postseason.
Chicago Bulls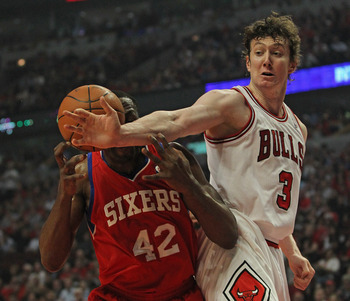 Jonathan Daniel/Getty Images
The Depth That Carried the Team Last Season Is Largely Gone
Going into the 2012 postseason, the Chicago Bulls were looked at as favorites to make the Eastern Conference Finals. They were riding high. The bench was playing consistently with great chemistry, the starters found a rhythm and Derrick Rose was finally healthy. But Rose's ACL tear in the first round against Philadelphia cost them a shot at a title and led to their most turbulent offseason in years.
Now, Chicago is facing some serious depth problems. The team did not pick up C.J. Watson's third-year option, and the point guard has joined the Brooklyn Nets. They also let Ronnie Brewer walk and dealt Kyle Korver to Atlanta in a salary cap clearing move.
Reserve center Omer Asik recently signed a staggering three-year, $25.1 million deal with the Houston Rockets and according to K.C. Johnson of the Chicago Tribune, it appears the Bulls will let the Turkish big man walk.
Suddenly, a team that was constantly praised for their deep rotation and slew of capable contributors is looking extremely thin. The team drafted Marquis Teague and signed Kirk Hinrich, but even if Teague exceeds expectations and sophomore Jimmy Butler takes a quantum leap forward in terms of development, they are in for a rough season.
Teague will have to give the team quality minutes off the bench behind Hinrich until Rose is healthy, while Butler will be asked to log time at the two-guard and small forward behind the injury prone Rip Hamilton (who the team is apparently shopping) and Luol Deng.
As it stands, Taj Gibson, an excellent defender and a tremendous athlete, is their only quality frontcourt player off the bench. Though Asik is important, the team would be foolish to sacrifice cap space and match Houston's absurd offer for the offensively-limited seven-footer.
Many fans have chalked next season up to a loss for Chicago with Rose potentially missing the brunt of the schedule, and with the wholesale changes the club has made, it appears they may echo that sentiment.
Cleveland Cavaliers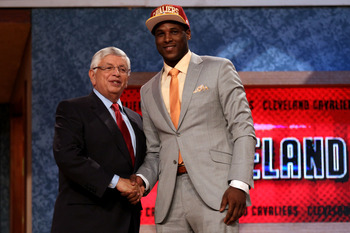 Elsa/Getty Images
Their Risky Draft Choices Could Set the Franchise Back
Perhaps no team had a more talked about draft than the Cleveland Cavaliers. After seeing Bradley Beal go to Washington, the Cavs opted to go with another two-guard in Syracuse's Dion Waiters, which was considered a serious reach. Waiters was considered a mid-lottery prospect, but pulled out of pre-draft workouts because he had received "a promise from a lottery team" that turned out to be Cleveland, much to many fans' and pundits' surprise.
The team then packaged the 24th, 33rd and 34th picks to the Dallas Mavericks in exchange for former North Carolina star center Tyler Zeller. The squad needed to add size and Zeller, who graduated this spring, is a mature and skilled seven-footer that can make an impact around the basket.
However, both picks represent considerable risk. Waiters does not have a ton of experience and has never started a game for the Orange, which he should be asked to do for Cleveland next season from the jump.
He plays best with the ball in his hands, but so does their franchise point guard, a young buck named Kyrie Irving. He is good at reading passing lanes, but played little man-to-man defense in college and will need significant work in that department.
In an era where athleticism is valued above all else, Zeller is more of a traditional, back to the basket center. He can run the floor decently, but is not a high flyer or an athletic freak by any means. He is not particularly strong and will have to put on some muscle to guard the post and not be bullied inside by NBA competition.
There is obviously a chance that both moves pay off and Waiters becomes an ideal scoring backcourt compliment to Irving, while Zeller's know-how and soft touch earn him a spot in the Cavs' big man rotation, but both players still have a ways to go before they can make a major impact.
If either move turns out to be a failure, it could set back the franchise that is trying to build a winner through the draft, in the vein of Oklahoma City.
Dallas Mavericks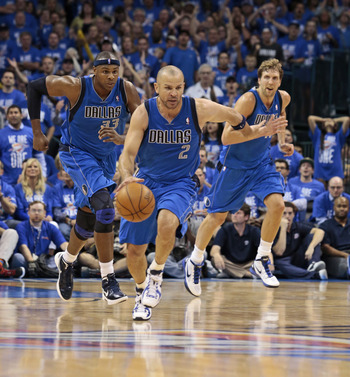 Brett Deering/Getty Images
A Roster Built on One-Year Deals Leads to a Cloudy Future
The Dallas Mavericks' decision to blow up their championship nucleus in an effort to land marquee free agents in 2012 has been dissected to death. However, after Dwight Howard opted to remain in Orlando and cause the Magic more grief, and Deron Williams chose a more lucrative contract and the chance to lead the Nets franchise instead of playing with Dirk Nowitzki in his hometown.
Suddenly, the Mavs were left with a skeleton roster built around Nowitzki and Shawn Marion. Losing starting point guard Jason Kidd to the New York Knicks served as even more salt in the wound and it left Mark Cuban and the team's front office scrambling to add talent.
The team managed a trade of big man Ian Mahinmi for guards Dahntay Jones and Darren Collison, outbid the competition for Elton Brand's services and reached a deal for former All-Star center Chris Kaman. These moves have the team looking like they could potentially make the playoffs next season, but the problem is that next season is all they have with this core.
Collison, Brand and Kaman are all on one-year deals that will expire next summer. Again the Mavericks are banking on attracting a marquee free agent, because only shooting guard O.J. Mayo, who they recently came to terms with, will be with the club past 2013.
The team amnestied Brendan Haywood, and while getting his hefty contract off the books was a nice move for the future, it left them incredibly thin in the frontcourt.
If the team couldn't attract Deron Williams, a Dallas native with strong ties to the city, what hope is there to wrangle a Chris Paul or Dwight Howard, two guys who have no real incentive for joining the roster. Nowitzki is talented but visibly declining and no matter how strong of a coach Rick Carlisle is, the pieces simply aren't there.
Perhaps Dallas can net an impact player next offseason, but the historical precedent is that they will strike out and be left to do another rebuild on the fly.
Denver Nuggets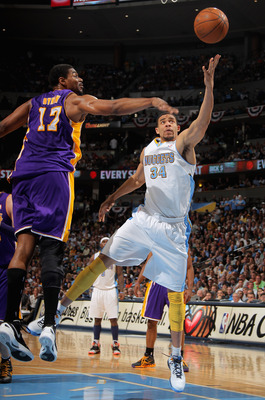 Doug Pensinger/Getty Images
JaVale McGee Simply Isn't Worth $11 Million Per Year
According to Royce Young of CBS Sports, the Denver Nuggets have resigned mercurial center JaVale McGee to a hefty four-year, $44 million deal. McGee had a tumultuous tenure with the Washington Wizards, but finally seemed to be playing to his potential after being sent to Denver at the trade deadline.
Last season, McGee averaged 11.3 points, 7.8 rebounds and 2.2 blocks per game while shooting 55.6 percent from the field. His numbers dipped coming off the bench for the Nuggets, but he played extremely well going against the supersized frontline of the Los Angeles Lakers in the first round of the playoffs.
McGee is an extremely athletic and mobile center who can get up and down the court. He is excellent in transition and capable of making impact plays above the rim.
His length and leaping ability make him a superb shot blocker, as he can rotate over to help a teammate and contest shots anywhere near the basket.
Offensively, he is still developing, but has a decent hook shot and has improved his hands at the rim. However, he is a horrendous foul shooter (46.1 percent), and needs to establish a consistent set of post moves.
Still, McGee may not be worth such a significant payday. He is not the most disciplined player and does not show great judgement defensively. Too often he blatantly goaltended shots that he had no shot at blocking.
He essentially parlayed 27 fairly strong games into $44 million, and just a year ago was known more for his staggering mental lapses than any of his positive contributions on the court. In the past, teams have been suckered into shelling out major money for players who exceeded expectations in contract years, and McGee will have to work to prove he is worth an eight-figure deal.
The Nuggets have built a team based on depth and signing quality players to reasonable contracts, but the team took a huge risk signing an underachiever like McGee to a long-term, lucrative deal.
Detroit Pistons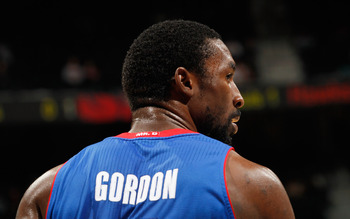 Kevin C. Cox/Getty Images
Getting Rid of Ben Gordon Wasn't Worth a First-Rounder
Ben Gordon was one of a handful of players the Detroit Pistons overpaid for while trying to remain a contender after their 2004 championship. The sharpshooting former Sixth Man of the Year received a massive contract from Detroit, but failed to live up to expectations and was far from a positive member of the locker room.
Finally, according to Larry Lage of the Associated Press, the Pistons were able to find a suitor for the combo guard. The Charlotte Bobcats have taken on Gordon and a protected first-round pick in exchange for scoring swingman Corey Maggette.
Gordon will earn $12.4 million next season and has a player option worth $13.2 million for the 2013-2014 season that he will likely exercise because there is no suitor out there that would throw that much money his way.
The pick Detroit gave up is lottery-protected in 2013, top-eight protected in 2014, then number one protected and finally unprotected in 2016.
Detroit is trying to build a winner through the draft, and they are not looking to become a playoff team in the next two seasons. The team needs time for Andre Drummond to hone his skills and mature, while Brandon Knight and Greg Monroe are still developing as players.
Having another first round pick is incredibly valuable to a rebuilding organization, valuable enough to stomach the final two years of Gordon's deal. In all likelihood, the Pistons will still be a lottery team for the next two seasons, but it is very likely that the selection falls outside the top eight in 2014 and goes to Charlotte.
Though he is not the electric scorer he was with Chicago, Ben Gordon is still a decent guard who averaged 12.5 points last season and can occasionally explode for much more.
The Pistons were wise to shop Gordon, but should have pushed harder to find a lower asking price that wouldn't have the potential to damage the organization's future.
Golden State Warriors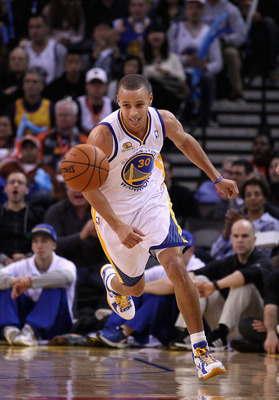 Ezra Shaw/Getty Images
The Team's Most Important Players Are Extremely Injury Prone
I'm a big fan of the moves Golden State made this offseason, drafting Harrison Barnes and bringing in veteran point guard Jarrett Jack, but the team is still one of the most fragile in the league. Steph Curry has shown at times that he can be a star lead guard, and Andrew Bogut is an elite post defender, but the two have struggled to stay on the court during their careers.
Last season, Curry's ankles kept him sidelined and even when he was on the floor, his injuries were clearly cumbersome and affected his caliber of play. Bogut, who has suffered a litany of ailments in his time in the league, missed time with foot problems last year as well.
David Lee missed a handful of games, but has largely been healthy during his time with the Warriors. That being said, he did have some difficulties during his time with New York.
Golden State has a high ceiling next season, but only if Curry and Bogut can find a way to avoid the injury bug. Given Curry's fast paced style of play and Bogut's physicality, that seems highly unlikely.
The team does not have a slew of quality big men, Lee can play some center, and Andris Biedrins is still playing basketball professionally, but they need Bogut's shot-blocking and ruggedness to anchor their defense.
Curry's ability to shoot the ball, penetrate the lane and find cutters going to the hoop is extremely valuable for this young team. Jack is a solid point guard, but he lacks Curry's touch from the outside and is not nearly as much of a scoring threat.
On paper, the Warriors have built a very strong team, but it seems nearly impossible that this lineup will play together for 82 games.
Houston Rockets
Bob Levey/Getty Images
With Almost No Proven Talent, This Team is in for a Few Anemic Years
The award for the most perplexing offseason goes to the Houston Rockets, and it really isn't close. The team acquired an additional two first-round picks, appeared poised to make a blockbuster trade, and then got rid of last year's nucleus of Kyle Lowry, Luis Scola, Samuel Dalembert and Goran Dragic for almost nothing in return.
The club then signed Jeremy Lin to a backloaded three-year, $25 million deal and is working on a similar offer for Omer Asik.
Clearly Houston did not want to remain a mediocre .500 team in the Western Conference and felt that their best bet was to tank and see if their slew of stockpiled assets are worthwhile. But the team shelling out huge deals for two relatively unproven players in Lin and Asik is perplexing because it leaves them with far less financial flexibility and a squad that is still in the NBA's bottom rung.
Next season, the team will likely be starting Jeremy Lin, Jeremy Lamb, Chandler Parsons, Royce White and Terence Jones or Omer Asik. Even if Lin puts up the kind of numbers he did while playing under Mike D'Antoni, that team is easily one of the worst in the league.
The only veteran left on their roster is Kevin Martin, who clashed with coach Kevin McHale numerous times last season and found himself in the doghouse for most of the year. Not exactly the kind of role model a team should have for so many young, impressionable players.
Houston could still broker a big trade, but what player would want to resign with a team bearing so many question marks about its future.
The idea behind the Rockets' offseason is understandable, but this team will spend next year jockeying with Charlotte for total irrelevancy as the season wears on.
Indiana Pacers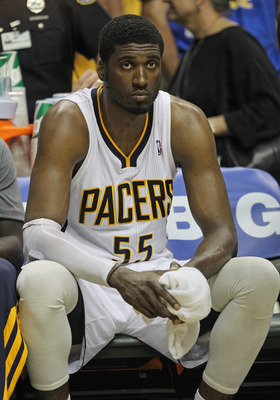 Jonathan Daniel/Getty Images
Roy Hibbert's Max Contract Will Hamper the Team's Future
One of the first shocking moves of free agency was the Portland Trail Blazers offering All-Star center Roy Hibbert a four-year, $58 million max contract. The lucrative deal was seen as a bit high for the big man, whose averages of 12.8 points, 8.8 rebounds, 1.7 assists and two blocks per contest were solid but far from mind blowing.
Ultimately, Indiana matched the offer and retained their coveted center. He is one of the team's young cornerstones along with Paul George, and had they let him head north to Portland, the squad would have taken a major step back next season.
Hibbert has improved every year in the league and still has the potential to get even better, but a deal of that magnitude could come back to haunt them in a few seasons.
Paul George's contract will be up in a couple years and he is due a hefty pay increase. David West is in the last year of his deal and the team will have a major hole at power forward if he leaves unless Miles Plumlee turns out to be the steal of the draft.
The team kept George Hill on a five-year, $40 million deal, and though they have D.J. Augustin for next season, they will need to permanently address the backup point guard slot as well.
To put it simply, Indiana will have several glaring needs in the next few seasons, but with their free agent dealing this summer, they are not in a great position financially.
Hibbert is skilled, but often lacks aggression both on the boards and in the post. His shiny new deal has the potential to come back and seriously haunt the Pacers when they have to start inking new contracts next summer and beyond.
Los Angeles Clippers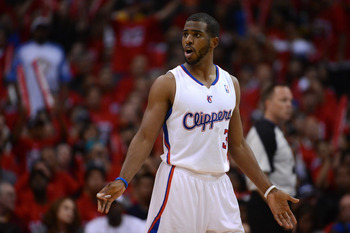 Harry How/Getty Images
None of Their Acquisitions Mean Anything With Chris Paul Not Committed
The Los Angeles Clippers have built an extremely formidable roster for next season with former Sixth Man of the Year Jamal Crawford and savvy veterans Grant Hill and Chauncey Billups in toe. But while the team is in for a tremendous season, their star point guard has not committed to the team past next season.
Ramona Shelburne of ESPN Los Angeles reports that Paul is not against resigning with the Clippers by any means but wants to wait until next summer. That does leave a certain amount of ambiguity about his future. Paul turned down a three-year, $60 million deal this summer, possibly for a more lucrative deal next year, but also potentially to test the waters of free agency.
The Clippers have built a team designed to win now. Even though they just recently locked up Blake Griffin for a five-year, $95 million deal, according to another report by Shelbrune, this is a team that is looking to win a title in the immediate future and is less concerned with what happens down the road.
Chris Paul is the engine of this team. He is their best perimeter defender, primary playmaker and the one with the ball in his hands for the majority of the game. The team lives and dies by what Paul can do on the court. With the team they've constructed to succeed, they need an elite point guard.
Griffin and Paul had excellently chemistry, which should continue to increase as they gain more comfort with each other and Griffin develops his skill set, but that will take some time.
That tandem is what Los Angeles is trying to build around and no amount of quality veterans can replace the production and on-court presence of Chris Paul.
Although the Clippers have one of the league's most talented lineups, it is meaningless until they have secured Chris Paul's services for the long haul.
Los Angeles Lakers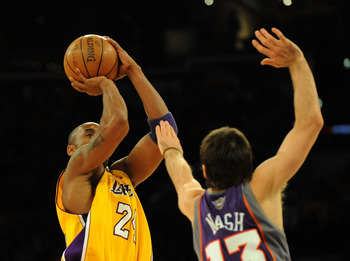 Harry How/Getty Images
The Team's Bench is Still Horrendous
The Los Angeles Lakers' move to acquire Steve Nash gave them easily one of the league's most formidable starting lineups. The team has playmaking in the backcourt and frontcourt, scoring from multiple positions on the floor and a very solid defensive presence to boot. However, the Lakers, who had one of the NBA's worst benches last season, are still bereft of talent coming off the pine.
Even with Antawn Jamison, who just joined the team according to ESPN Los Angeles' Andy Kamenetzy, they have some major holes in depth. The team has Steve Blake as a backup point guard, and at 38, Nash cannot be on the floor for 35-plus minutes a game if he is going to be effective for an entire season. Blake is a good shooter, but hardly a great playmaker and he lacks any kind of athleticism or defensive prowess.
The small forward position is also a major area of concern. Jamison used to be able to play some three, but with his size and most of his quickness gone, he is better suited as a stretch four creating mismatches. Matt Barnes is a free agent and the team has no one playing behind Metta World Peace, who is a questionable starter to begin with.
The team also lacks quality reserves behind Kobe Bryant, who cannot stand another season of superhuman minutes after starting to break down at the tail end of 2011-2012. At center, the team has yet to resign Jordan Hill and has just Josh McRoberts and the 60th overall in this year's draft Robert Sacre.
Behind Bryant is Andrew Goudelock who is really a combo guard, and second-round rookie Darius Johnson-Odom who cannot be counted on for much production in his first campaign.
The Lakers will be a title contender next season, but the team needs to bolster their bench if they want to make another Finals run.
Memphis Grizzlies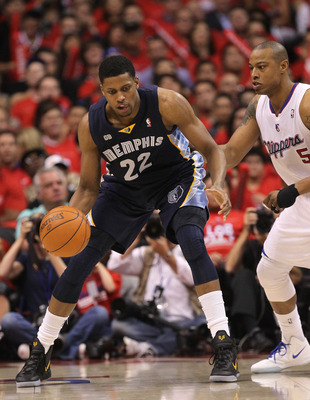 Stephen Dunn/Getty Images
Their Failure to Acquire Much Outside Shooting Will Allow Teams to Pack the Paint
One of the main reasons Memphis fell in the first round of last year's playoffs was their inability to consistently hit outside shots. The Clippers packed the paint and were able to disrupt the Grizzlies' inside game, which ultimately cost them the series.
Memphis made one move to try and fix that by signing combo guard Jerryd Bayless who is a solid three-point shooter, but the team still has very few floor-stretching options. They drafted Tony Wroten, an anemic shooter who relies on athleticism and quickness to attack the basket and they still have Josh Selby, who has a similar skill set and works best off the dribble.
In their starting backcourt, Mike Conley can occasionally splash a shot from deep but is hardly reliable, and Tony Allen is far better at slashing to the hoop than stepping outside.
Rudy Gay takes threes, but does not shoot at a very high clip and really excels at playing in transition and trying to get into the paint or pulling up from midrange.
Memphis has two dominant big men in Zach Randolph and Marc Gasol that can score consistently in the post, but if the team wants to maximize their effectiveness and allow them room to work, they must acquire some shooters that defenses must consistently respect.
Until the Grizzlies bring in some perimeter marksman, the team' lack of shooters will hurt their chances at another meaningful playoff run.
Miami Heat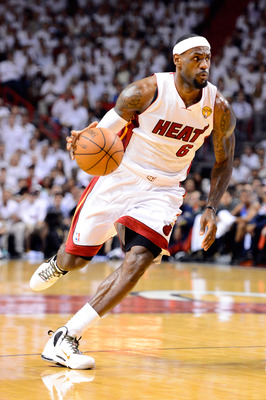 Ronald Martinez/Getty Images
Their Bench Has Become a Defensive Liability
After winning a championship there is not a ton of criticism that can be placed upon the Miami Heat, but one thing has become obvious as the team has looked to retool their bench: they lack a decent defender who won't be a starter next season.
Miami has Mario Chalmers, a very strong on-ball defender, as well as Shane Battier, another role player capable of guarding multiple positions, not to mention Dwyane Wade and LeBron James, two of the best and most versatile defensive players in the league.
However, though the signings of Ray Allen and Rashard Lewis bolster what the team can do offensively by spacing the floor, they lack any impact defenders who can come off the bench.
Allen and Lewis have never been great defensively and are even less so now that they are in the twilight of their careers. James Jones and Mike Miller are really just on the roster to camp out on the perimeter and shoot open threes, and neither are particularly good at defending their position.
Norris Cole can come up with the occasional steal, but is too small to be a serious threat defensively.
The team has Joel Anthony who can guard the post and Udonis Haslem as an energy guy, but should the team see any one of their starters miss some time, there will be a hole in the level of intense defense that the Heat are capable of playing.
While this is not a particularly serious issue, with the importance of depth in a grueling NBA season, it is certainly something to consider.
Milwaukee Bucks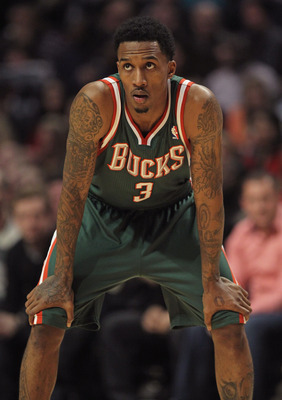 Jonathan Daniel/Getty Images
Without a Playmaking Guard, the Team's Success Hinges on the Brandon Jennings-Monta Ellis Backcourt
Milwaukee's decision to deal Andrew Bogut to Golden State in exchange for scoring combo guard Monta Ellis was widely considered a curious one when it occurred. Obviously Bogut had struggled with injuries, but he proved to be an excellent center when healthy and the team already had one score-first guard in Brandon Jennings. Many were wondering how the two would mesh starting in the same backcourt.
We now know the answer—they are capable of playing together—but that does not necessarily translate to team success. Both guards are good passers but love to call their own number and can often be too shot happy. At times, the ball would not move around the court enough and one of the guards would end up taking a long jumper or low percentage shot.
The team could really use a pure point guard, someone who thrives on setting up teammates and finding them in their best offensive spots. Having one score-first guard is fine, but to have a pair of volume shooters playing together is typically not a recipe for success.
Both are excellent off the dribble but will often pull up for long jump shots when they should look to attack the basket or make a play for a cutter or spot-up shooter on the perimeter.
Milwaukee largely stood pat this offseason, retaining Ersan Ilyasova was their big move, but the team should have looked into a veteran floor general that can run the pick-and-roll and make plays in the halfcourt.
As currently constructed, Milwaukee will shoot its way into a lot of games, but will also shoot themselves out of just as many, and will likely wind up once more as an average team clawing for a seventh or eighth seed. Few backcourts boast the level of talent the Bucks have, but because Jennings and Ellis play such similar games, they may never properly coexist.
Minnesota Timberwolves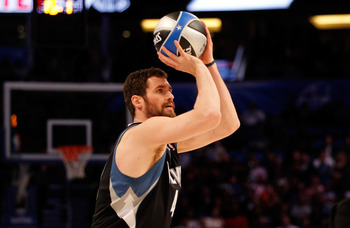 Mike Ehrmann/Getty Images
After Failing to Land Nicolas Batum, the Team Still Needs Help on the Wing
Minnesota's main objective this summer was to bring in a quality starting small forward who can space the floor, stretch a defense with his shooting and play in transition alongside Ricky Rubio. They found that in Nicolas Batum but were unable to acquire him as a restricted free agent. The team signed Brandon Roy, but coming off of disheartening knee issues and a year of retirement, it is unclear just what kind of production he will give them on a consistent basis.
On their roster Minnesota has Chase Budinger, a solid athlete and three-point shooter but by no means a starting option, Derrick Williams, who struggled somewhat in his first NBA season after being drafted second overall, and Wesley Johnson, whose disappointing play resulted in spotty time on the court last season.
For a team looking to make the leap to playoff contender behind their dynamic point guard-big man pairing, this kind of perimeter talent will not suffice. Budinger and Williams are good outside shooters, but are not great at making plays on offense or playing strong defensively every possession.
Johnson has struggled to find his way since being drafted out of Syracuse and has already been labeled a bust by many fans and pundits. He could not provide high percentage shooting from anywhere on the court and was not a factor defensively either.
Minnesota has three seasons to prove to Kevin Love that they are a winning franchise before Love can opt out of his contract, but in order to do so they need to bolster their wing rotation desperately. The trio of Williams, Budinger and Johnson is enough to get by some nights, but just not enough to win crucial postseason games with.
New Orleans Hornets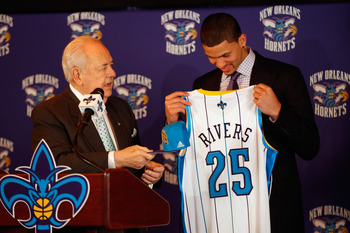 Chris Graythen/Getty Images
If Austin Rivers Can't Play Point Guard The Team Will Struggle Yet Again
In my opinion, one of the more befuddling moves of this offseason was New Orleans shipping incumbent starting point guard Jarrett Jack to Golden State for nothing in return but cap room. Sure the team needed to clear up space to match Phoenix's max offer for Eric Gordon, but it left them with just Greivis Vasquez on the roster who can naturally run the point.
Austin Rivers handled the ball plenty in his time at Duke, but the team appears set to try and convert him to a true point guard. He is a little undersized to play the two, but Rivers is not a great passer, has average court vision and too often will try to force the issue on offense.
He averaged more turnovers than assists as a Blue Devil (2.3 vs. 2.1) and was not great at running the pick-and-roll or finding slashers attacking the basket. He was decent at driving-and-kicking to the perimeter, but it will be far harder to blow by NBA defenders.
Clearly, Gordon is their two-guard of the future. He's athletic, a solid shooter and defender, and has proven that he can be the first option on offense and a clutch option down the stretch.
However, Rivers plays much more like a shooting guard at the NBA level, and trying to convert him to play one of the game's most difficult positions is by no means a guaranteed success.
As of right now the team does not have a backup point guard, and many of those minutes could go to Rivers, but he is not nearly ready to try and run a professional offense or be a playmaker in the halfcourt.
The rookie has plenty of upside, but if he fails to move over to the one, the Hornets will be left with two talented shooting guards with similar skill sets that are locked up for the long haul.
New York Knicks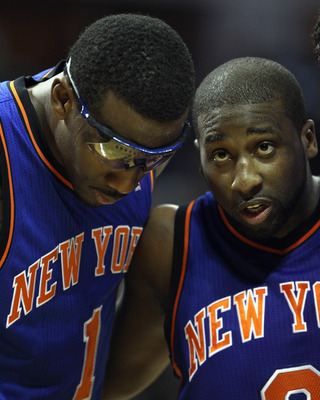 Streeter Lecka/Getty Images
Without Jeremy Lin, The Team is Aging Rapidly
From a business standpoint, the New York Knicks' decision to pass on Jeremy Lin made since. His third year swell in salary would have put the team significantly over the salary cap and cost the team major money in punitive luxury tax payments. However, by bringing in Raymond Felton and Jason Kidd to man the point, as well as Marcus Camby to anchor the bench, the team has seen their title window shrink rapidly.
New York's core of Carmelo Anthony, Tyson Chandler and Amar'e Stoudemire have all reached their peaks as players. Anthony is still an elite scorer, but it is unlikely that he will become a significantly better player than he has been already, even if he improves the other facets of his game.
Stoudemire and Chandler both are still impact players, but they are injury prone and have dealt with plenty of physical punishment over their long NBA careers. Stoudemire in particular showed wear in his knees and back that seriously hampered him last season.
Camby is 38, Kidd is 39, and while both still deserve minutes in the rotation, they are shells of their former selves.
Even Felton, at age 28, does not have particularly much room to grow during his time with the Knicks.
New York has built a strong roster, one that should be an upper echelon playoff team in the Eastern Conference next season as long as everyone can stay healthy. But the team has completely entered win-now mode and is banking on several fragile players to find ways to stay on the court if they want a serious shot at raising a banner.
Letting Jeremy Lin head to Houston made sense from a financial standpoint, but it significantly reduced the length of time this team can be a contender, and the team will only see their chances dwindle with each passing season.
Oklahoma City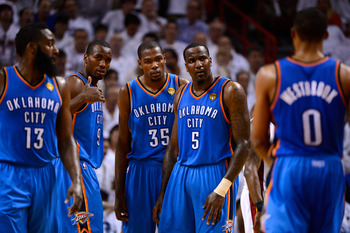 Ronald Martinez/Getty Images
With No Major Moves, the James Harden/Serge Ibaka Decisions Still Loom Large.
Coming off of a run to the NBA Finals, the Oklahoma City Thunder had little to do this summer. The team managed to snag Perry Jones III with the 28th pick of the draft, a move hailed in basketball circles as one that could pay off down the road, and signed Georgetown's Hollis Thompson and the illustrious Hasheem Thabeet.
The Thunder had a very quiet offseason, a sharp contrast to next summer when both Serge Ibaka and James Harden will be restricted free agents.
The team has significant money already tied up in Kevin Durant and Russell Westbrook, and both Ibaka and Harden have earned themselves some serious offers in free agency thanks to their unique skill sets. Harden is a versatile scorer that can run a team's offense but also work without the ball, and Ibaka is a shot blocking machine with a solid mid-range jumper who can attack the glass.
Sam Presti and the Thunder front office are hoping that Jones can emerge quickly and be the kind of talent many expected him to be coming out of Baylor. They are hoping that his presence on the frontline will allow them to consider letting Ibaka walk.
Oklahoma City is one of the league's most popular franchises, but the new luxury tax restrictions encourage parity by forcing teams to pay staggering sums of money, and a small market team like the Thunder cannot shell out absurd amounts to keep their core intact.
As long as they have their dynamic duo of Westbrook and Durant, the Thunder will be contenders, but the importance of next summer in determining the future of this franchise cannot be understated. For now though, the team sits quietly, waiting for this fall's opening tip.
Orlando Magic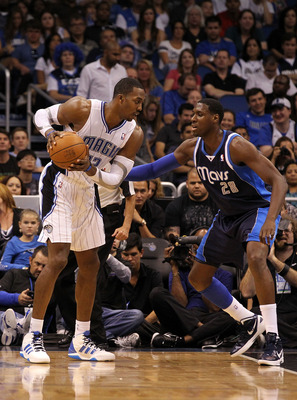 Sam Greenwood/Getty Images
Dwight Howard is Still on the Team's Roster
This one really does not need to be elaborated on. The Dwight Howard-Orlando situation has become beyond toxic and how he remains with the Magic, to be honest, is beyond me. He has created an unfixable situation, and the only option for Rob Hennigan and the team is to find the trade partner that will give them the best collection of assets.
Howard may want to go to Brooklyn, but under no circumstances should the team oblige him unless it is in their best interests. After what he put the front office and the fan base through over the past year, his desires should play no role in what decision the Magic make regarding a potential deal.
Howard's lack of class, constant changes of stance and refusal to stop commenting on his situation mean that there is just no way he can ever suit up for Orlando again.
The team dealt Ryan Anderson, a player who perfectly compliments Howard, a move seemingly done in preparation for a rebuilding effort, but curiously resigned veteran Jameer Nelson to a three-year deal. The Magic roster currently appears to be in flux between trying to contend and undergoing a total reboot.
Regardless, Orlando needs to deal Howard, whether it is to Houston, Los Angeles or Brooklyn, and begin the next chapter of their franchise. It may be rough at first, but it is better than any more flip-flopping from their All-Star big man.
Philadelphia 76ers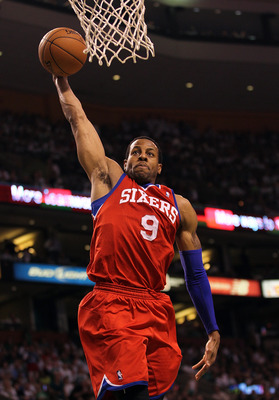 Jim Rogash/Getty Images
Their Sheer Amount of Roster Redundancy is Mind-Boggling
First the team signed two-guard Nick Young to a one-year deal, allowing sixth man extraordinaire Louis Williams to walk in free agency. Then they dealt for Dorell Wright of the Golden State Warriors, as per Antonio Gonzalez of the Associated Press. Suddenly, Philadelphia was looking at a roster even more jam-packed with athletic perimeter players than they had last season, and that's saying something.
Philadelphia now boasts Young and Wright in addition to Andre Iguodala, Evan Turner, Maurice "Mo No Mo'" Harkless and Thaddeus Young. Sure, Iguodala can handle the ball, and Thad Young is a better interior player, but all six Sixers are athletic, perimeter-oriented wings who do not have great size.
The 76ers' most glaring weakness is up front, where the team will likely start Thad Young after amnestying Elton Brand. They also have Spencer Hawes and LaVoy Allen, but lack a dominant inside presence and too often are out-rebounded and out-muscled in the paint.
Philadelphia now has a rotation jam-packed with players at the two, three and four spots, and each player deserves his share of minutes.
Harkless has an extremely high ceiling but must learn not just through practice. Turner had a breakout playoff run and appears poised for a very strong season. Young can shoot the lights out when he's engaged, same goes for Wright, and Iguodala is the team's best player on both ends of the court.
The team has plenty of assets and potential trade avenues, but have yet to openly explore anything this summer.
With the start of the regular season still a ways away, the Philadelphia 76ers must continue to make moves, because there is no way they can replicate last season's success with a roster that has so many similar players.
Phoenix Suns
Christian Petersen/Getty Images
The Team Has Done Just Enough to Stay Mediocre Without Steve Nash
The Suns wasted no time making moves once Steve Nash was officially traded to the Lakers, signing point guard Goran Dragic and talented but troubled forward Michael Beasley for three- and four-year deals, respectively. These two players will help to usher in a new era of Phoenix basketball, but while both are quality basketball players, neither is the kind of transcendent athlete that Nash was.
As of right now, the Suns should be trotting out a lineup of Dragic, Shannon Brown/Jared Dudley, Beasley, Markieff Morris and Marcin Gortat. That is a decent starting five, but they do not quite have what it takes to make any real noise.
They have enough talent on the roster to win their share of games, but they lack experience and unfortunately will stay where the Suns have been over the last two seasons, in the ninth or tenth spot, securing late lottery pick after late lottery pick.
Phoenix's decision to retool and attempt to build a competitive team is in many ways more admirable than simply blowing it up and bottoming out, but their roster lacks a franchise player, and after losing out on Eric Gordon, it is difficult to see how they will find one.
One of the oldest NBA adages is that a team should either be contending for titles or waiting for lottery balls, and the worst possible situation to be in is somewhere in between.
Well, with their moves this offseason Phoenix has assured themselves a spot firmly in the middle of the pack for the next few years, which ultimately could do far more harm than good in the long run.
Portland Trail Blazers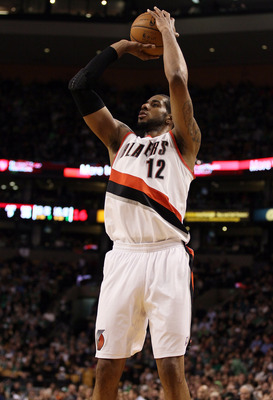 Elsa/Getty Images
Even With Nicolas Batum Back, This Rebuild Will Take Time
After rescinding their offer to Roy Hibbert, the Portland Trail Blazers made their only major move of the offseason by retaining Nicolas Batum and matching his four-year, $45 million offer from Minnesota. The team, which has seen Raymond Felton and Jamal Crawford depart this summer, as well as former franchise players Brandon Roy and Greg Oden over the past two years, appears to be entering a full scale overhaul after a disappointing season.
The team netted Damian Lillard with the sixth overall pick and Meyers Leonard with the eleventh, and as of right now, it appears both rookies will start or at least receive heavy minutes in Leonard's case. Turning the keys over to their youth movement may be wise down the road, but both players will need time to adjust to the NBA game and will certainly take their licks in their inaugural campaigns.
Lillard is mature and an electric scorer, but he will have to contend with a much higher level of talent in the pros than he did at Weber State. He also needs to work on his passing ability and running a halfcourt offense, which he did not do much of in college.
Leonard is a true project, he is extremely athletic and has nice hands around the basket, but needs to add some muscle and develop his offensive game further. As of right now many centers would absolutely dominate him on the block, and he needs to work on turning his high motor into consistent production.
Portland is not in a bad situation—should their two rookies live up to expectations they have a solid starting five locked in fort he next few years. However, they will have more downs than ups over the next couple of seasons as Leonard and Lillard learn on the job.
Look for the Blazers to be a scary team with some experience under their belts, but this young squad still has a ways to go.
Sacramento Kings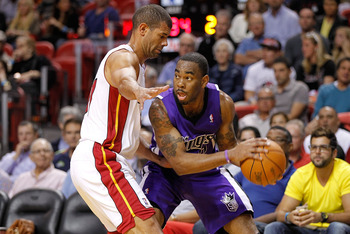 Mike Ehrmann/Getty Images
Tyreke Evans Isn't a Small Forward, the Team Needs a Veteran at the Three.
The Sacramento Kings have had a glaring need at small forward for a long time now. Out of desperation last season, the team ultimately started Tyreke Evans at the position, something that simply will not work long term.
They have John Salmons, but he averaged a paltry 7.5 points, 2.9 boards and two assists last season, which just isn't good enough to bank on for the future.
The Kings have plenty of talent, particularly with rookie revelation Isaiah Thomas and Thomas Robinson, who appears to be one of the most NBA-ready players from this year's draft class. However, they have some serious questions in the locker room, particularly with DeMarcus Cousins running the show.
They need players who do not have to have the ball to be effective, especially with the newly acquired Aaron Brooks fitting the bill as another scorer that has to have the ball in his hands.
One potential move would be to bring in Andre Iguodala. Iguodala is a high character guy, versatile offensive player and excellent on the defensive end. He has had success with Philadelphia and has proven to be a leader on the court, but the Sixers have been interested in shopping the All-Star in the past.
Sacramento has attempted plenty of stopgaps over the past few seasons, but the combination of Evans, Salmons, Francisco Garcia and the newly-acquired James Johnson is just not enough to contend in the Western Conference.
This team needs someone who can help to change their culture both on and off the court, because all the talent is there for the Kings to be a playoff caliber ball club.
San Antonio Spurs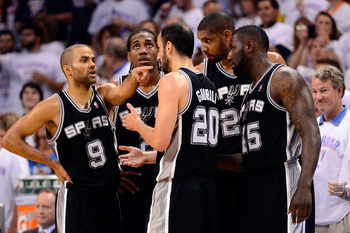 Ronald Martinez/Getty Images
The Team Kept Their Nucelus Intact, but is That Enough to Win With?
The San Antonio Spurs have largely had a quiet offseason, resigning Danny Green and Boris Diaw, who both played well after joining the club last year as well as franchise forward Tim Duncan, who is back with the Spurs on a new three-year deal. However, after getting ran out of the postseason by Oklahoma City, can San Antonio realistically win a title going to war with the exact same squad?
Despite having a very solid season Duncan is showing signs of age and cannot run the floor as well as he used to. Manu Ginobili has proven to be extremely injury prone and has had trouble consistently staying out on the court. Tony Parker had a renaissance season last year, even garnering some MVP chatter, but with two thirds of the Big Three declining the French point guard's attacking style alone cannot carry the team to a championship.
Diaw is a skilled big man, but he is declining and lacks the physicality and size to log major minutes at the center position. Green is a perimeter marksman, but is not going to be seeing a ton of time with Ginobili coming off the bench behind him.
The Spurs have some nice young athletes in Kawhi Leonard and Tiago Splitter, but their most important players peaked years ago, and the team was exposed defensively by the Thunder and their ability to get into the lane and create high-quality shots.
San Antonio has spent the past two seasons building a team based on a run-and-gun, free wheeling offense. The components of those teams are still chiefly in place, but since that has ultimately failed in the last two seasons, what are the odds it will work this year with the veterans a year older?
Toronto Raptors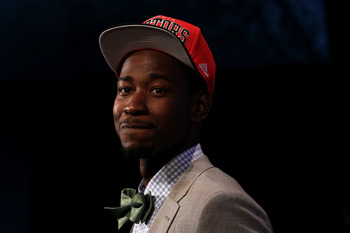 Elsa/Getty Images
The Team Has an Overabundance of Shooting Guards
Much like the Cleveland Cavaliers, the Toronto Raptors took a risk on a high-upside shooting guard, Terrence Ross, who they grabbed ahead of where he was projected to go. However, unlike Cleveland, Toronto goes into next season with too much depth at the wing and not enough presence inside.
The Raptors drafted Ross despite having DeMar DeRozan, a superbly athletic swingman who has improved every season in the league. DeRozan is an excellent slasher and an improved shooter and defender who certainly deserves to be the starter and play the brunt of the minutes at two-guard.
The team then compounded the issue by signing restricted free agent Landry Fields to a three-year, $20 million deal according to ESPN's Ian Begley. The team now has three players at the two that will need their share of time on the floor.
Fields is a hard-working, team oriented player who can hit the three and play solid defense. Toronto is a vastly improving defensive ball club and Fields will earn his time simply because of his physicality on the perimeter. However, he is not a great scorer and actually regressed in his second season in the NBA.
Obviously the team can go small and play two of DeRozan, Fields and Ross together, but with issues on the frontline they should look to keep some size on the wing so they can crash the glass.
Ross is a talented scorer that can hit outside shots and attack the basket. As a high lottery pick, it is clear that he is a major part of the Raptors' future, but in order to learn and improve, he needs to actually be on the floor.
Toronto is going to be an improved team next season, but they have locked a logjam at shooting guard that could pose a problem for the club for several more seasons.
Utah Jazz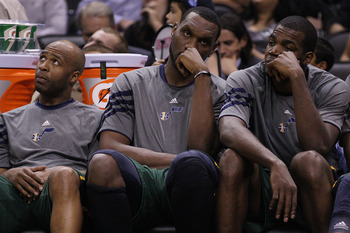 Ronald Martinez/Getty Images
The Team Did Nothing to Address Their Frontcourt Logjam
The Utah Jazz are probably the only team with too many quality big men on their roster. They have Derrick Favors, a defensive stalwart with an improving offensive game, Paul Millsap, a hardworking, bulldog of a player, Al Jefferson, a consistent 20-10 guy and the intriguing Enes Kanter, who is still a work in progress.
All four provide slightly different things on the court and they each deserve their minutes every night. However, the Jazz front office has a crucial decision to make about who they are going with long-term, and must make it before the crowded rotation damages the ceilings of Kanter and Favors.
Utah made a deal to acquire Mo Williams to improve the point guard position and also dealt for Marvin Williams, another wing scorer. These moves will make the team better and have given them some more perimeter prowess, but they failed to fix their interior issues.
Plenty of teams would jump at the chance to acquire any of the big men on Utah's roster. Assuming Derrick Favors is there for the long haul that leaves Millsap, Kanter and Jefferson as very viable trade options.
The Jazz could still use some more talent on the outside, and they have stockpiled enough assets that if they openly began shopping a Millsap or a Jefferson, teams would come knocking down their door with offers. However, until the Jazz recognize this they will continue to be a middle-of-the-pack borderline playoff team in a tough Western Conference.
The four and five spots for the Jazz are proof that you can have too much of a good thing, and the team's failure to make any sort of deal will ultimately hurt them in the future.
Washington Wizards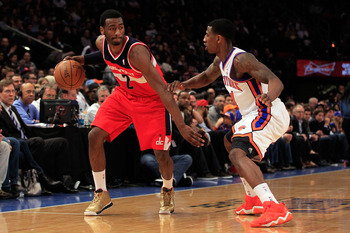 Chris Trotman/Getty Images
The Team Chose High Character over High Ceilings
The Washington Wizards began to retool their roster in earnest at last year's trade deadline, shipping JaVale McGee to Denver for Nene and Nick Young to the Clippers for nothing of value. Both players showed considerable talent during their time with the Wizards, but also demonstrated low basketball IQs and that they were not willing to play team-oriented basketball.
Washington then dealt Rashard Lewis to New Orleans for veterans Trevor Ariza and Emeka Okafor. The pair of former-Hornets are true professionals and skilled players on the defensive end of the court, who can help the team to win immediately.
The problem here is that while the team will almost certainly be better next season than last season, three of their five starters have already reached the peaks of their careers. Okafor and Nene are injury-prone and struggle to stay on the court, but even when healthy, neither of them are dominant players.
Ariza is a good defender and athlete, but he too is declining and is not a particularly consistent scorer or floor spacing shooter.
Sure Young and McGee had their difficulties, but both are young players still brimming with potential. McGee showed that he could be a special big man in stretches with the Nuggets, particularly during the postseason. He is an athletic freak that has an uncanny knack for blocking shots and can handle physical play.
Young is a gifted shooter that can get hot in a moment's notice, and though he needs to work on his passing and shot selection, he is a starting caliber two-guard.
If Young and McGee ever fully realize their potentials, the Wizards will look back on these deals as poor decisions. Even though the team will be better for the next year or two, they are locked in to pay major money to three players that have already played their best basketball.
Keep Reading