Best Jersey in Each NBA Team's History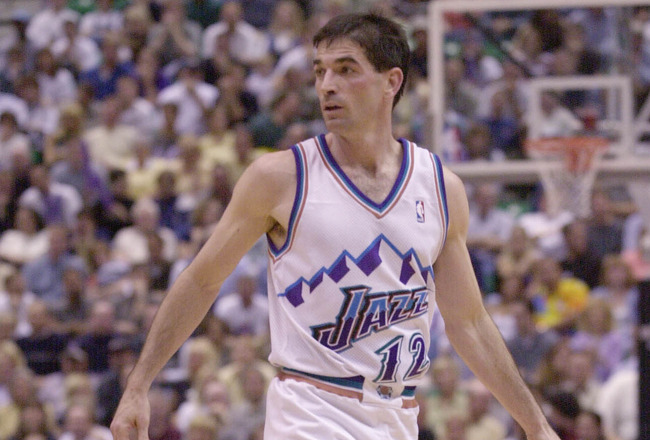 Matthew Stockman/Getty Images
There might not be a sports league whose teams change their looks more often than the NBA. Throughout its rich history, there have been some awesome uniforms.
If you noticed, I wrote teams instead of franchises. While I would have liked to write about teams like the Seattle SuperSonics, they are no longer around, so I can't. Obviously there is an exception to this rule with the Brooklyn Nets considering they haven't played a game yet in their new city.
Who knows—you might find some of these jerseys in your closet, just waiting to be used. Whatever you do with them is entirely up to you, though, so continue forth.
Atlanta Hawks Road 1982-1992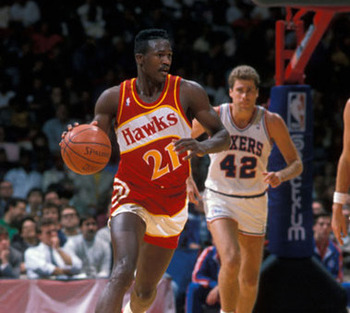 http://www.secsportsfan.com/dominique-wilkins-biography.html
A lot of good memories arise in Hawks fans watching Dominique Wilkins and Anthony "Spud" Webb dominate the game in these jerseys.
While I may not be old enough to remember them that much, I do enjoy watching them play with these threads in 2K12—yeah, the game where they go H.A.M. every single time. I just stopped contesting them; it was a waste of time.
Back to the jerseys: The red and yellow color scheme is just part of the greatness of these jerseys. The slight tilt they have to them screams old-school, while I love the design on their shorts. That is a very underrated part of a uniform that I miss. The hawk logo and white stripe perfectly complement the top.
Just like the current Hawks, they had trouble advancing past the semifinals. Sometimes a change in look just isn't enough for a change in success.
Boston Celtics Alternate 2006-Present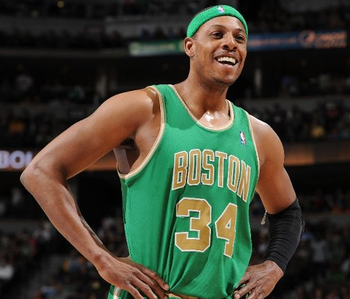 http://news.sportslogos.net/2012/03/18/photos-from-st-patricks-day-2012/
This was an extremely tough one to decide. I know, the Celtics have largely kept their uniform intact with very little changes. It was between this and the current home uniforms.
I chose this one because it broke the traditional green and white mold—and succeeded. While it is mainly worn on St. Patrick's Day, it has the ability to be worn a lot more. After all, what is the first thing you think of when you hear the Celtics name? Green and gold.
While the gold is prevalent, it isn't overpowering, which is nice. It also gives a small hint of the white, just making sure it combines the three colors in an efficient way.
On a side note: The year after they implemented these jerseys, they won the NBA championship. Coincidence? I think not.
New Jersey Nets Home 1997-2012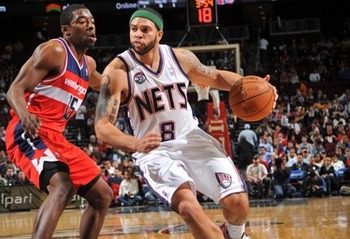 http://biclzone.com/new-jersey-nets-plays-final-home-game.html
So ends the saga of the New Jersey Nets. While they weren't the most successful team, they still managed to gain a lot of fans in their home state.
I didn't really like any of the Nets uniforms, so I went with this one. You can never go wrong with subtle red, white and blue color schemes. The enlarged team name across the front is in your face, which I like. It looks real crisp and unmistakably an NBA uniform.
I wonder how Dwight Howard would look in one of these...
Charlotte Bobcats Road 2009-2012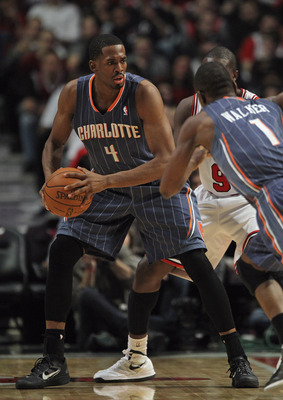 Jonathan Daniel/Getty Images
The Bobcats have just not been a good team—partly because of their atrocious way of handling the team's colors. Have no doubt, this is the only one that really works.
You'll learn throughout this article that I love pinstripes on basketball jerseys. The Bobcats incorporated them perfectly into this uniform, choosing a nice, soft white against the dark blue. Thankfully, the orange isn't shown too much in this one. On a uniform with deep colors, the orange would just be obtrusive.
If I could, I would choose the new uniforms they unveiled this year. They look sleek and modern while looking balanced. But the Bobcats have yet to play a game in them, so it was out of consideration.
Chicago Bulls Alternate Uniform 1995-1997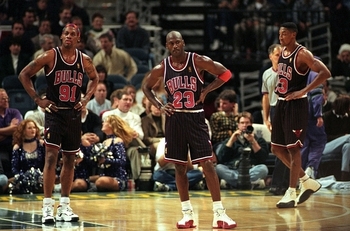 http://vk.com/id25312167
This was probably the hardest one to choose. Every single version of the Bulls uniforms has a good argument to be on here, but I had to go with the alternate black with red stripes.
The Bulls are made to look intimidating (forget about that wide-eyed mascot for a bit), so red and black are great colors to use. Red pinstripes are something you don't see every day, and they go great against a black background.
It looks like they also catered to my love of designs on the shorts, as they added the Bulls logo to both sides, making it pretty visible. Sometimes you don't need flash—just understatement.
You know what wasn't understated, though? Michael Jordan, Scottie Pippen and Dennis Rodman, who all rocked this uni on their way to a second three-peat.
Cleveland Cavaliers Road 2010-Present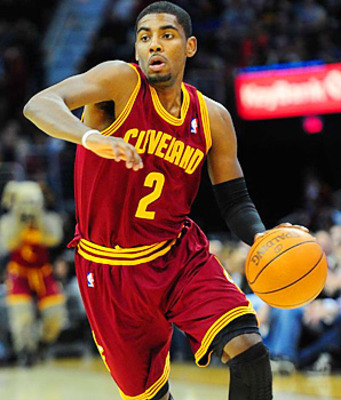 http://www.hoops-nation.com/kyrie-irving-to-undergo-surgery-wednesday/kyrie-irving-story-si/
Cavalier fans have gone through a lot these past few years, but one thing they can be happy about is their uniform.
Their current road uniform pays homage to the ones used in the '70s, and it does so magnificently. Instead of the boring wine red and old gold, they brightened it up with yellow gold and regular red. It still has the Cavalier logo on the pants while adding some nice trim along the sleeves.
Cleveland fans have a bright future in store. You can tell by this jersey.
Dallas Mavericks Home 2001-Present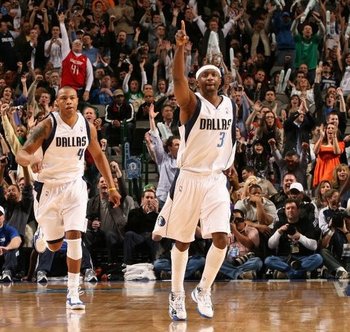 http://www.pegasusnews.com/news/2010/feb/18/dallas-mavericks-107-phoenix-suns-97/
The Mavericks have some solid uniforms. Nothing flashy or flamboyant—just some blue and white shades that could work for every team.
Something that separates these jerseys from others is their excellent use of multiple shades of blue. While a majority of it is white, they incorporate a navy color for the letters and a light blue for the lining and numbers.
There will be a lot of new guys wearing the Mavs uniform this year. Rest assured, it will look good on all of them.
Denver Nuggets Home 1985-1993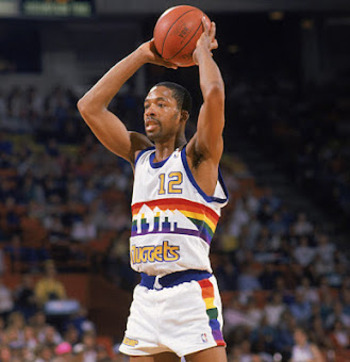 Mike Powell/Getty Images
A lot of people will criticize this selection, but I love these uniforms. They were truly something that no NBA team had considered before, and that itself deserves some merits.
Looking past the rainbow colors for a second, this uniform has it all. It features the Denver skyline mixed with the famed mountains in the background. Add in the bright colors against a solid white background, and you have a uniform that is unmistakable.
I also like how the pattern extends down the side of the shorts. If you're going to go rainbow, you need to go all out. Overall, a great uniform.
Detroit Pistons Alternate 1997-2001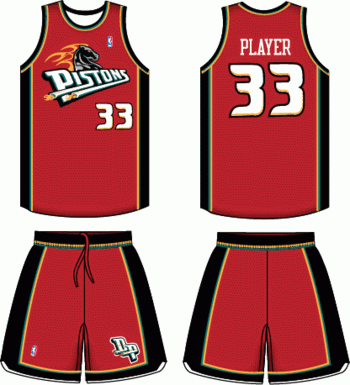 http://content.sportslogos.net/logos/6/223/full/wgg6ak459ntcs6qotf878elhi.gif
For some reason, I was unable to find a picture of Piston players wearing this jersey even though it was used fairly regularly. Either way, it is still pretty good.
I've never been a huge fan of the Pistons uniforms, so these easily take the cake. I always thought of Detroit as a tough, menacing team. Red and black with a flaming horse (key word: flaming) easily portrays that idea. It would also help explain why they liked using these instead of the teal ones.
Sadly, these were only used in a forgotten era of Piston history, right before they became perennial contenders. I really would like to see them break it out every once in a while, though.
Golden State Warriors Home 2010-Present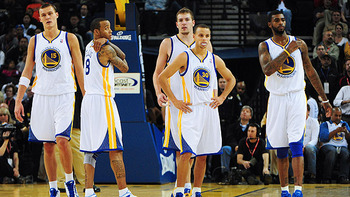 http://wwwirritant.blogspot.com/2012/04/cindy-jacobs-continues-to-be-fraud-and.html
When the Warriors unveiled their new uniforms a couple of years ago, I was one of those who really liked it. It changed from its mediocre orange and blue configuration to an appealing gold and blue scheme that harks back to the team's beginning.
The bridge on the front is a great idea and looks great with the colors. It is noticeable enough to be eye-catching, but not overpowering. Including the jersey number inside it was also a good idea.
Overall, a great uniform for the Warriors—representing both their city and their team well.
Houston Rockets Home 1976-1995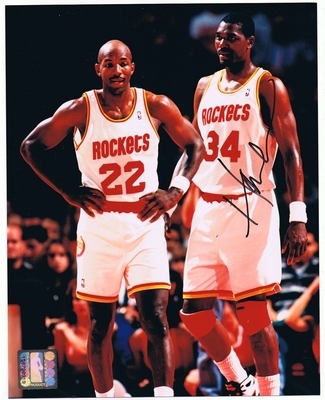 http://rackrs.com/MarketplaceItem/122/hakeem-olajuwon-signed-houston-rockets-photo
These were some long-lasting uniforms, which is easy to tell when you look at them. Quite simply, this jersey balances its design really well.
It isn't flashy or over the top; instead, it prides itself on good placement and minor details. The gold trim on the sleeves and shorts is welcome, along with the slight tilt to the word "Rockets."
A lot of great players wore this jersey, which is why it had such staying power. Moses Malone, Hakeem Olajuwon, Clyde Drexler, Ralph Sampson and Robert Horry all wore this uniform to perfection. I'd sure prefer it over the bland ones Houston has now.
Indiana Pacers Alternate 1999-2005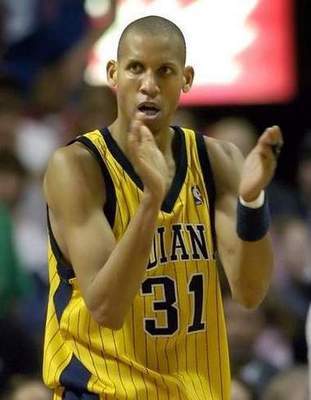 http://www.masslive.com/sports/index.ssf/2012/04/basketball_hall_of_fame_class_1.html
The three jerseys from this era (home, road and alternate) were all great, but I decided that the alternate one looked the best.
Indiana's dark blue and yellow have always gone well together, but the pinstripes put them over the top. Unlike the other two, it's easier to read this one without having to rub your eyes every once in a while.
While some don't like the yellow base, it isn't an obnoxiously bright shade, and it makes up for it with the navy stripes. Whenever I see this jersey, it brings up the image of Reggie Miller draining clutch shot after clutch shot.
These would be a nice throwback for the Pacers to wear every once in a while to take a break from their already good current uniforms.
Los Angeles Clippers Home 2010-Present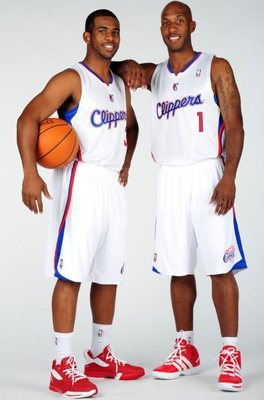 http://www.yaomingmania.com/forum/viewtopic.php?p=406492&sid=b3324996f31b3be5bd458280deaeab76&PHPSESSID=b4209f33bdf572517ad86524386b42b1
While I don't like the Clippers, I do like what they did with their uniform. They made subtle changes, keeping true to their beginning uniforms.
They use red, white and blue effectively by intermixing them throughout. The "Clippers" part also feels so L.A.-like with its cursive writing. Simple, efficiently used uniforms.
With the arrival and emergence of Blake Griffin and Chris Paul, the Clippers may soon climb out of their "other team in Los Angeles" hole.
Los Angeles Lakers Home 1999-Present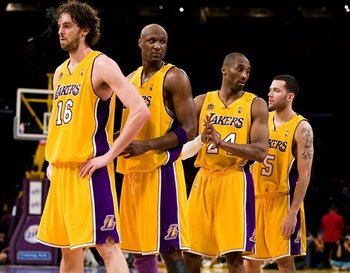 http://8erbahner.de/modules/com_yvcomment/?lakers-starters-41
As one of the greatest franchises in history, the Lakers have arguably one of the best uniforms in history. It is easily identifiable and is recognized in a heartbeat.
Purple and gold seem like colors that wouldn't get along together—that is, until you see the Lakers jerseys. The gold is relegated to the middle, while a thick purple stripe runs down the side, giving it a sleek look. The classic "Lakers" font is still there, giving it a touch of class.
It is all very pleasing to the eyes and has given us some amazing title runs and players. It is always a sight to look at the Lakers' home games and see everybody decked out in the purple and gold. It's surely a uniform that they will never change too drastically.
Memphis Grizzlies Home 2002-2004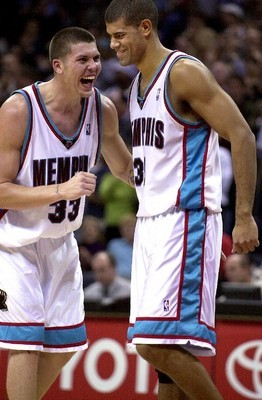 http://www.commercialappeal.com/photos/galleries/welcome-home-shane-battier/35449/
As a lifelong Grizzlies fan, I had a difficult decision to make. While the current jerseys are solid and are more "Memphis" style, I couldn't, in good conscience, select them as the best uniforms. That title goes to these jerseys.
Teal is a very hard color to pull off, which is why these uniforms are unique. They use it to line the entire uniform, which actually works. "Memphis" being in black was also a good decision, making it a little more menacing.
Speaking of menacing, I have always loved the old grizzly bear on the side. In all honesty, I'd choose it over the current one.
Someday, I would absolutely love for the Grizzlies to break these out, just for a retro feel. The fans would love it.
Miami Heat Road 2009-Present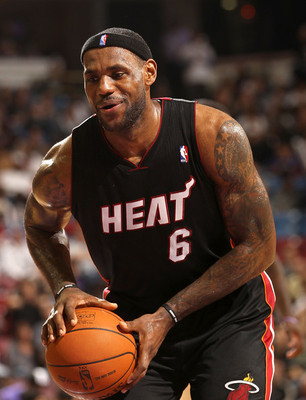 http://lionelmessiintheandres.blogspot.com/2011/04/lebron-james-salah-satu-pemilik-klub.html
The Heat are a relatively new franchise, so there hasn't been much of a change in the uniform. There doesn't need to be, as these are pretty good.
Nothing conveys heat like black, red and yellow, so it checks out in this area. These look real crisp on the hardwood, mainly because of the solid black.
The "Heat" in the front has the signature flame, which is a small but significant addition. A red stripe with yellow trim down the side makes this an overall good uniform.
While you may not like the players in this uniform, you can't bash the uniform itself.
Milwaukee Bucks Alternate 1995-1999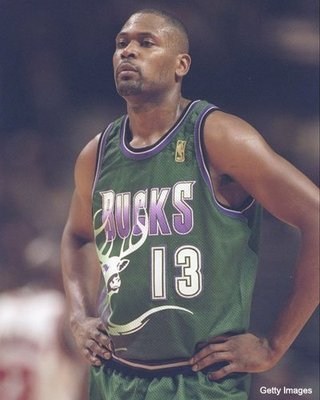 http://www.fanbase.com/3-Glenn-Robinson/photo/511696?n=3
I will get a lot of flak for this, but I can't deny it. I love this Milwaukee Bucks jersey and everything on it.
Purple and green aren't necessarily bad colors to use, as shown by this jersey. Mostly green with a little purple is the way to go, as is having both on the shorts. But we all know the real reason this jersey is on here.
That deer on the front is vintage as vintage gets. It alludes to the hunting that most Milwaukeeans enjoy while giving a threatening glare (any deer hunter can attest to how angry those animals can get). Adding the number to the right of it was the perfect move, and it fills up the rest of the jersey.
Call me crazy, but these are some nice uniforms.
Minnesota Timberwolves Alternate 2010-Present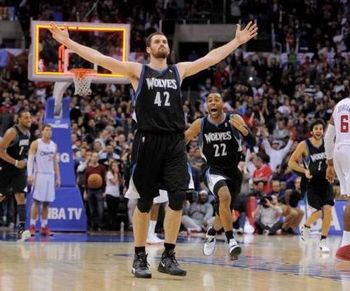 http://theonba.wordpress.com/2012/03/page/6/
If your team has a name like "Timberwolves," you need to have a uniform that displays some sort of ferocity. I'm talking, like, Kevin Love rebounding ferocity.
This is probably their only jersey that does just that. There's always going to be the sharp font, but the black all over is refreshing. You can only do so much with blue and white, so adding it in gives it a great look. The pattern on the sides extends down to the shorts, which is a nice touch.
I feel that these should be the de facto road uniforms from now on. They are a lot better than the current ones in my opinion.
New Orleans Hornets Road 2008-Present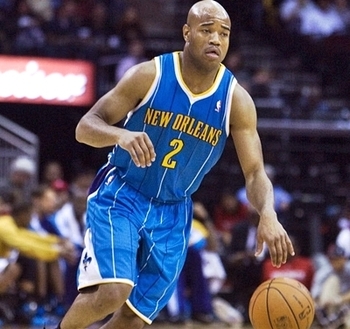 http://www.sportsnola.com/sports/hornets/581569-hornets-start-second-half-end-road-trip-at-bulls.html
I would have preferred writing about the Charlotte Hornets (the city is called "The Hornet's Nest"), but here we are. You either hate the Hornets colors or you love them. I love them.
Blue, yellow and purple are such Mardi Gras colors, so putting them all together was a great idea. This Mardi Gras theme extends to the pinstripes and font on the front. While I didn't like the city change, I do like how they knew about their surrounding and catered to them.
Seeing Anthony Davis, Austin Rivers and Eric Gordon work together in these will be quite the sight next season.
New York Knicks Home 1992-1997
http://sentenceofdave.blogspot.com/2010_12_01_archive.html
Blue, orange and white have always been the Knicks' colors, so I basically had to choose which uniform placed them the best.
Some are a big fan of the current uniform's blue stripe down the side. I think it doesn't fit too well, so I went with this version, the one without it. The "New York" across the front is not hindered by anything and serves as the focal point of the jersey.
The shorts also deserve praise, mostly due to their excellently placed lining and colors. Add in the logo, and it completes the look.
As a side note, who else remembers John Starks' "The Dunk" in this uniform?
Oklahoma City Thunder Home 2008-Present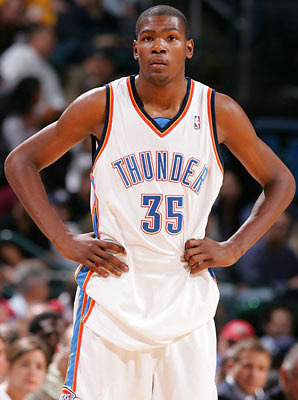 http://www.romain-sato10.net/article-nba-finale-playoffs-les-spurs-remportent-la-premiere-manche-105937931.html
It's not like this was an especially hard decision. They've had two jerseys, a home and a road. It really was an eyeball test to decide which one was better.
I've heard a lot of criticism from people about these jerseys. Some say they are generic and bland, which I sort of agree with. Their color scheme isn't exactly new, though that doesn't necessarily mean it doesn't look good.
Basically, apply everything from the Knicks slide to this one. The main difference is the stripe, which actually works in this one.
I still would have preferred to review the SuperSonics, though.
Orlando Magic Road 1989-1994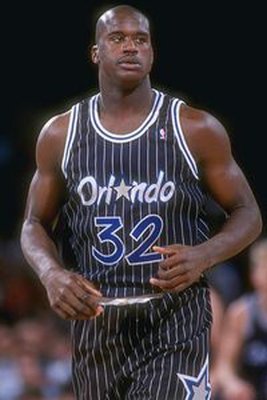 http://seattlesando.com/2012/02/27/the-debut-of-the-top-11-all-time-nba-jerseys/
The pinstripes return! Orlando is yet another team that can do no wrong when it comes to uniforms. By now, though, you should have known which one I was planning on choosing.
While the modern versions look more sleek and, well, modern, these ones have that old-school vibe to them. The stars all over the jersey stay true to the "Magic" theme, while the pinstripes make it stand out from the pack.
The color choice of black as the main one was probably to give it a more threatening tone, though having a 7'1", 325-pound center does that more than anything.
Philadelphia 76ers Road 2000-2007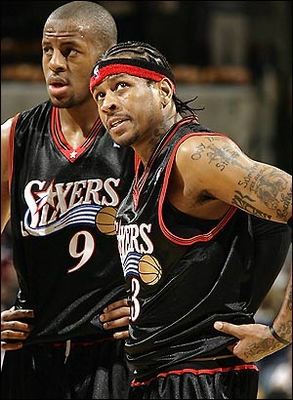 http://www.outsports.com/forums/index.php?showtopic=40037&st=90
These were from the short stint that the 76ers had with their new logo/colors experiment at the beginning of the 2000s. I really liked these uniforms, so I didn't agree when they changed them back.
Black and red always go together, and this jersey knows that. It doesn't try to do anything too crazy besides introduce their new logo, which is fine. The basketball with a swoosh across the front actually fits pretty nicely.
Allen Iverson really made these jerseys work. It just looked so fitting for him and his cornrows.
Phoenix Suns Road 1992-2000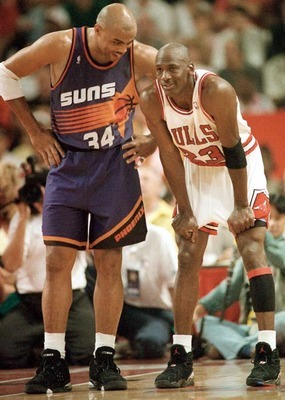 http://nbanewscorner.blogspot.com/2011/08/charles-barkley-funny-photos.html
These uniforms might be the best ones of the '90s, mainly because they combined every single thing I like in a jersey.
As one of the few teams to use orange and purple, they make the most of it. While the base color is purple, the entire front is filled with a basketball leaving orange rays behind it, giving the jersey that vintage look I love so much.
Instead of ignoring the shorts, they used them to put their city name with a slight tilt similar to the one on the top. Definitely using as much of this uniform as they can.
Certainly one of the best ones on this entire list.
Portland Trail Blazers Road 2006-Present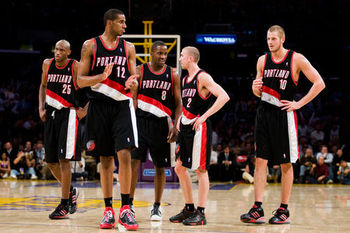 http://fistikyesili.com/2011/04/17/nba-2011-playofflari-basladi/
The Trail Blazers, being a Northwest team, tend to not get as much attention as they should. It's a shame because there is a lot to like about them—starting with their uniforms.
I looked up what a Trail Blazer was (I had a hunch) and found out it was somebody who set track through wild country. I guess, somehow, their jerseys represent that? Black could represent the unknown, while the tilted red and white represent the trail set by them? Maybe I'm reading too much into this. Either way, still some pretty good uniforms.
They looked even better when they went up against the SuperSonics. (OK, I'm done with the Seattle moping, I promise.)
Sacramento Kings Alternate 2011-Present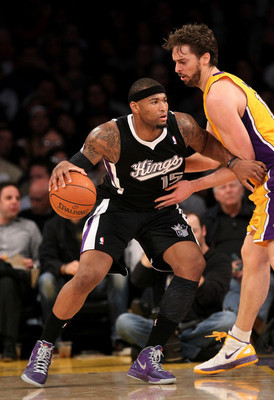 http://www.nbamania.com/g2/bbs/board.php?bo_table=offline&wr_id=75890
It seems that the Kings are staying in Sacramento for the near future, which should come as a huge relief to Sacramento and NBA fans alike.
It's also nice to know that their uniforms aren't going anywhere either. Personally, I love the all-black theme this one has going on. "Kings" being in cursive just oozes class, as do deep purple and white outlines.
I wish these uniforms were worn more often. I think they are some of the best in the league.
Now only if the team would be as good as its jerseys...
San Antonio Spurs Home 2002-Present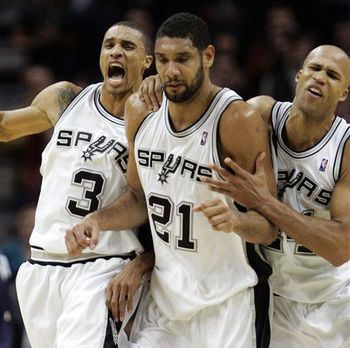 http://rikardann.blogetty.com/archive_05_2011.html
To my knowledge, there has never been a big change to the Spurs uniforms. They have always been the same old white and black with the team name across the front.
What is there to be said about the uniforms? They are classic. Like their team, the uniforms are aesthetically in order. Nothing fancy—just plain old San Antonio.
To be honest, their uniforms are as consistent as the team is.
Toronto Raptors Road 1995-1999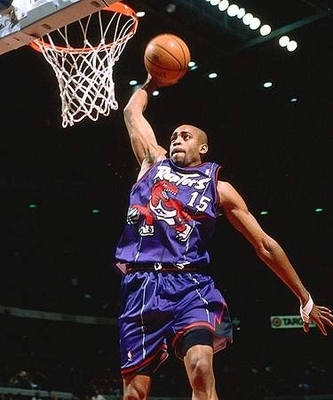 https://www.2ksports.com/forums/showthread.php?t=287100
That's it—no more second-guessing. This is the greatest uniform of the '90s. I have no doubts and will vehemently defend my choice.
First, look at the colors: purple, white, black and red. If you're going to have all those colors, you better have a way to include all of them without clashing.
Second, the ever-so-good pinstripes. What differs these from others is the fact that they're jagged, mixing it up a little from the straight and solid colors most pinstripes have.
Then you see the velociraptor on the front, and you immediately love the jersey. If I had one symbol to describe '90s basketball styles, I'd choose this. It's a raptor PLAYING BASKETBALL. The dinosaur style doesn't end there, as the jersey has scales on the back above the player's name. This whole theme spills onto the shorts, forming a complete package.
What's that, you say? You're not afraid of this jersey? Well, I bet you would feel differently if you had Vince Carter and Tracy McGrady dunking in your face.
I'm not even a fan of the Raptors, but I would totally buy these jerseys.
Utah Jazz Home 1996-2004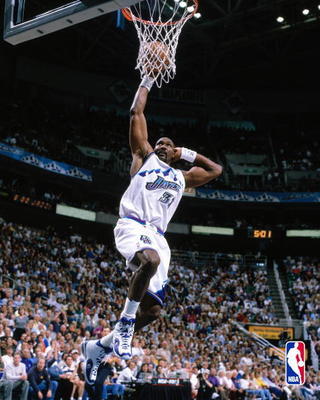 http://www.raptorsforum.com/f/f48/mr-m-presents-karl-malone-17300.html
The Jazz, for the most part, have largely been ignored since the John Stockton-Karl Malone era. That's a shame, but not exactly an unexpected one.
Paying homage to the state is the name of the game in this one, and it is tactfully done. The outline of the mountains is right in the middle of the uniform above the name and number. They are also on the pants. When adding in something like that, you need to be careful going about it. They did it perfectly.
I would gladly take these over the current ones. The ones now are bland and don't match what people think of when they hear about Utah.
Washington Wizards Road 2011-Present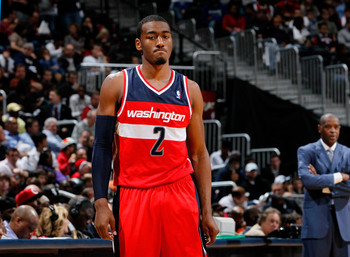 http://www.barstoolsports.com/philly/super-page/now-that-lebron-has-his-ring-here-are-the-top-5-new-players-to-hate-2/
Here we are at the end of our list, ending it on a good note with the Wizards. I was one of the people who really wanted them to change their style, so when they revealed these uniforms, I was thrilled.
You can't mention Washington, D.C. without thinking of the good ol' red, white and blue. This type of color arrangement resembles stacking, which isn't necessarily a bad thing. It achieves this by keeping everything horizontal, which gives it a sleek look. This is enhanced by the shorts having stars and stripes.
John Wall looked quite magical in these last season. Here's to hoping that their level of play can match their uniforms!
*Sportslogos.net is a great reference site, and it is where I found a majority of these jerseys. Props to them.
Keep Reading