Golden State Warriors: Grading the Dubs' Entire Revamped Roster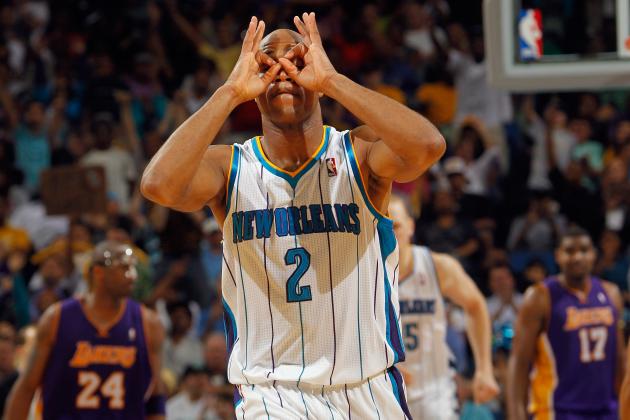 Chris Graythen/Getty Images

With a plethora of new additions in tow, the Golden State Warriors hardly resemble the team from a year ago.
Though a handful of familiar faces will be seen taking the court next season, this will be a year dominated by firsts for Golden State—one that the team hopes will culminate in its first playoff appearance since 2007.
In fact, after spending an extensive stretch amongst the NBA's basement teams, decimating their roster and trading away a franchise cornerstone and beloved athlete in Monta Ellis, anything less than a playoff berth is a failure for the Warriors.
Like it or not, Golden State mortgaged not only its direction, but a large portion of its future. Subsequently, the time for a resurgence is now, not later.
But do the new-look Warriors have the talent necessary to reverse their span of misfortune and rise to the inescapable occasion?
Let's find out.
Begin Slideshow

»
Elsa/Getty Images

Grade: A-
Greatest Asset: Deadly jump shooter
Greatest Liability: Ball-handling
The Warriors—even under the watchful eye of Mark Jackson—are incredibly focused on the offensive end, but they have had more than their fair share of issues at the small forward spot.
Enter Harrison Barnes.
Barnes can shoot the lights out of any arena, and he's bound to feast off Stephen Curry's and Jarrett Jack's drive-and-kicks. His perimeter defense is also an upgrade over anything Golden State previously had to offer.
Case in point, he'll fit right in and be a pivotal part of any two-way success the Warriors hope to have.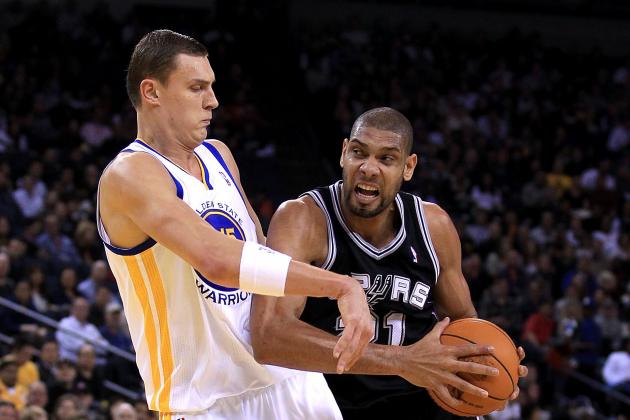 Ezra Shaw/Getty Images

Grade: D
Greatest Strength: Shot blocking
Greatest Liability: Offensive awareness
Why the Warriors ever amnestied Charlie Bell over Andris Biedrins is beyond me.
Though Biedrins is a decent shot-blocker, his anticipation on the defensive side of the ball has regressed quite a bit, and he's still a non-entity on offense.
Seven-footers will always have a home in the NBA, but Golden State would be much better off—financially and offensively—if this big was another team's problem.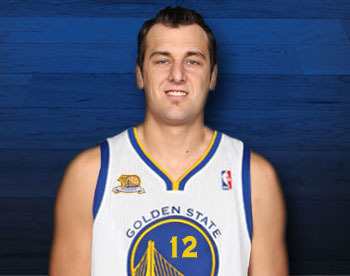 Photo courtesy of bayareasportsnews.blogspot.com.
Grade: B
Greatest Strength: Shot blocking
Greatest Liability: Health
Andrew Bogut is a connoisseur on the defensive end of the floor, but injuries have prevented him from living up to his potential as a No. 1 pick.
Though Bogut is not particularly athletic, he has some of the best hands in basketball. He has a great touch around the rim and is an extremely deft passer.
Healthy, Bogut ensures the Warriors boast one of the most formidable front lines in the league.
That said, he's one crash to the floor away from dashing the hopes of the entire Golden State franchise.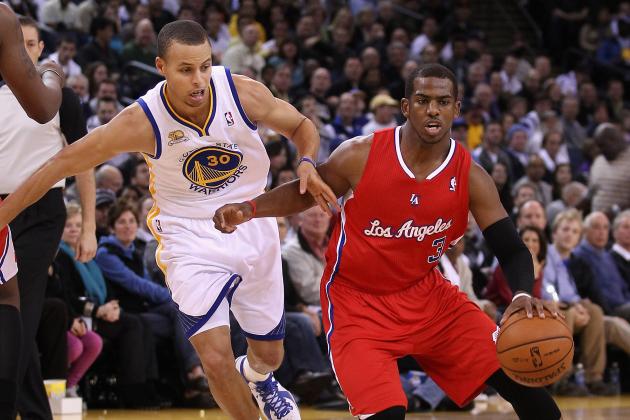 Ezra Shaw/Getty Images

Grade: B+
Greatest Asset: Shooting touch
Greatest Liability: Fragile frame
Stephen Curry is one of the best shooters in all of basketball, when his ankle permits it.
While the essential combo guard has struggled to remain healthy over the past two seasons, there's no denying his intelligence and ability to lead.
Curry may not be a pure point guard in the conventional sense, but he's got more than enough tools to succeed. And the Warriors will go as far as he carries them.
So, here's to hoping that ankle of his holds up.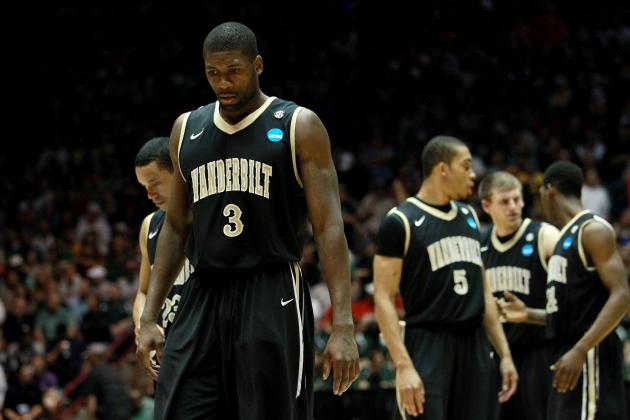 Ronald Martinez/Getty Images

Grade: B-
Greatest Asset: Offensive rebounding
Greatest Liability: Penchant for inconsistency
Festus Ezeli is unlikely to light up the stat lines on either end of the floor, but he provides some much-needed insurance behind two of the most injury-prone centers in the NBA.
Though Ezeli is hardly a superstar in the making, he is in intangibles. While his execution may fluctuate, his effort never will.
And if he can learn how to battle for position in the low post and develop a nice touch around the rim, he'll do much more for Golden State than grab a few offensive boards.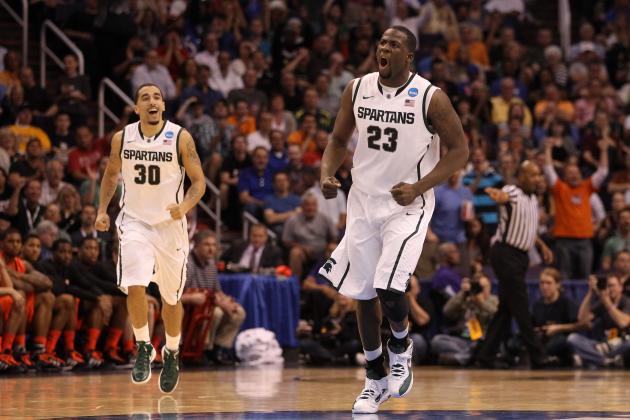 Christian Petersen/Getty Images

Grade: B
Greatest Asset: Offensive versatility
Greatest Liability: Perimeter defense
Draymond Green is deceptively talented.
While there isn't much to say about the small forward's appearance, he can score from anywhere on the court and is a noticeably strong rebounder for someone who plays the 3.
That said, conditioning is an issue with Green. He's simply not as athletic as most wings and will struggle to keep pace with the NBA's best—and even mediocre—on the perimeter right out of the gate.
His ability to light up the offensive stat lines, though, allows him to deepen Golden State's depth chart with a player capable of having an immediate impact.
Chris Graythen/Getty Images

Grade: A-
Greatest Asset: Fearlessness
Greatest Liability: Ball protection
Consider Jarrett Jack a more finely tuned version of Raymond Felton—he fears no one, never stops fighting, but can sometimes spiral out of control.
Jack is relatively strong for a point guard and is a more traditional floor general than Stephen Curry. He attacks the basket with ease but earns his keep creating for his teammates.
As a veteran distributor with a tailored-to-the-point skill set, Jack will be very valuable to a young Warriors team.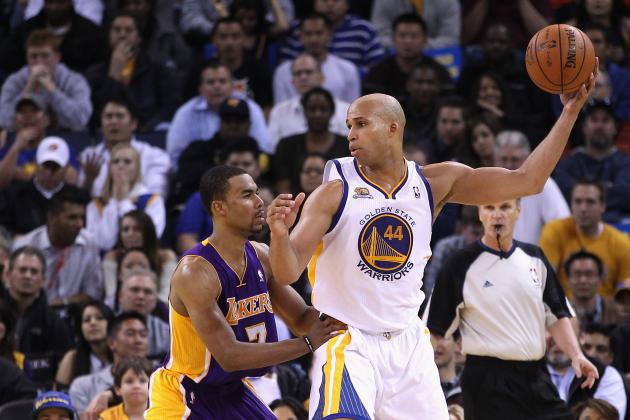 Ezra Shaw/Getty Images

Grade: C
Greatest Asset: Strong finisher at the rim
Greatest Liability: Wildly inconsistent jump shot
Talk about a logjam at the small forward position.
Richard Jefferson is a shell of his former self, but he's still got some pep left in his feeble step.
Defensively, Jefferson isn't a game-changer, and that holds true on the offensive end as well, but he can still attack the rim and finish with the best of them when he's feeling sprightly.
If nothing else, Jefferson is a strong veteran presence for the Warriors to have in the locker room.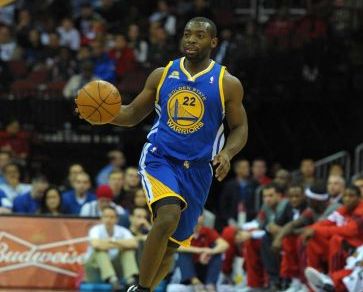 Grade: C+
Greatest Asset: Jump shot
Greatest Liability: Undersized
Unbeknownst to many, Charles Jenkins is a great all-around player who merely requires a longer than average learning curve after making the jump to the NBA.
Like Curry, Jenkins is a strong shooter. He's also a solid setup man and has exhibited great lateral quickness and anticipation on the defensive end.
For Jenkins to find serious playing time in the Warriors' wing-heavy rotation now, though, he's going to have to become less streaky and more consistent from the outside, as he's going to have to rely on his scoring abilities to eclipse the reality of being a shooting guard trapped in a point guard's body.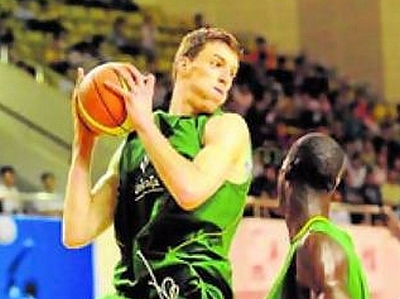 Photo via bdasportsinternational.com.
Grade: C-
Greatest Asset: Off-ball defense
Greatest Liability: Incredibly raw
Ognjen Kuzmic would have been a solid addition to any number of teams, but to a Warriors organization with a surplus of bigs already in tow, his selection was somewhat puzzling.
Kuzmic—while a promising prospect—is raw in all facets of the game. He's proven to be exceptionally athletic, yet he has struggled to use his freakishly strong wingspan to his advantage on offense.
That said, the big man is a terrific off-ball defender who is especially adept at breaking up the passing and penetration lanes.
Ezra Shaw/Getty Images

Grade: B+
Greatest Asset: Motor
Greatest Liability: Interior defense
Few players in the NBA work as hard as David Lee.
The power forward has continued to put up near double-double averages, proving to be a force on the glass and a threat to score from 20 feet.
While Lee is an endless source of energy, he's simply not strong enough to battle down low with some of the league's best big men on defense. He finds them easy to elude on offense but often finds himself in foul trouble when trying to body up on them defensively.
If we were grading on effort alone, though, Lee would have received a perfect score.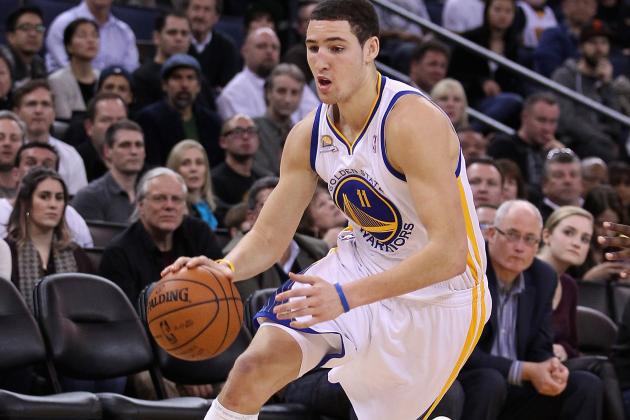 Ezra Shaw/Getty Images

Grade: B
Greatest Asset: Endless range
Greatest Liability: Defensive IQ
The Warriors are laden with sharpshooters, and Klay Thompson is one of their finest.
At 6'7", Thompson has a size advantage over many other combo guards. He requires very little room to get a shot off and has one of the league's quicker releases.
While he is incredibly gifted on the offensive end, the same cannot be said for the other side of the ball. Thompson's anticipation on the defensive end is unimpressive, and he's not yet accustomed to NBA-caliber first steps.
If Thompson can figure out how to contribute on defense, in addition to offense, he'll be a heartbeat away from superstardom.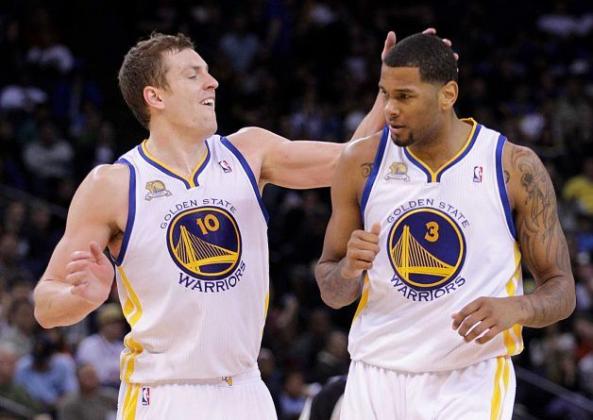 Photo courtesy of mysanantonio.com.
Grade: B-
Greatest Asset: Mobility/craftiness on the offensive end
Greatest Liability: Strength
Jeremy Tyler is an incredibly raw talent, but his ceiling is higher than most.
Tyler is extremely athletic and mobile for a player his size, giving him a clear edge on both ends of the floor.
At his peak, he'll block shots, crash the boards, get easy baskets at the rim and knock down a mid-range jumper.
That said, Tyler, like David Lee, struggles to defend many of the NBA's bigs because his body simply doesn't match up; he has the mass, but not the strength and definition necessary to power the ball down low or defend his counterparts.
There's no denying Tyler's talent, but if he wishes to become an integral part of Golden State's system, refining his conditioning and two-way presence is essential.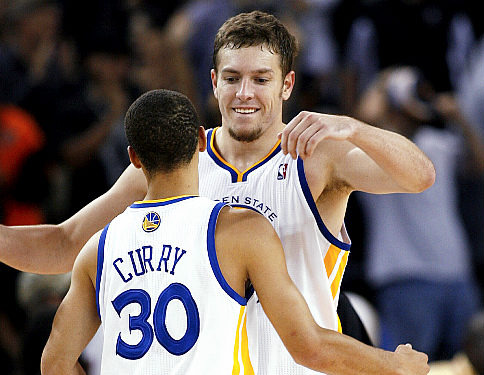 Photo via articles.nydailynews.com.
Grade: B
The Warriors—barring another slew of key injuries—have an incredibly talented roster. But the same held true last season and yet they still caved under the expectations.
Harrison Barnes' presence on the perimeter, and Andrew Bogut's and Jarrett Jack's additions have rendered Golden State a deeper, more two-way friendly team. And Stephen Curry's offensive prowess coupled with David Lee's penchant for double-doubles ensures the Warriors don't lose the star-caliber dynamic that is so important to building a winning team.
But that said, there are still some glaring defects to consider. Lee is the only true power forward on the team.And as a collective, Golden State doesn't possess a single big man who can body up opposing bigs while possessing the necessary agility to dominantly exploit adversaries in the paint on offense.
There's also the bevy of inexperience—sans Jack and Richard Jefferson—on the perimeter to consider as well.
So, while the Warriors are once again talented enough to make a playoff push, the question essentially is are they crafty enough eclipse their numerous flaws?
If their roster can stay healthy, then yes, they are. But if the injury bug continues to plague Golden State, the Warriors and their fans are in for another long season.