Jeremy Lin: Claims That PG Deceived New York Knicks' Management Are Absurd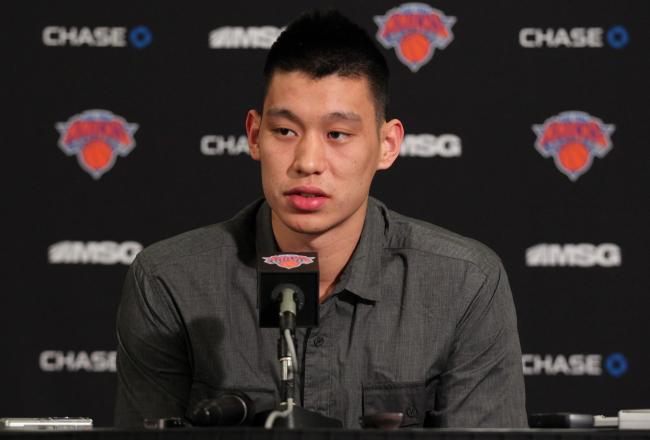 Jeremy Lin did not deceive James Dolan and the New York Knicks.
By now, you of course know the story. Jeremy Lin, international sensation and restricted free agent, signed an offer sheet with the Houston Rockets.
Not just any offer sheet, however, a back-loaded one with the third year being worth an astounding $14.8 million. Dolan and the Knicks, who already have Tyson Chandler, Amar'e Stoudemire and Carmelo Anthony's big contracts on the books, just couldn't bite the bullet.
And Dolan isn't happy about it (via New York Daily News):
The decision was both financial and emotional since Garden chairman James Dolan was upset over Lin restructuring his deal with Houston last week to include a third year salary of $14.9 million. Dolan, according to sources, felt he was deceived by the 23-year-old Lin.
Deceived? Huh?
I understand Lin's originally reported contract was worth just $9.8 million in the third year and then it all of sudden shot up to $14.9 million, but that's hardly an act of deceit.
It's more an act of business.
Was Jeremy Lin deceitful?
After that first contract was reported, ESPN came out with this doozy of a quote:
"They will match any offer on Lin up to $1 billion," a source told ESPN's Marc Stein last week.
So now, put yourself in Jeremy Lin's shoes. You are set to a sign a lucrative contract that will give you $9.8 million in the third year, but the management that must match whatever contract you sign comes out and essentially makes it known they will pay whatever necessary to bring you back.
Considering the Rockets were clearly willing to pay more, why not go back to Houston and sign for more money?
Lin's from Harvard—he's a smart dude. He knows what he's doing. He knows how much he is worth not only on the court, but also off of it.
The more money he makes in the NBA, the less he's going to have to use that Harvard degree to find work in the "real world."
Besides, it's not like James Dolan and the Knicks are usually shy about going into the luxury tax. I'm sure when Lin went for more money, he wasn't thinking, "Yes, now the Knicks will never sign me. I'm totally screwing them over!"
He's a kid. He wanted more money. Is it a little greedy? Maybe. But did he have any bad intentions? Certainly not.
This article is
What is the duplicate article?
Why is this article offensive?
Where is this article plagiarized from?
Why is this article poorly edited?