Robin Van Persie: Predictions for Next Season If He Stays at Arsenal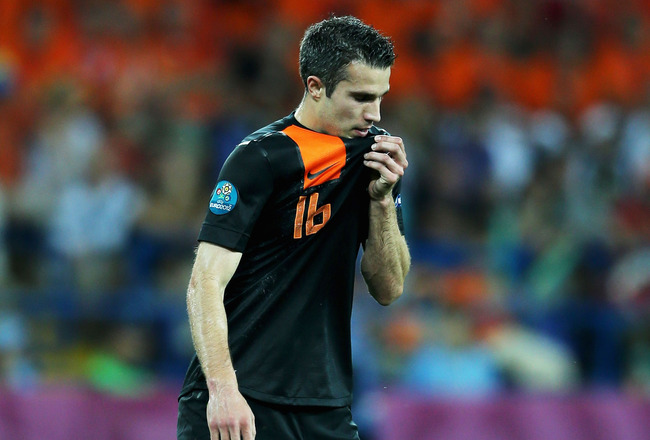 Ian Walton/Getty Images
After having had the best season of his Arsenal career, scoring 30 goals in 38 appearances in the Premier League to win the Golden Boot, Robin van Persie has made it clear that he is arguably the best striker in the world of football.
However, after this great season, Robin van Persie revealed that he would not be extending his contract with the Gunners because of a disagreement he had regarding Arsenal's strategy for the future and the path Arsenal seems to be heading towards (via Sky Sports).
This announcement was the main force in starting the Robin van Persie transfer saga.
The Dutchman's announcement would come as music to the ears to clubs such as Manchester City, Juventus and Manchester United who are all linked with the prolific scorer.
This transfer saga has been one of the most interesting ones so far this summer, as it has taken various twists and turns.
But recently, the saga took its latest turn as Arsenal announced that they would not be allowing the striker to leave the Gunners this summer (via Goal.com).
So with this, who knows whether clubs will back off from attempting to sign the forward or whether he will simply stay at Arsenal, and maybe even extend his contract.
I foresee that van Persie will stay at Arsenal for one more season, so with that in mind, here are some predictions for his next season with the Gunners.
He Will Stay with Arsenal but Won't Extend His Contract This Summer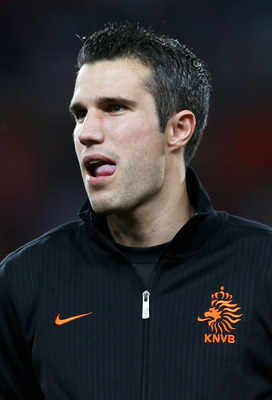 Julian Finney/Getty Images
With the news that van Persie won't be allowed to leave this summer, it is doubtful that one of the clubs pursuing the striker will be willing to spend too much to acquire the striker.
So with that, I predict that no transfer will be made for the Dutchman this summer.
However, I do not believe that his motives behind wanting a move away from Arsenal will vanish. It has been reported that the Dutchman did not agree with the future strategy, and the path Arsenal seemed to be heading towards (via Sky Sports).
This disagreement will remain in van Persie's mind, and it is doubtful that he will manage to change his mind and suddenly extend his Arsenal contract.
Conclusively, I do not think that he will be willing to extend his contract.
He Will Suffer and Injury in December or January and Will Return in April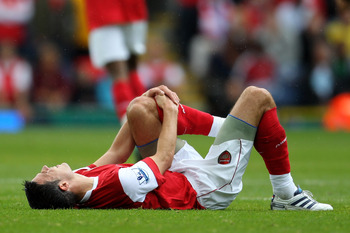 Alex Livesey/Getty Images
Robin van Persie is one of the players in world football who is known for getting injured, and for Arsenal, it usually comes at the least wanted time.
A large portion of the Dutchman's Arsenal career has gone by due to injuries. In fact, in the 2010-2011 season, van Persie suffered an injury in August that caused him to be injured until sometime around December.
From then on however, he didn't get injured and struck this spark in form.
But, I do not see this injury drought continuing for long; I predict that next season will be another one where an injury will be his hindrance.
He Will Score Around 20 Goals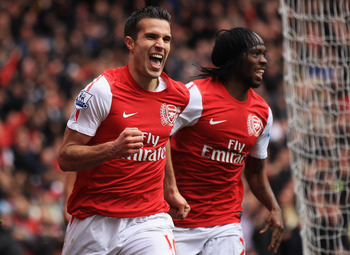 Bryn Lennon/Getty Images
Just because he might suffer an injury doesn't mean he won't score goals before or after the injury.
After the Dutchman's injury in the 2010-2011 season, he managed to make quite a comeback into form and was scoring goals at a very impressive rate.
He then went on to have the best season of his football career in the 2011-2012 season.
So if he has an injury in the coming season, it does not imply at all that he won't be able to score a number of goals.
Two of Those Goals Will Be Wonder Goals

Robin van Persie goal against Everton 2011-12

Robin van Persie has scored numerous goals in his Arsenal career. In fact, he surpassed 100 Arsenal goals this past season, so that was quite an accomplishment for his forward position.
Out of the goals he has scored, some of them have just been stunning. One could date back to his unbelievable, marvelous strike against Charlton. That was a goal that won't be forgotten whether the Dutchman leaves or not.
In the 2010-2011 season, Arsenal had to face the Spanish giant Barcelona in the first round of the knockout stages of the Champions League. The first leg was a match that was played in the Emirates stadium.
It seemed like Arsenal would lose, but after an excruciating 90 minutes, Arsenal pulled away 2-1. Robin van Persie scored the equalizing goal in the match. He was coming from the side, and it was at a very difficult angle. But, he managed to get it between Victor Valdes and the goalpost.
Then, in the 2011-2012 season, he scored a wonder volley against Everton, from a magnificent pass from Alex Song.
The Dutchman has proven that he can score amazing goals, and I can't see him not scoring a wonder goal next season.
He Will Score Two Hat Tricks Like Last Season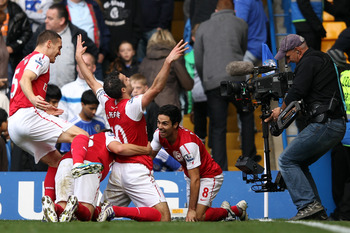 Ian Walton/Getty Images
Robin van Persie could be known as Arsenal's hat-trick hero for his good performances last season.
Both of his hat tricks from last season came in matches that were key in turning around the Gunners' confidence.
The striker's first hat trick came in Arsenal's thriller victory against Chelsea. The Dutchman scored three great goals against Peter Cech. One came on an open goal with a nice pass, the second came from dribbling Chelsea's keeper, and the third came from a great finish.
His second hat trick came in a huge 7-1 victory against Blackburn. All three of the Dutchman's goals came from great ground crosses, but it still takes great positioning to get these opportunities and good coordination to finish.
So, there isn't a reason why van Persie can't score more hat tricks for Arsenal, hence I predict two hat tricks to come from the forward next season.
He Will Form a Great Striking Partnership with Olivier Giroud
Ian Walton/Getty Images
Olivier Giroud was a signing for Arsenal that was in fact revealed to be one to replace Robin van Persie (via Goal.com). However, with Arsenal disallowing a transfer for van Persie this summer, the two strikers might actually play together.
Both forwards are very talented and both are capable of scoring goals at a consistent rate and at the right time.
Both Giroud and van Persie were the top scorers in their respective leagues, so having them together would certainly make them an attacking force that could cause serious problems for defenses in the Premier League.
He Will Not End Up Extending His Contract and Will Leave for Free Next Summer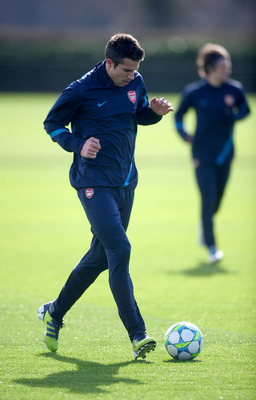 Laurence Griffiths/Getty Images
Despite all of the predictions mentioned earlier, I do not see the Dutchman changing his mind about his contract.
As I said earlier, he probably won't forget the disagreement he had regarding Arsenal's future as a club and the direction in which it was heading.
And, if the Gunners don't manage to win a trophy in the 2012-2013 season, that would definitely push van Persie to depart from the Emirates.
If van Persie doesn't decide to extend his contract this summer, I don't see him doing it next summer either.
Conclusion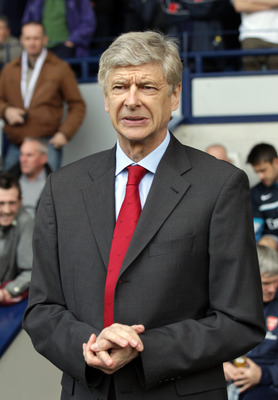 Ross Kinnaird/Getty Images
So, do you agree with my predictions for Robin van Persie's next season? Do you think the prolific scorer will leave this summer or even extend his contract?
Thanks for reading!
Keep Reading

Arsenal: Like this team?