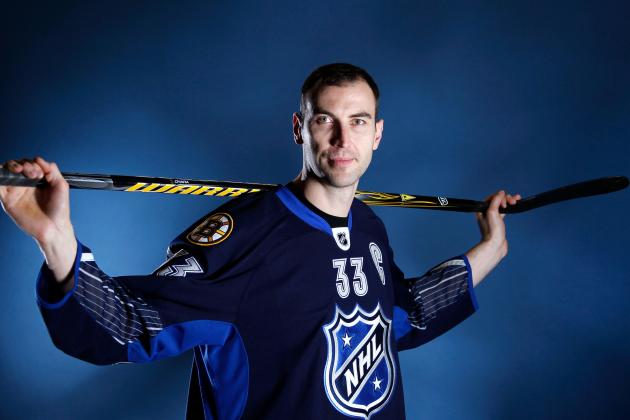 Gregory Shamus/Getty Images

The NHL is full of all types of players. There are the small and nimble players who rely on their speed to score and then there are the big and physical giants who throw their body around.
Some of these players are larger than life and they make their impact known.
This slideshow will take a look at players who are 6"3' or taller and they will be assembled into a top notch All-Star team.
Begin Slideshow

»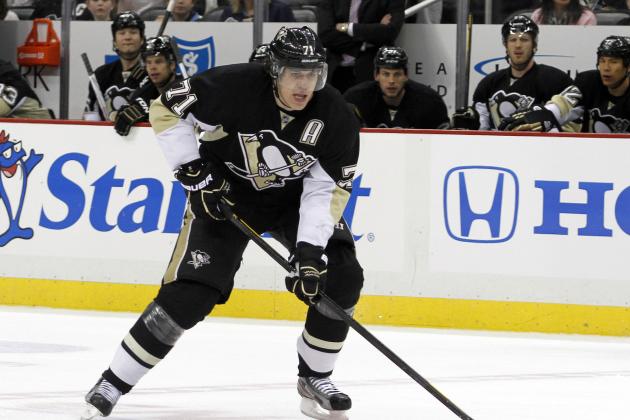 Justin K. Aller/Getty Images

Evgeni Malkin just meets the 6"3' height requirement for this list. He is an elite player who had an amazing 2011-12 season.
Malkin captured the Art Ross, Hart and Ted Lindsay Trophies at the NHL Awards this year. The Russian superstar also scored an amazing 109 points in 75 games. Malkin is an offensive juggernaut who uses his size and can play with a mean streak from time to time.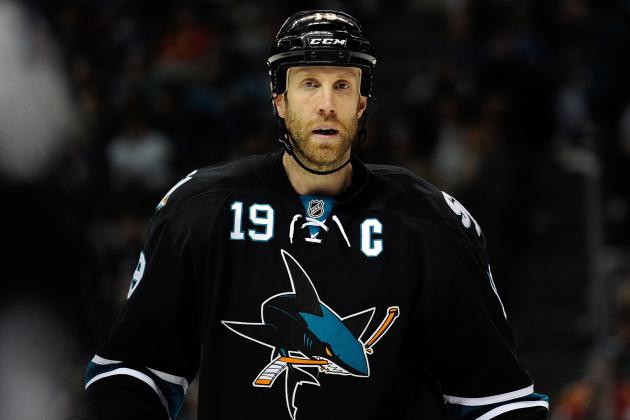 Thearon W. Henderson/Getty Images

This past season, Joe Thornton scored 18 goals and assisted on 59 goals and put up 77 points. Thornton was also a plus-17 while taking only 31 penalty minutes. It was a solid year for the Sharks pivot but he is starting to slow down a bit.
Thornton is getting older, so look for the Sharks to try and bring in some new talent in order to make a sizable Stanley Cup run.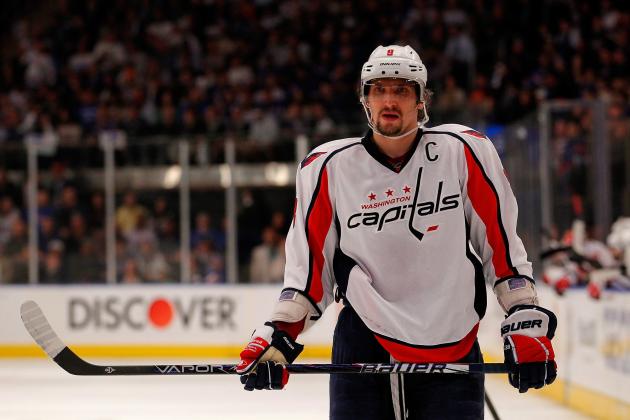 Paul Bereswill/Getty Images

Alex Ovechkin is one of the best players in the NHL. He is a natural goal scorer who has bulked up significantly since joining the NHL. Ovie uses his speed, size and skills to create space in the open ice.
He is also a very physical player who throws his weight around and can be an impact player.
Ovechkin is a player who blends offensive skill and physicality quite well and he is a natural fit for this team full of players with size.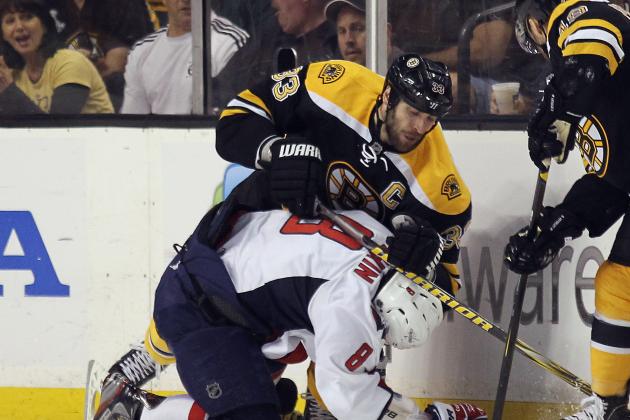 Bruce Bennett/Getty Images

Zdeno Chara is a Norris Trophy-winning defenseman, an NHL All-Star and the tallest player in NHL history. He stands 6"9' and 255 pounds and has the hardest slap shot in the NHL. He even set an NHL record at the All-Star skills competition.
Chara is the definition of a giant and he towers over opponents while on the ice. He is effective at his position and is the biggest giant in the history of the NHL.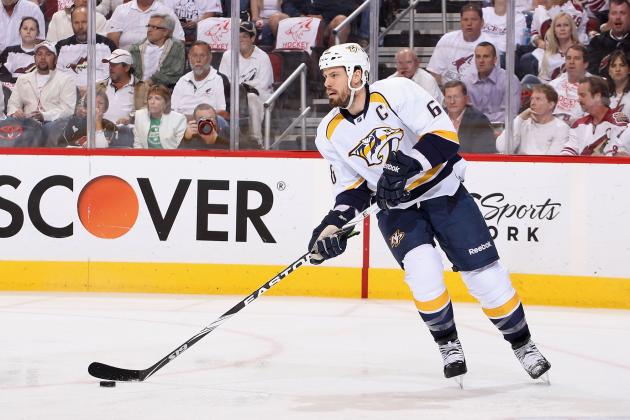 Christian Petersen/Getty Images

Shea Weber is arguably the NHL's best defenseman. He is a physical player who stands 6"4 tall and weighs 234 pounds.
Weber uses his body to his advantage when dishing out hard body checks, blocking shots or taking slap shots that exceed 100 mph.
ThIs all-star defender is definitely one of the most effective "giants" in the NHL.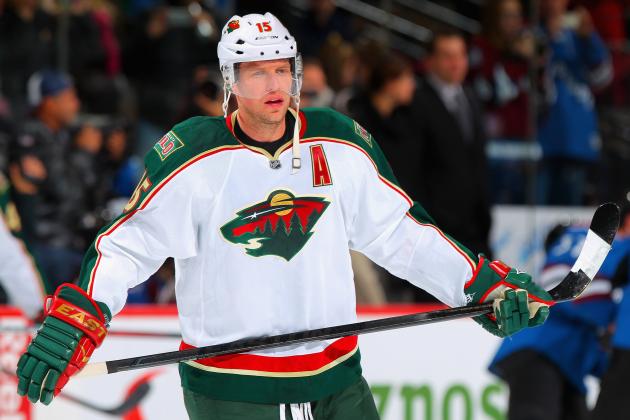 Doug Pensinger/Getty Images

Dany Heatley is no longer a 100-point player but he can still contribute offensively for this team's bottom six. Heatley is a two-way offensive player who has a booming shot and also the vision and hands needed to be a skilled playmaker.
Heatley could be a solid 70-point player with the right linemates on this team made of giants.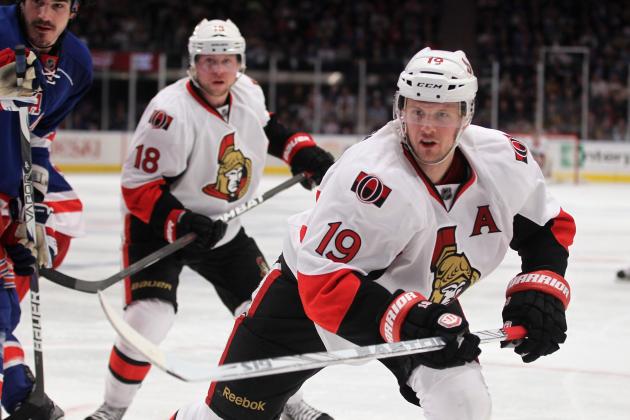 Bruce Bennett/Getty Images

Jason Spezza is a rising star and a player who would be leaned on for Team Giant.
Spezza had a solid season for the Ottawa Senators and really stepped up his game. Spezza scored 34 goals and assisted on 50 others for 84 points.
He sees the ice well, is a solid playmaker and is a great goal scorer who comes through in the clutch.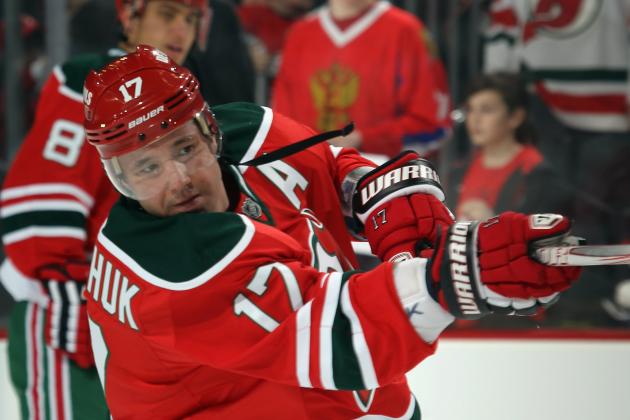 Bruce Bennett/Getty Images

lya Kovalchuk led the New Jersey Devils with 83 points during the 2011-12 season. Kovy scored 37 goals and had a solid postseason.
This season Kovalchuk took strides to become a better two-way player on both sides of the puck and it really worked for him and the Devils.
He owns one of the most feared one-timers and slap shots in the NHL today. Kovy has pin-point accuracy and would be a solid sniper for this team.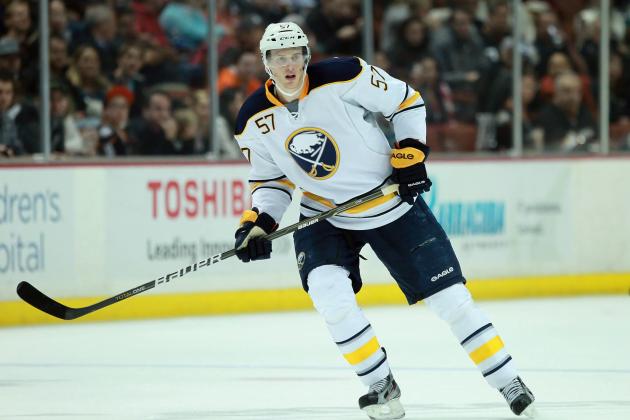 Jeff Gross/Getty Images

Sticking with defenseman, Tyler Myers is another behemoth who towers over opponents and impresses his physicality on others. Myers stands 6"8' and is a member of the Buffalo Sabres. Myers is nicknamed "The Big Easy" and he will enter his fourth NHL season.
As Myers continues to develop he can become a true monster defender.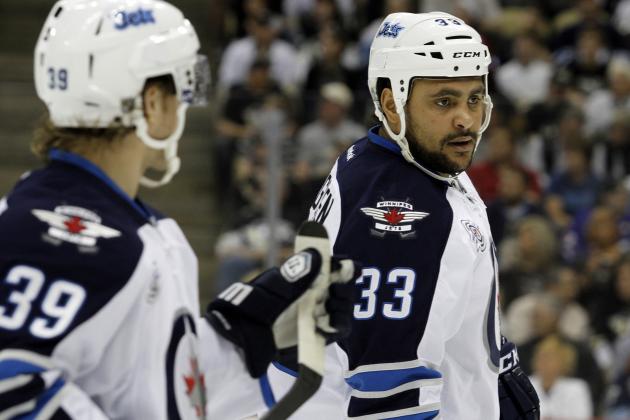 Justin K. Aller/Getty Images

Dustin Byfuglien is a 6"5' defenseman who plays the game with physical force and skill. Although "Big Buff"made headlines for his off-ice antics before the season started, he silenced tons of critics once he got going with his superb play.
Byfuglien was second in scoring among defenseman with 53 points on a Winnipeg Jets team that didn't generate much offense.
He is a solid defenseman who blends offense and size quite well.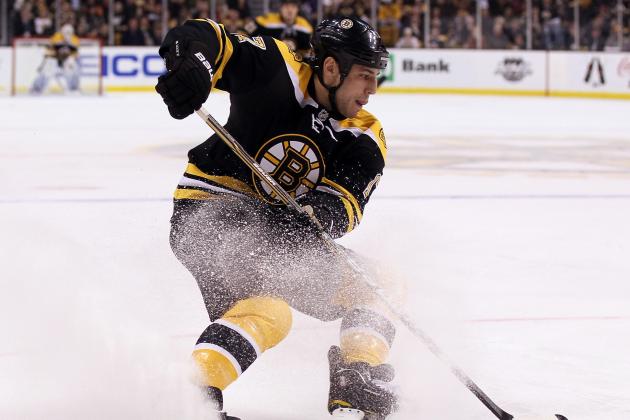 Elsa/Getty Images

Milan Lucic is a rugged and energetic left winger who plays the game with grit and edge. The past two seasons, Lucic has scored more than 60 points and he has been an effective agitator.
He is the type of player you want to have on your team because he can chip in offense and he will stick up for every one of his teammates.
Lucic gets a lot of hate from a lot of people and fans throughout the NHL but he does his job well.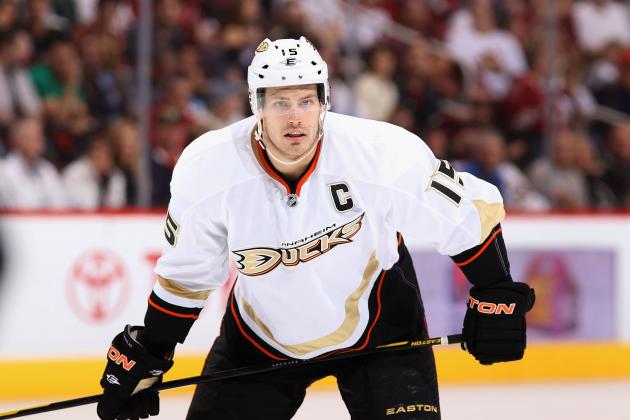 Christian Petersen/Getty Images

Ryan Getzlaf stands 6"4' and he is a player who would play in the top six for Team Giant. He is a natural playmaker, is physical and he uses his size to his advantage.
Getzlaf at times can score timely goals but his bread and butter is using his size to create space in which he can set up snipers like Teemu Selanne and Bobby Ryan.
Overall, Getzlaf is a big man who would be a top producer for Team Giant.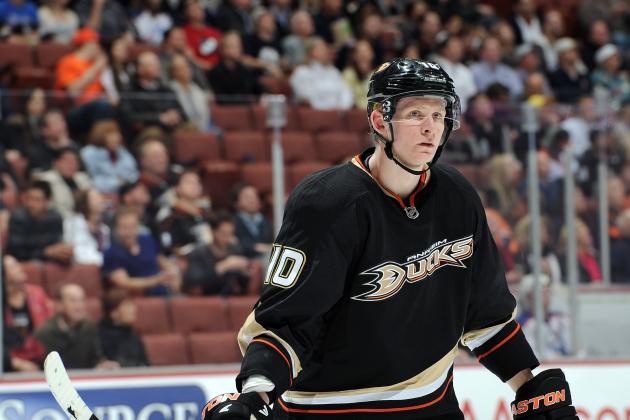 Harry How/Getty Images

Corey Perry would fit in well with this team. He is a scorer who plays the game with an edge and he would really fit in with fellow Anaheim Duck Ryan Getzlaf.
Perry is an elite winger who once scored 50 goals in an entire season. His scoring touch, size and overall play would make him a top asset to this team.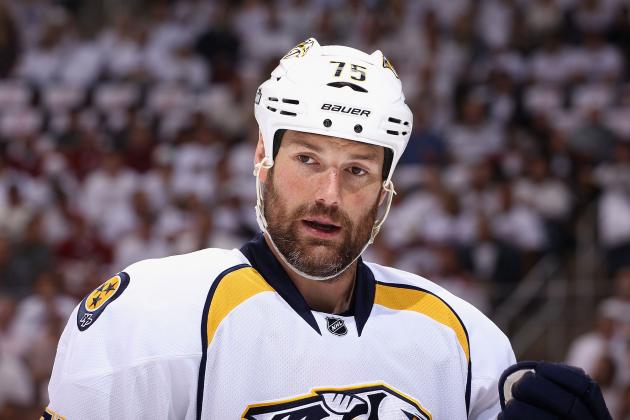 Christian Petersen/Getty Images

Hal Gill is a 6"7' defenseman for the Nashville Predators. He is on the back nine of his NHL career but he is still a tall and physical defenseman.
He may no longer be the player he was when he was younger but scouting reports still describe Gill as a "mammoth shutdown defenseman with plenty of savvy".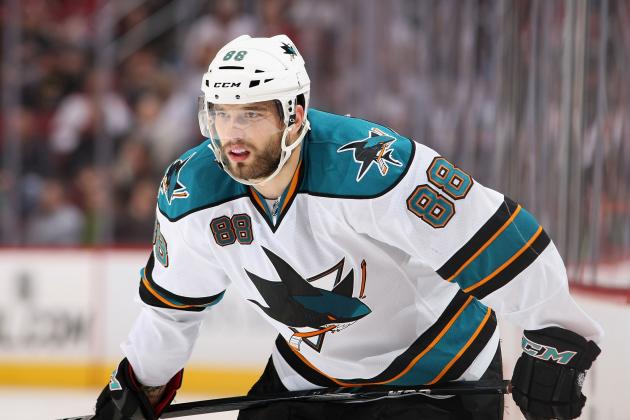 Christian Petersen/Getty Images

Brent Burns rounds out this defense pairing for Team Giant.
Burns is currently a member of the San Jose Sharks after spending the early part of his career with the Minnesota Wild.
He is a woolly-mammoth player who is identified by his size and scruffy beard.
Burns is a puck-moving offensive defenseman who would really anchor this team's power play.
He would be a solid player to pair with Shea Weber in this regard and he is a solid player to add to Team Giant.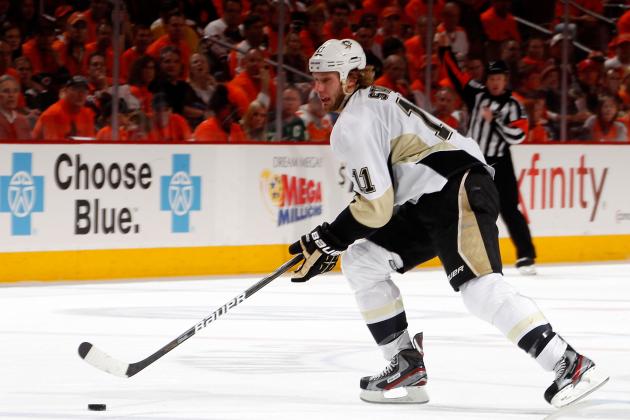 Paul Bereswill/Getty Images

Jordan Staal, 6"4', recently was traded to the the Carolina Hurricanes and he will play with his brother Eric. Staal can play the wing or center so it would give this team some flexibility. Jordan is a penalty kill specialist and a defensive-minded two-way player who has untapped offensive potential.
He has spent the majority of his career as a third-line center and has maxed out at 50 points so one can imagine what will happen when he has top-six minutes full time.
Grant Halverson/Getty Images

Eric Staal is a Stanley Cup champion and a vital player for the Carolina Hurricanes. He stands 6"4' and has tons of offensive upside and creativity. Staal uses his size well and outworks his opponents well without taking bad penalties.
Staal would be a top-six forward on any other team but this one based on the overall talent this team contains.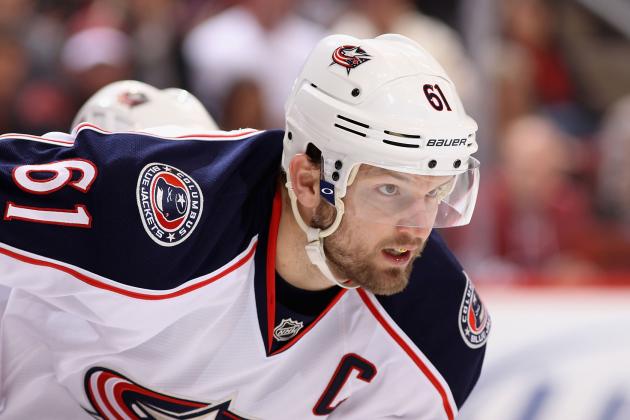 Christian Petersen/Getty Images

Rick Nash is currently in limbo in Columbus but he is a dominant power forward who can play either wing position. This scenario is pretty interesting because he is paired with the Staal brothers. Could you imagine if this was an actual line in real life?
You would have the chemistry and size of the Staal brothers paired with a dominant power winger in Nash. This would be one of the bottom lines of the mock Team Giant but it would blend speed, size and grit.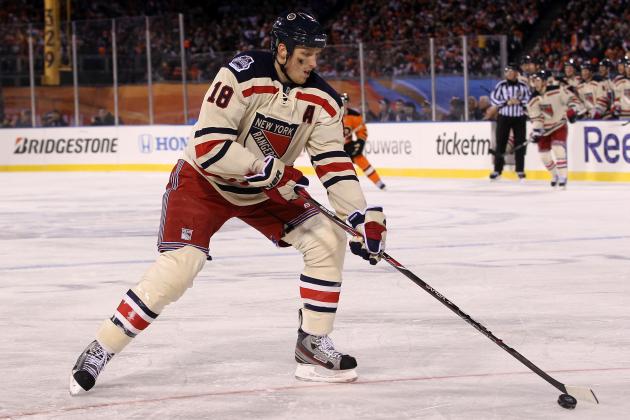 Bruce Bennett/Getty Images

Marc Staal is a 6"4' defenseman who is an excellent shutdown defenseman with offensive upside. Staal is a defenseman who can get physical and will block shots when asked. He plays the game the right way.
Staal would fit in well on this team in a bottom-pairing role.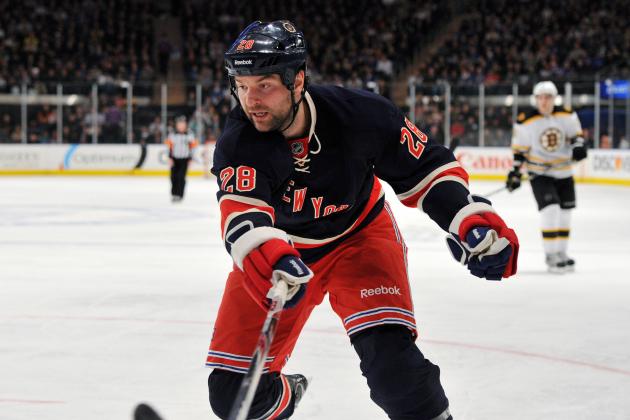 Christopher Pasatieri/Getty Images

When you have a nickname of "Big" that proceeds your name, you know that you are a true giant. "Big" John Scott—likely a play on of former wrestler "Big" John Studd— is a hulking enforcer who dishes out pain.
If you have seen the feature film "Goon", Scott is almost a real-life representation of movie character Ross Rhea in the sense that he is a goon sent out to protect star players and to send a message when necessary.
Scott is definitely a giant who would find his niche on this team.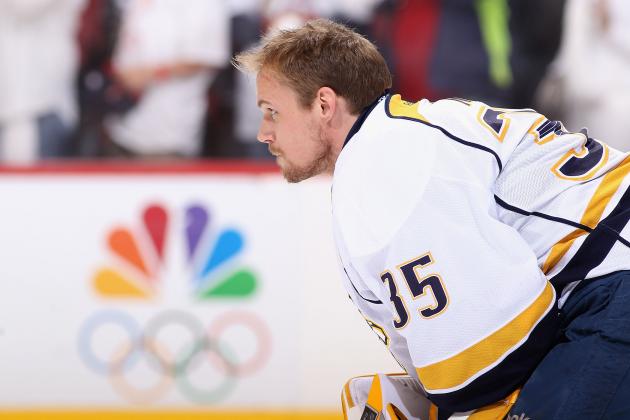 Christian Petersen/Getty Images

Pekka Rinne led the NHL in wins with 43 and also posted a solid 2.39 GAA and recorded five shutouts during the 2011-12 season. He is a superstar netminder, and he should have no problem duplicating this success.
His size is a huge asset because it allows him to take up a good portion of the net.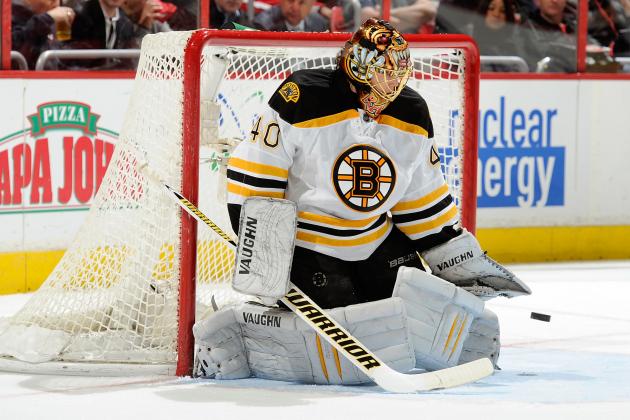 Greg Fiume/Getty Images

Tuukka Rask is a young goaltender for the Boston Bruins. He will become a starter full-time this year with Tim Thomas on sabbatical.
Rask is 6"4 and uses his size to cover up a big portion of the net. He loves to move from post to post and cover up a large portion of the bottom of the net so in order to beat Rask you will need to shoot high.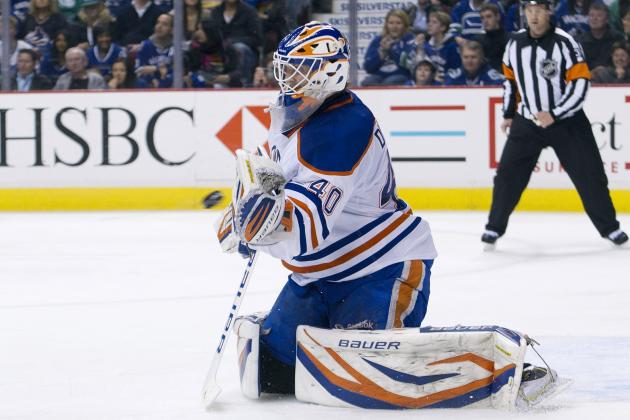 Rich Lam/Getty Images

Devan Dubnyk is a young netminder for the Edmonton Oilers. He stands 6"5' and takes up a good portion of the net. Dubnyk needs to work on his consistency—he could turn into a solid netminder.
The Oilers have made some significant additions to their team over the past few years through the draft. One day the team could really click with Dubnyk in goal.