Fantasy Football Team-by-Team Guide: Arizona Cardinals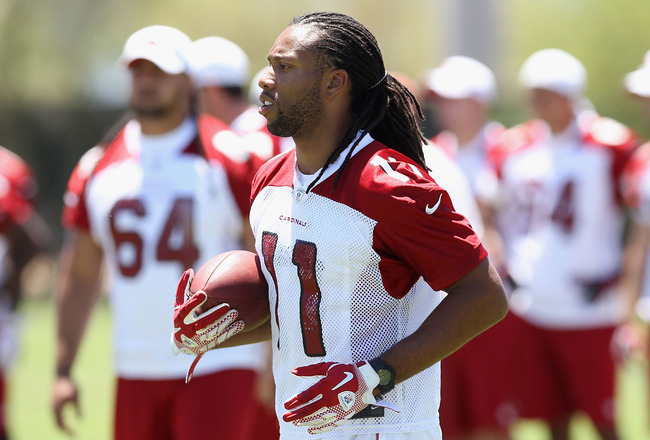 Christian Petersen/Getty Images
This is the first part of our 32-article series on the fantasy outlook for each NFL franchise.
We begin, alphabetically, with the Arizona Cardinals.
Overall, this is a talented team with a lot of weapons. Unfortunately, there are major concerns at quarterback. Further, the division features some of the league's toughest defenses, including Seattle and San Francisco.
Due to the resulting scheduling concerns and a relative lack of experience throughout, there is a ceiling on what is possible. Those expecting a return to the days of Kurt Warner and Co. will be disappointed.
However, there is still at least one bonafide star and a few sleepers. What follows is a player-by-player analysis for each of the major offensive contributors.
QB: Kevin Kolb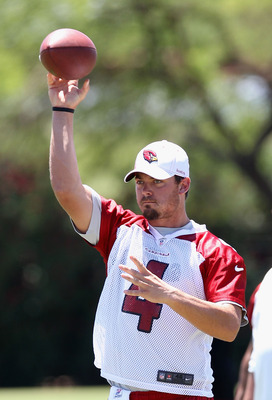 Christian Petersen/Getty Images
Best Position: Backup Quarterback
John Skelton went 5-2 with Kolb out with injury last season. That output has some talking QB controversy in Arizona.
However, coach Ken Whisenhunt has said, according to Sporting News, that "he would like Kolb to win the job." Further, this is the guy they paid $19 million to get from Philadelphia. As a result, Kolb should be the opening day starter.
That said, he still has a lot of concerns to address. In his first season, Kolb looked average.
Unfortunately, this is the lynch pin that dictates much of the relative productivity elsewhere. Unless he improves, the running game faces more eight-man sets and the receiving corps gets fewer accurate passers to work with.
RB 1: Beanie Wells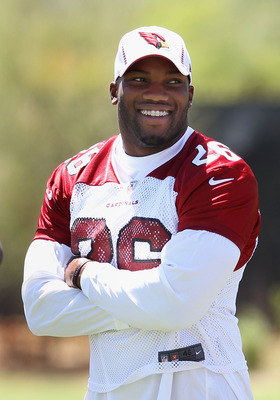 Christian Petersen/Getty Images
Best Position: High-End RB No. 2
Wells quietly amassed over 1,000 yards rushing and 10 touchdowns in 2011. With the release of Tim Hightower, "Beanie" became the unquestioned starter and received 245 carries.
That said, injury concerns linger. As noted by AZcentral.com, "Wells was limited in the second half of 2011 by a knee injury that required surgery after the season. He didn't practice this off-season."
Further, Ryan Williams pushes Wells for carries. You also have to consider the uncertainty at quarterback. The longer those questions linger, the more opposing defenses will key in on the former Buckeye.
There are a lot of question marks. With that in mind, the potential is still there for great value. If Wells is there in rounds 6-8, he represents solid value.


RB 2: Ryan Williams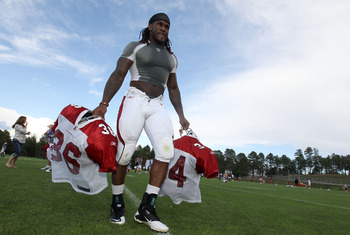 Christian Petersen/Getty Images
Outlook: Sleeper Reserve Running Back
Williams sat out his rookie season with a knee injury. Thus, he comes into 2012 with a lot to learn. Thus, those predicting a breakout may need to temper expectations.
At worst, Williams is a capable reserve for Wells. At best, he supplants the starter either via injury or through improved play.
However, the most likely scenario is that this is a third-down back with the potential to force a platoon situation.
WR 1: Larry Fitzgerald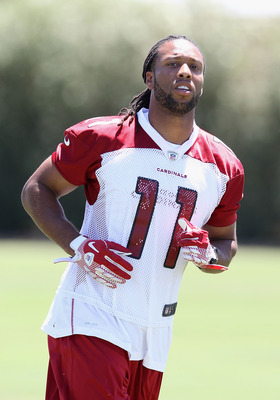 Christian Petersen/Getty Images
Outlook: Mid-Level No. 1 WR
Physically, Fitzgerald ranks up there with Calvin Johnson and Andre Johnson in terms of pure athletic ability. He is an outstanding receiver with unbounded potential.
Unfortunately, receivers are often only as good as their quarterbacks make them. Further, Fitzgerald will face extensive double teams as Michael Floyd comes into his role.
Both are negatives for Fitzgerald. Fortunately, this guy is too good to not contribute in some form. Just do not expect him to carry your team single-handedly.
There are a lot of strong players at this position as the NFL becomes more and more of a passing league. So do not overdraft Fitzgerald. That said, he makes sense late in the second round or later.
WR 2: Michael Floyd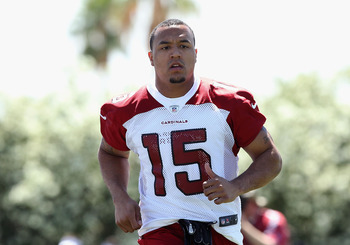 Christian Petersen/Getty Images
Outlook: Sleeper Reserve WR
Floyd is a rookie wide receiver, on a team with Larry Fitzgerald, without a clearly defined starting quarterback.
There is a lot of room for improvement here.
I am not a firm believer that it takes three years for a wide receiver to fully develop in the NFL. However, it is certainly true that it is far easier for other position players, such as tailbacks, to learn a new system.
Thus, you should temper expectations for Floyd. The talent is undoubted, but he likely will not be worth the price tag.
Feel free to take a flier on him in the late rounds, all you Notre Dame fans. But do not anticipate world-beating numbers.
TE: Todd Heap
Christian Petersen/Getty Images
Outlook: Reserve Tight End
Heap's best days are behind him. He has not been the same guy since leaving Baltimore.
Draft him as a serviceable reserve; nothing more.
Keep Reading