NBA Free Agency: 8 Teams with Best Salary Cap Situations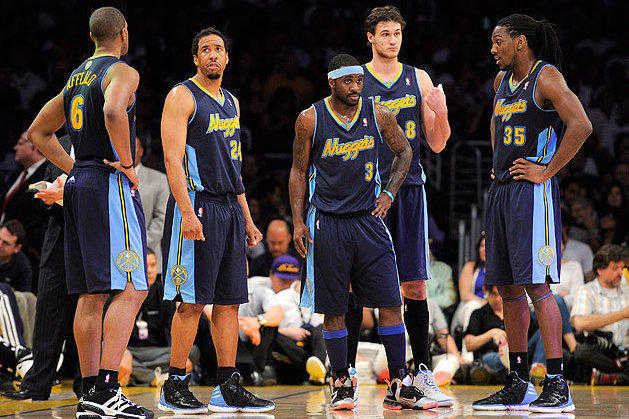 The NBA salary cap for 2012-13 is set, the league's moratorium on new business is over and the Amnesty window is closed. This sequence can only mean one thing: NBA free agency is in full swing.
The salary cap for next season will be identical to last season's $58.04 million, with the luxury tax holding at $70.3 million. The current landscape of the league shows roughly half of its franchises over the cap, and a select few big spenders in trouble with the tax.
With the new Collective Bargaining Agreement ready to swallow luxury tax violators whole beginning next summer, cap space has arguably never been more valuable and necessary for survival. Many teams are now pursuing dichotomous goals as part of their long-term plan: field a championship-caliber roster while in pursuit of luxury tax asylum.
For some, time will tell if those goals are mutually exclusive. For others, like the Lakers, Knicks, Magic, Nets and Heat, the time to purge is now before they lose too much leverage and are forced to foot a tax that might triple or quadruple their penalty.
Some shrewd general managers have spent the last two to three years pruning their rosters, pooling draft picks and letting overpaid players walk away in preparation for the moment when a competitive young roster would meet financial freedom.
For these eight teams, the time to climb the NBA ladder is now. These teams aren't simply the lowest spenders in the league for the upcoming year; in fact, a few of them are over the cap and rank in the upper middle of the payroll ladder.
Note: because free agency and player movement are ongoing, most payroll and contract terms are estimates or prospective in nature. They should thus not be considered final.
Begin Slideshow

»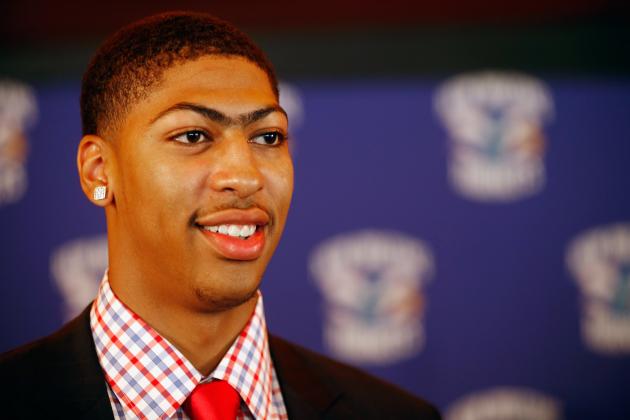 Chris Graythen/Getty Images
Anthony Davis is the poster boy for a team full of young, affordable talent.
2012-2013 payroll: $38 million
Impact offseason moves: trade Emeka Okafor, Trevor Ariza and Jarrett Jack to save about $26 million this season; acquire Ryan Anderson via sign-and-trade
The Hornets have yet to sign hopeful franchise player Anthony Davis (though he has signed one lucrative contract) or No. 10 pick Austin Rivers and Darius Miller. Estimate that Davis gets an agreement in the neighborhood of five years and $30-35 million, while Rivers and Miller combine to make about $6 million per year to start, and the Hornets are looking at a full roster, brimming with potential, between $50-52 million for this season.
GM Dell Demps has done a marvelous job getting this team back to respectability after the Chris Paul trade. After letting big contracts Carl Landry and Chris Kaman walk, he traded known quantities Emeka Okafor and Trevor Ariza for Rashard Lewis, whom Demps promptly bought out for major cap space.
He now has a core of Davis, Eric Gordon, Anderson and Rivers, with bench talents Xavier Henry, Greivis Vasquez and Al-Farouq Aminu making the rotation eight or nine strong as of mid-July.
This is now one of the most promising teams in the NBA with only one player over the age of 26 and all its best players under 25. Given the chance to mesh together before bad habits have been cemented, this talented roster could be back in the playoffs before long, not to mention revitalize moribund fan interest in the team.
With Brad Miller's $5.1 million coming off the books next year and a few smart team options next summer, the Hornets should have money to burn for the next few years with their core locked up for the next four years.
Projected starting lineup
PG Greivis Vasquez???
SG Eric Gordon
SF Al-Farouq Aminu
PF Ryan Anderson
C Anthony Davis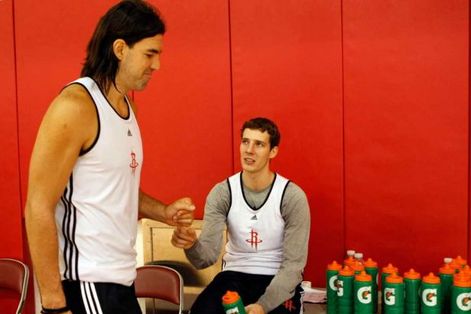 Teammates on the Rockets, Dragic and Scola should thrive in Phoenix
2012-2013 payroll: $49 million
Impact offseason moves: Trade Steve Nash for four draft picks; sign Goran Dragic, Michael Beasley and Luis Scola for combined $18.5 million for next season; waive Josh Childress' three years and $20.9 million via Amnesty clause
Since realizing that two-time MVP Steve Nash would be leaving the Arizona desert, Phoenix Suns' management has been busy reconstructing the roster. Michael Beasley and Goran Dragic were the big free agent signings, then fortune smiled upon the Suns, who won the Amnesty bid for former Rocket Luis Scola for a tidy $12 million over three years.
Dragic and Scola should speed the acclimation process for each other as move together from Houston's starting lineup into Phoenix's.
Still outstanding on this payroll is Robin Lopez's restricted free agency decision. Phoenix will likely remain under the salary cap for next season if they choose to match any offer for Lopez, which is increasingly uncertain now that Scola and Beasley have joined Marcin Gortat, Channing Frye, Hakim Warrick and Markieff Morris in the paint.
The Suns have gotten better and younger with their acquisitions and the departures of Nash, Grant Hill and Childress. Their signings have returned viability to a roster that was destined for a rebuilding phase upon Nash's exit.
Projected starting lineup
PG Goran Dragic
SG Jared Dudley
SF Michael Beasley
PF Luis Scola
C Marcin Gortat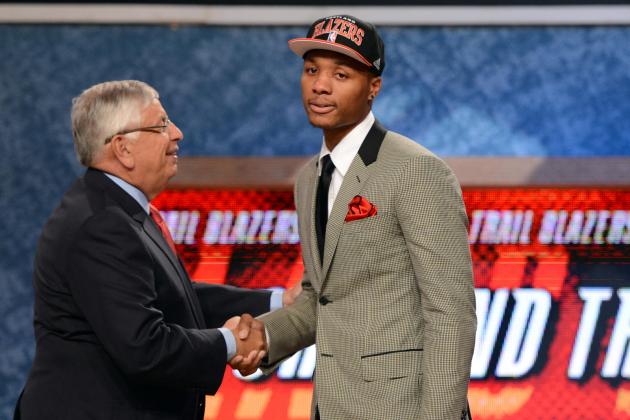 Jerry Lai-US PRESSWIRE
If Damian Lillard pans out at point guard, the Blazers will be in position to climb the West ladder very soon
2012-2013 payroll: $51 million
Impact offseason moves: re-sign Nicolas Batum and J.J. Hickson; trade Raymond Felton
Prospects for next season are now very optimistic in Portland with the breaking news that the team has matched Minnesota's four year/$45 million offer sheet to Nicolas Batum.
The Blazers have made a concerted effort to cut the fat (in Felton's case, most literally) off a roster that has been cursed with career-ending injuries to franchise players Brandon Roy and Greg Oden in recent years. Gone are one-year experiments Felton and Jamal Crawford, both of whom simply did not work out last season.
Entering are potential rookie starters Meyers Leonard at center and Damian Lillard at the point. Both were unheralded entering the draft, but Portland actively coveted both players and ended up with both in the lottery. The Blazers don't have obvious alternatives at those two positions, so a normal trajectory of development might land both players in the starting lineup on opening night.
If Lillard and Leonard are as NBA-ready as Portland hopes, this team will be a lot better than the rest of the league thought they'd be heading into this offseason. The starting lineup features two legitimate stars in LaMarcus Aldridge and Batum, with capable scorer Wes Matthews on the wing. Add in Hickson, Luke Babbitt and defensive-minded Jared Jeffries off the bench, and the Blazers could go eight deep before any cohesion and roles are carved out.
This team has endured as much hardship as any franchise in the league over the last five years. To be under the cap with a pair of stars and a couple promising draft picks is a very favorable position to be in for a team that has regressed for three consecutive years.
Projected starting lineup
PG Damian Lillard
SG Wesley Matthews
SF Nic Batum
PF J.J. Hickson
C LaMarcus Aldridge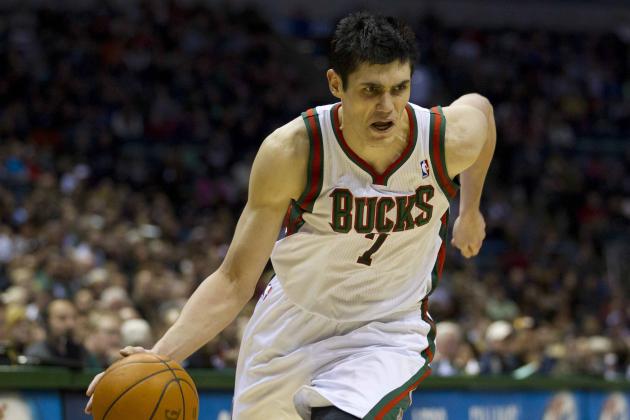 Jeff Hanisch-US PRESSWIRE
Ersan Ilyasova's return to Milwaukee is a nice surprise for a retooled Bucks team
2012-2013 payroll: $54 million
Impact offseason moves: re-signed Ersan Ilyasova; Traded for Samuel Dalembert
In a clandestine fashion, this will be one of next season's most interesting teams.
The hard-nosed Scott Skiles was able to consolidate his talent to fill a need at center, shipping spare parts Jon Brockman, Jon Leuer and Shawn Livingston to Houston for shot-blocking center Sam Dalembert and his expiring contract.
Amazingly, Skiles still has no less than 12 players capable of logging 15 competent minutes per night, and possibly 13 if rookie Doron Lamb can play at all.
There is star power (Monta Ellis, Brandon Jennings), established veteran leadership (Drew Gooden, Mike Dunleavy, Beno Udrih, Dalembert), rising core (Ilyasova, Tobias Harris, Ekpe Udoh), and reliable role playing (Larry Sanders, Mbah a Moute).
Add quality draft picks John Henson and Lamb with free agent Carlos Delfino still an option, and this team could both compete and deal out of depth to improve quickly.
Even more good news for Milwaukee: Udrih's $7.8 million and Dalembert's $6.7 million both come off the books next summer, leaving Milwaukee with near $30 million of cap space and a few middling team options on players.
This borderline playoff from one season ago could find itself in the crowded East playoff picture next year if the parts mesh well.
Projected starting lineup
PG Brandon Jennings
SG Monta Ellis
SF Ersan Ilyasova
PF Drew Gooden
C Samuel Dalembert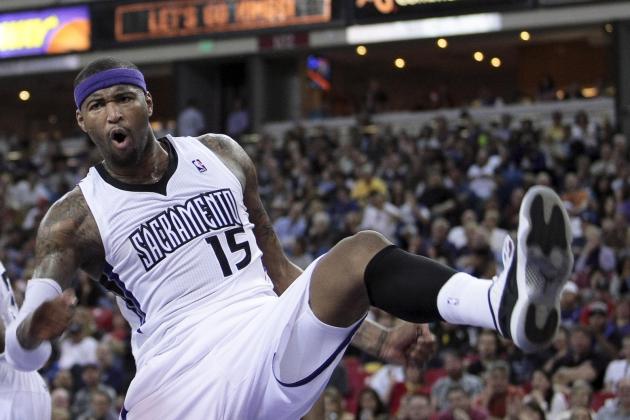 Kelley L Cox-US PRESSWIRE
Third-year big man Demarcus Cousins is ready to join the NBA's short list of elite post players
2012-2013 payroll: $58 million
The Sacramento Kings make this list because they have a smattering of good-not-great players signed to palatable deals.
Even though it's obvious by now that most of these players do not work well on the same team, it is a productive endeavor to keep these players around for General Manager Geoff Petrie for one major reason: trade bait.
Names like John Salmons, Francisco Garcia, Chuck Hayes, Tyreke Evans, Jason Thompson, Travis Outlaw and James Johnson could be called up at any minute in a trade to a desperate contender that profits the Kings with either draft picks or cap space. In an era where encumbered payrolls need third teams to "facilitate" impact trades, the facilitators often end up benefiting the most because they have all the leverage.
The Kings have set themselves up as a premiere facilitator that could be very busy at next year's trade deadline.
With the present roster, the Kings are destined for the Pacific Division basement. Talent abounds, but maturity and chemistry are non-existent. The addition of free agent Aaron Brooks is exceedingly curious, given the emergence of Isaiah Thomas at the point and incumbency of Evans.
Maybe Petrie is more forward-looking than the rest of the NBA and has a plan for next season already in place. Or maybe this is just another track on the greatest hits album of Petrie's blunders.
Either way, it looks like the Kings are poised to move multiple useful assets to hungry teams looking for the quick fix for next year's playoffs.
That's a good position to be in.
Projected starting lineup
PG Aaron Brooks
SG Marcus Thornton
SF Tyreke Evans
PF Thomas Robinson
C DeMarcus Cousins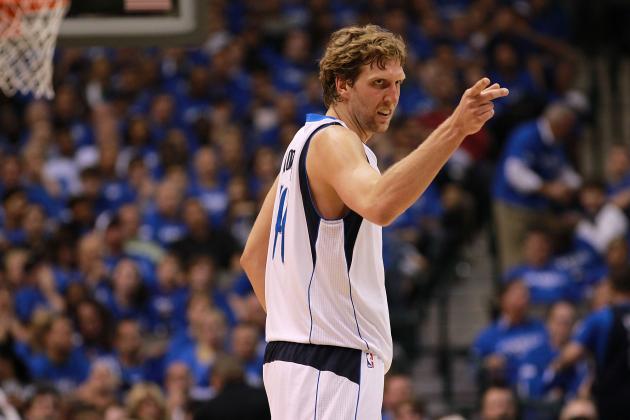 Ronald Martinez/Getty Images
Is Dirk's championship window thrust back open with Dallas' newfound flexibility?
2012-2013 payroll: $58 million
Impact offseason moves: Acquire Darren Collison and Dahntay Jones; sign Chris Kaman and Elton Brand (via Amnesty bid) for combined $10.1 million; sign O.J. Mayo; Waive Brendan Haywood's three years and $21 million via Amnesty clause
Mark Cuban has arguably been the most active of front office players in the league this summer in an urgent effort to get younger and cheaper.
The early returns are fantastic, as he's completely made over the front line (Kaman and Brand) and signed a shooting guard (Mayo) for about $14 million combined. Cuban also replaced the dilapidated Jason Kidd at the point with the still-developing Darren Collison and a reliable wing defender in Dahntay Jones.
The reality that Dallas is now in the middle of the league in payroll and right around the salary cap is astounding when you consider that the Mavs were top three in payroll last year near the $90 million mark.
Dallas, who never had a sufficient option at center last year, not only has a new center, but will likely start three new and younger players alongside Dirk Nowitzki and Shawn Marion.
With Roddy Beaubois, the yet-unsigned Delonte West, Brandan Wright, Vince Carter, Jones and Brand off the bench, Dallas is suddenly much deeper and cheaper than it was last year.
The streamlined roster should vault back into the top half of the Western Conference and be amenable to mid-season tinkering, which is a specialty of Cuban's.
Projected starting lineup
PG Darren Collison
SG O.J. Mayo
SF Shawn Marion
PF Dirk Nowitzki
C Chris Kaman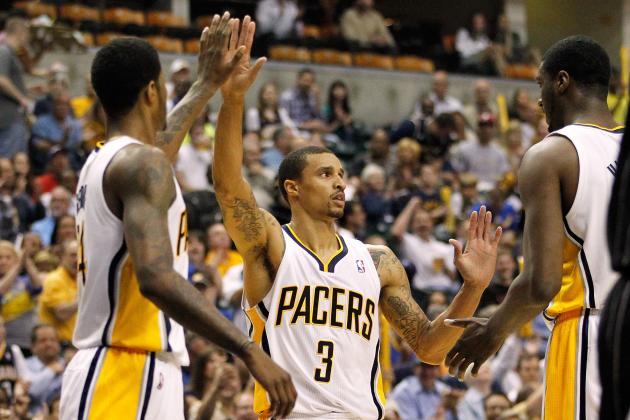 Gregory Shamus/Getty Images
Indiana almost made the East Finals last year, and certainly has the flexibility and depth to advance there this year
2012-2013 payroll: $64 million
Impact offseason moves: sign D.J. Augustin and Gerald Green; re-sign Roy Hibbert; trade for Ian Mahinmi
Indiana has hardly changed its roster at all from last year's East Semis team that had the Heat on the ropes. Aside from a minor trade that allowed the stalled Darren Collison to get his change of scenery in Dallas, the biggest personnel happening was locking down Roy Hibbert with his max contract after Hibbert's serious flirtations with Portland.
That kind of continuity defies convention in today's NBA, which dictates quick fixes, spontaneous salary dumps and fire sales. Rare is the prudently constructed team with good contracts spruced throughout.
Now-departed executive Larry Bird might not give David West $10/year if he was signing West today, but the brevity of that contract, and West's experience, limit the negative impact of that deal.
Every other player on the roster, aside from George Hill's new five-year, $40 million deal, has a reasonable contract, which has allowed Indiana to be a major player in the East without exceeding the luxury tax as their New York, Brooklyn, Orlando and Miami brethren have done.
It's safe to say that Indy, though probably inferior in talent to the aforementioned, has the best long-term outlook to remain competitive out of all the East powers, even without the earnest bid for Eric Gordon I thought they would make.
Projected starting lineup
PG D.J. Augustin/George Hill
SG Paul George
SF Danny Granger
PF David West
C Roy Hibbert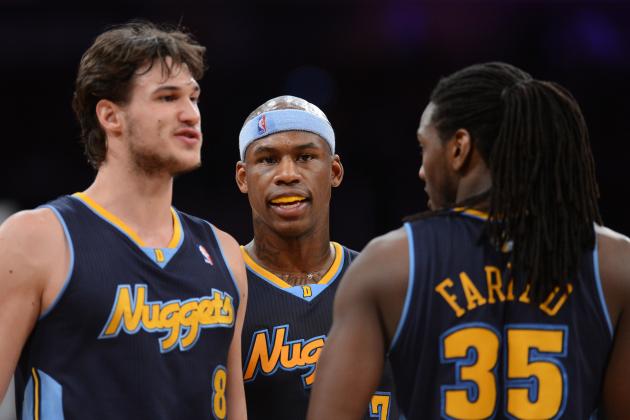 Harry How/Getty Images
Danilo Gallinari, left, and Kenneth Faried are signed to extremely team-friendly contracts
2012-2013 payroll: $64 million
Impact offseason moves: sign Anthony Randolph; re-sign Javale McGee and Andre Miller; waive Chris Andersen's two years and $9.3 million via Amnesty clause
After re-signing Andre Miller, the Nuggets' singular goal this offseason is to bring back erratic center Javale McGee, who was reportedly offered $10 million per year by Denver to stay.
McGee has indeed signed back in Denver with an exorbitant four-year/$44 million contract, putting the Nuggets in a similar, but more advanced, position to the Hornets with cheap, young talent across the board and plenty of maneuverability for the coming years.
Denver will return its starting five from last year's second half, but adds Wilson Chandler and Randolph, who is a huge bargain for $2 million per year. The team has purged itself of selfish or enigmatic players like Carmelo Anthony, J.R. Smith and Nene over the last few years, and replaced them with selfless grinders like Kenneth Faried and Arron Afflalo.
Denver still lacks a go-to scorer and a thorough commitment to defense, but a lot of its key players are still developing, and their depth is unprecedented with no less than 10 capable NBA rotation players.
When you can suit up 11 competent players, pay only one guy eight figures, and still manage to float around the salary cap, you're doing a lot of things right.
Well done, Masai Ujiri.
Projected starting lineup
PG Ty Lawson
SG Arron Afflalo
SF Danilo Gallinari
PF Kenneth Faried
C Javale McGee