How Eric Berry Can Go from Injured to All-Pro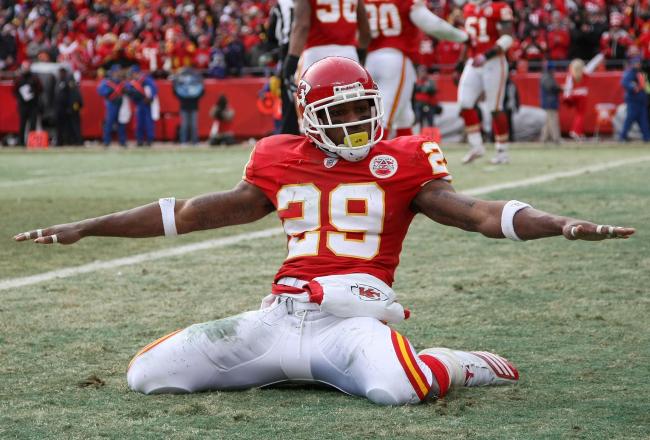 Doug Pensinger/Getty Images
With the fifth pick in the 2010 NFL draft, the Chiefs selected safety Eric Berry. No safety had been selected in the top five since Sean Taylor in 2004. Expectations were high for Berry's rookie season, and he did not disappoint. Berry was a big part of a defense that led the Chiefs to the playoffs for the first time in four years, and it earned him a selection to the Pro Bowl.
Berry was expected to take his game to the next level in 2011, but an ACL injury in Week 1 sidelined him for the rest of the season. The Chiefs season spiraled down the drain without Berry, and Todd Haley was fired and replaced with defensive coordinator Romeo Crennel.
The injuries derailed what was a very promising start to Berry's young career, but he'll return in 2012 with the goal of winning a championship and with the opportunity to be recognized as an All-Pro.
Stay Healthy
This almost goes without saying after Berry missed 15 games in 2011, but it's the NFL, and injuries are going to happen. Troy Polamalu is one of the best safeties in football and has first-team All-Pro in three of the last four years. He's almost always hurt, and he's lying about concussions to stay on the field.
I'm not suggesting Berry ignore a head injury, but the truth is, fans want to see players play through injuries and do so without compromising the quality of their play. Berry played all 100 percent of the defensive snaps in 2010, so he's no stranger to getting through a season, but as far as we know, he hasn't played through any injuries.
To have a chance to become an All-Pro, he'll need to stay on the field like he did in 2010 and prove that the ACL injury he suffered last season will not limit him. The first year back from an ACL injury is sometimes a down year, as the explosiveness hasn't yet returned and Berry will have to prove that to be a myth. Berry says he's 100 percent healthy, but the Chiefs aren't likely to let him play special teams in 2012 in the hopes of keeping him fresh.
Improve In Coverage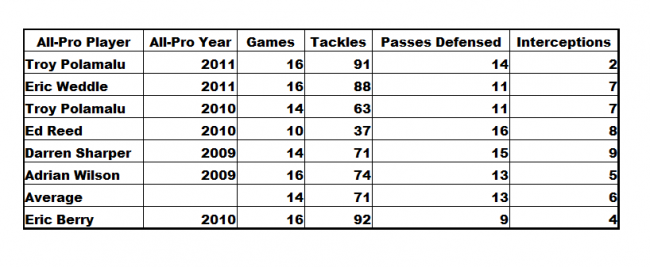 Berry needs to snag a few more interceptions and defend a few more passes to become an all pro.
Despite snagging four interceptions in 2010, Berry's weakness is still in coverage. ProFootballFocus gave Berry a -0.9 in coverage in 2009; that's just slightly below-average. The QB rating against Berry was 96.1, and he gave up seven touchdowns and 36 receptions on the season per the data. To become an All-Pro for the first time, Berry is going to need to be better.
Polamalu, Ed Reed and Eric Weddle are just a few names that have been All-Pro in recent years, and they've all had seasons with over seven interceptions and 10 passes defensed. Berry had four interceptions and nine passes defensed in 2010. Berry's rookie season was enough to get him recognition on a playoff team, but he's going to have to be more impressive to become an All-Pro for the first time.
It's sometimes hard to become a first-team All-Pro with one big year. Historically, the voters favor reputation over a single big season, and players like Berry would have to settle for second-team All-Pro. To make the first team, Berry must make his way into the highlight reels with some of his interceptions.
Stop the AFC West Quarterbacks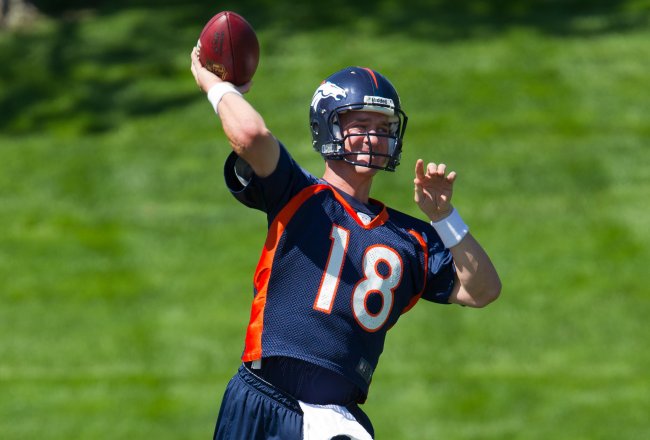 Justin Edmonds/Getty Images
Perhaps no quarterback can abuse the safeties more than Peyton Manning. Manning will read even the slightest movement by a safety and instantly know where to put the ball. Quarterbacks spend a lot of time studying safeties and linebackers to determine the coverage scheme, and Manning is obviously one of the best.
Berry faced Manning once and the Chiefs defense successfully limited Manning that day, although their own offense couldn't muster enough offense to beat the Colts. Berry wasn't much of a factor that day, recording five tackles and only having a few passes thrown in his direction.
Perhaps it was a case of starting slow, but Berry also struggled with Philip Rivers and Matt Schaub early in 2010, and he'll need to prove he can become an impact player against elite quarterbacks. Berry's best games came against Alex Smith, Todd Bouman, Ryan Fitzpatrick and Jason Campbell, which is hardly an elite group.
Berry did have one of his best games of the season in the playoffs against Joe Flacco and the Ravens—particularly in coverage—and there is hope that Berry will just continue to get better in every area of his game. The Chiefs are hoping that all the downtime will not stall what was otherwise a great rookie season.
Stop the Elite Tight Ends
Can Eric Berry become a first-team all pro?
Safeties are often asked to do a little bit of everything. The best ones can cover a receiver, support the run in the box, rush the passer and make plays in zone coverage. However, there is a growing trend in the NFL that is giving defenses fits. That is the emergence of super tight ends that are extremely difficult to cover. These tight ends are typically big and fast, and many are former basketball players. They are too fast for a linebacker to cover and too big for a cornerback.
For a long time, safeties were either too stiff to play cornerback or too small to play linebacker. That type of thinking lead to safeties in the NFL that don't hold up in coverage or aren't big enough or strong enough to cover a big tight end. The new breed of tight end might have five or more inches and 50 pounds on the safety, meaning the safety has to be extremely physical and athletic enough to battle with these tight ends at the highest point.
Berry had the necessary size, strength and ability to limit the likes of Jimmy Graham, Antonio Gates and Rob Gronkowski, and that's just what he'll need to do to be considered an All-Pro. He'll get his first chance in Week 3 when the Chiefs visit New Orleans, and obviously, he'll square off against Gates twice in 2012.
In many ways, Berry's counterpart in Oakland, Tyvon Branch, got a big contract extension for being just about the only player that shutdown Rob Gronkowski last season. It's what safeties need to be able to do in today's NFL, and it's what Berry will need to do to become a first-team All-Pro.
This article is
What is the duplicate article?
Why is this article offensive?
Where is this article plagiarized from?
Why is this article poorly edited?

Kansas City Chiefs: Like this team?