Seattle Seahawks' Complete 2012 NFL Preseason & Training Camp Guide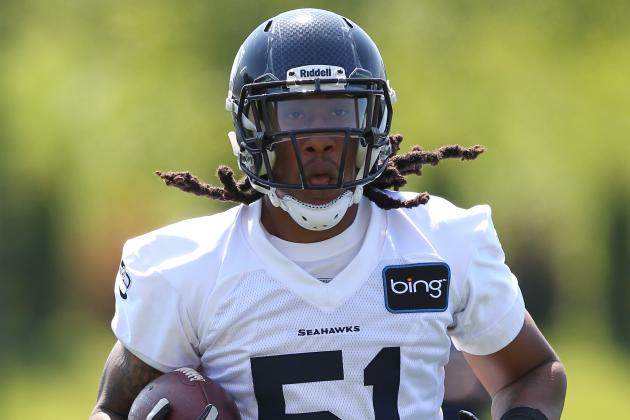 Otto Greule Jr/Getty Images

The Seattle Seahawks and the rest of the NFL are set to open training camp for the 2012 season. While the Seahawks aren't being given much of a chance to compete in the NFC West this season, they have amassed a strong talent pool and Pete Carroll says the team is ready to take back the NFC West title.
Seattle has done what they can to address issues from 2011 and shore up the strengths of their team. While some critics were busy judging the team for the players they drafted like Bruce Irvin and Russell Wilson, the Seahawks were building the final pieces of a roster that could be quite competitive in 2012.
There are a few things that need to fall right for Seattle, but they enter training camp with a realistic opportunity to unseat the San Francisco 49ers.
The following 12 slides discuss those items and others the 12th Man should be prepared to follow as the Seahawks prepare to tackle the '12 season.
Begin Slideshow

»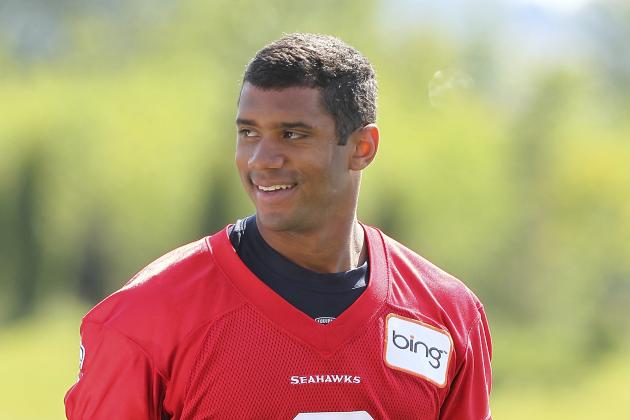 Otto Greule Jr/Getty Images
Three could prove to be a lonely number for Tarvaris Jackson.
The Seahawks will enter training camp with far fewer questions than they've had the last several seasons. The 2011 season brought a host of concerns, starting with a recently settled labor dispute that kept the team off the practice field over the spring and early summer.
While every position except punter and long-snapper will be open for competition in 2012, the starting lineups are mostly set.
The defense returns 10 starters. The only one that isn't back is the player Pete Carroll referred to when discussing the need for better speed from their front seven. David Hawthorne wasn't offered a contract by the Seahawks and will likely be replaced by rookie Bobby Wagner or defensive coordinator Gus Bradley's former middle linebacker, Barrett Ruud.
The offense is a little more established than 2011, when the team had seven new starters. There will be more competition for starting spots than the defense, though, and the results of those battles will go a long way in shaping the Seahawks season.
Following are several questions facing the Seahawks as they open training camp.
Can Darrell Bevell generate more offensive power?
While the personnel will be part of this equation, the 2012 season will be an important one for Seattle's offensive coordinator. The running game finally got off the ground midway through last season, but much of that success is attributed to Tom Cable being able to mold an offensive line in the wake of several key injuries.
The passing game sputtered, though, and only so much of the blame can be thrust upon Tarvaris Jackson or the receivers.
There were significant issues with the play-calling last season. While facing difficult blitz pressure, the offense often lacked hot receivers so Jackson could release a quick pass. Quick slants were almost nonexistent despite having a player in Golden Tate that could add solid yards after the catch.
Bevell will have a choice of three quarterbacks this season and a bevy of wide receivers and tight ends. If he's unable to mount a proper offensive attack the concerns that followed him from Minnesota could drive him out of Seattle.
Which of Jack Flylson's personalities will be the starting quarterback?
This is really the first, middle and last question for the Seahawks. Who will win the starting job? Can Matt Flynn and Russell Wilson surpass Jackson on the depth chart? If so, will Jackson be with the team in September?
The Seahawks have received a lot of national attention because of their quarterback competition. The situation has been portrayed as a negative, as the starting quarterback and receivers haven't had an opportunity to work together as much as other teams have.
However, having two quarterbacks trying to take the starting job from a player that was 7-7 as a starter last season isn't a bad thing—unless it lasts until the end of August.
Expect the Seahawks to have an answer to their starting QB issue by August 19th. This will allow them to enter practices before their third preseason game with an established hierarchy and still be ready for their September 9, 2012 opener against the Arizona Cardinals.
Can Kellen Winslow Jr. be a positive force on the field and not a disruption in the locker room?
The Seahawks haven't put too many eggs in the Winslow basket, but he is certainly the type of offensive threat they could use. He can help in the run game and can be a solid possession receiver and even a big-play target when the inevitable mismatch occurs.
Now he just needs to find a way to coexist with starting tight end Zach Miller and the rest of the Seahawks offense. Expecting him to play nice with the defense would be asking too much.
How many games will Sidney Rice play?
The addition of Rice was a great move by the Seahawks. He's one of the best receiver talents in the game, so long as he's on the field. However, when signed by the Seahawks he'd had just one season out of four where he was available for all 16 games.
In that campaign he had over 1,300 yards and eight TDs and was a member of the NFC Pro Bowl team.
That is the player the Seahawks were hoping to put on the field, but he didn't make much of a mark in nine games last season.
Rice has been working on building muscle this offseason. He believes it will help with his durability.
It certainly can't hurt.
The Seahawks need a healthy Rice on the field in 2012 if they are going to make a sincere playoff push.
Can the secondary play at a higher level?
The Seahawks secondary was one of the biggest surprises in the NFL last season. After Marcus Trufant and Walter Thurmond were lost to injury by Week 7, Seattle had two first-year players at the corners and a pair of second-year players at the safety positions.
Earl Thomas was the only one of the four that had any starting experience.
The result was three Pro Bowl appearances. The only player to not get the nod for Hawaii was Sherman, who only started 10 games but seemed to outplay the rapidly improving Browner down the stretch.
The most impressive part of their play was they did it without the help of a solid pass-rush. The Seahawks struggled to put consistent pressure on opposing quarterbacks, allowing them time to find receivers once they came open.
Fortunately for Seattle, receivers didn't manage to do so too often.
With the potential for a much-improved pass rush in 2012, the secondary needs to force even more turnovers and surrender few yards.
Will the linebackers be worthy of a top-10 defense?
The Seahawks had two issues with their defense last season. Aside from the aforementioned pass-rush concerns, the linebackers struggled covering tight ends and running backs in passing routes.
The Seahawks will have a lot of options with their personnel after signing Barrett Ruud and drafting Bobby Wagner and Korey Toomer. Along with K.J. Wright and Leroy Hill, they will have Malcolm Smith and others to fill situation roles.
This defense can be as good as their linebackers allow them to be.
Who will step up at wide receiver?
Aside from Rice, the Seahawks need a player to step up and take over for what Mike Williams did in 2010. There are several options that will be discussed in more detail, but they need someone to step up and seize the opportunity to be the No. 2 receiver on this team.
What will be the fallout with Marshawn Lynch?
Lynch was arrested for "suspicion" of driving under the influence of alcohol. Despite comments from Lynch's attorney, early reports don't sound good for Lynch and his insanely terrible lack of judgement could (and should) result in a suspension from the NFL.
While some believe Roger Goodell has bigger fish to fry in the coming months, I'm sure he'll make time to deal with Lynch and the rest of the hooligans from the 2012 offseason.
Lynch can expect a four-game suspension, but perhaps Goodell will give him the special treatment a certain quarterback in Pittsburgh received and cut it short if Lynch doesn't assault anyone in a bathroom and stays out of the driver's seat if he's been drinking.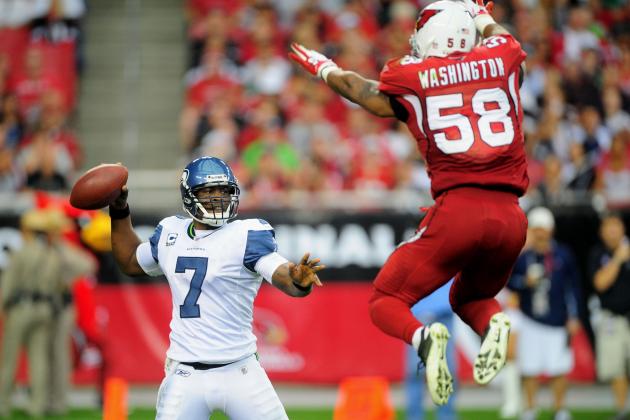 Mark J. Rebilas-US PRESSWIRE
Jackson's experience could be what keeps him on the roster...but will that be enough?
The Seahawks will feature several strong position battles in 2012, leaving quite a few players in an uncomfortable position when the final roster cuts are made. One of those players was Mike Williams, who was released by the Seahawks before camp opened.
Here are some other names that will need to spend training camp proving they belong with the team and not on another roster, the practice squad or even out of the NFL:
Tarvaris Jackson
The Seahawks aren't likely going to keep four quarterbacks on the roster. There has been little talk of Josh Portis, but he is a cheap option for a third quarterback.
If Flynn and Wilson take the top two roster spots, look for the Seahawks to try to deal Jackson. If a team suffers an injury and is in need of a quality backup or even a temporary starter, they could do a lot worse than Jackson.
If Seattle can't deal him, look for Jackson and his non-guaranteed $4 million contact to be released.
Ben Obomanu
Obomanu started several games for the Seahawks last season. He is a solid route-runner and has the ability to get open.
However, he struggled with dropped passes in 2011, an issue that followed him into summer camps. If Obomanu can't hold onto the ball in training camp and the initial exhibition games, he won't last to the final roster cut.
Kris Durham, Golden Tate, Ricardo Lockette, Deon Butler, Levasier Tuinei, Jermaine Kearse, Phil Bates
The Seahawks have too many options at wide receiver and don't figure to carry extra bodies to the final roster. They have needs elsewhere, leaving the coaching staff to make some difficult decisions.
Seattle carried five active bodies into 2011, with a sixth on the physically-unable-to-perform (PUP) list. They may have six receivers on the 53-man roster, but with Rice and Doug Baldwin virtually assured of a roster spot, the team is left with eight players after four roster spots.
Cameron Morrah and Anthony McCoy
The Seahawks have two starting-caliber tight ends on the roster. They figure to keep a third for depth, but needs at receiver and other positions make it unlikely for them to carry four tight ends on the final roster.
This leaves Morrah and McCoy chasing the final spot. McCoy may be a slightly better blocker, but he was simply terrible in passing routes last season. He dropped as many balls as he caught and was a liability in the passing game.
Morrah has had his own issues with holding onto the ball, but is a much more athletic option. He can block or get open in the passing game.
Frank Omiyale
The Seahawks picked up Omiyale as a cheap depth option for the offensive line. He showed signs of being a good blocker early in his career, but really struggled for the Chicago Bears last season.
It is possible Tom Cable can turn him around, but the Seahawks have too much other depth on the offensive line.
Omiyale's main hope for making the 53-man roster is his ability to back up guard and tackle positions. If Carpenter starts the season on the PUP, Omiyale may have a few weeks on the active roster to prove he should stick with the team.
Alex Barron and Allen Barbre
If this comes down to a battle between Barbre and Barron, the difference could be that Barbre will start the 2012 season with a four-game suspension.
However, Paul McQuistan's ability to back up the left guard and tackle spots could leave both of these blockers off the final roster. Deuce Lutui reported to his first camp with the Seahawks much trimmer and in better shape than he has in recent seasons with the Arizona Cardinals. He could take the starting guard position and leave McQuistan as the best backup option for left guard and left tackle.
Rishaw Johnson and Paul Fanaika
The competition for offensive guard will be brutal in 2012. John Moffitt is returning from injury to join the aforementioned McQuistan, who started 10 games for Seattle last season and Lutui who played in 15 games for the Cardinals last season and started every game for them in the preceding three campaigns.
Lemuel Jeanpierre will also be in the mix. He started five games last season and will likely earn a spot as the back-up to Max Unger at center.
There is little room for Fanaika on the roster and Seattle may try to release Johnson and add him to the practice squad. They will almost certainly do so with J.R. Sweezy, as they are working on transitioning him from defensive line to offensive guard.
Jeron Johnson
The addition of Winston Guy could hinder Johnson's ability to make the Seahawks roster. Seattle may see him as an option to back-up free safety, which is his best opportunity to make the final roster.
Pep Levingston, Clinton McDonald and Greg Scruggs
These three players will likely be battling for one spot at defensive tackle. Seattle already has Brandon Mebane, Alan Branch, Jason Jones and Jaye Howard for their interior linemen, leaving little room.
The player from this list that makes the final roster will likely be the one that can best backup Red Bryant as a run-stuffing defensive end.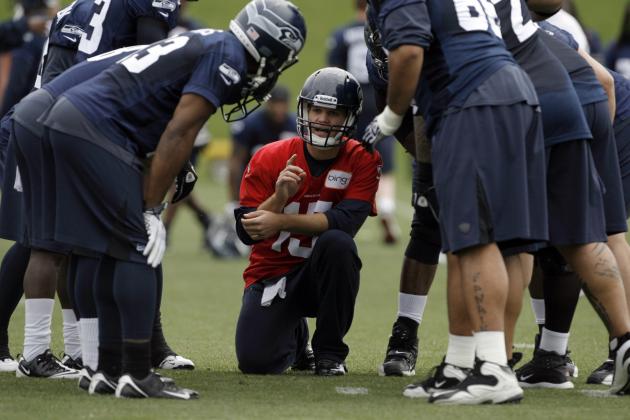 Joe Nicholson-US PRESSWIRE

The Seahawks will have some players worth watching in preseason because they bring unique skill sets. Nick Reed from 2009 comes to mind, as his speed and agility made him a highlight waiting to happen.
Those skills might not be enough to make the final roster, though.
Other players will command attention because they are expected to be in tough camp battles.
There are also players that are returning from injury and their progress in preseason will have a distinct impact on the team in 2012.
Here is a summary of some of the players that fans should be following over the month of August.
Bruce Irvin
Of all the draft picks in 2012, perhaps the only player with more to prove than Irvin is punter Bryan Anger who was selected in the third-round by the Jacksonville Jaguars.
Irvin needs to demonstrate his speed rush can be paired with a few inside moves to make him a factor in the NFL. He will also need to show some abilities to stop the run, as the team prepares for an eventual life after Chris Clemons holding down the Leo position.
Matt Flynn
While the Seahawks aren't completely dependent on Matt Flynn, his ability to take control of the quarterback spot and play well is what will make Seattle a viable playoff team in 2012. It is a bit daunting to have so much riding on a player with just two career starts, but Flynn has shown enough in those two games to prove he has the maturity to lead an offense.
Now it is time to prove he has the skill to lead a Seahawks team that might not have the quality of receiving targets he had in Green Bay.
There have been reports that assume Flynn wasn't impressive during mini-camps and that is why Tarvaris Jackson is still the top quarterback headed into camp. Those reports are speculation from writers that haven't been following the story closely.
Carroll is maintaining the same stance he had when Flynn was signed. Jackson is the incumbent starter and will remain as QB1 until he is beaten out in live situations.
A coach shouldn't make his final decision based on drills in shorts and helmets. In addition, a change before camp would likely be too much of a blow to Jackson.
There is no reason to destroy his confidence until it is clear Flynn or Russell Wilson is ready to lead the team.
Sidney Rice
The Seahawks need Rice to return to action healthy and every bit as fast and nimble as he was before he started to bulk up this offseason. If Rice can stay on the field he can be a difference-maker in Seattle's offense.
Doug Baldwin
Seattle has the potential to have a solid receiving corps in 2012. Baldwin showed some definite skills last season and if he can continue to build on his rookie year he'll be a valuable option from the slot or at split end.
Flynn and Baldwin got in a little extra work in Florida, working on the bond with what could be a lethal passing combination.
Baldwin will most likely look impressive during camp. The main thing to watch is where Bevell lines him up, be it the slot or split wide.
Kris Durham
Seattle surprised many analysts by taking Durham in the fourth round of the 2011 draft. They were enamored with his size, speed and hands.
It didn't take long in training camp last season to see what the Seahawks scouts were looking at. Durham spent most of the 2011 season on the inactive list before he was encouraged to have season-ending surgery to make room on the roster for Deon Butler.
Durham will be a matchup nightmare for most secondaries, though, when paired with Rice and Winslow.
Rishaw Johnson
The Seahawks signed Johnson as an undrafted free agent. He had second-round talent but character concerns kept him from being drafted.
After a successful stint at California (PA), Johnson appears to have his troubles behind him. He could be the 2012 equivalent of Baldwin.
Deuce Lutui
Lutui used a vegan diet and solid training to maintain a more NFL-friendly weight during the offseason. He failed a physical prior to the 2011 season after reporting near 400 lbs.
If Lutui can stay relatively trim and maintain good conditioning he can be a factor in the starting lineup.
Robert Turbin
Seattle drafted Turbin as a player that can offer many of the same skills as Marshawn Lynch. Their offense relies on a solid ground game and Turbin is a bruising back with good speed.
The Seahawks may have to rely on Turbin early in the season, as Lynch will likely be facing a suspension following an arrest for suspicion of drunk driving. Coaches and fans will be eager to see how Turbin's combination of power and speed transition to the NFL.
The Seahawks figure to give him extra looks in preseason action to make sure he is ready.
Jason Jones
The Seahawks secured the best interior pass-rusher in free agency this offseason by signing Jones to a one-year contract. He is looking to accomplish big things this season and believes the noise in CenturyLink Field will help him gain an advantage on offensive linemen.
Jones will be looking for a big contract in 2013 and will need to post a bevy of sacks for the Seahawks to accomplish that goal. It will be interesting to see how much playing time he garners with the first unit during the preseason.
Bobby Wagner and Barrett Ruud
Seattle has a vacancy at starting middle linebacker and Wagner and Ruud both hope to fill it. Wagner has the advantage of filling the role over the summer while Ruud recovered from injuries in 2011. Ruud has the advantage of playing the spot when defensive coordinator Gus Bradley was his position coach with the Tampa Bay Buccaneers.
Ruud left Tampa Bay after six seasons and didn't play to the same level last season with the Tennessee Titans. Much of his struggles can be tied to dealing with injury issues for the first time in the NFL.
If he is able to show the same form that led to four-straight seasons with over 100 tackles, the competition for the starting middle linebacker will certainly be a good battle to watch.
Marcus Trufant
While he is an overlooked part of the secondary, Trufant will have the ability to make a solid contribution to the Seahawks in 2012. He has struggled through injury issues the last few seasons, but a reduced workload as a nickel defensive back should keep his back from taking the same pounding it has in recent seasons.
Trufant may be several years removed from his Pro Bowl form, but he's still a very good defender that could make a big contribution to the defense in 2012. He figures to be covering third- or fourth-option receivers and shouldn't be facing off against the taller receivers that gave him issues in coverage.
Fans should keep an eye on how he does with the transition.
Zach Miller and Kellen Winslow Jr.
While Miller has youth and health on his side, Winslow has a longer history of performance. Both figure to be on the field when the Seahawks begin their season, though, as fans can expect a heavy dose of sets featuring two tight ends.
The slot position could be the most impacted by Winslow's addition to the Seahawk roster. He offers a versatile presence in the passing game, strong possession skills and enough blocking ability to validate being on the field in almost every offensive situation.
Fans should pay attention to how Seattle uses their tight ends during the preseason, particularly with Matt Flynn and Russell Wilson are at quarterback.
Tarvaris Jackson doesn't have a strong history of utilizing the position. If he is throwing to either of these players then it will be clear the Seahawks plan to feature the position.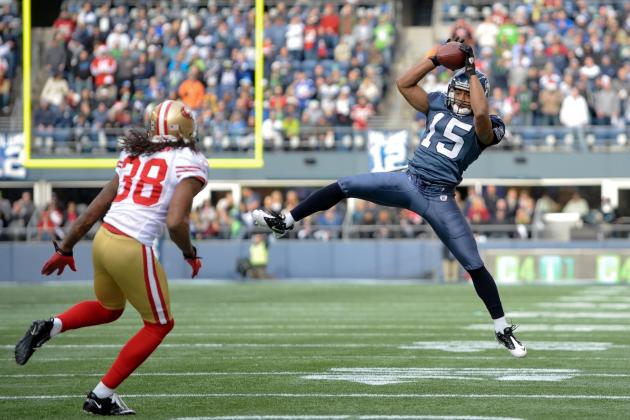 Steven Bisig-US PRESSWIRE

The Seahawks will have several tight battles for starting positions along with some tough competition for reserve roles and roster spots.
Fans visiting training camp practices will be hard pressed to decide which competition to watch, but most eyes will likely be on one position...
Quarterback
Any fan of the NFL that doesn't realize the Seahawks have a competition brewing at quarterback should no longer be considered a fan of the NFL.
Seattle signed Matt Flynn in the offseason to spur a bump in play at the quarterback position and then added Russell Wilson in the draft. His play in rookie mini-camp pushed him into consideration for starter duties.
There have been ample assumptions and speculation made about the position.
Some feel the competition is a veiled hoax and that the team already knows they'll be starting Flynn and his $19.5 million contract. Others state Flynn couldn't have been impressive during camp, as Jackson is still at the top of the depth chart.
Still others state Seattle should get on with the future of the position and put Wilson out there.
All three of these camps are wrong.
The player that performs the best once the pads go on will be the starting quarterback. I believe that will be Flynn, but I've been saying Flynn would be their next franchise quarterback for over a year now so I could be a bit vested in him winning the battle.
The indisputable facts are that Carroll stated he wasn't going to make a decision until the players met live competition. There was virtually nothing Flynn could have done in shorts and a helmet to unseat Jackson and those that are speculating that Flynn wasn't impressive during camp because he's still behind Jackson simply weren't paying close enough attention.
Flynn also isn't being given extra consideration because of his contract. Carroll said that players don't take their wallets onto the playing field and a contract won't determine the starting spot.
The other fact that must be considered is Carroll is starting his third season as head coach. This is the time the team is expected to have a winning season. He will hold true to his "earn everything" approach and start the quarterback that gives the team the best chance to win.
That doesn't necessarily mean the best quarterback, as experience and familiarity with the NFL will be a factor. But a passer will separate himself during camp and preseason games and that player will be given the opportunity to lead the team in 2012.
There is another storyline with this competition, though, and that deals with Jackson's future with the team. Seattle figures to watch Wilson closely and if they believe he is NFL-ready in 2012, Jackson could find himself working for another team this season.
He was so-so as a starter last season, going 7-7 in his starts and finishing the season as the 21st-ranked passer. He would add value as a backup option for several teams. The trade market for his services isn't likely to be warm, but if a team suffers an injury he could gain some market value.
Wide Receiver No. 2
Seattle had several players fill in at split end last season. With the release of Mike Williams, those and a few more will be given the opportunity to earn the starting spot in 2012.
Doug Baldwin is certainly a fan favorite and will be in the mix. Ben Obomanu had starting duties for several games last season and will also challenge for the spot, but dropped passes followed him into offseason practices. This could cost him not only a starting spot but a place on the 53-man roster.
Kris Durham and Deon Butler could be the final two men standing in the battle to play opposite Sidney Rice.
Butler looked healthy and ready this spring. He has good speed and is a solid route-runner and had a strong showing in 2010 before his leg injury.
Kris Durham offers a great blend of size and speed and showed the ability to get open and make plays against the Steeler defense last season. He's my favorite to win the battle, as Rice, Durham, Kellen Winslow and Zach Miller would pose distinct matchup issues for most defenses.
Offensive Guard
John Moffitt will return for the Seahawks in 2012 and figures to be the starter at right guard. Carroll and Tom Cable felt comfortable enough with Paul McQuistan on the left side to release Robert Gallery early in free agency.
McQuistan proved to be a valuable reserve last season and played well when pushed into starting duties.
Seattle also signed Frank Omiyale and Deuce Lutui in free agency and then signed the undrafted Rishaw Johnson. James Carpenter will also be a possibility once healthy.
While they lack a proven star at left guard, the Seahawks will have several options.
Lutui currently seems to have his weight under control and has a very good blocker for the Arizona Cardinals when he was in shape. He may not be the front-runner at this time, but I see him emerging as a starter at the end of camp.
This will be an important battle for Seattle, as their offense leans heavily on their blockers. They need to create opportunities in the ground game and give whomever their quarterback will be time to operate the passing game.
Linebacker
While some would expect this to be narrowed to middle linebacker, the Seahawks will weigh several options during the preseason. K.J. Wright and Leroy Hill are expected to start on the outside, with Barrett Ruud and rookie Bobby Wagner battling for the starting spot in the middle.
But things are never so simple when dealing with Pete Carroll.
Ruud has the skill set to challenge for snaps on the outside and Wright played very well in the middle when filling in for Hawthorne last season. They also have players like Malcolm Smith and Mike Morgan that can fill situational roles and in pass protection.
The linebacker positions looked like an area of weakness for this team at the start of free agency. There are still several questions to answer, but this unit should be strong enough to perform well for defensive coordinator Gus Bradley.
Wide Receiver and Slot depth options
The Seahawks may lack proven options with their receiving corps, but that doesn't mean they are lacking in talent. They have a variety of options that will make final roster decisions difficult.
Baldwin may end up playing split end, but he will likely be in the mix for snaps in the slot. Golden Tate and Deon Butler will also be looking for playing opportunities.
With Kris Durham, Ben Obomanu and Ricardo Lockette joining the competition with No. 1 receiver Sidney Rice, the Seahawks return seven receivers from their 2011 roster. They also added a few options in free agency, signing undrafted options Levasier Tuinei (Oregon) and Jermaine Kearse (Washington) who will be given an opportunity to be on the receiving end of the passing game.
Defensive Tackle
When Pete Carroll took over as head coach of the Seahawks, defensive tackle was a major area of concern. The Seahawks had struggled to stop opposing teams on the ground and former starter Colin Cole was one of the casualties.
Cole wasn't able to land with a new team, outlining a concern with talent at the tackle positions.
Things have certainly changed for Seattle.
The Seahawks enter camp with three solid starters in Brandon Mebane, Alan Branch and free agent addition Jason Jones. They also drafted Jaye Howard and Greg Scruggs.
The Seahawks may find room for five of these players, as Scruggs has been getting opportunities to be Red Bryant's backup as a run-stuffing defensive end. He and Howard also bring pass rush skills and figure to be in the long-term plans for the team.
The Seahawks will have a lot of competition for interior snaps, but will have the luxury of matching player skill-sets to game situations.
Right Tackle
This battle will get interesting once James Carpenter is ready to hit the field. This could be towards the end of training camp, but Carpenter is expected to start the season on the PUP list. When he returns he could challenge Breno Giacomini for starting duties, but that is unlikely.
A big part of an offensive line is continuity, something Seattle had very little of last season.
They started 2011 with five starting linemen that hadn't played a regular season snap together and lost every starter for at least one game due to injury.
If the line is playing well when Carpenter is able to return, he will likely become the backup for every position except center.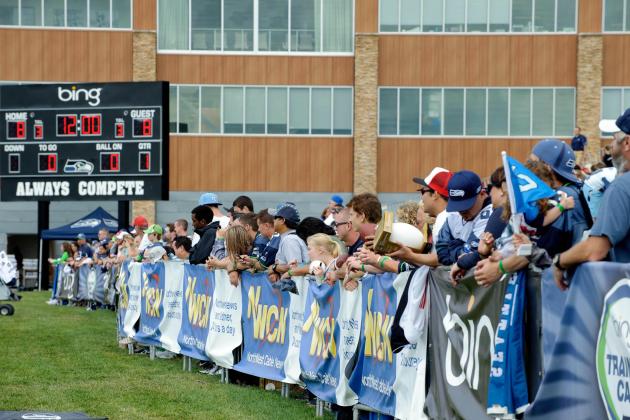 Steven Bisig-US PRESSWIRE

Following is a list of Seattle's open training camp practices and preseason games.
Additional information on attending practice sessions can be obtained through the team at this link. There is a $6 fee to cover transportation costs from The Landing in Renton to the team's practice field.
All times are local to Seattle (Pacific time zone):
Practice Sessions
| | | |
| --- | --- | --- |
| Open/Closed | Date | Time |
| Closed to Public | July 27 | Camp Opens |
| Open to Public | July 28 | 10:00 AM |
| Open | July 29 | 10:00 AM |
| Open | July 30 | 10:00 AM |
| Open | July 31 | 10:00 AM |
| Open | August 2 | 10:00 AM |
| Open | August 3 | 10:00 AM |
| Open | August 4 | 10:00 AM |
| Open | August 5 | 1:00 PM |
| Open | August 7 | 1:15 PM |
| Open | August 8 | 1:15 PM |
| Open | August 9 | 1:15 PM |
| Open | August 14 | 1:15 PM |
| Open | August 15 | 1:15 PM |
Preseason Games
August 11, 2012: Tennessee Titans vs. Seattle Seahawks, 7:00 PM, CenturyLink Field
August 18, 2012: Seattle Seahawks vs. Denver Broncos, 6:00 PM, Sports Authority Field
August 24, 2012: Seattle Seahawks vs. Kansas City Chiefs, 5:00 PM, Arrowhead Field
August 30, 2012: Oakland Raiders vs. Seattle Seahawks, 7:00 PM, CenturyLink Field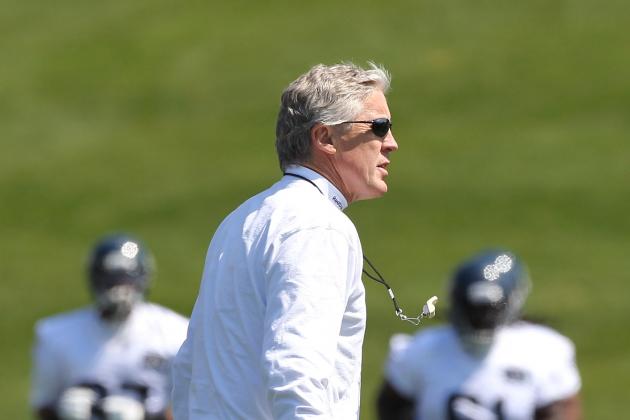 Otto Greule Jr/Getty Images

The Seattle Seahawks hold training camp at their team headquarters, the Virginia Mason Athletic Center (VMAC) in Renton, Washington. Located on the south shores of Lake Washington, the Seahawks moved into the facility in August of 2008.
The team had used the Eastern Washington University campus in Cheney, WA for most of their training camps prior to 2008.
VMAC is the NFL's second-largest facility with 200,000 square feet. They have a full-size field inside and three more outdoors, along with meeting rooms, exercise rooms, weight and locker rooms, a full-service cafeteria and office space for team employees and the front office.
The 19-acre complex was formerly the home of a coal tar refinery & creosote plant. Vulcan entertainment purchased the land in 2000 and remediated the environmental issues with officials from the City of Renton and the Washington State Department of Ecology.
An online tour of the facility is available, courtesy of Seahawks.com.
Whitney Curtis/Getty Images
The timing of the release of Mike Williams was the latest surprise from coach Pete Carroll.
The full Seattle Seahawks roster, per Seahawks.com:
| | | | | | | | |
| --- | --- | --- | --- | --- | --- | --- | --- |
| # | NAME | POS. | HT. | WT. | AGE | EXP. | COLLEGE |
| 60 | Unger, Max | C | 6-5 | 305 | 26 | 4 | Oregon |
| 39 | Browner, Brandon | CB | 6-4 | 221 | 27 | 2 | Oregon State |
| 37 | Francies, Coye | CB | 6-0 | 185 | 25 | 4 | San Jose State |
| 1 | Lane, Jeremy | CB | 6-0 | 190 | 22 | R | Northwestern State (La.) |
| 34 | Lewis, Roy | CB | 5-10 | 190 | 27 | 5 | Washington |
| 38 | Lisowski, Donny | CB | 5-11 | 185 | 23 | R | Montana |
| 42 | Maragos, Chris | CB | 5-10 | 200 | 25 | 3 | Wisconsin |
| 41 | Maxwell, Byron | CB | 6-1 | 207 | 24 | 2 | Clemson |
| 36 | Parker, Ron | CB | 6-0 | 206 | 24 | 2 | Newberry College |
| 25 | Sherman, Richard | CB | 6-3 | 195 | 24 | 2 | Stanford |
| 28 | Thurmond, Walter | CB | 5-11 | 190 | 24 | 3 | Oregon |
| 23 | Trufant, Marcus | CB | 5-11 | 197 | 31 | 10 | Washington State |
| 35 | Adams, Phillip | DB | 5-11 | 192 | 23 | 3 | South Carolina State |
| 5 | Shead, DeShawn | DB | 6-1 | 220 | 24 | R | Portland State |
| 95 | Allen, Pierre | DE | 6-4 | 273 | 24 | 2 | Nebraska |
| 79 | Bryant, Red | DE | 6-4 | 323 | 28 | 5 | Texas A&M |
| 91 | Clemons, Chris | DE | 6-3 | 254 | 30 | 9 | Georgia |
| 58 | Davis, Dexter | DE | 6-1 | 244 | 25 | 3 | Arizona State |
| 51 | Irvin, Bruce | DE | 6-3 | 248 | 24 | R | West Virginia |
| 90 | Jones, Jason | DE | 6-5 | 276 | 26 | 5 | Eastern Michigan |
| 47 | Law, Cordarro | DE | 6-1 | 254 | 23 | R | Southern Miss. |
| 98 | Scruggs, Greg | DE | 6-3 | 284 | 21 | R | Louisville |
| 99 | Branch, Alan | DT | 6-6 | 325 | 27 | 6 | Michigan |
| 94 | Howard, Jaye | DT | 6-3 | 301 | 23 | R | Florida |
| 93 | Levingston, Pep | DT | 6-4 | 292 | 24 | 2 | LSU |
| 69 | McDonald, Clinton | DT | 6-2 | 297 | 25 | 4 | Memphis |
| 92 | Mebane, Brandon | DT | 6-1 | 311 | 27 | 6 | California |
| 26 | Robinson, Michael | FB | 6-1 | 240 | 29 | 7 | Penn State |
| 29 | Thomas, Earl | FS | 5-10 | 202 | 23 | 3 | Texas |
| 66 | Fanaika, Paul | G | 6-5 | 327 | 26 | 4 | Arizona State |
| 63 | Johnson, Rishaw | G | 6-3 | 313 | 23 | R | California Univ. (Pa.) |
| 72 | Lutui, Deuce | G | 6-4 | 338 | 29 | 7 | USC |
| 74 | Moffitt, John | G | 6-4 | 319 | 25 | 2 | Wisconsin |
| 64 | Sweezy, J.R. | G | 6-5 | 298 | | R | North Carolina State |
| 61 | Jeanpierre, Lemuel | G/C | 6-3 | 301 | 25 | 3 | South Carolina |
| 4 | Hauschka, Steven | K | 6-4 | 210 | 27 | 5 | North Carolina State |
| 6 | Wiggs, Carson | K | 6-1 | 222 | 22 | R | Purdue |
| 44 | Bradford, Allen | LB | 5-11 | 235 | 23 | 2 | USC |
| 55 | Farwell, Heath | LB | 6-0 | 235 | 30 | 8 | San Diego State |
| 46 | Konz, Jameson | LB | 6-3 | 234 | 26 | 3 | Kent State |
| 52 | McCoy, Matt | LB | 6-0 | 232 | 29 | 8 | San Diego State |
| 57 | Ruud, Barrett | LB | 6-2 | 241 | 29 | 8 | Nebraska |
| 53 | Smith, Malcolm | LB | 6-0 | 226 | 23 | 2 | USC |
| 59 | Toomer, Korey | LB | 6-2 | 234 | 23 | R | Idaho |
| 50 | Wright, K.J. | LB | 6-4 | 246 | 22 | 2 | Mississippi State |
| 43 | Knox, Kyle | LB | 6-1 | 220 | 23 | R | Fresno State |
| 48 | Morgan, Mike | LB | 6-3 | 226 | 24 | 2 | USC |
| 54 | Wagner, Bobby | LB | 6-0 | 241 | 22 | R | Utah State |
| 49 | Gresham, Clint | LS | 6-3 | 240 | 25 | 3 | Texas Christian |
| 56 | Hill, Leroy | OLB | 6-1 | 238 | 29 | 8 | Clemson |
| 70 | Coughman, Edawn | OT | 6-4 | 305 | 23 | 2 | Shaw University |
| 9 | Ryan, Jon | P | 6-0 | 217 | 30 | 7 | Regina |
| 15 | Flynn, Matt | QB | 6-2 | 225 | 27 | 5 | LSU |
| 7 | Jackson, Tarvaris | QB | 6-2 | 225 | 29 | 7 | Alabama State |
| 2 | Portis, Josh | QB | 6-3 | 211 | 25 | 2 | California University (Pa.) |
| 3 | Wilson, Russell | QB | 5-11 | 206 | 23 | R | Wisconsin |
| 20 | Lumpkin, Kregg | RB | 5-11 | 228 | 28 | 5 | Georgia |
| 24 | Lynch, Marshawn | RB | 5-11 | 215 | 26 | 6 | California |
| 30 | Sutton, Tyrell | RB | 5-8 | 213 | 25 | 3 | Northwestern |
| 22 | Turbin, Robert | RB | 5-10 | 222 | 22 | R | Utah State |
| 33 | Washington, Leon | RB | 5-8 | 203 | 29 | 7 | Florida State |
| 31 | Chancellor, Kam | SS | 6-3 | 232 | 24 | 3 | Virginia Tech |
| 27 | Guy, Winston | SS | 6-1 | 218 | 22 | R | Kentucky |
| 32 | Johnson, Jeron | SS | 5-10 | 212 | 24 | 2 | Boise State |
| 78 | Barbre, Allen | T | 6-4 | 305 | 28 | 6 | Missouri Southern |
| 73 | Barron, Alex | T | 6-7 | 320 | 29 | 7 | Florida State |
| 77 | Carpenter, James | T | 6-5 | 321 | 23 | 2 | Alabama |
| 68 | Giacomini, Breno | T | 6-7 | 318 | 26 | 5 | Louisville |
| 67 | McQuistan, Paul | T | 6-6 | 315 | 29 | 7 | Weber State |
| 76 | Okung, Russell | T | 6-5 | 310 | 24 | 3 | Oklahoma State |
| 65 | Omiyale, Frank | T/G | 6-4 | 315 | 30 | 8 | Tennessee Tech |
| 85 | McCoy, Anthony | TE | 6-5 | 259 | 24 | 3 | USC |
| 45 | McGrath, Sean | TE | 6-5 | 247 | 24 | R | Henderson St. (Ark.) |
| 86 | Miller, Zach | TE | 6-5 | 255 | 26 | 6 | Arizona State |
| 88 | Morrah, Cameron | TE | 6-3 | 251 | 25 | 4 | California |
| 82 | Winslow, Kellen | TE | 6-4 | 240 | 28 | 8 | Miami (Fla.) |
| 89 | Baldwin, Doug | WR | 5-10 | 189 | 23 | 2 | Stanford |
| 13 | Bates, Phil | WR | 6-1 | 220 | 22 | R | Ohio |
| 11 | Butler, Deon | WR | 5-10 | 182 | 26 | 4 | Penn State |
| 16 | Durham, Kris | WR | 6-6 | 216 | 24 | 2 | Georgia |
| 8 | Kearse, Jermaine | WR | 6-1 | 209 | 22 | R | Washington |
| 10 | Kenney, Cameron | WR | 6-1 | 197 | 23 | 1 | Oklahoma |
| 83 | Lockette, Ricardo | WR | 6-2 | 211 | 26 | 2 | Fort Valley State |
| 14 | Martin, Charly | WR | 6-1 | 212 | 28 | 3 | West Texas A&M |
| 87 | Obomanu, Ben | WR | 6-1 | 204 | 28 | 7 | Auburn |
| 18 | Rice, Sidney | WR | 6-4 | 202 | 25 | 6 | South Carolina |
| 81 | Tate, Golden | WR | 5-10 | 202 | 23 | 3 | Notre Dame |
| 19 | Tuinei, Lavasier | WR | 6-4 | 220 | 21 | R | Oregon |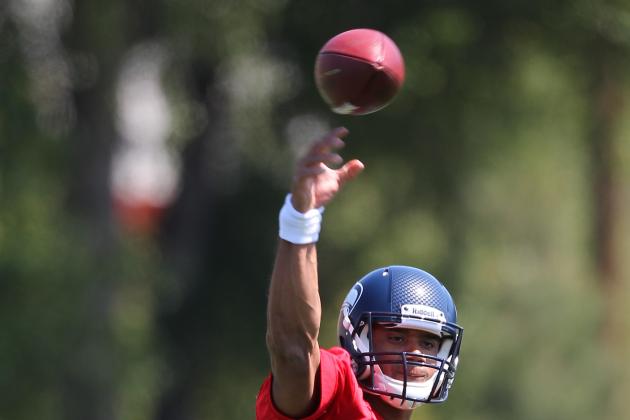 Otto Greule Jr/Getty Images
Wilson's long arms and high release point negate most of the "short quarterback" concerns that follow him to the NFL.
The Seattle Seahawks received a lot of criticism for their 2012 draft. Most felt they took Bruce Irvin too high and the selection of Russell Wilson came under a lot of scrutiny.
Some analysts questioned them trading down in Round 2 and then having to "settle" for Bobby Wagner and missing out on Mychal Kendricks.
Then there were the criticisms for taking a running back similar to Marshawn Lynch in the fourth-round instead of adding a change-of-pace option.
I will address these topics and others in this slide.
In all, the Seahawks added the following players in the 2012 NFL Draft:
| | | | | |
| --- | --- | --- | --- | --- |
| RD | PK(OVR) | PLAYER | POS | SCHOOL |
| 1 | 15(15) | Bruce Irvin | DE | West Virginia |
| 2 | 15(47) | Bobby Wagner | MLB | Utah State |
| 3 | 12(75) | Russell Wilson | QB | Wisconsin |
| 4 | 11(106) | Robert Turbin | RB | Utah State |
| 4 | 19(114) | Jaye Howard | DT | Florida |
| 5 | 19(154) | Korey Toomer | LB | Idaho |
| 6 | 2(172) | Jeremy Lane | CB | Northwestern State |
| 6 | 11(181) | Winston Guy | SS | Kentucky |
| 7 | 18(225) | J.R. Sweezy | OG | North Carolina State |
| 7 | 25(232) | Greg Scruggs | DT | Louisville |
Bruce Irvin
The Seattle Seahawks all but admitted they were going to take Irvin to help out with their anemic pass-rush. In the post-season press conference Pete Carroll mentioned several times they needed more speed from their front-seven, which likely meant David Hawthorne would be moving on and Seattle would take speedy options at DE and LB with their first two draft picks.
When discussing defensive end options in April, I mentioned Irvin as an option that would fit with the "speed" mantra the Seahawks were after. However, John Schneider had also spoken of taking guys with character issues off their board.
"There's certain things that we will not put up with, but there's also certain things that are just college stuff that you sift through. And believe me you sift through it. It's a (big) book like this (using corresponding hand gestures to represent unabridged dictionary-thick)."

John Schneider in the team's 2012 pre-draft press conference
Evidently they saw Irvin's past as "just college stuff."
Irvin was the ideal player to fit in Seattle's defense. In the short-term they need a player that can relieve Red Bryant on passing downs and get to the quarterback. Long-term, they need a player that can take over the Leo end position when Clemons moves on or retires.
Both of those roles rely on explosive quickness and getting to the quarterback, an area where Irvin has shown incredible ability.
It won't matter how well Irvin performs. There will still be critics and skeptics that won't believe the New York Jets, Houston Texans and San Francisco 49ers would have taken Irvin in Round 1 despite the reports to the contrary.
One draft "analyst" went so far as to state the Texans were going to take Irvin in Round 1 and then called Seattle's pick the "worst pick ever," as he should have been drafted in Round 5.
It is up to Irvin to prove the Seahawks were right to use their first-round pick on him. He has the ability to notch double-digit sacks in the NFL. Anything less will be a disappointment and a black-eye for the Seahawks draft analysis that was so good in the prior two drafts.
Bobby Wagner
Seattle added a mid-round draft pick to move down several spots in the second round. They had a glaring need at linebacker and Mychal Kendricks, Lavonte David and Bobby Wagner were still on the board.
Seattle moved behind the Philadelphia Eagles, who figured to be the only team looking at linebacker before their new pick. They took Kendricks, a player with good potential but that also missed too many tackles in college.
The Seahawks added a fast playmaker in Wagner, who took advantage of Barrett Ruud's absence from mini-camp practices to settle into the middle linebacker role.
Wagner will have an interesting battle in training camp, but figures to be the one new starter in the Seahawks top-10 defense from 2011. Look for him to offer a bump in performance from Hawthorne, who often missed assignments in pass protection.
Russell Wilson
This pick came under scrutiny from several sources. Analysts questioned Wilson's ability to play in the NFL at just under 5'11" tall and also pointed out the Seahawks had Josh Portis on their roster, a player Carroll spoke highly of last season.
What wasn't taken under consideration was Portis was signed as an undrafted free agent. Seattle didn't give up anything to sign him and there is little reason to see him as anything more than a solid reserve option.
The Seahawks were looking for a franchise quarterback in the draft and that is what they could have found in Wilson.
He played well enough and picked up the Seahawks' playbook quickly enough during the rookie mini-camp to assert himself into the competition for starting quarterback. Wilson may not win that battle in 2012, but his presence could make Tarvaris Jackson expendable.
The addition of Wilson was among the best moves of any team in the 2012 draft, but until Wilson proves he can be a viable starting quarterback in the NFL, this will be seen as a suspect pick.
Robert Turbin
The criticism followed Seattle when they took another player from Utah State. This option is a bruising runner with speed to hit holes, although he likely lacks break-away speed in the NFL.
The concern with Turbin is he's a very similar runner to Lynch. Analysts thought the Seahawks should have taken the same approach as division rivals; the San Francisco 49ers and St. Louis Rams both added speed backs to complement their bruising starters.
However, I prefer the approach the Seahawks took. They added a runner that can give Marshawn Lynch a break but that won't do the same for opposing defensive fronts. He can continue to pound away and allows the Seahawks to keep the same offensive approach with their backup on the field.
This pick looks all the better with Lynch experiencing off-field issues that could cost him time in training camp and during the regular season.
Jaye Howard
This was another surprising pick for the Seahawks, but for a different reason. Howard is a player that seemed to fall through the cracks during the draft process and should have been selected much earlier.
The Seahawks were in dire need of a pass-rush last season. Howard should be able to provide that push from the interior of the defensive line.
He may not see much time in 2012, but with Jason Jones and Alan Branch both set to be free agents next season, Howard looks to be a player being groomed for a starting role in 2013.
Korey Toomer
Toomer is another player that was likely selected with an eye towards being a future starter. Leroy Hill was signed to another one-year contract for the 2012 season, leaving a potential hole next season.
Toomer is an athletic player but will be making a big step from Idaho to the NFL.
Look for Toomer to make a contribution on special teams this season and be in the mix for starting duties in 2013 and beyond.
Jeremy Lane
The Seahawks have had issues with injuries and penalties from their cornerbacks. Lane looks to be a hedge-bet against both of those concerns.
Richard Sherman and Brandon Browner are firmly entrenched in their starting roles. Sherman was a surprising star after starting the season third on the depth chart, taking over after injuries ended the seasons for Marcus Trufant and Walter Thurmond.
Browner struggled with penalties early in the year, but eventually acclimated to the stricter rules in the NFL vs. what he saw in the CFL.
Lane will need to show an ability to help on special teams to make the roster and be ready to step in should injury issues arise again in 2012.
Winston Guy
It seemed the last thing the Seahawks needed in the 2012 draft was another strong safety. They have Pro Bowler Kam Chancellor and a promising backup in Jeron Johnson.
However, the Seahawks are all about competition and they have a valuable spot in their nickel and bandit packages for another hard-hitting safety with good coverage skills.
Watch for Guy in passing situations, as he'll be asked to line up anywhere from the linebackers to the safeties. He'll provide coverage skills and be asked to rush the quarterback.
Guy was projected to be selected much higher than Round 6 and looks like he could be another late-round steal for the Seahawks.
J.R. Sweezy
The Seahawks had something in mind other than the defensive tackle spot Sweezy had played in college. Shortly before the draft they sent Tom Cable, offensive line and assistant head coach, to work Sweezy out in a different capacity.
Cable believes he can turn him into an offensive guard and there is little reason to not believe he can do it.
Sweezy is a long-shot to make the 53-man roster. The Seahawks likely drafted him with the idea that they can stash him on the practice squad in 2012 and groom him into a starting blocker in the future.
Greg Scruggs
Similar to Sweezy, the Seahawks sent a line coach out to work with Scruggs before April's draft. But this time it was Todd Wash, head of the defensive unit.
Scruggs was a player that was high on the Seahawks draft board, but a turf toe injury hampered his 2012 season.
John Schneider listed Scruggs when asked if any of their draft picks were big values where they were selected.
Quite honestly, I would have to say Scruggs. When we were taking (safety Winston) Guy, Scruggs was one of our considerations. He's a good-looking athletic guy. He was a guy that was right there–there wasn't that much room separating them, from a grade standpoint.

-John Schneider, Seahawks general manager
Wash also chimed in on Scruggs following the team's mini-camp. "He's a big, long athlete and we're very excited about his change of direction and his movement. We're seeing real good movement principles and explosion out of a big athlete."
The defensive line was a huge talent concern two seasons ago. With the moves the Seahawks made, this unit will likely have several talented players that miss the final roster.
Scruggs has been working as a pass-rusher from the three-technique tackle position, along with backing up Red Bryant at defensive end. An ability to do the latter is what will likely secure him a roster spot in 2012.
Jeff Gross/Getty Images

The Seahawks flashed several undrafted free agents in 2011. Doug Baldwin was the biggest surprise as the leading receiver last season.
Ricardo Lockette also showed promise as a speedster in the receiving corps and Josh Portis, Jeron Johnson, Mike Morgan, Ron Parker and Pierre Allen all made the roster.
It will be more difficult in 2012, though, as the team started off with a much-improved talent pool.
Seattle signed all of the following undrafted players, but all but perhaps one will be camp-bodies and players the Seahawks look to pull from to fill their practice squad.
| | | |
| --- | --- | --- |
| Player | Position | College |
| Phil Bates | QB/WR | Ohio |
| London Durham | CB | McNeese State (released) |
| Cooper Helfet | TE | Duke (released) |
| Rishaw Johnson | OG | California Univ. (PA) |
| Jermaine Kearse | WR | Washington |
| Donny Lisowski | CB | Montana |
| Sean McGrath | TE | Henderson State |
| Jon Opperud | OT | Montana (released) |
| Deshawn Shead | SS | Portland State |
| Monte Taylor | DL | |
| Lavasier Tuinei | WR | Oregon |
| Carson Wiggs | K | Purdue |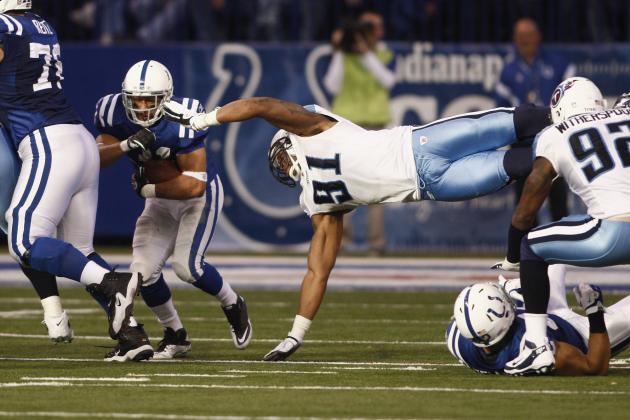 John Grieshop/Getty Images
Jason Jones will add an exciting physical presence to the interior of the Seahawks defensive line.
In addition to re-signing Marshawn Lynch, Red Bryant, Breno Giacomini, Paul McQuistan, Steven Hauschka, Heath Farwell and others, the Seahawks added several players in free agency.
Matt Flynn
The Seahawks signed Matt Flynn to a three-year contract worth $19.5 million. His guaranteed money is what the Cardinals gave to Kevin Kolb just as a 2012 roster bonus, though.
Flynn is expected to be a franchise quarterback and will most likely finish preseason ahead of Jackson on the depth chart. He very well might have some work ahead of him to stay in front of Russell Wilson in coming seasons.
Jason Jones
The Seahawks' biggest defensive need was generating a pass-rush. They addressed the need from the interior of the defensive line by signing Jones to a one-year contract. He has the ability to notch six sacks and keep quarterbacks from escaping up the middle when pressure comes from the sides.
Jones also spent time playing defensive end for the Titans and could spell Red Bryant in rushing situations.
Deuce Lutui
If Lutui is in shape he is a very good offensive guard. If not, he won't be with the Seahawks. His contract with Seattle has a weight requirement so he will likely stay below the 350 lb. threshold and could become a solid starting option for Tom Cable.
Kellen Winslow Jr.
Seattle wanted some additional offensive firepower and Darrell Bevell wants to run an offense with two tight ends as the primary set. They gave up very little to get Winslow and his contract has already paid out the big dollars.
He is slated to make $3.3 million in 2012, followed by $4.5 million in 2013 and $5.5 million in the final year of his six-year, $36 million contract.
Seattle will have time to determine if his continued value validates the last two years of his contract.
Barrett Ruud
The Seahawks stated a desire to get faster on their defensive front. Part of that was letting Hawthorne walk in free agency.
Time will tell if Ruud still has any of his former 4.65 speed. He's the kind of middle linebacker Seattle values, as he can follow the flow of the ball and close in to make tackles.
Alex Barron
Seattle needed depth at offensive tackle and added Barron to backup Russell Okung. He'll be on the bubble to make the roster, as he'll need to outplay Paul McQuistan to make the final 53.
Frank Omiyale
Omiyale was discussed earlier and doesn't figure to be a strong candidate to earn a roster spot, though there is an opportunity for Tom Cable to revive his blocking skills.
Kregg Lumpkin
Lumpkin was added prior to the draft and will be a big reach to make the roster. He simply doesn't offer a skill set that Turbin and Lynch lack. However, he could stay on the roster while Lynch serves his suspension.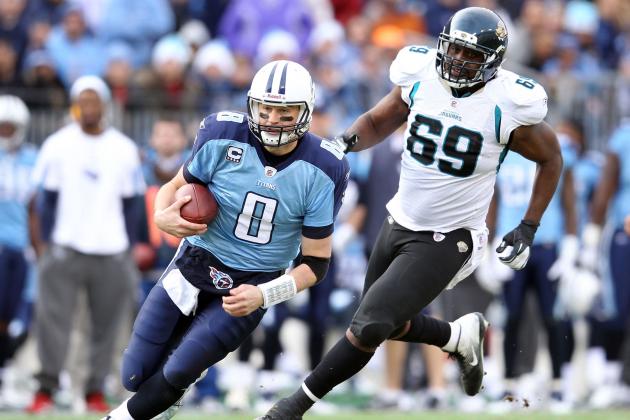 Andy Lyons/Getty Images

Exhibition games mean very little relative to wins and losses, but the 2012 preseason will make a big difference for the Seahawks relative to position battles.
They will likely keep some complementary pieces of the offense on the field longer than normal, as they'll want to ensure their quarterback trio is adequately protected.
They'll also want to gauge how well each quarterback is working with the starting receivers and give them a chance to work together.
Titans vs. Seahawks
This game figures to be a high-scoring affair. Seattle and Tennessee both figure to be in the middle of quarterback battles and will look to keep offensive talent on the field long after the defensive starters are done for the day.
This game will have special interest for Seattle fans, as they will welcome Matt Hasselbeck and Jake Locker back to the Emerald City. Both figure to get a warm reception—until they are ready to take a snap.
The Titans may have a stronger offensive unit early in the season and the Seahawks defensive units will be working through some young players in new positions. Seattle may come out on the short end of this contest, 34-27.
Seahawks vs. Broncos
Denver will be looking to get Peyton Manning rolling in his second preseason game with his new team and the Seahawks defense will look to roll him. He may post some early points, but their offense won't have much punch after Manning leaves the game.
Ronnie Hillman will be given an opportunity to pick up yards but will struggle against Seattle's defense.
Denver's defense will be looking to establish their identity. They are in year two of their transition to a 4-3 defense and will likely give players some extra time to gel.
There won't likely be a lot of scoring in this game and the Seahawks should be able to pull out a 20-13 victory.
Seahawks vs. Chiefs
This game will be an important test for the Seahawks. They should have their starting quarterback settled and will give him ample time to test the worthy Chiefs defenders.
Kansas City still has several questions to answer on offense. They didn't work out a deal with Dwayne Bowe and his status during the preseason could be questionable.
Unless one of Seattle's quarterbacks are playing well and clicking with the receivers there won't likely be a lot of scoring in this contest. Seattle can certainly pull out a win with a 17-10 margin.
Raiders vs. Seahawks
Seattle will again finish the preseason against the Silver and Black. They figure to give their starting offense additional snaps to prepare for their season opener against the Cardinals.
Oakland isn't likely to mount a strong front, although anything can happen when the players that won't even make a practice squad take the field. Look for the Seahawks to open up a first-half lead and hold on for a 24-17 win.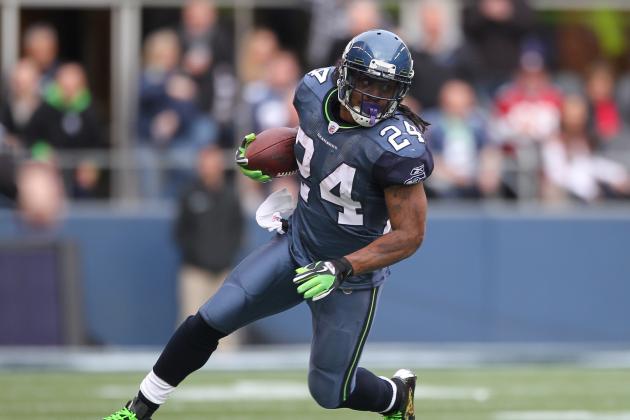 Otto Greule Jr/Getty Images
Marshawn Lynch could put the Seahawks in a tough position if he starts the season serving a suspension.
The Seahawks will struggle to whittle down to their final 53-man roster, as there are players they will want on the active squad.
There are several they will hope clear waivers so they can place them on their practice squad. J.R. Sweezy is a player that will almost certainly do just that. They will also want to do the same with Tuinei, but a good showing in August could make him a difficult roster decision.
| | | | | | | |
| --- | --- | --- | --- | --- | --- | --- |
| DEFENSE | POS. | HT. | WT. | AGE | EXP. | COLLEGE |
| Browner, Brandon | CB | 6-4 | 221 | 27 | 2 | Oregon State |
| Lane, Jeremy | CB | 6-0 | 190 | 22 | R | Northwestern State (La.) |
| Lewis, Roy | CB | 5-10 | 190 | 27 | 5 | Washington |
| Sherman, Richard | CB | 6-3 | 195 | 24 | 2 | Stanford |
| Trufant, Marcus | CB | 5-11 | 197 | 31 | 10 | Washington State |
| Bryant, Red | DE | 6-4 | 323 | 28 | 5 | Texas A&M |
| Clemons, Chris | DE | 6-3 | 254 | 30 | 9 | Georgia |
| Davis, Dexter | DE | 6-1 | 244 | 25 | 3 | Arizona State |
| Irvin, Bruce | DE | 6-3 | 248 | 24 | R | West Virginia |
| Jones, Jason | DT/DE | 6-5 | 276 | 26 | 5 | Eastern Michigan |
| Scruggs, Greg | DT/DE | 6-3 | 284 | 21 | R | Louisville |
| Branch, Alan | DT | 6-6 | 325 | 27 | 6 | Michigan |
| Howard, Jaye | DT | 6-3 | 301 | 23 | R | Florida |
| Mebane, Brandon | DT | 6-1 | 311 | 27 | 6 | California |
| Konz, Jameson | LB/DE | 6-3 | 234 | 26 | 3 | Kent State |
| Ruud, Barrett | LB | 6-2 | 241 | 29 | 8 | Nebraska |
| Smith, Malcolm | LB | 6-0 | 226 | 23 | 2 | USC |
| Toomer, Korey | LB | 6-2 | 234 | 23 | R | Idaho |
| Wright, K.J. | LB | 6-4 | 246 | 22 | 2 | Mississippi State |
| Wagner, Bobby | LB | 6-0 | 241 | 22 | R | Utah State |
| Hill, Leroy | LB | 6-1 | 238 | 29 | 8 | Clemson |
| Thomas, Earl | FS | 5-10 | 202 | 23 | 3 | Texas |
| Chancellor, Kam | SS | 6-3 | 232 | 24 | 3 | Virginia Tech |
| Guy, Winston | SS | 6-1 | 218 | 22 | R | Kentucky |
| Johnson, Jeron | SS | 5-10 | 212 | 24 | 2 | Boise State |
| PUP List | | | | | | |
| Thurmond, Walter | CB | 5-11 | 190 | 24 | 3 | Oregon |
| | | | | | | |
| --- | --- | --- | --- | --- | --- | --- |
| OFFENSE | POS. | HT. | WT. | AGE | EXP. | COLLEGE |
| Unger, Max | C | 6-5 | 305 | 26 | 4 | Oregon |
| Johnson, Rishaw | G | 6-3 | 313 | 23 | R | California Univ. (Pa.) |
| Lutui, Deuce | G | 6-4 | 338 | 29 | 7 | USC |
| Moffitt, John | G | 6-4 | 319 | 25 | 2 | Wisconsin |
| Jeanpierre, Lemuel | G/C | 6-3 | 301 | 25 | 3 | South Carolina |
| Barron, Alex | T | 6-7 | 320 | 29 | 7 | Florida State |
| Giacomini, Breno | T | 6-7 | 318 | 26 | 5 | Louisville |
| McQuistan, Paul | T/G | 6-6 | 315 | 29 | 7 | Weber State |
| Okung, Russell | T | 6-5 | 310 | 24 | 3 | Oklahoma State |
| Flynn, Matt | QB | 6-2 | 225 | 27 | 5 | LSU |
| Jackson, Tarvaris | QB | 6-2 | 225 | 29 | 7 | Alabama State |
| Wilson, Russell | QB | 5-11 | 206 | 23 | R | Wisconsin |
| Lynch, Marshawn | RB | 5-11 | 215 | 26 | 6 | California |
| Robinson, Michael | FB | 6-1 | 240 | 29 | 7 | Penn State |
| Turbin, Robert | RB | 5-10 | 222 | 22 | R | Utah State |
| Washington, Leon | RB | 5-8 | 203 | 29 | 7 | Florida State |
| Miller, Zach | TE | 6-5 | 255 | 26 | 6 | Arizona State |
| Morrah, Cameron | TE | 6-3 | 251 | 25 | 4 | California |
| Winslow, Kellen | TE | 6-4 | 240 | 28 | 8 | Miami (Fla.) |
| Baldwin, Doug | WR | 5-10 | 189 | 23 | 2 | Stanford |
| Butler, Deon | WR | 5-10 | 182 | 26 | 4 | Penn State |
| Durham, Kris | WR | 6-6 | 216 | 24 | 2 | Georgia |
| Lockette, Ricardo | WR | 6-2 | 211 | 26 | 2 | Fort Valley State |
| Rice, Sidney | WR | 6-4 | 202 | 25 | 6 | South Carolina |
| Tate, Golden | WR | 5-10 | 202 | 23 | 3 | Notre Dame |
| PUP List | | | | | | |
| Carpenter, James | T | 6-5 | 321 | 23 | 2 | Alabama |
Special teams

POS.

HT.

WT.

AGE

EXP.

COLLEGE

Hauschka, Steven

K

6-4

210

27

5

North Carolina State

Gresham, Clint

LS

6-3

240

25

3

Texas Christian

Ryan, Jon

P

6-0

217

30

7

Regina