New York Knicks : Bold Predictions for 2012-13 Season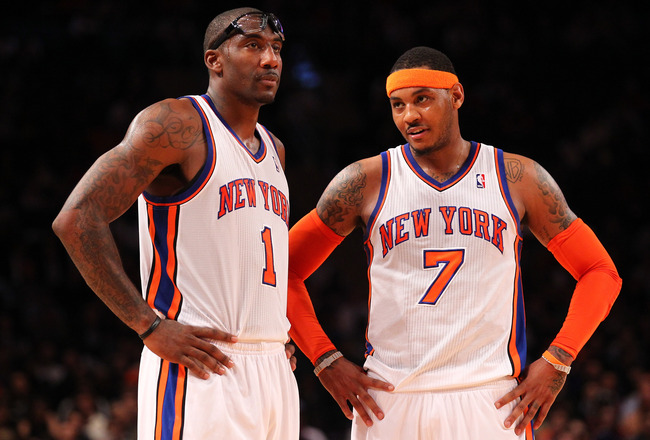 Al Bello/Getty Images
With the roller-coaster 2011-12 season behind them, the New York Knicks hope that the 2012-13 season will bring even more excitement, and more importantly, more wins.
The Linsanity era is over in New York, but there are plenty of reasons for Knicks fans to look forward to next season.
Head coach Mike Woodson looks to pick up where he left off last spring, and Amar'e Stoudemire is poised to have a bounce-back campaign.
There are, however, some question marks. Can Steve Novak and J.R. Smith provide consistent production? Will Marcus Camby and Jason Kidd hold up the entire year? How will New York fare early on without Iman Shumpert?
Madison Square Garden will be treated to a highly-talented team, but how far can it go?
Have a look at this handful of bold predictions for the New York Knicks in 2012-13.
The Knicks Will Miss Shumpert's Defense Early on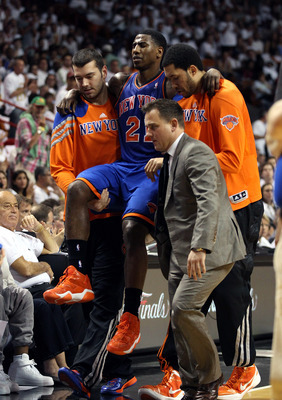 Marc Serota/Getty Images
Iman Shumpert's sophomore NBA season will be delayed by his ACL injury. He's reportedly aiming for a January comeback, so the Knicks will be without him for at least the first couple months of the season.
Shumpert's greatest asset as a rookie wasn't his 9.5 points or 2.8 assists per game. It was his defense, as he quickly became one of the leagues most valuable wing defenders.
Offensively, the Knicks will be fine without him, but they'll struggle against some of the perimeter scorers.
J.R. Smith, Carmelo Anthony and Raymond Felton aren't exactly the best stoppers, and they'll get exposed sporadically. It might even cost them a few games.
Amar'e Stoudemire Will Score 20 Points Per Game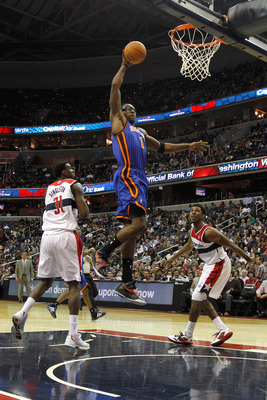 Rob Carr/Getty Images
2011-12 was a season to forget for Amar'e Stoudemire, and he knows it.
He battled injuries throughout the year, put up his worst numbers since his rookie year and topped it off with the infamous hand-in-extinguisher laceration.
This summer, Amar'e is rehabbing and working himself back into shape. More importantly, he's going to be receiving some tutelage from Hakeem Olajuwon in August.
A strong, revitalized Stoudemire with an expanded post game is bad news for Eastern Conference power forwards who stand in his way.
Better footwork and back-to-the-basket skills will make him a more versatile scorer and help him pass out of double teams. Perimeter shooters J.R. Smith and Steve Novak will be the beneficiaries.
NYK Will Be in NBA's Top 10 in Both Offense and Defense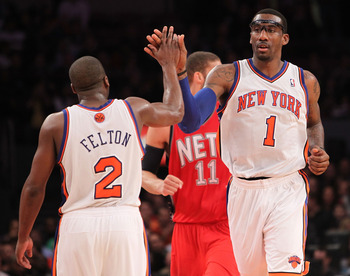 Nick Laham/Getty Images
Last season, New York scored 97.8 points per game and gave up 94.7. In both categories, the Knicks ranked 11th in the NBA.
In 2012-13, Mike Woodson's club will exercise improved efficiency on both ends of the floor. They'll increase that point differential and land in the top 10 in both offense and defense.
Tyson Chandler, Iman Shumpert and Marcus Camby form an excellent core of defenders, and Carmelo Anthony seemed much more invested in defense once Woodson took over last spring.
Offensively, Stoudemire and Anthony will have their second full year together. No, they're not the ideal pair, and they're not quite compatible. But they'll gradually improve as a tandem, and Raymond Felton will expedite that process.
Camby and Chandler Will Combine for 18 PPG and 18 RPG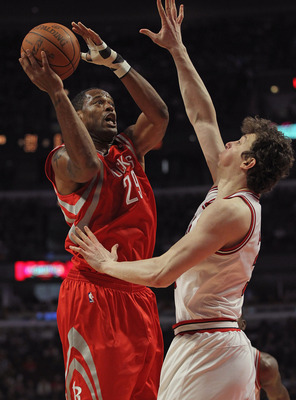 Jonathan Daniel/Getty Images
By adding Marcus Camby, New York's bench got deeper and the paint got stronger.
If he can hold off Father Time for another year, Camby will supply valuable minutes of paint protection and rebounding. He'll be a solid backup to Tyson Chandler, playing anywhere from 15-20 minutes per game.
Chandler is poised to easily have a double-double year, averaging about 13 points and 10-11 rebounds per game.
Camby's minutes and rebounding totals might drop off a little bit, but he'll still get enough time to grab seven or more rebounds and score 4-5 points.
Felton Won't Have 2010-11 Stats, but He'll Thrive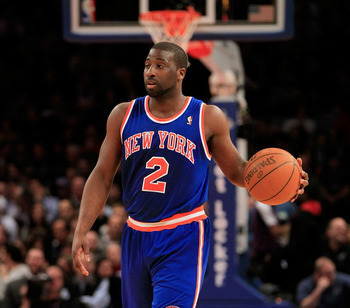 Chris Trotman/Getty Images
Before he was traded to Denver as part of the Carmelo Anthony deal, Raymond Felton was enjoying a career year in New York in 2010-11.
Alongside Amar'e Stoudemire, Danilo Galinari and Wilson Chandler, Felton scored 17 points and dealt nine assists per game.
His return to the Garden will be a successful one. He's never played on a roster of this caliber, and he'll thrive with the weapons at his disposal.
Felton won't score 17 or dish nine assists per game because Anthony will handle the ball intermittently, but he'll still score 14 and notch eight assists.
New York Will Finish Fifth in the Eastern Conference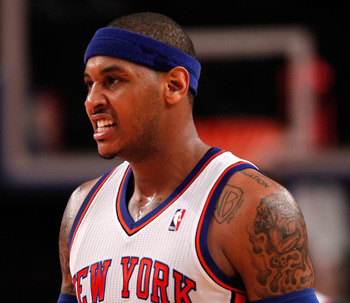 Jeff Zelevansky/Getty Images
In the lockout-compacted 2010-11 season, the Knicks finished with a 36-30 record, a .545 winning percentage.
A healthier duo of Amar'e Stoudemire and Carmelo Anthony will put the team in a great position to improve that mark. Raymond Felton and Jason Kidd will run the point efficiently while Tyson Chandler does the dirty work inside.
The most critical cause of improvement? Spending an entire preseason and the winter months perfecting Mike Woodson's system. This year, they won't have to deal with coaching drama or coaching changes.
The pieces are in place, so New York definitely has the potential to win 50 games. My prediction: 49-33, good for fifth place in the East.
The Knicks Will Advance to the Second Round of the Playoffs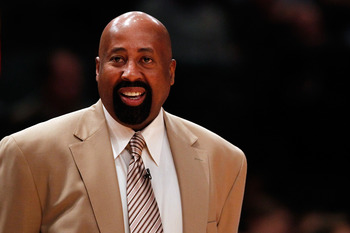 Jeff Zelevansky/Getty Images
As the No. 5 seed in the 2013 NBA playoffs, the Knicks will square off against the No. 4—presumably Indiana, Boston, Atlanta or Brooklyn.
There are three simple keys that will propel New York to victory:
1. Melo and Amar'e are hungry, and they're more talented than the forwards on any of those teams.
2. The Knicks have an excellent combination of offensive firepower and defensive talent.
3. The Knicks have a nice blend of youth and experience.
New York will be a slight underdog heading into the series, but they'll have plenty of tools and chemistry at that point in the season to pull off the upset.
Keep Reading

New York Knicks: Like this team?