Anaheim Ducks: 6 Youngsters Who Could Get a Chance to Shine in 2012-13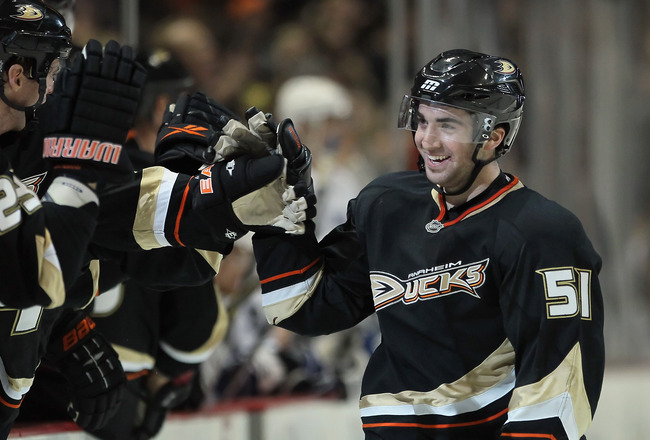 Jeff Gross/Getty Images
The youth movement in Southern California looks to be in full swing, as the Anaheim Ducks have several young players that are set to get significant increases in playing time this year.
The return of Teemu Selanne might be enough to stave off a rebuild for at least another year, but even if the Ducks are intending to be competitive this year, there are a number of young players who will play an intricate role in making that happen.
Anaheim will need help, specifically at forward on the third and fourth lines. However at this point in the offseason their only notable signings have been defensemen. It stands to reason that they're going to have to use some of their younger players to fill these offensive roles.
While anything is possible, and injury can always have an impact in both directions, here are eight players in Anaheim's farm system that could see a huge jump in playing time in the coming NHL season.
Nick Bonino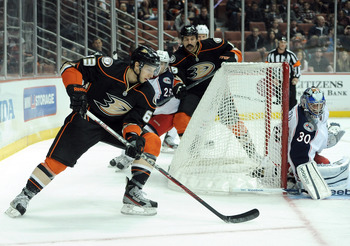 Harry How/Getty Images
Behind Ryan Getzlaf, the Ducks are very thin at the center position.
With Saku Koivu being their only real second option, it's possible the Ducks could deploy a second line centered by Nick Bonino.
If the Ducks do this, they're going to be counting on a breakout year from the young center who compiled five goals and 18 points last season. Whether or not they get it will determine how long he stays.
Luca Sbisa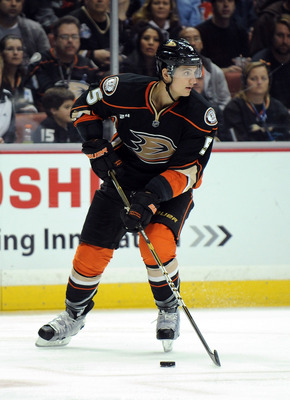 Harry How/Getty Images
Statistically Luca Sbisa put together the best season of his career last year while appearing in all but two of Anaheim's regular season games.
Look for the Ducks coaching staff to give him the same kind of opportunity to develop, possibly with more power-play time.
Even with the additions of Bryan Allen and Sheldon Souray, Sbisa will still get a lot of ice time.
Kyle Palmieri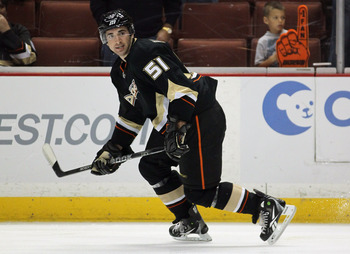 Jeff Gross/Getty Images
Kyle Palmieri only played in 18 regular-season games last year, but was able to compile seven points in that span.
The Ducks desperately need wingers, and it's a high possibility that he'll be called upon to fill that role, as he's proved himself to be NHL-capable.
Depending on where Selanne plays, Palmieri will likely see time on both the second and third lines.
Devante Smith-Pelly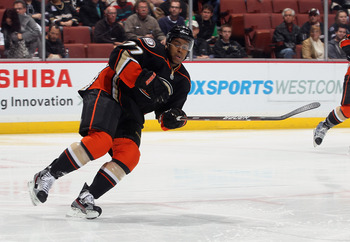 Jeff Gross/Getty Images
Devante Smith-Pelly is an aggressive skater and has proven that he can cause a lot of disruption in front of opposing goaltenders.
He appeared in 49 regular-season games last year, and we should look for him to improve on that number this coming season.
Last year he saw ice time on just about every line, including the top line with Corey Perry and Ryan Getzlaf. Right now he's a likely fourth-line candidate, and a first or second-line fill-in.
Peter Holland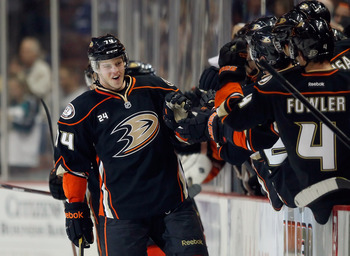 Jeff Gross/Getty Images
Peter Holland was Anaheim's first-round (No. 15 overall) pick in the 2009 entry draft. While he impressed in the OHL, he hasn't had much of a chance yet at the NHL level. That could all change this year.
The fact that he plays center really helps his odds, as not only will Anaheim need help this year, they'll be looking for Koivu's eventual replacement.
Look for Holland to compete with Bonino for a roster spot coming out of training camp.
Emerson Etem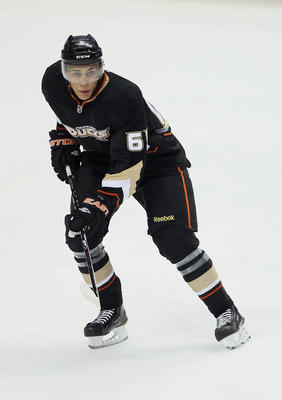 Jeff Gross/Getty Images
At this point Emerson Etem is without a doubt Anaheim's top prospect. He also looks to be more than NHL-ready at this point, and is poised to make the team coming out of training camp.
If he does, he'll be a likely candidate to get some ice time on the right wing of whatever line on which Selanne isn't playing. It's also possible that Boudreau could pair him with Selanne on the same line at left wing.
Either way, expect Etem to get his fair share of ice time this year, and don't be surprised if he takes full advantage of it.
Keep Reading

Anaheim Ducks: Like this team?