Carmelo Anthony Has Done More for the Nuggets Than for the Knicks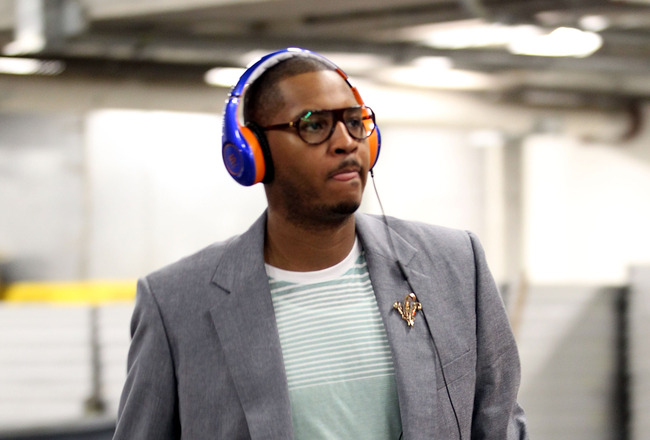 Marc Serota/Getty Images
By allowing Jeremy Lin to go to Houston, the Knicks believe they dodged a cap-crushing bullet; however, the Knicks have hurt their franchise once again. The culprit is Carmelo Anthony. Originally lauded as the future of the franchise, Carmelo has done more good for his old team, the Nuggets, than for the Knicks.
Entitlement from Rookie Season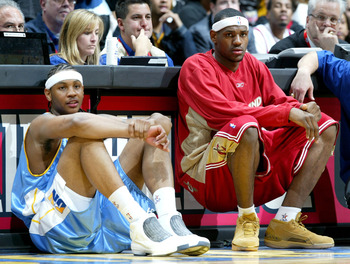 Jed Jacobsohn/Getty Images
To understand why Anthony is showing shades of Stephon Marbury (repeat: shades) for the Knicks, one must begin with Anthony's rookie season. Carmelo Anthony was incredible in his rookie season, pulling the Nuggets from a 17-65 record to a 43-39 record in the tough Western Conference. He won Rookie of the Month six times, but he finished second in Rookie of the Year voting behind LeBron James. While Carmelo was unquestionably a great rookie, Anthony's battle with LeBron for Rookie of the Year convinced Anthony that he and LeBron James were in the same league. They are not.
Anthony's scoring ability is the only category in which LeBron and Carmelo are similar. Both are capable of exploding for 40 points in a night, and both consistently put up 20 plus points per game. This extends to the end of games, in which both are their team's number one option in crunch time.
The difference is that James insists on assisting his teammates in a point forward role. Anthony is a more selfish forward, shooting first rather than assisting his teammates. While Anthony is an extremely gifted shooter, he has never topped four assists per contest in a season.
In addition, while LeBron James is criticized for sometimes passing up the last shot in favor of an open teammate, Anthony would take the last shot even if he had three defenders in his face and Steve Novak wide open in the corner. In recent seasons, sportswriters have started to call Carmelo selfish. His on-court selfishness isn't the worst part.
Selfishness off-the-Court: The Nuggets Trade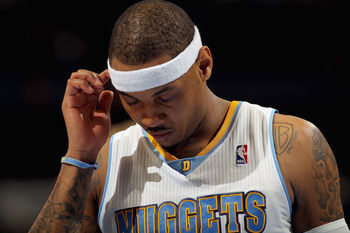 Doug Pensinger/Getty Images
Frustrated with the Nuggets organization and eager to create a super-team in New York to rival Miami's new Big Three, Anthony requested a trade to the Knicks. Although we never know the whole story when a player requests a trade, it is rarely an altruistic move. Players generally want to be traded to a specific place, hampering their organization's ability to get a decent return for their player.
The Nuggets eventually relented to Anthony's request, at least in part, because the swirling rumors hung over the franchise like a toxic smog. The Nuggets ended up trading Chauncey Billups and Anthony for Danilo Gallinari, Raymond Felton, Timofey Mozgov, Wilson Chandler, and Kosta Koufos from the Minnesota Timberwolves.
Results of the Trade for Denver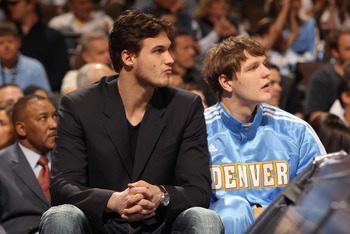 Doug Pensinger/Getty Images
If we look at the trade today, the Nuggets received a great return on their disgruntled star. The trade netted the Nuggets starters in Gallinari and Koufos, solid bench guys in Chandler and Mozgov, and, Ray Felton essentially turned into Andre Miller and Jordan Hamilton.
The scrappy Nuggets team that pushed the Lakers to seven games this past postseason is made up, in large part, of pieces from that trade.
The Results of the Trade for New York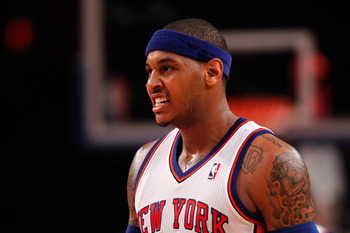 Jeff Zelevansky/Getty Images
If we look at the trade from the Knicks' perspective, the return is less bountiful. The Knicks originally received Anthony, Billups, Renaldo Balkman, Shelden Williams, and Corey Brewer from the Timberwolves.
The only player left from that deal is Anthony, and while the Knicks got what they initially wanted, their return is dwindling as time goes on.
2011 Playoffs
Chris Chambers/Getty Images
When Anthony arrived in New York, he paired with then-MVP candidate Amar'e Stoudemire. Stoudemire was an All-Star starter, and had pulled the Knicks back to respectability. While Anthony was great upon arriving with the Knicks, things changed in the postseason. Amar'e injured his back in game two of a series against the 3-seed Boston Celtics, giving Anthony the chance to showcase his talent to New York.
While he had a monster 42-17-6 game after Stoudemire exited, the Knicks lost that game. He also had a 25% shooting stinker in his first playoff game in Madison Square Garden, as the Knicks lost by double digits and were swept out of the playoffs shortly after.
In addition, the Nuggets also lost their first round series against the Thunder in five games, but four games were decided by four points or less. The Nuggets won more playoff games without Carmelo Anthony than the Knicks did with him.
2011-2012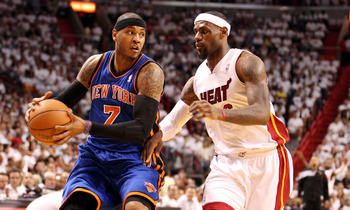 Marc Serota/Getty Images
Expectations climbed to an all-time high this past season as the Knicks signed Tyson Chandler, but the Knicks were floundering until undrafted point guard Jeremy Lin led the Knicks to seven straight wins without Carmelo Anthony. New York embraced "Linsanity," and the Knicks appeared to be back on track until Lin got injured, and the Knicks once again fizzled in the first round of the playoffs under Anthony and Stoudemire.
While backup point guard Baron Davis did shred his knee, and defensive menace Iman Shumpert tore his ACL during the series, their injuries cannot be to blame for the Knicks' loss, as the Knicks lost game one by 33 with those players on the floor. Many will blame Stoudemire for the loss, considering he injured his hand by smacking a fire extinguisher in frustration, but that too occurred after the Knicks' game-one laugher.
Anthony's selfishness doomed the Knicks again, as he shot 41% on 125 shots and assisted his teammates 11 times in the whole series. Once again, he assisted his teammates 11 times in the whole series.
Jeremy Lin
Kevin Winter/Getty Images
Which leads us to yesterday, when the Knicks made a huge mistake in letting Jeremy Lin go to the Rockets. While Lin's contract was pricey, the Knicks did not re-sign because of Carmelo Anthony. When asked about the three-year $25 million contract, Anthony called it "ridiculous" (via USA Today).
While Anthony is not alone in this assertion, his motivations for saying so are different than those around him. Anthony perceived Lin as a threat to his stardom in New York, and he didn't want to compete with Lin for the spotlight.
The team's odd decision to trade for Raymond Felton with Lin on the table demonstrates that Anthony has a big say in what the Knicks do. Instead of having a potential All-Star (emphasis on potential) and marketing gold mine at the point, the Knicks opted to take Felton, a solid starter with little room for growth and little marketing potential.
Conclusion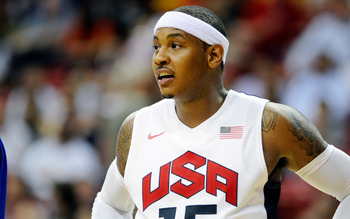 David Becker/Getty Images
The Knicks will not contend for the title as long as Anthony is their superstar. Had the Knicks re-signed Lin, they would have a chance. Lin would not intentionally steal Anthony's spotlight, as Anthony perceived.
As demonstrated this past season, Lin is possibly the most gracious personality in sports, along with Tim Tebow. You may not be a fan of that statement, but watch this interview if you don't believe me. Lin's teammates like playing with him, and the worst that could come from the Knicks investing in him is that he would be overpaid in the last year of his contract. However, his earning power in the Asian market, and around the world for that matter, is enough to offset that potential loss.
Carmelo Anthony is an incredibly skilled basketball player, but he cannot lead a team to a championship. Anthony is most effective when players around him adapt to his skills, and the system caters to his abilities. The best superstars make their teammates better. The truth is that Anthony just isn't that type of superstar in New York because he can't accept that an undrafted point guard from Harvard may be more successful, relatively speaking, and popular than he is.
With Lin at the point, the Knicks could become a threat in the Eastern Conference. While its not a guarantee by any means, their potential was higher with Lin at the point than with Felton. The Knicks will try to win with Carmelo Anthony as the face of their franchise, but he has yet to lead a team past the Conference Finals, and the future of the New York Knicks looks dimmer without Jeremy Lin.
Keep Reading

New York Knicks: Like this team?