Urijah Faber vs Renan Barao: Preview, Odds and Predictions for UFC 149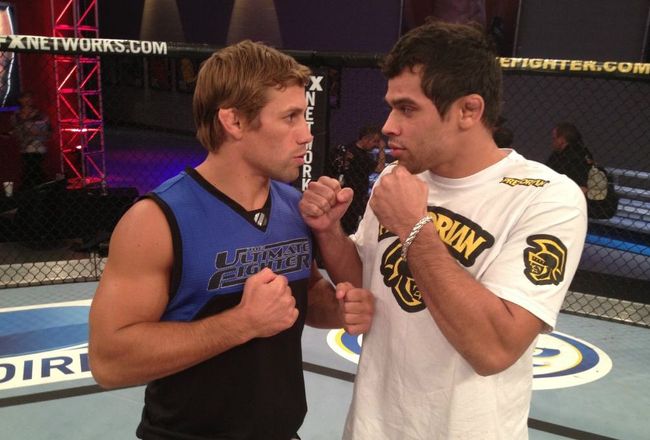 Photo Credit: Zuffa LLC

UFC 149 has been injury plagued from the outset, but it is now just around the corner with 11 fights scheduled.
The main event of the evening will determine who is the UFC's Interim Bantamweight Champion. Former WEC Featherweight champion Urijah Faber will square off against Nova União's Renan Barao.
The co-main event could feature the next exciting opponent for Anderson Silva. Hector Lombard will make his UFC debut against the always tough Tim Boetsch in middleweight action. An impressive performance by Lombard could send him to the front of the line for the next shot at the title.
The other main card fights should offer plenty of action. In the heavyweight division Cheick Kongo will face-off with Shawn Jordan. In welterweight action, Brian Ebersole will battle James Head, and Matt Riddle will thrown down with the lone Canadian on the main card, Chris Clements.
Here are the previews, odds and predictions for the UFC 149 main card.
Chris Clements vs. Matt Riddle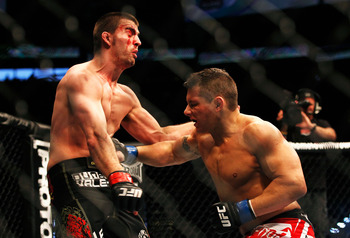 Kevin C. Cox/Getty Images
The UFC 149 PPV will begin with two welterweights looking to start off the night on a good note.
Clements enters on a five fight win streak and an 11-4 overall record. His opponent, Riddle, picked up a controversial split decision over Henry Martinez back at UFC 143 to extend his record to 6-3.
Clements is the only Canadian on the main card and will have the arena backing him. Riddle always brings the fight to his opponents, and he will seek a second consecutive victory in hostile territory.
Betting Odds: Riddle (-150) over Clements (+120) at www.bovada.lv
Prediction: This will probably be a bit on the ugly side, as most of Riddle's fights tend to be. This could end up being an entertaining brawl with little in the way of technique.
Maybe I am putting too much in to the location of the event, but I think Clements will get a boost from the Canadian crowd and take two of the three rounds against Riddle. I doubt he will stop Riddle, but he can do enough to get his hand raised.
Chris Clements wins via unanimous decision.
Brian Ebersole vs. James Head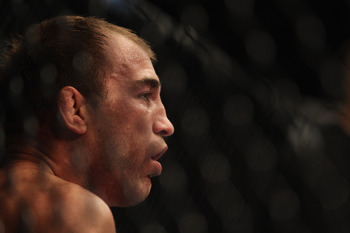 Mark Kolbe/Getty Images
Ebersole will look to continue his impressive winning streak at UFC 149 over Head.
Ebersole will bring an 11-fight win streak into Calgary on Saturday and a 50-14-1, 1 NC overall record. Head is certainly not as experienced with an 8-2 record.
However, Head impressed in his last outing in the eight-sided cage with a submission victory over Papy Abedi.
Ebersole will enter as the largest favorite on the card.
Betting Odds: Ebersole (-400) over Head (+300) at www.bovada.lv
Prediction: Head is a game opponent, but Ebersole's submission game will be too much for him on Saturday night. Ebersole has fought better competition and out-grappled them. Head will need to keep it standing to pull out a win.
Brian Ebersole wins via submission in the first round.
Cheick Kongo vs. Shawn Jordan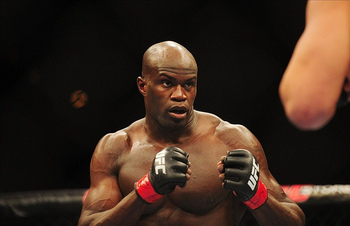 Mark J. Rebilas-US PRESSWIRE
Jordan comes in looking to continue his ascent in the heavyweight division off the name of Kongo. Jordan is on a two-fight win streak and a 13-3 overall record. In March, Jordan won his UFC debut by TKO over Oli Thompson.
Standing across the cage from Jordan will be one of the heavyweight mainstays in Cheick Kongo. The 17-7-2 heavyweight has been in the UFC since 2006 with mixed results. He returns to the cage following his TKO defeat to Mark Hunt back at UFC 144 in Japan.
Both men have heavy hands and will exchange. This may be the best bet for knockout of the night.
Betting Odds: Jordan (-135) over Kongo (+105) at www.bovada.lv
Prediction: Jordan is the surprising, ever slight, favorite in the bout. Despite winning two in a row the biggest name on his record is Lavar Johnson. Meanwhile, Kongo has been in the cage with the best of the best for six years.
I think Kongo is a step above Jordan and that will show on Saturday night. Expect Kongo to look impressive in the fight and finish with some strong trademark ground and pound.
Cheick Kongo wins by TKO in the second round.
Hector Lombard vs. Tim Boetsch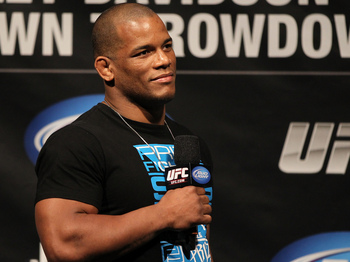 Photo by Josh Hedges/Zuffa LLC/Zuffa LLC via Getty Images
The long-awaited UFC debut of Hector Lombard is near. Since losing to Gegard Mousasi in PRIDE back in 2006 Lombard has posted a record of 24-0-1. Incredibly impressive.
Tim Boetsch will be the man tasked to welcome the former Bellator champion to the Octagon.
Boetsch provided an exciting come from behind victory over Yushin Okami at UFC 144 to put his name on the list of potential contenders. Since dropping to middleweight he is 3-0 in the UFC.
Something will have to give between these two brutes on Saturday.
Betting Odds: Lombard (-320) over Boetsch (+240) at www.bovada.lv
Prediction: Boetsch will be a tough out for Lombard. He is tough, strong and durable. Lombard has struggled at times with conditioning and with putting away lesser competition early. The longer Boetsch can hang around the better his chances become.
Unfortunately, for Boetsch, I do not think Lombard will let him hang around. Lombard will finish the fight later in the first round after putting Boetsch on his back. He will look impressive and send a message that he wants the next crack at the champion.
Hector Lombard wins by TKO in the first round.
UFC Interim Bantamweight Championship: Urijah Faber vs. Renan Barão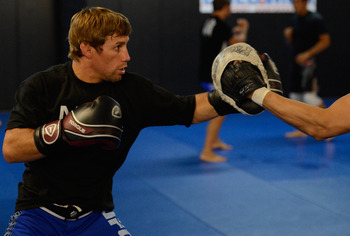 Thearon W. Henderson/Getty Images
UFC 149's main event will set out to determine who the best uninjured bantamweight in the world is. UFC Bantamweight Champion Dominick Cruz was scheduled to defend his crown against Faber at UFC 148 but an injury forced him to the sidelines. Barão was tapped to replace him on the card, but it was shifted to headline UFC 149.
Barão will step in to the cage with one of the most impressive records in all of MMA. An overall record of 28-1, 1 NC. Unbeaten in his last 29 fights, he will try to extend that to 30 and claim the gold.
Faber gets his second crack at a UFC championship on Saturday. After dropping a close decision to Cruz last year, he returned in November with an impressive performance against Brian Bowles to claim the top contender's spot.
The battle for the championship is the most exciting pairing on the card and could easily put on the Fight of the Night.
Betting Odds: Barão (-200) over Faber (+160) at www.bovada.lv
Prediction: While Barão enters as the favorite, it is truly a pick 'em fight. Barão has quality names on his list of victims, but nothing compared to the competition that Faber has faced in the past few years. That may play a factor as Barão goes from relative obscurity to headlining UFC 149.
Faber did not fair well against Nova União's Jose Aldo when they met, but it is safe to say that Aldo is a whole other beast to attempt to tackle. But the insight of his teammate's fight could give Barão a distinct advantage.
The battle for the championship is extremely tight. However, when forced to make a prediction, I simply see Barão as the better fighter. He is an incredible talent that will give Nova União its second UFC champion on Saturday. Aldo had Faber hurt but took his foot off the gas pedal late in the fight, but I do not expect the same courtesy from Barão.
Renan Barão wins via TKO in the fourth round.
Keep Reading