Robin Van Persie: Why Real Madrid Makes the Most Sense for Arsenal Forward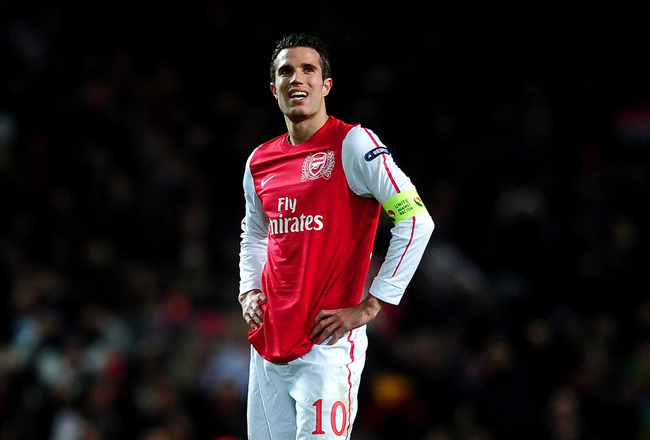 Laurence Griffiths/Getty Images
Robin van Persie has spelt out his desire to move elsewhere after turning down the chance to extend his current contract with Arsenal.
The possibility of signing the Dutch forward in this transfer window has sent several clubs' fans into a frenzy, with Manchester City, PSG, Juventus and Real Madrid amongst them.
It must be noted, of course, that there is still the possibility that van Persie decides to perform a U-turn and sign a new deal with the Gunners, or that the club forces him to see out the remaining year of his contract before letting him leave on a free transfer—but a summer exit in the next few weeks still looks the most likely scenario at present.
Van Persie could almost have his pick of teams to whom he moves, but there appears to be one who he might receive as much benefit from as he gives: Real Madrid.
Here are five reasons why that is the case.
Trophy-Winning Side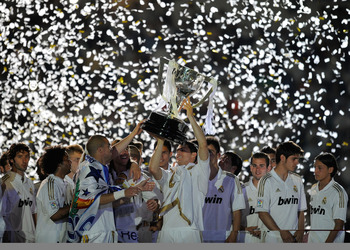 Denis Doyle/Getty Images
What Robin van Persie craves above all else is the chance to regularly compete at winning the game's top prizes, something he isn't getting at Arsenal.
A regular side in the top four of the Premier League, yes, and a top football side—undoubtedly.
But the Gunners have won nothing for seven years now, and enough is enough for RvP.
Real Madrid ended their title-less streak last season by beating Barcelona to the La Liga title and will be a force to be reckoned with at home and abroad this coming season.
Competition for Places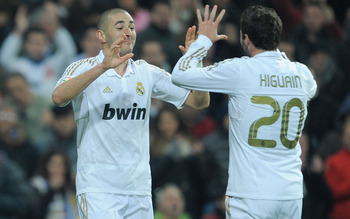 Denis Doyle/Getty Images
Other than Real Madrid, the best port of call for Robin van Persie might have been Manchester City. There, however, he will find two places up for grabs with three top strikers already in place—and Edin Dzeko.
At Real, Karim Benzema and Gonzalo Higuain stand in his way of a first team place—but van Persie is arguably a more talented and well-rounded player than either of those two.
Rumours have surrounded Higuain with a move away for two summers already, and the Madrileños might be willing to let him leave to accommodate van Persie.
Top-Class Teammates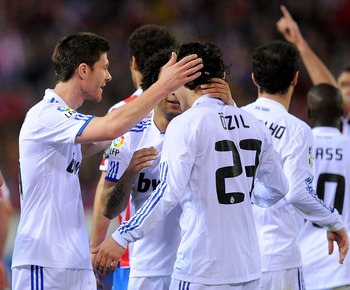 Denis Doyle/Getty Images
Van Persie loves to score goals—and he'll certainly get plenty of those created for him at Real Madrid.
In the likes of Xabi Alonos, Mesut Ozil and Angel di Maria he would have some incredible vision and passing ability playing behind him—and Cristiano Ronaldo isn't bad either.
Van Persie could become even more prolific for Real than he has been for Arsenal.
Retains Some Semblance of Relationship with Arsenal Fans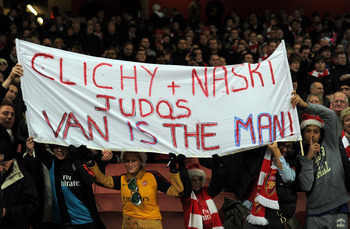 Michael Regan/Getty Images
Hmmm, wonder if this flag is still doing the rounds?
Robin van Persie is probably not going to be a favourite of the Arsenal supporters for much longer if he leaves them while being captain, but he could at least salvage some sort of relationship with them if he avoids going to another Premier League team (Manchester City being the obvious name here).
Gael Clichy, Samir Nasri, Kolo Toure and Emmanuel Adebayor all left directly from the Gunners to join City.
Tactical System Which Suits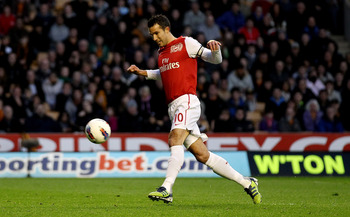 Scott Heavey/Getty Images
As is the case at Arsenal, van Persie thrives as the lone striker in a tactical system with plenty of support from behind him.
Real Madrid play an attack-minded 4-2-3-1 with the usual triumvirate being Ronaldo-Ozil-di Maria behind the forward.
Free to work the channels, drop deep in the knowledge that the two wider players will run in behind or simply roam the penalty area, van Persie will get bucketloads of chances created for him and will in turn be a fine supplier of assists for the more aggressive of those team mates.
Van Persie would be an utter star for Real Madrid, and his consistent rate of scoring could be the factor which pushes them onto Champions League glory.
Keep Reading

Arsenal: Like this team?